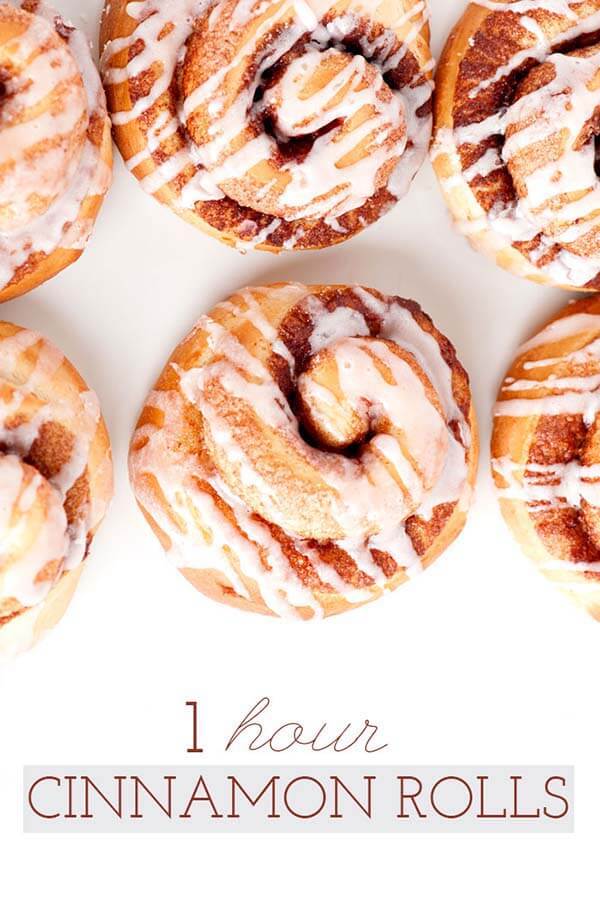 Cinnamon Rolls have always been one of my favorite morning indulgences. I generally try to eat a healthy breakfast (you know, start the day off right), but something about that cinnamon/sugar combination just gets me – Every. Single. Time. I can't say no. The problem with making cinnamon rolls at home is they take a long time. You usually have to wait for them to sit overnight before you can bake them. But, who has the patience to wait for that? I certainly do not. So I created a recipe that could be made – start to finish – in 1 hour. That's right – hot, gooey cinnamon rolls on your table and in your face in ONE HOUR! It doesn't get much better than that.
1 HOUR CINNAMON ROLLS
Ingredients
DOUGH
1 3/4 cups warm water

1/4 cup + 2 tablespoons sugar

1/4 cup vegetable oil

3 tablespoons active yeast **We used three packets of Fleischmann's Rapid Rise Fast Acting Instant Yeast

1/2 tablespoon salt

1 egg + 1 egg yolk

5 1/4 cups flour
FILLING
1/4 cup + 2 tablespoons sugar

1.5 tablespoons of brown sugar

2 teaspoons of cinnamon

1/4 cup unsalted butter
FROSTING
3 cups powdered sugar

6 tablespoons of unsalted butter

2 teaspoons of vanilla extract

1/4 teaspoon of salt

3 - 6 tablespoons milk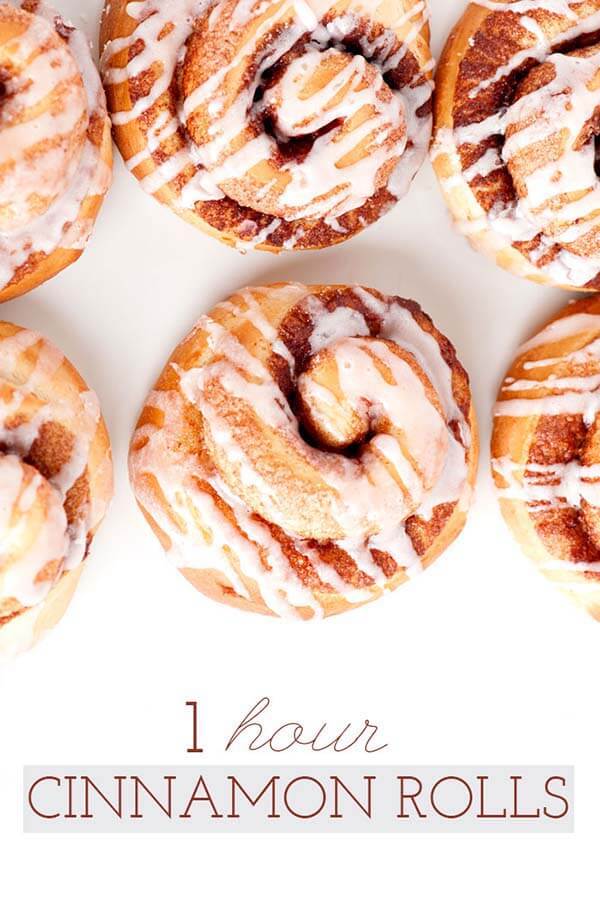 Instructions
For the rolls:
Preheat oven to 400 degrees.

In an electric mixer fitted with a dough hook, mix warm water, sugar, oil, and active yeast. Mix on low speed for 3 minutes and then turn the mixer off and let ingredients sit for 10 minutes. The yeast will activate and begin to rise and thicken.

Add salt, eggs, and flour. Mix on a medium speed for 6 - 8 minutes (until the sides of the bowl are clean) and then let sit for 5 minutes.

While the dough is resting, make the filling. Melt butter and set aside. Combine sugars and cinnamon and set aside.

On a lightly oiled surface, roll dough out into a rectangle shape (about 12" high x 18" long).

Using a pastry brush, lightly brush the melted butter on dough.

Sprinkle filling mixture evenly over dough.

Starting at one of the long edges, roll the dough into a tight cylinder shape.

Cut a 8" piece of unflavored dental floss. Place the floss underneath the roll about 1 - 2 inches from the edge. Take the two ends of the floss and cross them over the top of the cylinder and pull. Discard the end piece of the roll and continue this process 12 times down the line.

On a baking sheet lined with parchment paper, place 6 rolls on a sheet. Let the rolls sit for another 8-10 minutes before putting them into the oven.

Bake for 12-14 minutes until the edges become golden brown.
For the icing:
In a mixer fitted with a whisk attachment, whisk butter and powdered sugar on a low speed.

Add milk until frosting reaches desired consistency (3 tablespoons for thick frosting, 6 tablespoons for thinner frosting).

Frost each roll generously.