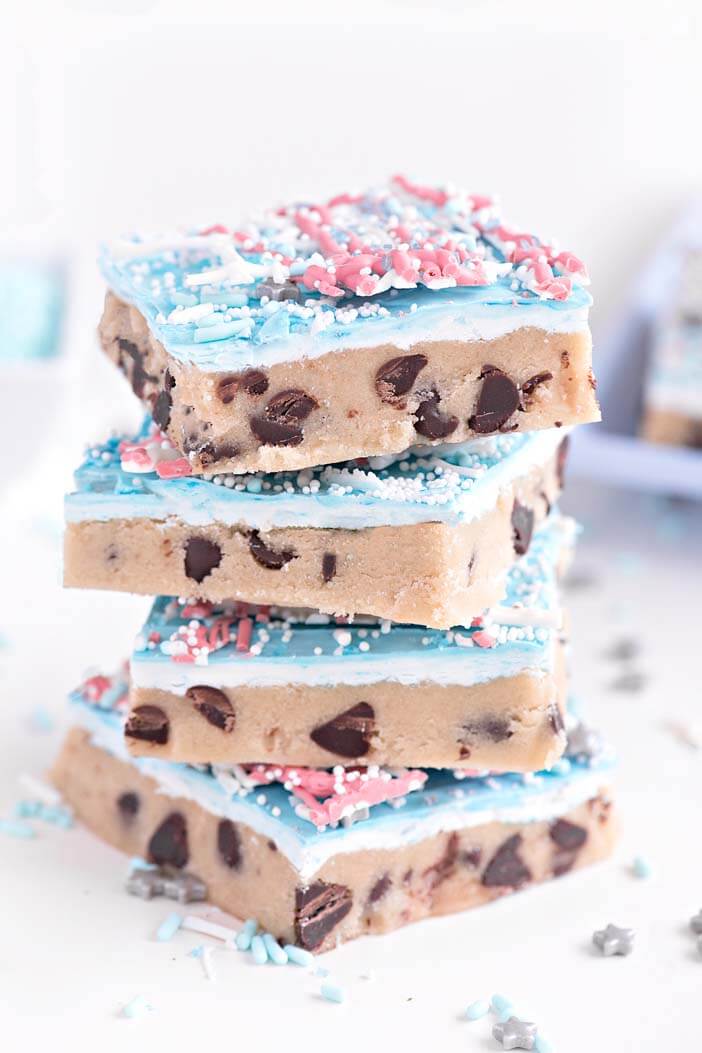 There are two types of people in this world – people who make chocolate chip cookies for the sole purpose of eating the cookie dough, and everyone else. Personally, I am a cookie dough kind of girl. Sometimes you just need a LARGE spoonful of fresh chocolate chip cookie dough. And that's totally ok.
(Just make sure your flour is treated with heat before you eat raw cookie dough. See more on that HERE)
That's why I came up with these Cookie Dough Bars. Not only are they the perfect solution for all the cookie dough lovers out there, but they also are great for any 4th of July Celebration next week! The base is a no egg chocolate chip cookie dough with an easy and festive white chocolate and sprinkles topping.
These bars are no bake, which in my opinion is IDEAL for a summer dessert. No one wants to turn the oven on when it is already 100 degrees outside. And they are also super easy to whip up – another plus in my book. But even if you are not celebrating the 4th, you can totally customize these bars. Make the white chocolate any color you want, and then ENJOY the cookie dough amazingness!
4TH OF JULY COOKIE DOUGH BARS
Ingredients
2 1/2 sticks of unsalted butter, room temperature

1 cup sugar

1 cup brown sugar

1 teaspoon vanilla extract

2 cups flour

1/3 teaspoon salt

12 oz. chocolate chips

24 oz. white melting chocolate, divided

Piping bags

Chocolate Coloring, blue and red

Sprinkles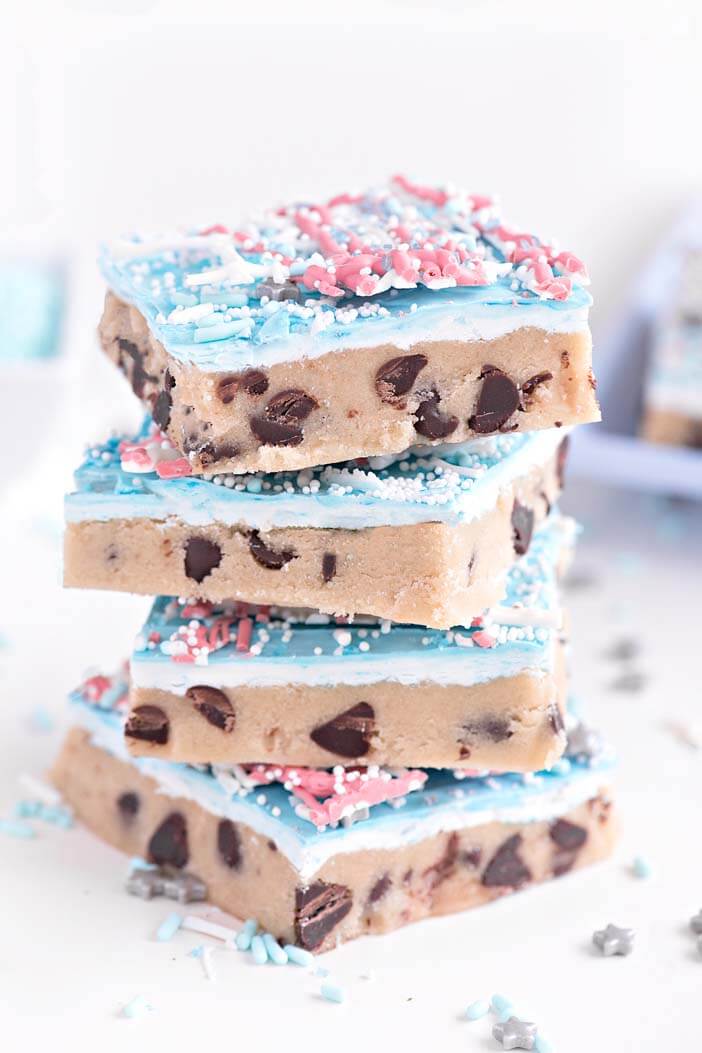 Instructions
Prepare a 9x13" pan with parchment paper. Set aside.

In a stand mixer fitted with a paddle attachment, mix butter and sugars on high speed until light and fluffy.

Add vanilla extract. Mix until combined.

Add flour and salt. Mix until combined.

Place dough in 9x13" pan. Spray hands with non-stick cooking spray and press cookie dough evenly into the pan.

Place in the fridge for 30 minutes.

Melt 18 oz of white melting chocolate in the microwave in 30 second intervals.

Once melted, add a dew drops of blue chocolate coloring to the 18 oz bowl. Mix and keep adding blue until you get desired color.

Take the cookie dough out of the fridge and pour melted chocolate over it. Use an offset spatula or knife to spread the chocolate and make it an even layer.

Melt the remaining 6 oz of chocolate in the microwave in 30 second intervals.

Once melted, place half of the white chocolate into a piping bag. Color the other half using the red chocolate coloring. Place red chocolate into a piping bag.

Cut a small hole on the end of the white piping bag and drizzle it all over the blue chocolate. Repeat with the red chocolate.

Immediately add sprinkles.

Set in the fridge to cool for an hour.

Use a sharp knife to cut into bars.