A simple recipe with big results. These buttery brown sugar layer bars are packed with oats and apricot preserves. It's an easy one-bowl recipe that everyone loves!

This Apricot Jumbles recipe is the recipe that started it all folks. This delightful fruit layer bar was the first recipe I decided to go rogue. In other words, I strayed from the instructions to create something of my very own. And guess what? It's freaking fantastic. For the last 15+ years, this has always been one of my favorite go-to recipes. Going to a party? Jumbles. Need to bake something for a birthday? Jumbles. Want to impress that new boy you're dating? Jumbles.
But above all else, this one-bowl recipe is quick and easy and does not require any kind of mixer. So if you are looking for a new favorite recipe, here you go.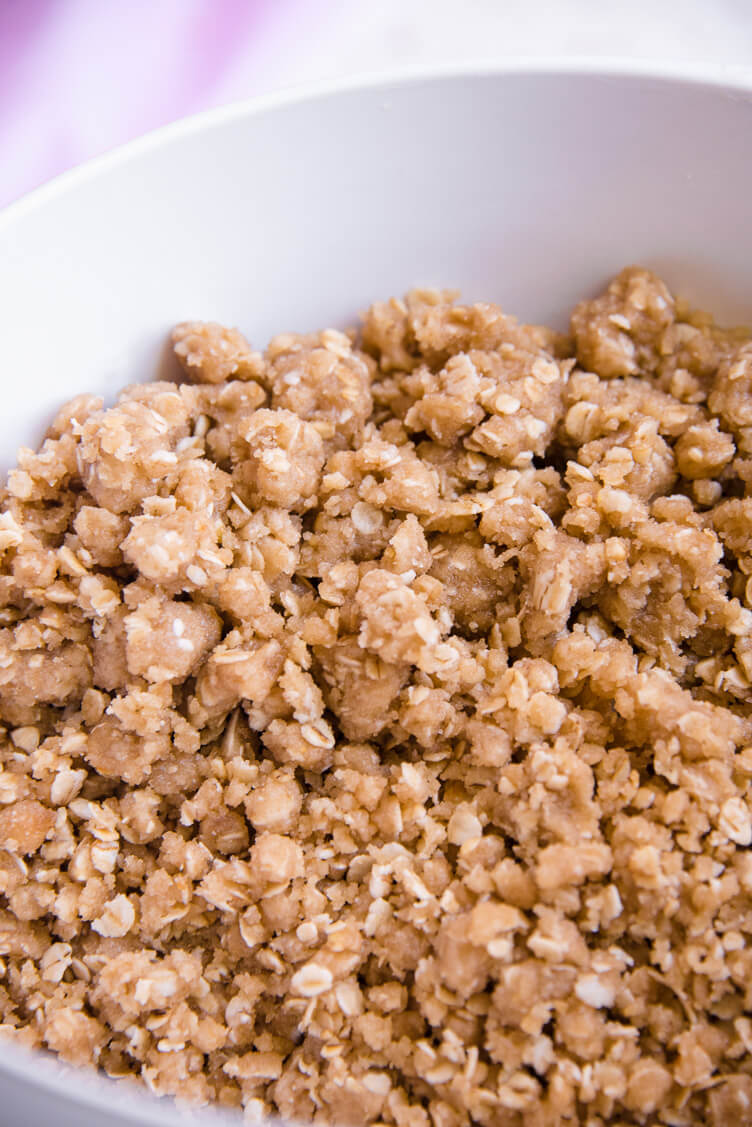 Tips for Making Jumbles
Make sure you measure your flour correctly: Never measure flour straight from the bag or container. It always needs to be "fluffed" before you start measuring. You can use a fork to move things around. Or you can always use a scale to make sure you have the perfect amount.

Mix your dry ingredients first: Make sure all your dry ingredients are mixed and fully combined before adding the melted butter. Once the butter goes in, it is much harder to make sure all the ingredients are properly distributed.
Use melted butter: Not room temp. Not half melted. ALL the way melted. Melting the butter will create that delightful chewiness in your oatmeal layers.
Use parchment paper: I like to line my baking pan with parchment paper. This makes it easier to remove the final product and cut them into nice pieces.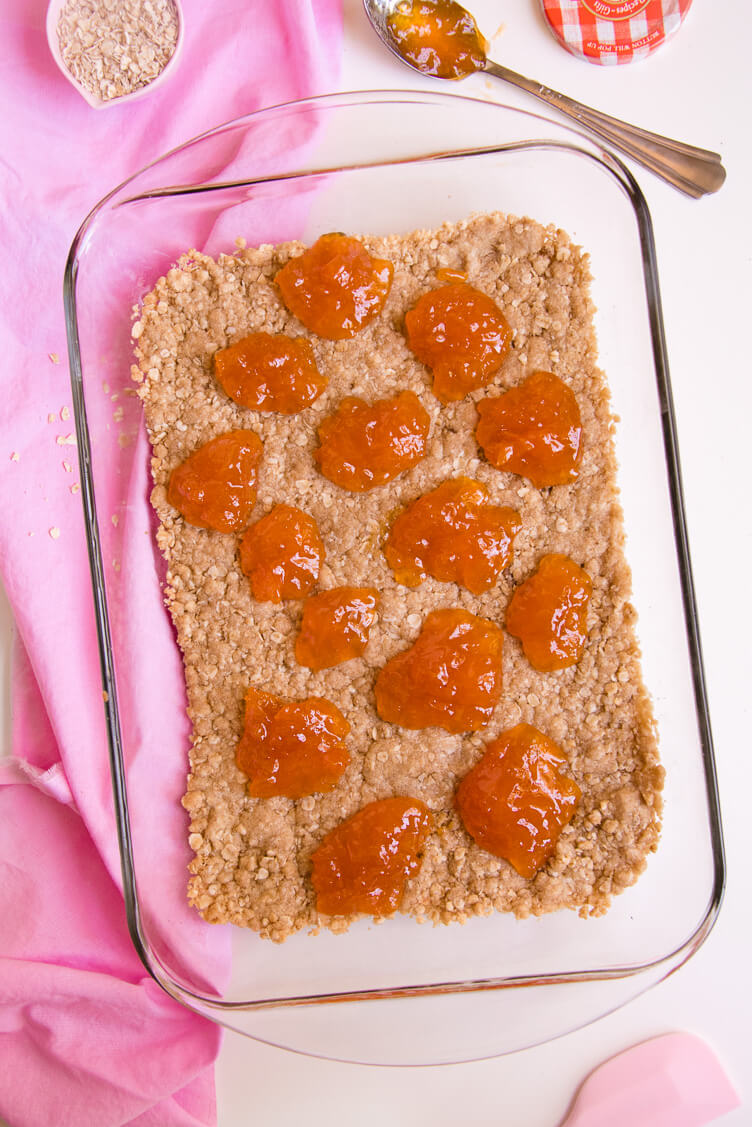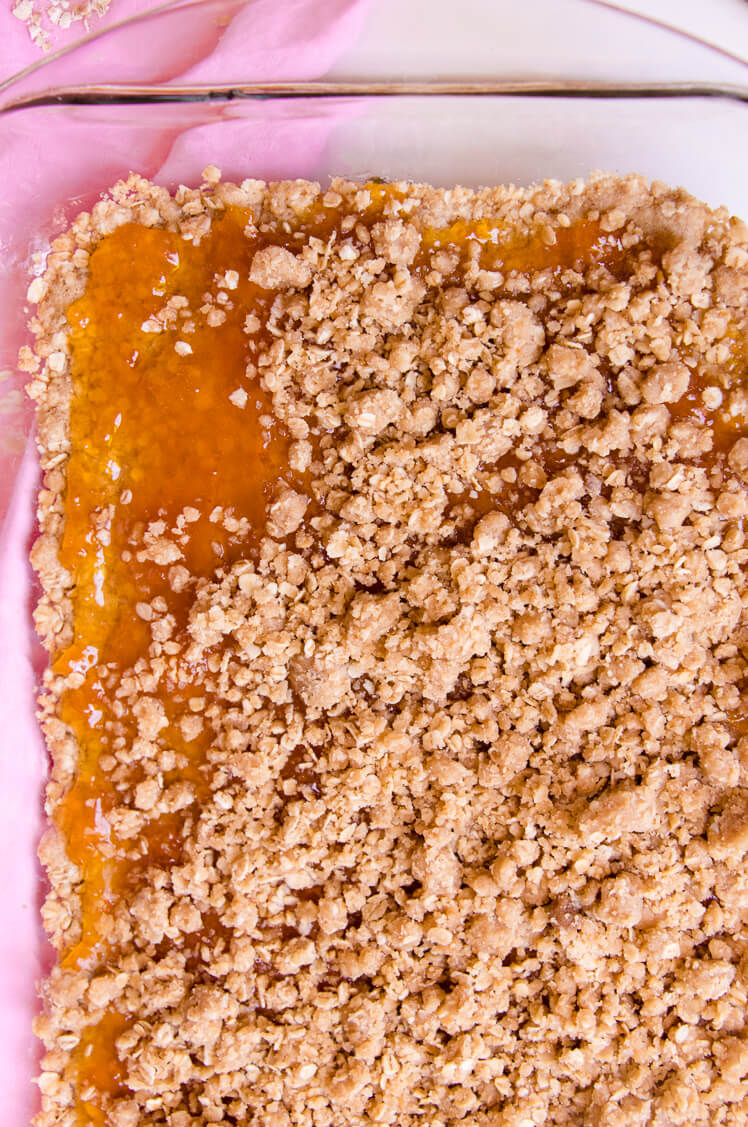 The Ingredients You Need for Apricot Jumbles:
Unsalted butter. Always use unsalted butter as it gives you complete control over the flavor of a recipe.

Light Brown sugar. You can use dark brown sugar as well, but I prefer the taste of light brown sugar.

All-purpose flour. This is the most common type of flour used in the US and can be found at any grocery store.

Quick Cooking Oats: Make SURE they are quick cooking. That means they are cut into small thin pieces. Regular oats are too big and will NOT work in this recipe.

Baking soda. This is your leavening agent. There isn't much – but we do want a little bit of puff in our top and bottom layers.

Apricot jam or preserves. Either one works here. I prefer using jam because preserves have more chunks of fruit in them. Jam spreads more smoothly. My favorite jam is from Bonne Moman.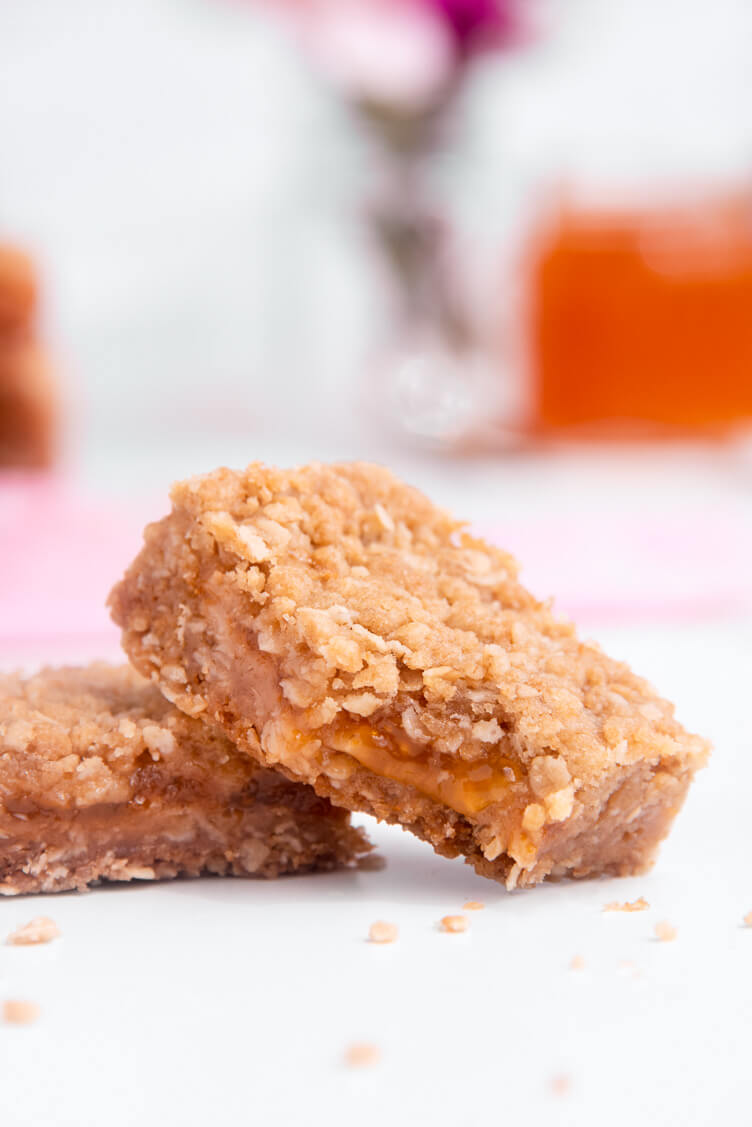 Can I make these different flavors?
Of course! You can put almost anything in the middle. Here are some of my favorites:
White chocolate chips and caramel sauce you can get that recipe here

Chocolate chips and caramel sauce

Butterscotch chips and caramel sauce

Raspberry jam

Raspberry jam and white chocolate chips
How to Serve and Store Your Apricot Jumbles:
There are a few different ways you can serve these bad boys.
Serve: The most common way to serve these jumbles is at room temperature after they have been cut into pieces. But my favorite way to serve them is warm with ice cream. I don't bother with trying to cut perfect pieces—I simply use a large spoon and scoop some into a bowl and then add ice cream. It really is divine.
Storage: Always store your jumbles in an airtight container for maximum freshness. If you keep them at room temperature they will last 2-4 days. In the fridge, they will last 1-2 weeks. In the freezer, they will last 3-4 months.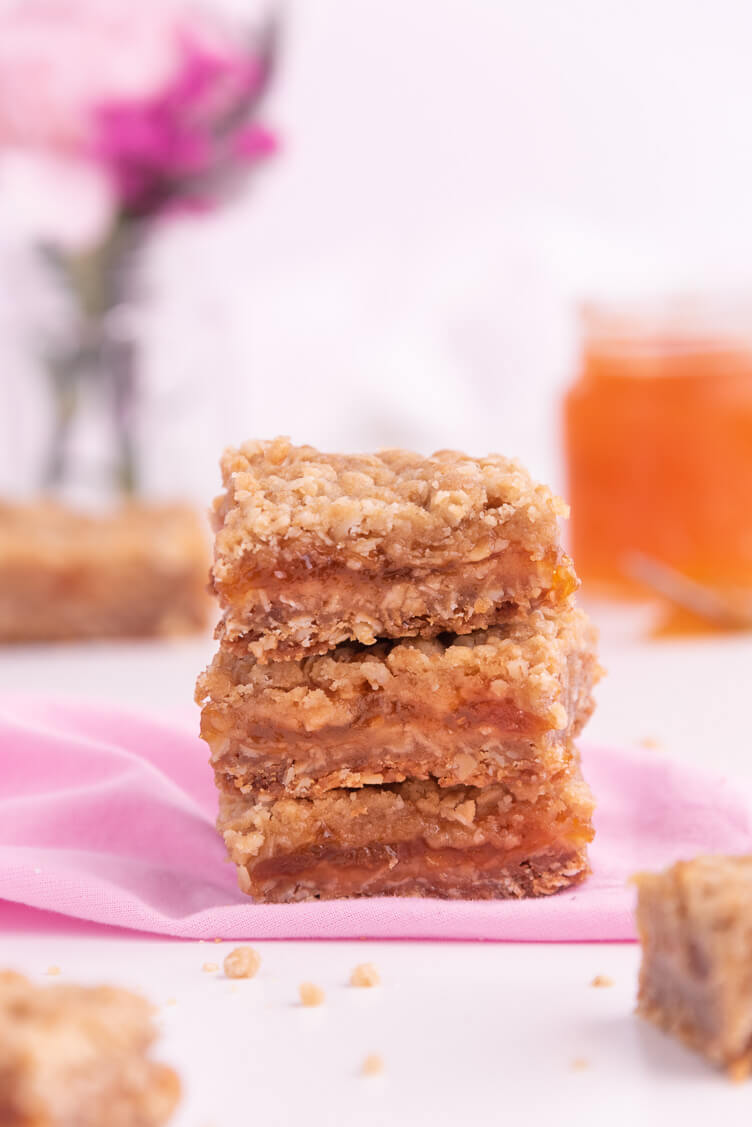 These jumbles have a special place in my heart. They are so easy to make and I can't wait for you to try them yourselves. And please let me know in the comments if you try one of the other flavor combinations!
Apricot Jumbles
A simple recipe with big results. These buttery brown sugar layer bars are packed with oats and apricot preserves. It's an easy one-bowl recipe that everyone loves!
Equipment
9x13" Baking Pan

Large Bowl
Ingredients
2 1/4

sticks

Unsalted butter, melted (255g)

2

cups

All-Purpose Flour (250g)

2

cups

Quick Cooking Oats (160g)

1 1/2

cups

Light Brown Sugar, packed(300g)

1

teaspoon

baking soda

1/2

teaspoon

salt

10

oz

Apricot Jam (283g)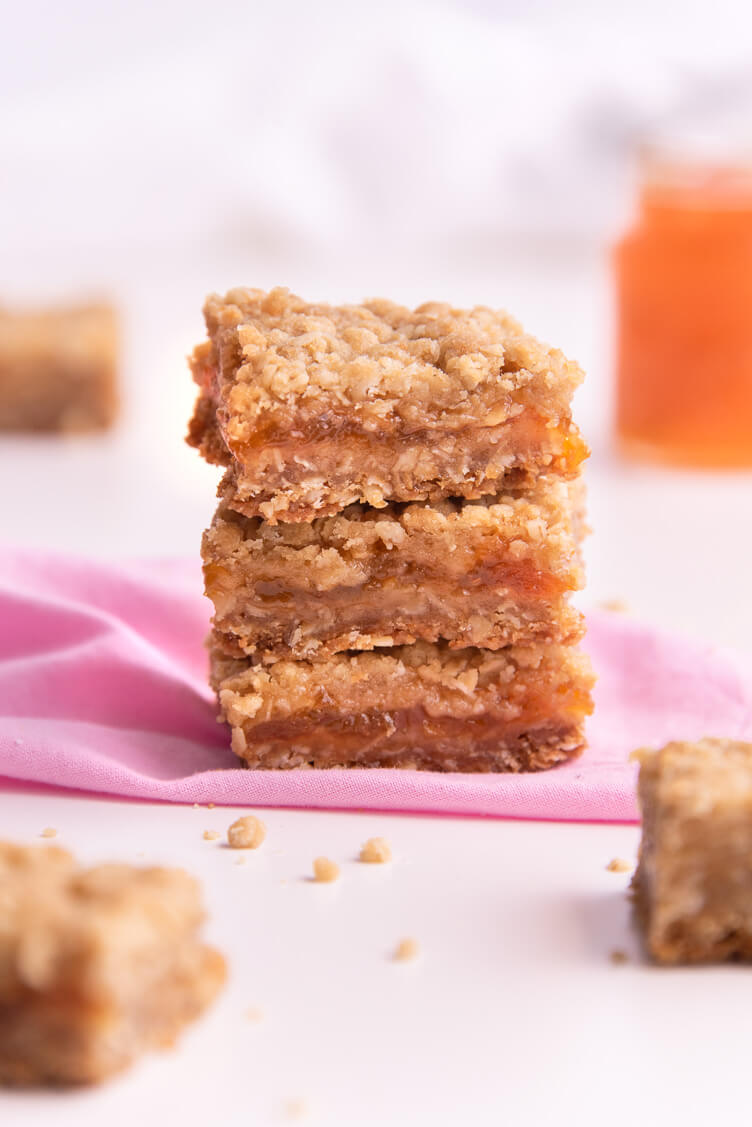 Instructions
Preheat oven to 350 degrees. Line a 9 x 13" baking pan with parchment.

Combine the dry ingredients in a medium bowl.

Add melted butter. Mix until combined or mixture is a crumbley texture.

Evenly spread half of the mixture into the bottom of the baking pan. Press down on the mixture to create one even, flat layer.

Place pan in the oven. Bake for 10-12 minutes or until the edges start to brown.

Take pan out of the oven and immedietly spread dollops of apricot jam around the entire oatmeal layer. Let dollops sit for 2 minutes.

With a knife or offset spatula, spread dollops into one even layer.

Spread the other half of the oatmeal mixture in an even layer over the apricot jam. Press down on the top oatmeal layer so it is packed in.

Bake for another 25-30 minutes.

Take bars out of the oven and let them sit to cool for 45 minuites.