So we all know that I love a good National Food Holiday, and today just happens to be a great one! February 23 (today) is National Banana Bread Day.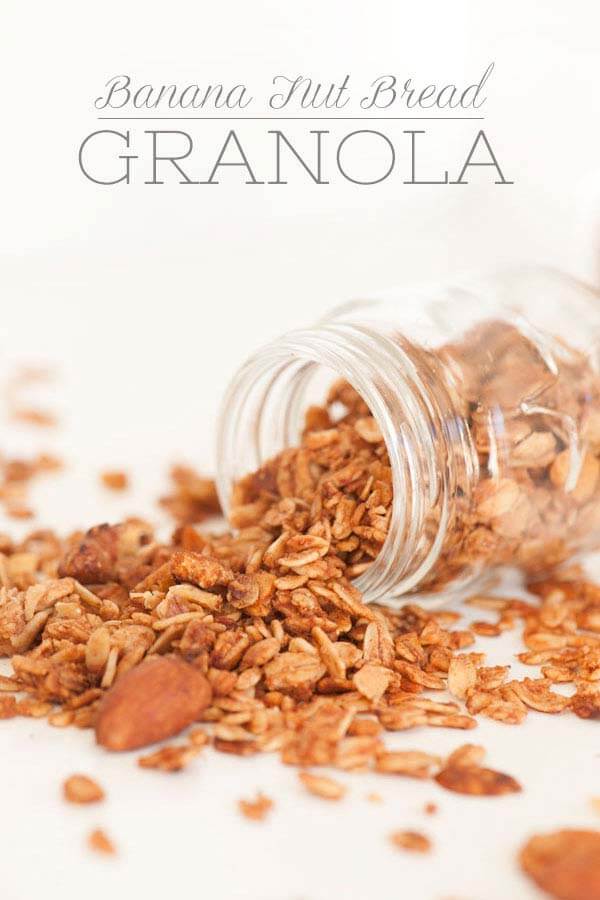 I know you are probably thinking – why in the world do we have a whole day dedicated to Banana Bread? But I'm going to tell you why – Banana Bread is DELICIOUS – especially when you add nuts and/or chocolate chips. It also happens to be the inspiration behind today's recipe – Banana Nut Bread Granola.
Growing up I thought all granola was the same. To me, it was just that oat-y stuff you put on top of your yogurt in the morning. It wasn't until I was walking down an isle at Whole Foods that I realized that there were actually a lot of different types of granola.
I have done a little bit of experimenting with granola on here – a couple of years ago I made a super basic Maple Granola, and more recently a much more fun Birthday Cake Granola. But this new recipe is by far my favorite. It may have something to do with my complete admiration for Banana Nut Bread, or my over enthusiastic approach to today's food holiday. Nevertheless, you guys can try it out for yourself and see what you think!
BANANA BREAD GRANOLA
Ingredients
3 cups rolled oats

1/2 cup almonds

1/2 cup walnuts

3 tablespoons sugar

1/2 teaspoon salt

1/2 tablespoon cinnamon

1 teaspoon vanilla extract

1 medium ripe banana, mashed

6 tablespoons pure maple syrup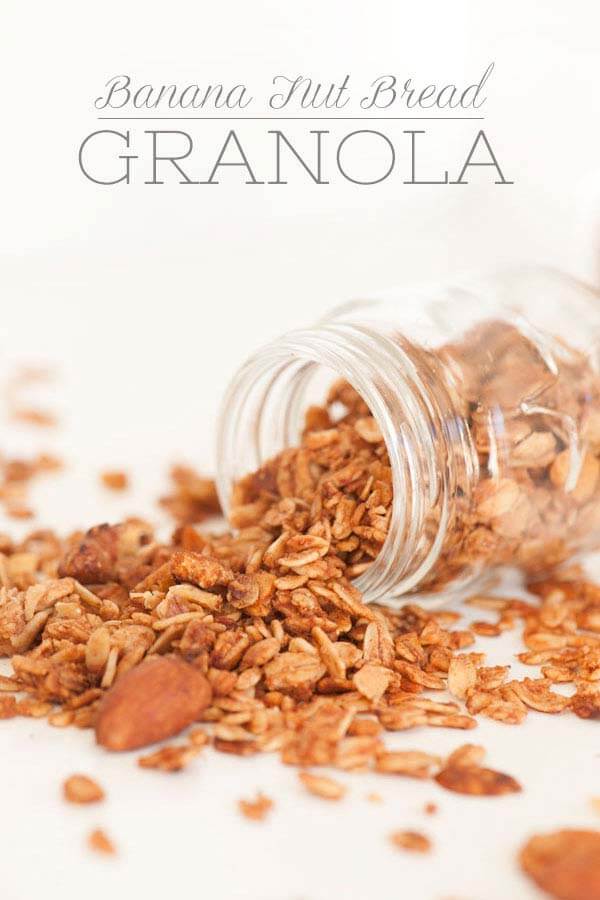 Instructions
Preheat the oven to 350 degrees and prepare a baking sheet with parchment.

In a medium bowl, mix oats, nuts, sugar, salt and cinnamon.

In a small bowl, combine maple syrup, vanilla extract and mashed banana.

Add banana mixture to the dry ingredients and mix thoroughly until combined.

Spread mixture evenly onto the baking pan.

Bake for 35-40 minutes using a fork to stir the granola around every 10 minutes.

Remove from oven and let granola cool on the pan.

Granola can be stored in an airtight container in the fridge for three weeks!
Notes
*Makes about 10 servings of granola