I am home from a long weekend in DC and I am basically still in a food coma. All I did all weekend was eat – and it was great. Most notable were the doughnuts (of course) and the review will be up later this week. But, that is enough about that. Back to the important things, like this Banana Chocolate Chip Peanut Butter Cake.
The inspiration for this cake came to me in a dream. I don't really know what else happened in the dream, but what I do know is that I was eating some awesome banana chocolate chip cake with peanut butter. Like I was actually spreading jiffy onto my slice of cake – and I loved it. So, I went to the kitchen to see if I could come up with something similar. In the end, I decided just spreading peanut butter right onto the cake was a little messy…so I opted for a peanut butter buttercream instead. I know it sounds like there are a lot of flavors going on here, but trust me, it works. I think you guys are going to be pretty happy with it.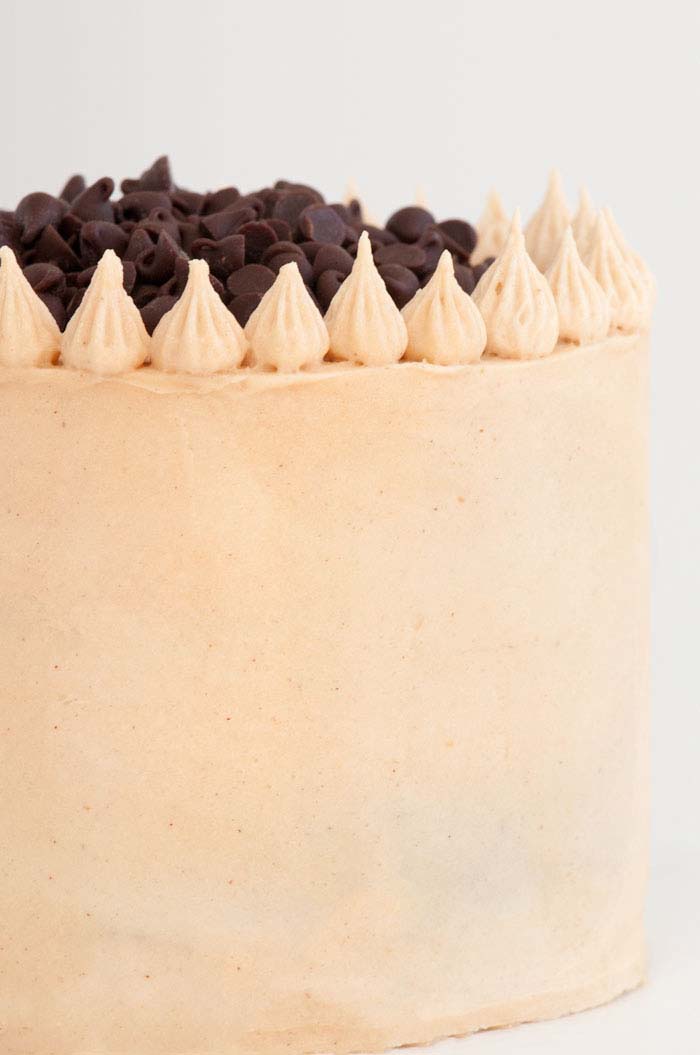 BANANA CHOCOLATE CHIP PEANUT BUTTER CAKE
Ingredients
BANANA CHOCOLATE CHIP CAKE
2 sticks butter

1 cup sugar

2 eggs

1 tsp vanilla extract

1 cup mashed bananas (2- 3 bananas)

1 3/4 cups flour

1/2 tsp salt

2/3 tsp baking soda

5 tbs buttermilk

2/3 cups semi-sweet chocolate chips
PEANUT BUTTER FROSTING
1 1/2 sticks of unsalted butter

3 3/4 cups powdered sugar

3/4 cup creamy peanut butter

1/2 cup milk

2 teaspoons vanilla extract
Instructions
For the cake:
Preheat the oven to 350 degrees and grease three 6" (or two 9") cake pans with cooking spray.

In a medium bowl, mix together flour, salt and baking soda and set aside.

In a large mixing bowl, using an electric mixer with a paddle attachment, cream butter and sugar until light and fluffy (about 3 minutes).

Beat in eggs one at a time and then add vanilla extract.

In a separate small bowl, mash 1 cup of bananas. Once bananas are mashed, add them to the sugar mixture and mix until just combined.

On low speed alternatively add flour mixture and buttermilk until just combined (starting and ending with flour mixture). Do not over mix!

Lightly fold in chocolate chips.

Evenly divide batter between greased pans and bake for 25-30 minutes or until a toothpick comes out of the center of the cake clean.

Let pans cool on top of a cooling rack.
For the frosting:
In the bowl of a stand mixer fitted with the whisk attachment or in a large bowl with an electric mixer, mix butter until light and fluffy.

Add powdered sugar, milk and vanilla and mix on low speed until combined.

Add peanut butter and mix on high speed until light and fluffy (about 5 minutes).
Assembly
Once cakes are cool, take them out of the pans, and place one layer onto a cake plate. Using an offset spatula, spread about 1/2- 3/4 cup of frosting on the cake.

Gently place the second player on top of the frosting. Using an offset spatula, spread another 1/2 - 3/4 cup of frosting on the cake.

Turn the third layer upside down (so the bottom is face up) and gently place it on top of the second layer.

Use the remaining frosting to frost the rest of the cake. Start with a generous amount on the top and work your way to the sides.