My cousin is getting married in June, and for some crazy reason, she is trusting me to make her wedding cake. Now, there are a lot of different details that go into making a successful wedding cake – color palate, design, delivery procedure. But before any of that can be done, we have to decide on the most important factor – the flavor.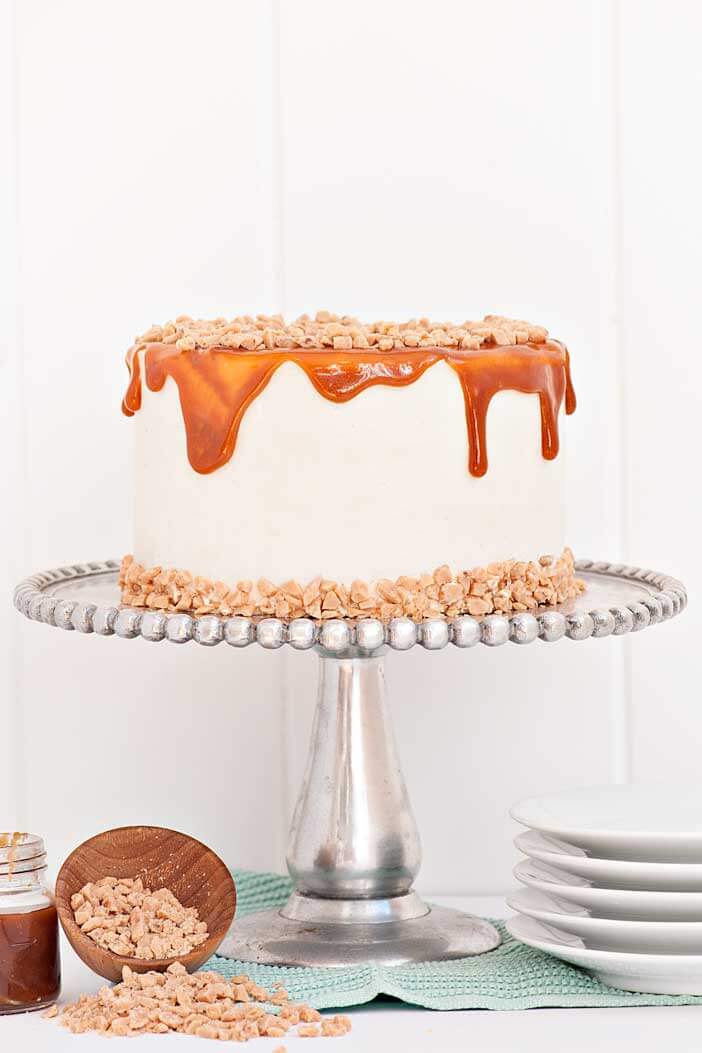 This is usually done in the form of a "cake tasting" – which is exactly what is sounds like – a meeting where you get to stuff your face with a bunch of different cakes, frostings, and fillings until you decide on a certain combination.
My cousin told me that in all the wedding planning, her fiancé was most excited about doing the cake tasting. And who could blame him? Cake is delicious. After a good amount of face stuffing, and some careful deliberation, they finally decided on a banana cake with a caramel buttercream.
This was surprising to me, because for some reason, I had never even thought of this combination before. But as soon as they did, inspiration for this Banoffee cake hit me.
Banoffee, or Banana + Toffee, is the base of my favorite English Dessert, Banoffee Pie. It is a simple biscuit crust, filled with fresh bananas and a creamy caramel/toffee filling.
It turns out, this combination works extremely well in cake form too. A fresh banana cake is filled with caramel buttercream and topped off with extra caramel drizzle. But the best part is the toffee pieces added for a little extra crunch.
This unique flavor combination comes together to make a truly unique, but delicious dessert that will definitely have your guests asking for seconds! I know the instructions seem a little lengthy – but don't let that scare you! This cake is worth it!
BANOFFEE CAKE
Ingredients
BANANA CAKE
2 sticks butter

1 cup sugar

2 eggs

1 tsp vanilla extract

1 cup mashed bananas (2- 3 bananas)

1 3/4 cups flour

1/2 tsp salt

2/3 tsp baking soda

5 tbs buttermilk

1 cup toffee bits
BUTTERCREAM
1 lb (2 cups) room temperature butter

5 egg whites

1 cup sugar, divided

1 1/2 teaspoons vanilla extract

water

candy thermometer
CARAMEL SAUCE
1 cup sugar

6 tablespoons water

4 tablespoons butter

1/4 c heavy cream

1/4 teaspoon salt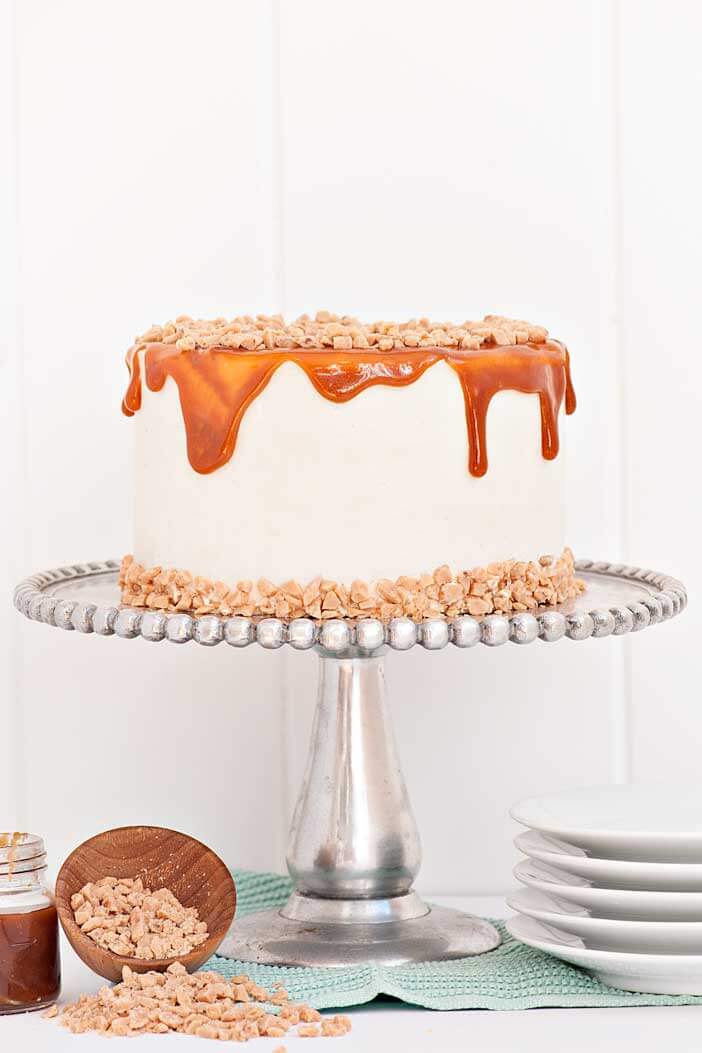 Instructions
For the cake:
Preheat the oven to 350 degrees and grease three 6" (or two 9") cake pans with cooking spray.

In a medium bowl, mix together flour, salt and baking soda and set aside.

In a large mixing bowl, using an electric mixer with a paddle attachment, cream butter and sugar until light and fluffy (about 3 minutes).

Beat in eggs one at a time and then add vanilla extract.

In a separate small bowl, mash 1 cup of bananas. Once bananas are mashed, add them to the sugar mixture and mix until just combined.

On low speed alternatively add flour mixture and buttermilk until just combined (starting and ending with flour mixture). Do not over mix!

Evenly divide batter between greased pans and bake for 25-30 minutes or until a toothpick comes out of the center of the cake clean.

Let pans cool on top of a cooling rack.
For the caramel :
Place sugar and water into a saucepan over medium low heat and stir until sugar has dissolved. Dissolve any crystals forming on the side with a wet pastry brush.

Once sugar has dissolved increase heat to high.

At this point do not stir the mixture directly. Now and then, using the saucepan handle, give the pot a swirl to keep the mixture moving. The mixture will start to bubble after a minute or so.

After 3-4 minutes the mixture will turn from a light amber to medium amber and then finally to a dark reddish brown color. Once the mixture starts to smoke, add the butter and heavy cream. The mixture will bubble wildly. Whisk to combine.

Transfer to a small bowl and set aside to cool.
For the buttercream:
In a small sauce pan put 3/4 cup of sugar and cover the sugar with a little bit of water until the sugar looks like wet sand. Cook on a stove top over high heat until it reaches 248 degrees (you will need a candy thermometer).

While the sugar is cooking, whip eggs whites in a bowl of an electric mixer fitted with the paddle attachment at a high speed until they reach soft peaks.

Once the egg whites reach soft peaks add the other 1/4 cup of sugar and mix on a high speed until the egg whites reach stiff peaks. You can keep mixing the egg whites at a high speed until the sugar is done cooking.

Once the sugar reaches 248 degrees, immediately add it to the egg white mixture. Mix on a high speed for 30 minutes.

After 30 minutes, add the room temperature butter and mix on a high speed for 5-10 minutes until the butter is fully combined and the mixture resembles buttercream.

Add vanilla and 3/4 of room temperature caramel sauce (the remaining caramel is used as the topping). Mix until just combined.
Assembly
Once the cakes are cool, take them out of the pans, and place one layer onto a cake plate.

Using an offset spatula, spread a layer of frosting on the cake. Add 1/4 cup of toffee bits.

Turn the second layer upside down (so the bottom is face up) and gently place it on top of the first layer. Spread another layer of frosting and 1/4 cup toffee bits on top of the cake.

Add the third layer (so the bottom is face up) on top.

Use the remaining frosting to frost the rest of the cake. Start with a generous amount on the top and work your way to the sides.

Place the cake in the fridge for at least 1 hour.

In the microwave, heat the remaining caramel until it is just warm. Drizzle it over the top of the cold cake.

Add remaining toffee bits to the cake.