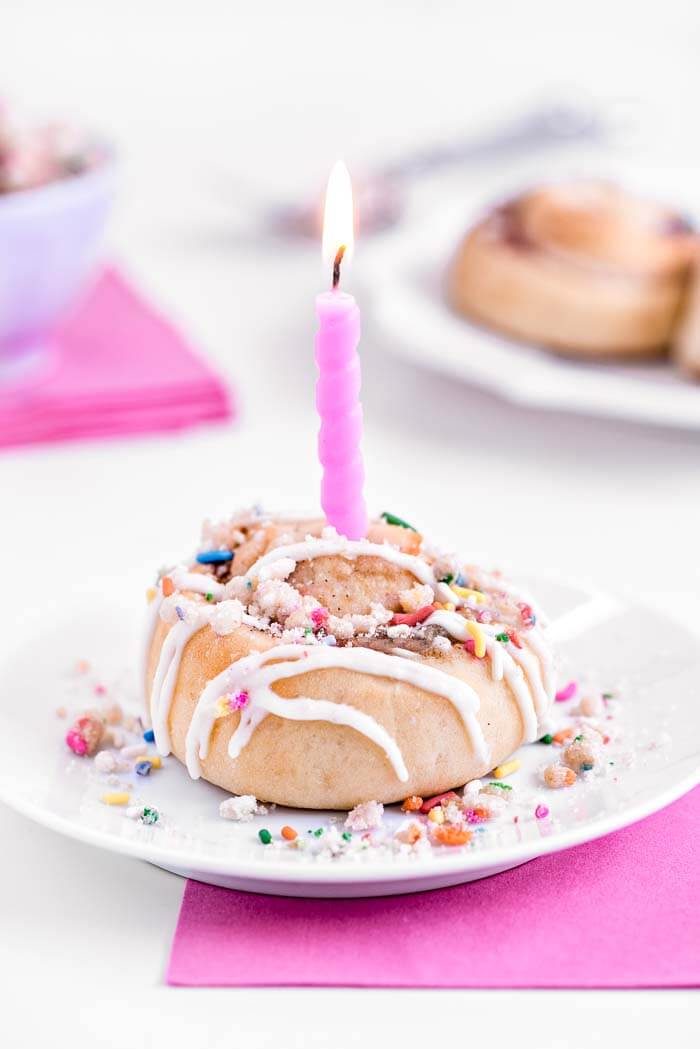 I have very important news for you…about two weeks ago I confirmed that this is the BEST Cinnamon Roll Recipe ever. Soft, flakey, delicious – these bad boys are the real deal. And the best part….they can be done in an hour! How amazing is that?! And it's all due to one secret ingredient…
INSTANT YEAST!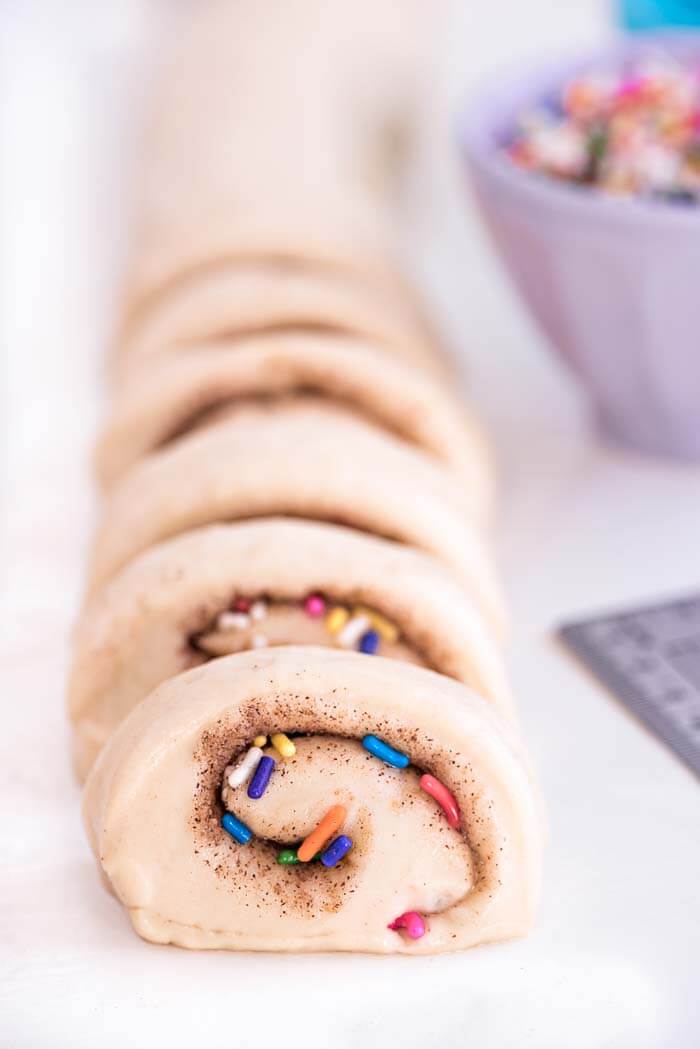 Using this secret ingredient means there is no need to knead the dough (pun intended) or to let it rest for like a million hours. By nature, I am a very impatient person. So waiting around for the dough to rise is not ideal for me – especially when it stands between me and a hot gooey cinnamon roll. But with this recipe, there is MINIMAL waiting. It's fantastic.
So now that we have re-established the awesomeness of this recipe, I present you with the ultimate Cinnamon Roll Remix – The Birthday Cake Cinnamon Roll featuring my favorite Birthday Cake Crumbles. I'm drooling over here just thinking about them.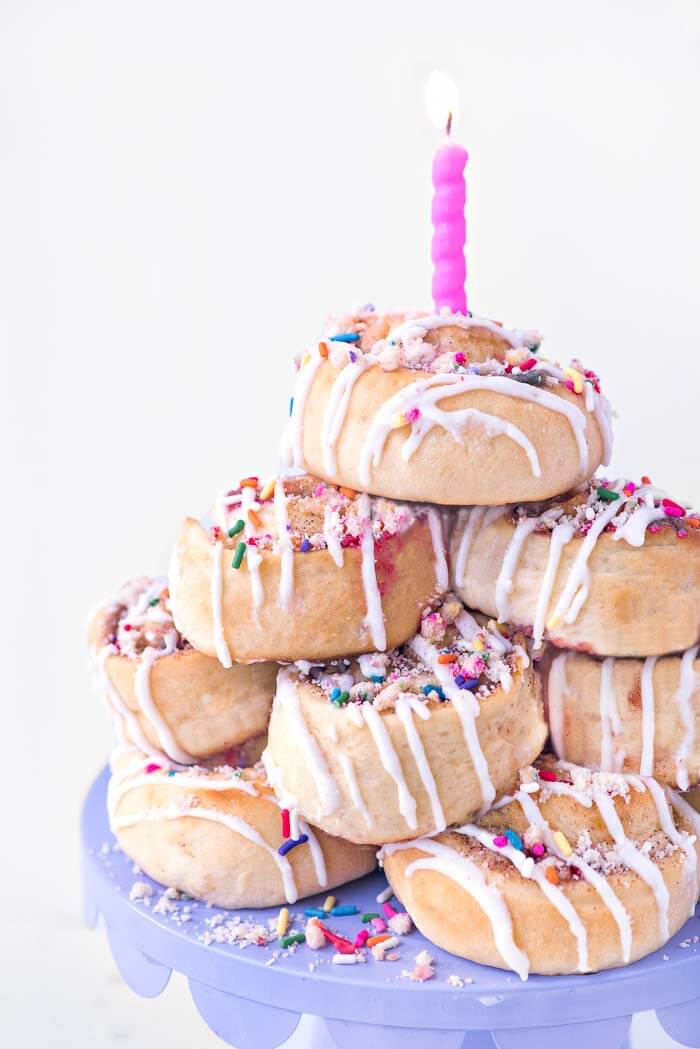 And even though these were created for an actual birthday, I give you permission to make these any time you want. Everyday is someone's birthday somewhere, right?
So what are you waiting for?! Go get yourself some active yeast and start baking!
BIRTHDAY CAKE CINNAMON ROLLS
Ingredients
DOUGH
1 3/4 cups warm water

1/4 cup + 2 tablespoons sugar

1/4 cup vegetable oil

3 tablespoons active yeast

1/2 tablespoon salt

1 egg + 1 egg yolk

5 1/4 cups flour
FILLING
1/4 cup + 2 tablespoons sugar

1.5 tablespoons of brown sugar

2 teaspoons of cinnamon

1/4 cup unsalted butter

1/4 cup sprinkles
FROSTING
3 cups powdered sugar

6 tablespoons of unsalted butter

2 teaspoons of imitation vanilla extract

1/4 teaspoon of salt

3 - 6 tablespoons milk
BIRTHDAY CAKE CRUMBLE
1/2 cup sugar

1 1/2 tablespoons brown sugar

3/4 cup cake flour

1/2 teaspoon baking powder

1/2 teaspoon salt

1/4 cup canola oil

1 tablespoon clear vanilla extract

2 tablespoons sprinkles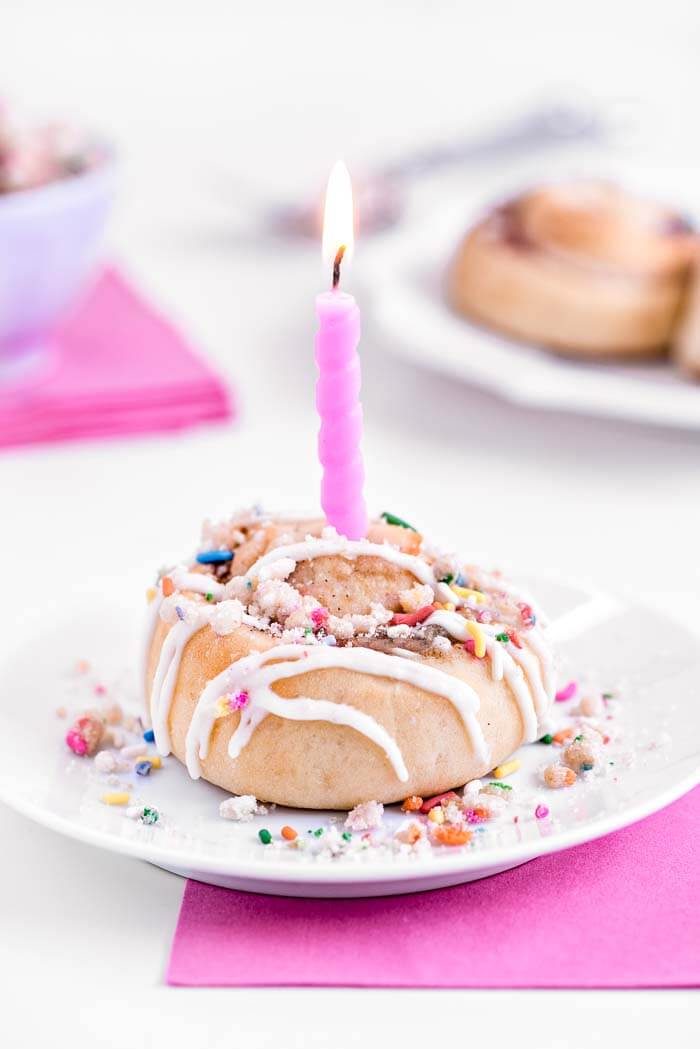 Instructions
FOR THE BIRTHDAY CAKE CRUMBLE
Preheat the oven to 350 degrees and prepare a baking sheet with parchment paper.

In a mixer fitted with a paddle attachment, combine sugars, flour, baking powder salt and sprinkles on low speed.

Stream in canola oil and vanilla and turn the mixer to medium/high speed. Let the mixer run until the mixture turns into small clusters (about 2 minutes).

Place 1/2 of the mixture in a bowl and set aside (you will be using it for the filling). Spread the other 1/2 the mixture evenly on prepared baking sheet and bake for 10 minutes (this is for the topping).

Let the mixture cool for 8 - 10 minutes and then, using a fork, break the baked crumble into smaller pieces.
FOR THE DOUGH
Preheat oven to 400 degrees.

In an electric mixer fitted with a dough hook, mix warm water, sugar, oil, and active yeast. Mix on low speed for 3 minutes and then turn the mixer off and let ingredients sit for 10 minutes. The yeast will activate and begin to rise and thicken.

Add salt, eggs, and flour. Mix on a medium speed for 6 - 8 minutes (until the sides of the bowl are clean) and then let sit for 5 minutes.

While the dough is resting, make the filling. Melt butter and set aside. Combine sugars and cinnamon and set aside.

On a lightly oiled surface, roll dough out into a rectangle shape (about 12" high x 18" long).

Using a pastry brush, lightly brush the melted butter on dough.

Sprinkle filling mixture, 1/4 cup sprinkles and uncooked birthday crumbles evenly over dough.

Starting at one of the long edges, roll the dough into a tight cylinder shape. Cut a 8" piece of unflavored dental floss. Place the floss underneath the roll about 1 - 2 inches from the edge. Take the two ends of the floss and cross them over the top of the cylinder and pull. Discard the end piece and continue this process making rolls 1-1/2" wide.

On a baking sheet lined with parchment paper, place 6 rolls on a sheet. Let the rolls sit for another 8-10 minutes before putting them into the oven.

Bake for 12-14 minutes until the edges become golden brown.
FOR THE ICING
In a mixer fitted with a whisk attachment, whisk butter and powdered sugar on a low speed.

Add milk until frosting reaches desired consistency (3 tablespoons for thick frosting, 6 tablespoons for thinner frosting).

Frost each roll generously.

Add additional sprinkles and baked birthday cake crumble.