These Birthday Cake Macarons are the best thing since actual birthday cake! The super-soft macaron shells, delicious birthday cake filling and copious amounts of sprinkles make these the perfect treat.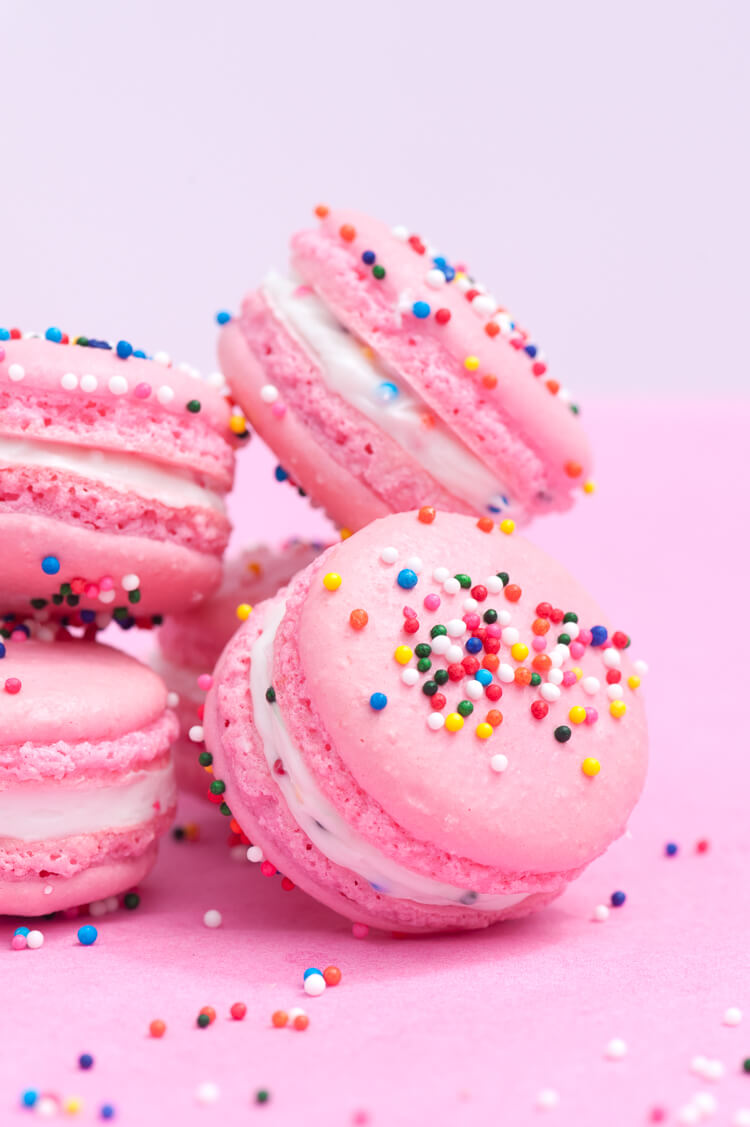 Are Macarons Hard To Make?
Yes and No. People often say macarons are difficult to make – but I think they are just using the wrong recipe. After working in a macaron shop, I know some recipes can be a bit more complicated. And if you want to go that route and boil your sugar – you go glen coco.
But if you are not so into that, you have come to the right place. After trying MANY different recipes at home, I finally found a super simple recipe one that ANYONE can make! These Birthday Cake Macarons are a take on my classic Vanilla Macarons – but with a bit of a birthday twist!
And if you are still feeling nervous about your macaron abilities – I made a troubleshooting guide for you. Check it out here.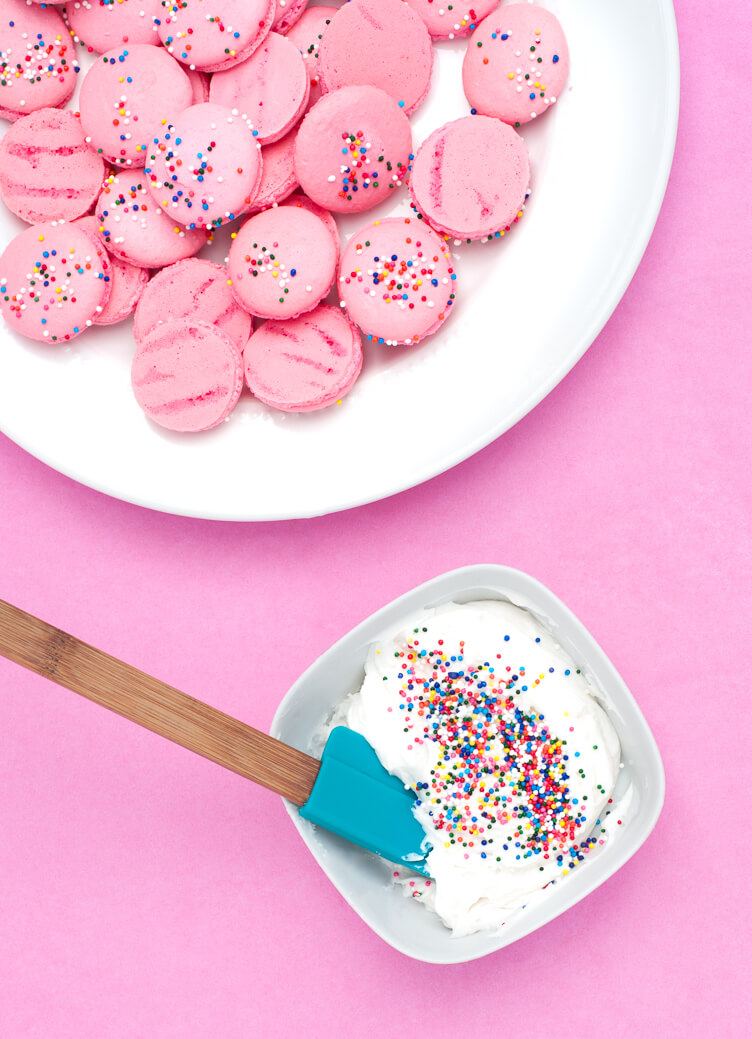 Where do Macarons get their flavor?
Most of the time – the flavor is in the filling. You can do some slight variations on macaron shells – but I find the best way to approach it is to stick with a nice basic shell. You can use food coloring to jazz it up or add something on top (like I did here with the sprinkles). But the filling is where you are going to knock them out of the park.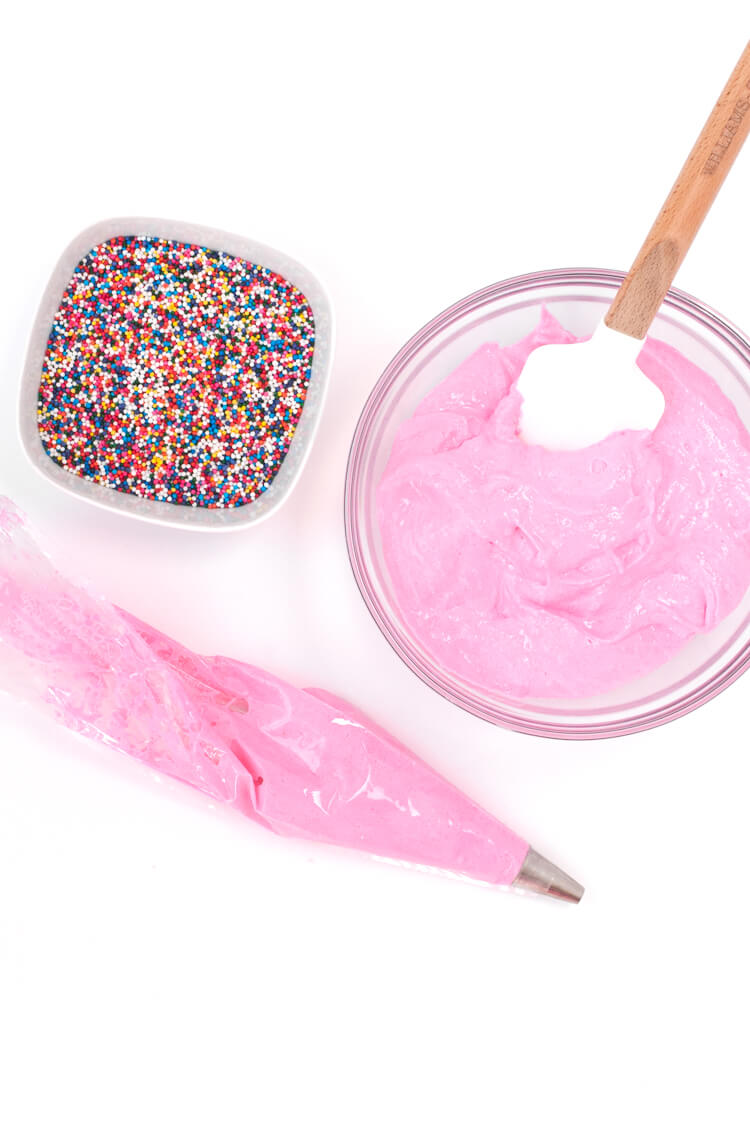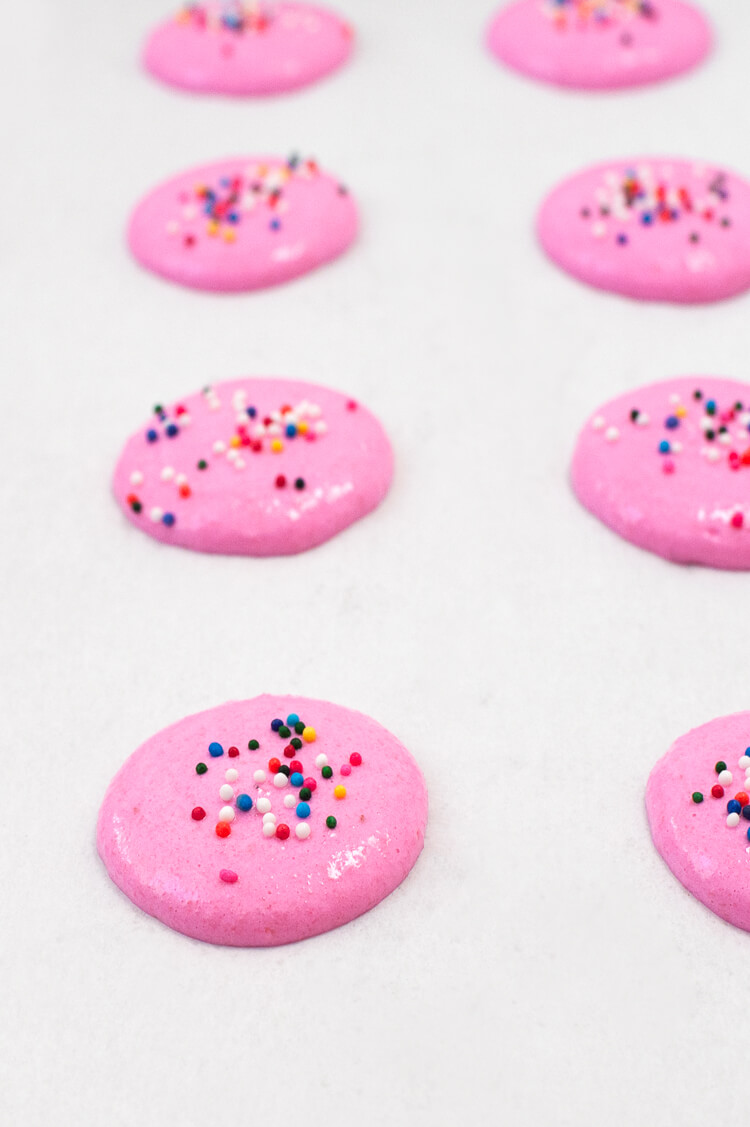 /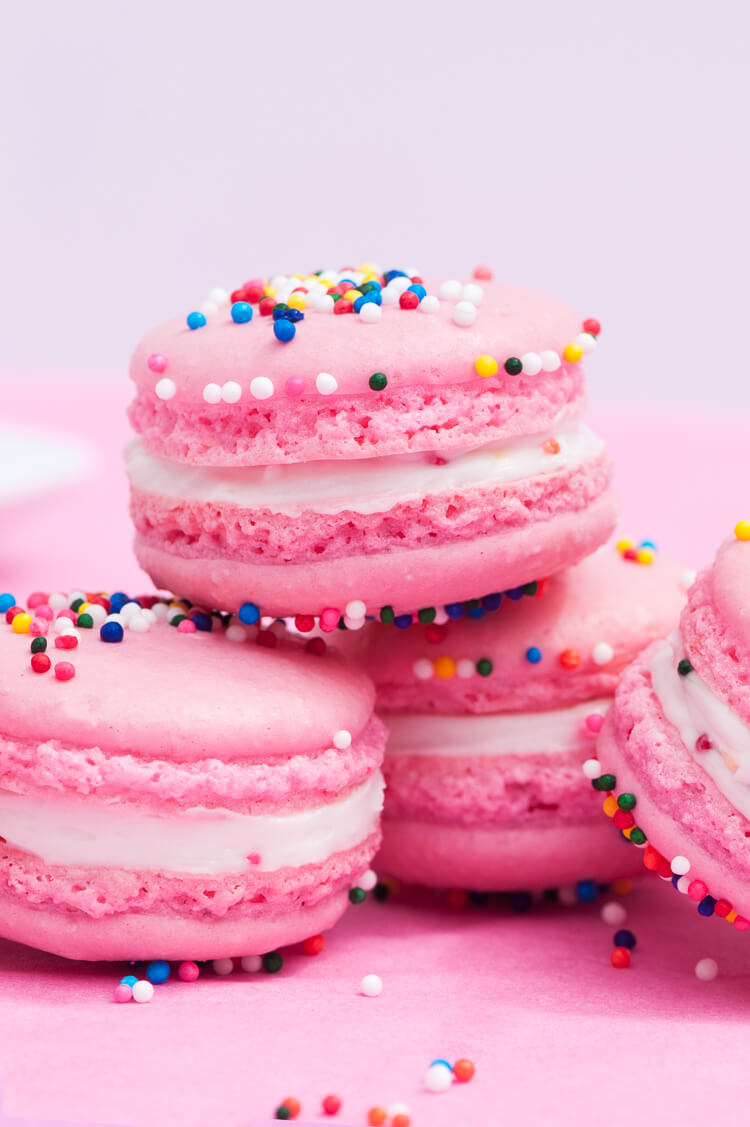 When should I make these?
Originally, I created this recipe for people who don't love birthday cake (cough my brother cough). And while I have a hard time understanding that concept, I generally try to respect people's food choices. These are a great alternative as a celebratory dessert if your birthday girl or boy isn't so into cake. They are fun, festive, and FULL OF SPRINKLES! But really…follow your heart. You can make these cookies whenever you want!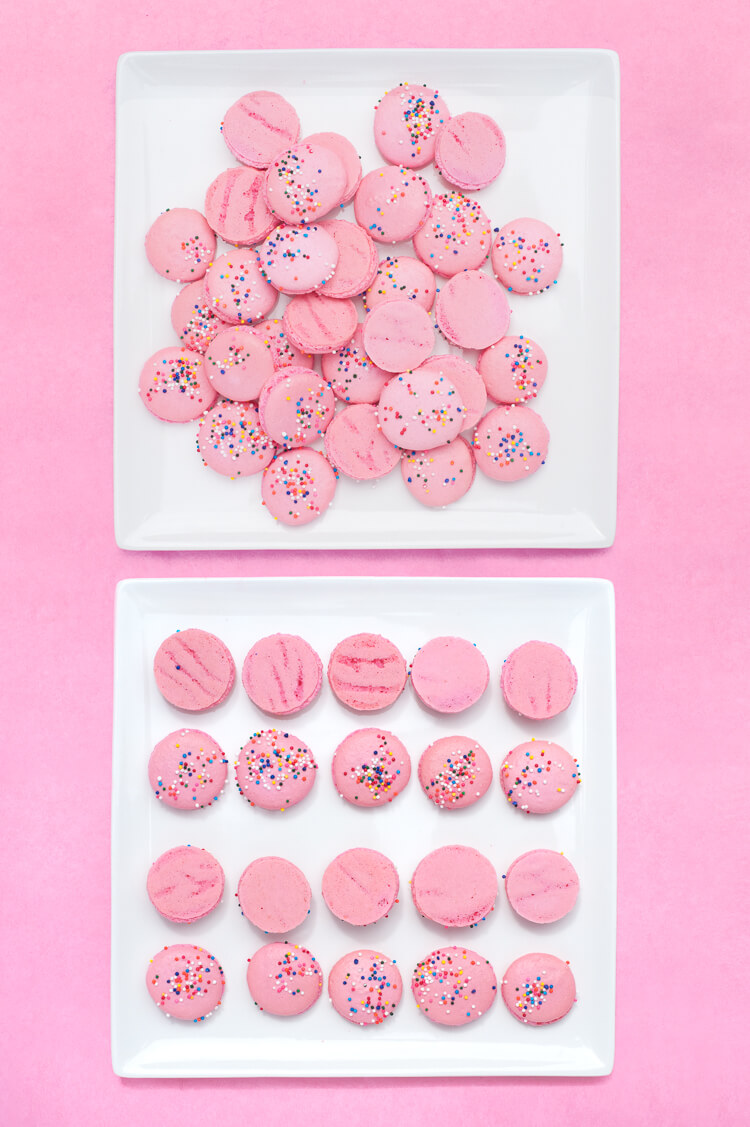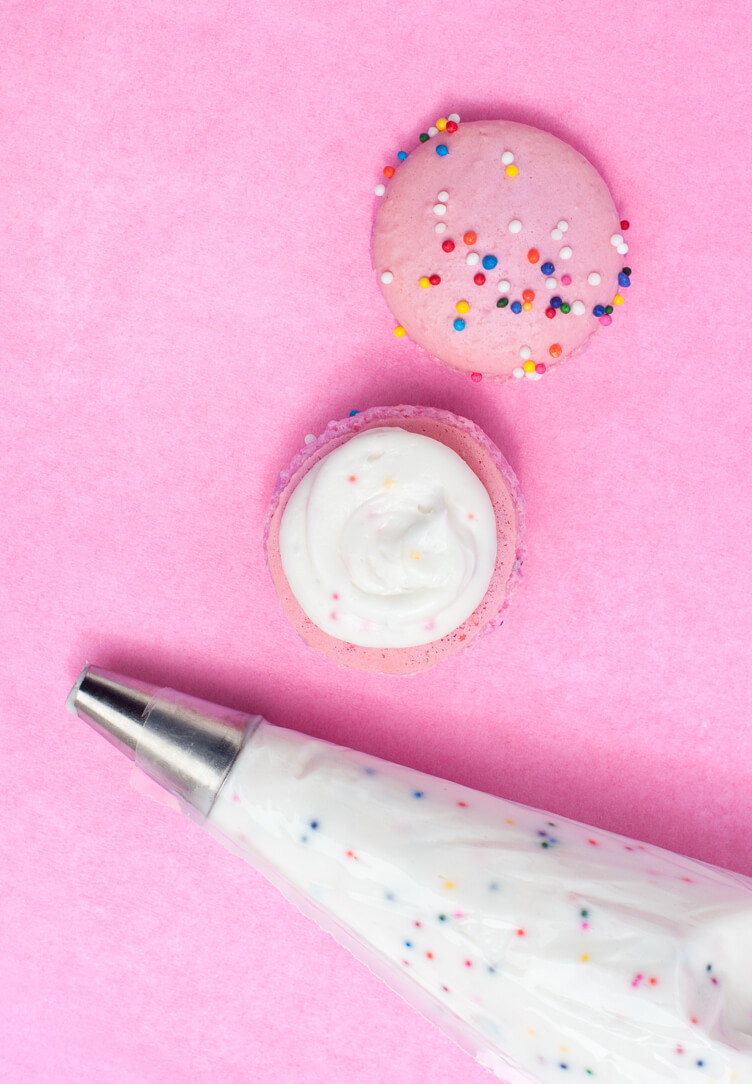 BIRTHDAY CAKE MACARONS
Ingredients
MACARON SHELLS
1 1/2 cups powdered sugar

1 cup + 2 tbs almond flour

3 eggs whites

1/2 cup sugar

Food coloring

Sprinkles
BIRTHDAY CAKE FILLING
1/2 cup unsalted butter

1 3/4 cup powdered sugar

1/2 tsp milk

3/4 tsp imitation vanilla extract

2 tablespoons sprinkles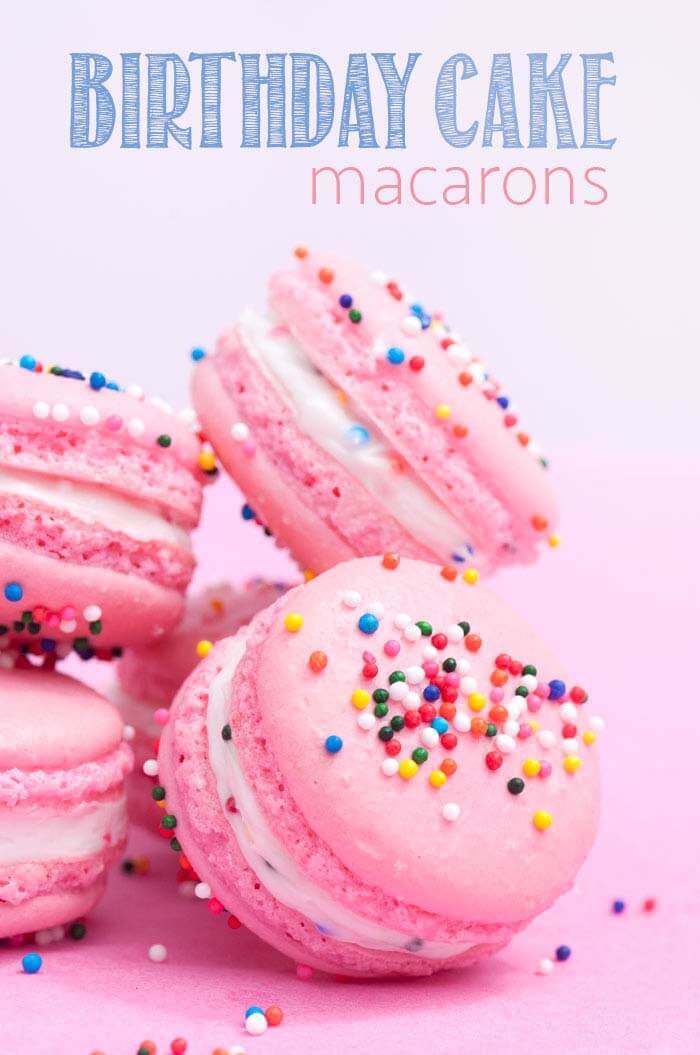 Instructions
For the shells:
Preheat oven to 325 degrees.

Prepare a pipping bag with a round tip with about a 1/4" opening (wilton tips #9, #10 and #11 should work) and a baking sheet lined with parchment paper.

In a medium bowl, sift almond flour and powdered sugar together. Set aside.

In a stand mixer with a whisk attachment, beat egg whites on high speed until they form soft peaks.

Lower the mixer's speed to medium and add sugar.

Put mixer back on the highest speed and beat until they form stiff peaks.

With the mixer still on high speed, add food coloring a few drops at a time until you get desired color.

Take bowl off of mixer and add almond flour/sugar mixture.

Using a rubber spatula, aggressively fold in dry ingredients until the batter starts to loosen and becomes a little runny. To test if the batter is ready, lift a small amount of batter from the bowl and drop it back into the batter. If it does nothing, keep mixing. If it slowly melts back into the batter after 20-30 seconds, it is ready.

Put batter (about 1/3 of the mixture) into prepared pipping bag and cover the rest of the batter with saran wrap.

Pipe 1 1/2" circles on prepared baking sheet and firmly tap the bottom of the tray so the batter flattens out. Sprinkle sprinkles on top of each macaron.

Repeat with remaining batter.

Let them rest for 30-45 minutes until they form a skin.

Bake for 10-12 minutes, or until they are set.

Let cool before peeling them off parchment paper.
For the birthday cake filling:
In a stand mixer with a whisk attachment, cream butter until it is soft and smooth.

Add powdered sugar, milk, and imitation vanilla and mix until light and fluffy.
Assembly
1. Peel macaron shells off parchment paper and match according to size.

2. Fill a piping bag with a round tip (wilton tip #6 or #7 should work) with filling and pipe a small dollop on one half of a pair of cookies.

3. Sandwich the cookie pair together and eat!