Delicious black velvet cake with a smooth cream cheese frosting topped with fun sprinkles! This cake is the perfect Halloween treat.
I LOVE HALLOWEEN. And I also love cake. So I decided it was time to make a Halloween-inspired cake. But first things first – let's talk about Black Velvet cake.
What is Black Velvet Cake?
It is NOT chocolate cake! Black Velvet cake is just a Halloween version of a classic Red Velvet Cake. Most people don't know this, but Red Velvet Cake is just a lightly flavored chocolate buttermilk cake with a lot of red food coloring. The actual "red" part of this cake is not important in terms of flavor. So I decided to switch the colors up a little bit.
How do you get the cake so black?
A classic red velvet cake recipe uses cocoa powder. So instead of using the traditional cocoa powder, I used Hersey's Special Dark Cocoa Powder. This helped me get a much darker look. Then, I brought it the rest of the way with black food coloring.
Of course, then I topped it off with a Cream Cheese frosting (just like a classic red velvet cake) and then I added some Sweetapolita Sprinkles. Becuase we all know everything is better with sprinkles.
Tips for Success
Use a Cake Leveler to make sure your layers are even. There is nothing worse than a lopsided or wonky cake due to domed or uneven layers.
Make sure you use a Crumb Coat when you are icing this cake. Otherwise, you will end up with a bunch of black flecks in your icing – and nobody wants that.
Choose sprinkles that pop! If you are going to go with orange frosting (like I did), I suggest using some variety of black and/or purple sprinkles.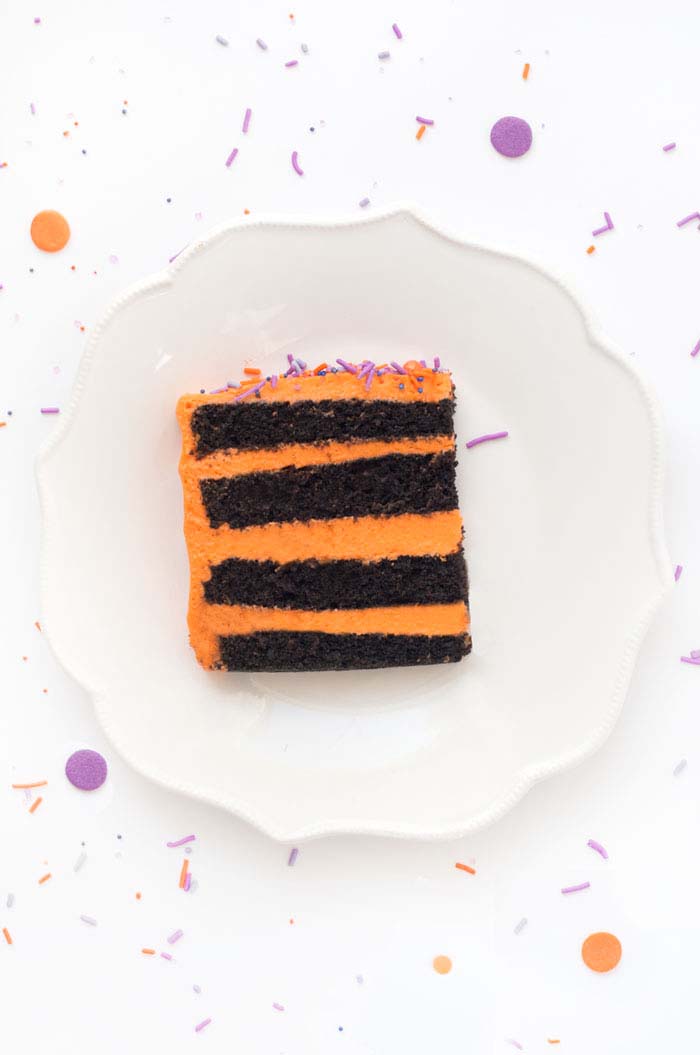 Halloween is my favorite holiday. So if you are looking to make more than just this cake, I have listed some of my other Halloween recipes below!
Other Halloween Recipe Ideas
I can't wait for you to try them! Happy Baking!
BLACK VELVET CAKE
Ingredients
VELVET CAKE
2 1/2 cups cake flour

1 teaspoon salt

1/4 cup cocoa powder

1 1/2 cups sugar

1 1/2 cups canola oil

2 eggs

1 teaspoon vanilla extract

1 cup buttermilk

1 1/2 teaspoons baking soda

2 teaspoons white vinegar
CREAM CHEESE ICING
3/4 cup salted butter

9 oz cream cheese

1 teaspoon vanilla extract

5 1/4 cups powdered sugar

Orange Food Coloring
Instructions
For the cake:
Preheat the oven to 350 degrees and prepare two 8" pans with non-stick spray and parchment at the bottom.

In a medium bowl, whisk cake flour, salt, and cocoa - set aside.

In a stand mixer, fitted with a paddle attachment, mix sugar and canola oil until well combined.

Add in eggs one at a time.

Add food coloring and vanilla and mix until combined.

Add the flour mixture, alternating with the buttermilk. Mix until just combined.

In a small bowl, mix baking soda and vinegar. Stir it into batter until combined.

Pour batter into two prepared 8-inch pans. Bake for 30-35 minutes.

Once they are done, place the cakes on a cooling rack until they come to room temperature.

Once cooled, use a sharp knife to cut each cake into two layers.
For the icing:
Using an electric mixer with a whisk attachment, whip together butter and cream cheese on high speed until pale and fluffy.

Mix in vanilla extract. Add powdered sugar and beat until smooth, light and fluffy - about 3 minutes.

Add orange food coloring and mix until combined.
Notes
*Recipe adopted from I Am Baker
*Makes 1 Cake