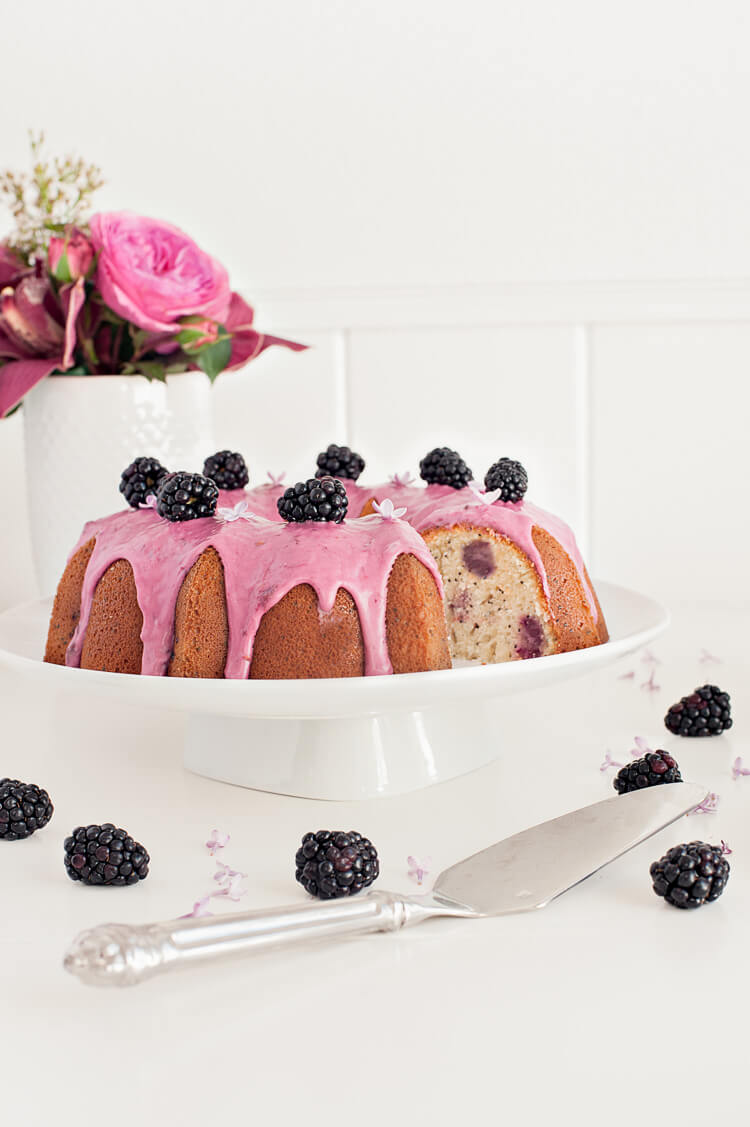 Have you ever known a person that makes one thing really really well? It could be anything – an extra gooey Chocolate Chip Cookie, a super moist Red Velvet Cake, or even an out of this world Spinach Dip. But whatever it is, it's freaking AMAZING and everyone in town knows about it.
For me, it's my best friend's mom Kathy and her killer Poppy Seed Bread. To this day, every time I see Kathy she presents me with a spectacularly wrapped, absolutely delicious Poppy Seed loaf. My family then proceeds to destroy it within the hour.
More recently, she actually started sending me home with two loaves – one for the family and one for me personally (she obviously understands me). So today's recipe is a tribute to Kathy's Poppy Seed Bread. Summer is around the corner, so I dressed it up with some fresh blackberries and topped it off with a sweet Blackberry Glaze. It's the perfect addition to your next Summer BBQ or if you can't wait that long, it goes great with coffee for a delightful breakfast.
BLACKBERRY POPPY SEED BUNDT CAKE
Ingredients
BUNDT CAKE
3 cups flour

1 1/2 cups sugar

3 eggs

1 3/4 teaspoons baking powder

1 1/8 cups vegetable oil

1 1/2 cups milk

1 1/2 tablespoons poppy seeds

1 1/2 teaspoons vanilla

1 1/2 teaspoons butter extract

1 1/2 teaspoons almond extract

6 oz. fresh blackberries
BLACKBERRY GLAZE
1 1/4 cups powdered sugar

2 oz. blackberry purée

1/2 teaspoon vanilla extract

1/2 tablespoon milk
Instructions
Bundt Cake
Preheat the oven to 325 degrees and spray Bundt Pan with non stick cooking spray.

Combine dry ingredients in a large bowl.

Add oil and milk and mix until just combined.

Add eggs, vanilla, butter extract and almond extract and mix until combined.

Stir in poppy seeds and blackberries.

Pour batter into prepared pan. Bake for 55 minutes or until a toothpick comes out clean.

Place on a wire rack to cool.
Blackberry Glaze
In a Magic Bullet or blender, purée blackberries. Press blackberry purée through a fine mesh strainer to get rid of all the seeds. Discard the seeds.

In a medium bowl, whisk together powdered sugar, purée, vanilla extract and milk.

Drizzle over cooled bundt.