That's right. These cookies are SO GOOD they got me a boyfriend. I may or may not have broken up with him 18 hours later…but my overwhelming fear of emotional connection is not what we are talking about here. That is another conversation for another day. Today, we are talking about the fact that these cookies are SO AMAZING they actually convinced some nice boy that he wanted to be my boyfriend.
Was he envisioning our relationship to be longer than half a day? Probably. But with my anxiety, I would argue he came out the winner here.
At this point in my life, I think it is safe to say I am not only an expert chocolate chip cookie eater, but I also know my stuff when it comes to baking them. And I am here to tell you, this recipe is a real winner. They are very similar to the first chocolate chip cookies I posted almost 6 years ago, but with a couple of IMPORTANT updates…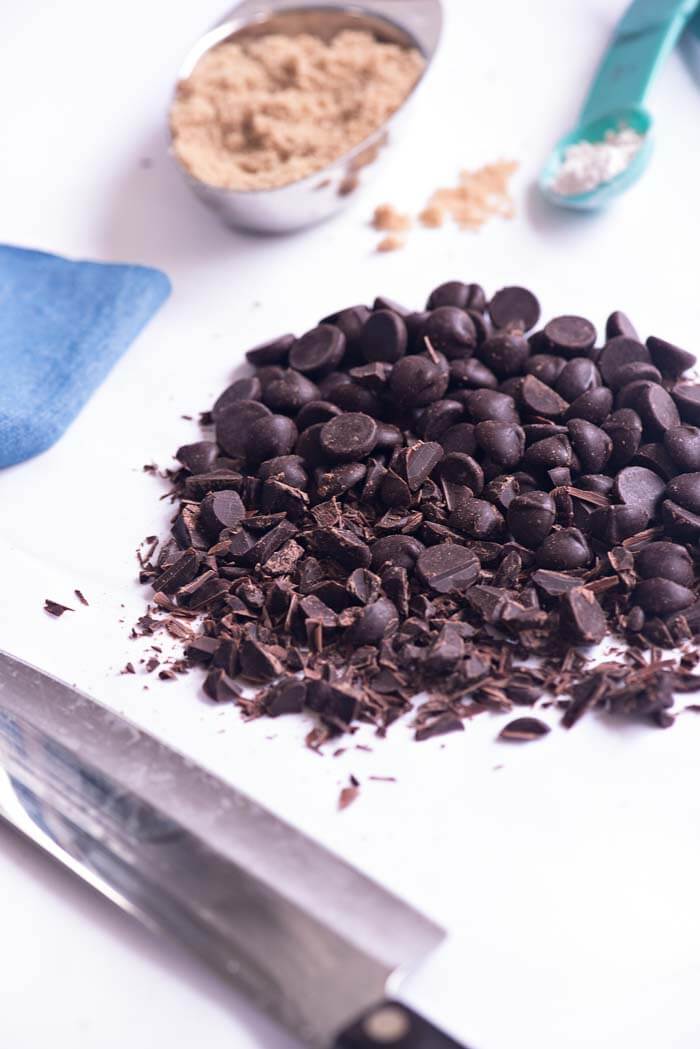 Here they are:
1. Chopping the chocolate chips: I did an Ultimate Chocolate Chip Cookie Test to see what makes the best cookie – chips, chunks or shavings . Shavings won out because they give you little tiny flecks of chocolate throughout the entire cookie without losing those big chunks of chocolate everyone loves. But, because shaving chocolate is annoying AF, I decided to make it easier on you guys. You can still use the regular chocolate chips, just take 1/3 cup out and chop them up before you put them into the dough. This will give you the amazing flake/chunk combo in every single bite. #winning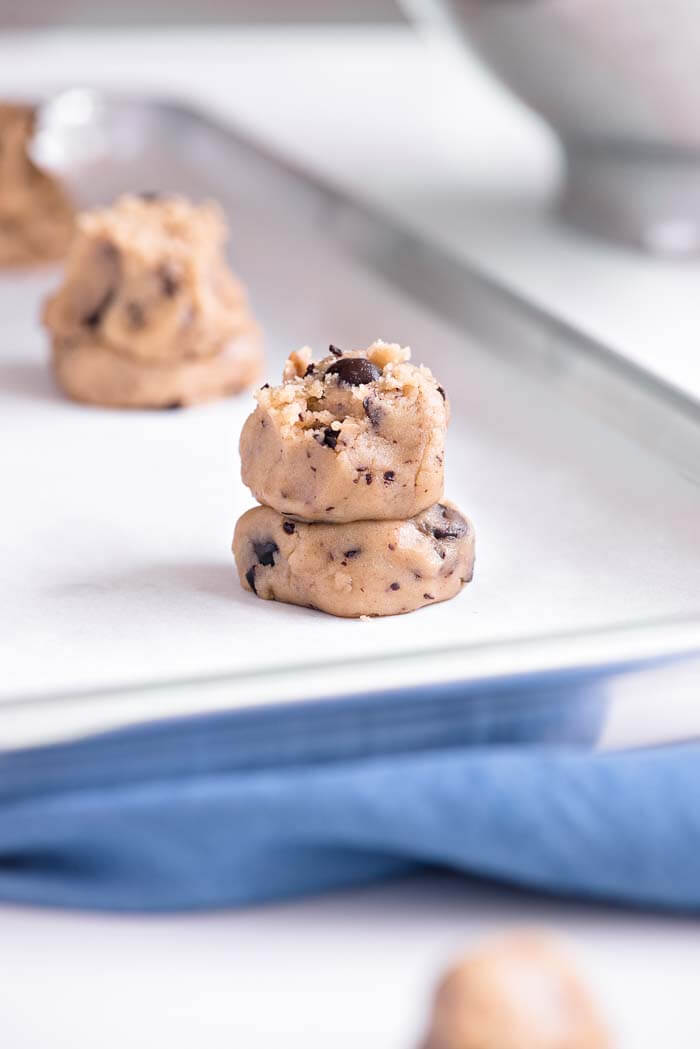 2. Dough formation: I know it sounds silly, but do NOT skip this step. It's very important (and very easy). You are going to roll the dough into a ball and then pull it apart to make two equal halves. Each half will have what I like to call a "craggly" side. Put one craggly side down onto the baking sheet and then lightly push the other half on top of it with the craggly side facing up. Make sure you press down hard enough that the top half does not fall over in the oven. You can see how they should look in the picture below.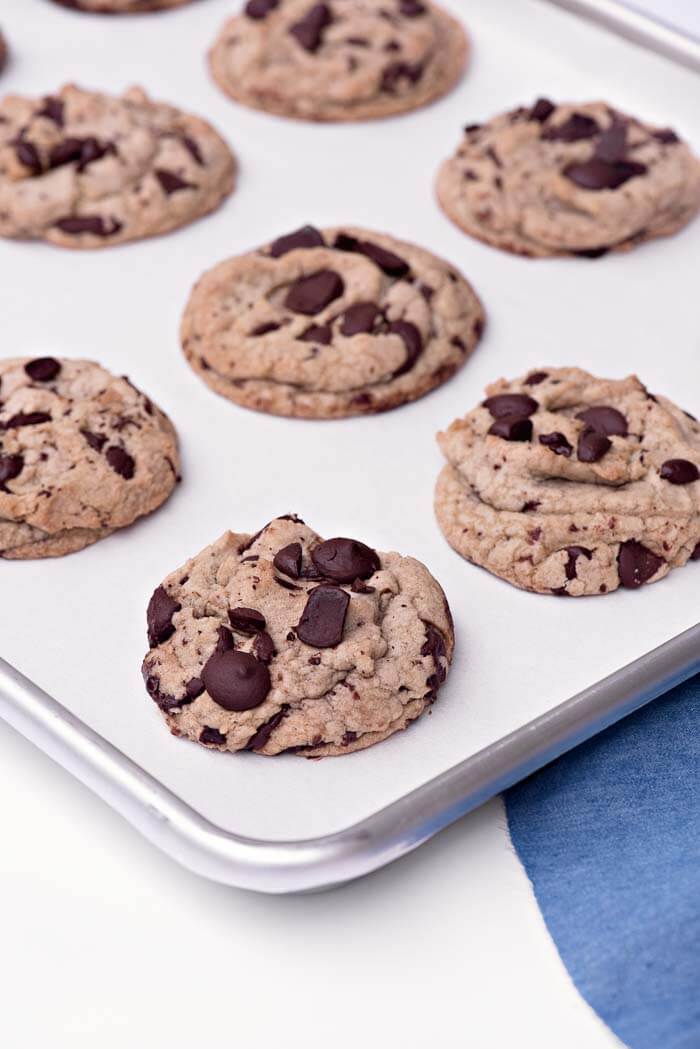 And that's it! Two very simple improvements and you got yourself some cookies good enough to win over any man (or woman) you want!
I am not going to go as far as saying these cookies are magic…but they are pretty darn close. And even if the magic only last 18 hours…I still think it's worth it.
BOYFRIEND CHOCOLATE CHIP COOKIES
Ingredients
12 tablespoons unsalted butter, melted (170 g)

3/4 cup brown sugar (161 g)

1/2 cup sugar (100 g)

1 large egg

1 egg yolk

2 teaspoons vanilla extract

2 cups + 2 tablespoons flour (250 g)

3/4 teaspoon baking soda

1/2 teaspoon salt

12 oz dark chocolate chips, divided (350 g)
Instructions
Preheat the oven to 325 degrees and prepare a baking sheet with parchment paper.

In a microwave safe bowl, melt butter. Set aside to cool for 5 minutes.

While the butter is cooling, remove 1/3 cup of chocolate chips. Coarsely chop them and set aside.

In a stand mixer with a paddle attachment, add butter, brown sugar and sugar. Mix until combined.

Add egg, egg yolk, and vanilla extract. Mix until combined.

Add flour, baking soda, and salt. Mix until just combined.

Stir in chopped chocolate chips and the rest of the chocolate chip.

Use a large cookie scoop (holds about 3 tablespoons of dough) to scoop out a ball of dough

Roll dough into a ball and use your hands to divide the dough into two pieces.

Place one half of the dough onto the baking sheet with the craggly side down. Press the other half of the dough on top of the first half with the craggly side up.

Bake 10-14 minutes or until the edges start to lightly brown. The middle will still look undercooked.

Allow the cookies to cool on the baking sheet.