A doughnut for breakfast is always a good idea – and these Breakfast Cereal Doughnuts are the perfect baked buttermilk doughnuts topped with your favorite cereal.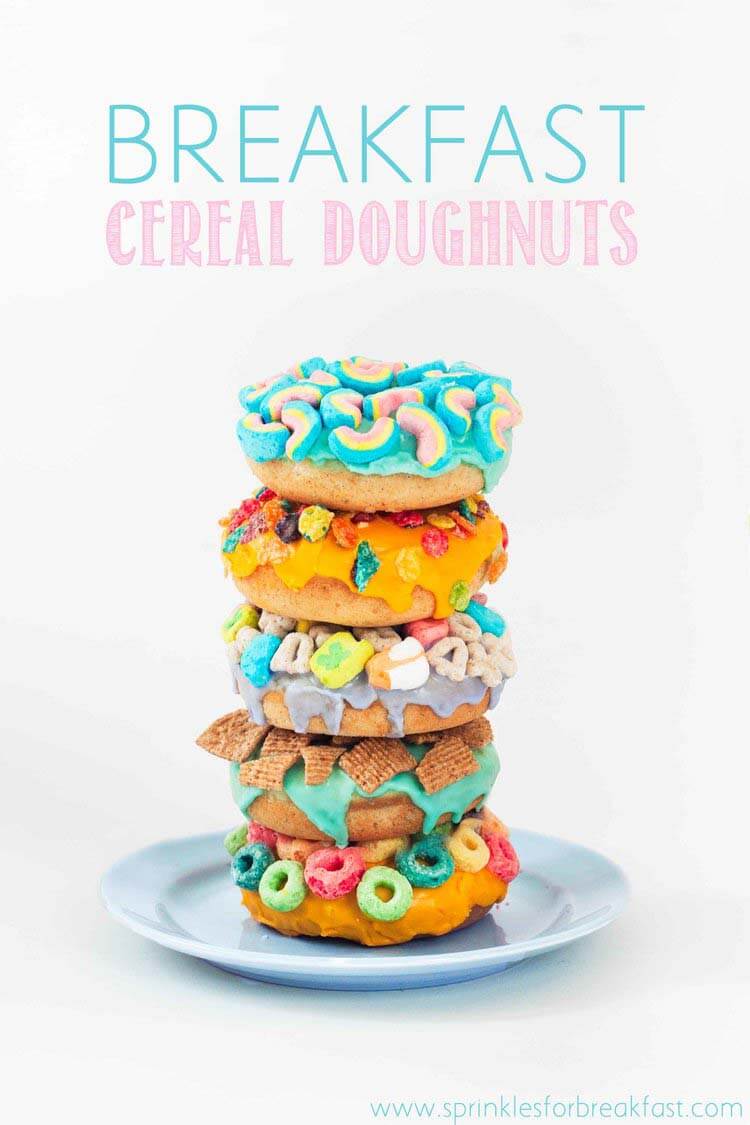 My parents always taught me that breakfast is the most important meal of the day. No matter what was going on, they always made sure my brother and I had something in our stomachs before we went off to school.
When I got older and I had to make my own breakfast, my go to was always cereal (Lucky Charms being my favorite). So when Natasha from Violet Tinder and I were brainstorming "Back To School" ideas we could collaborate on, cereal seemed like the perfect fit!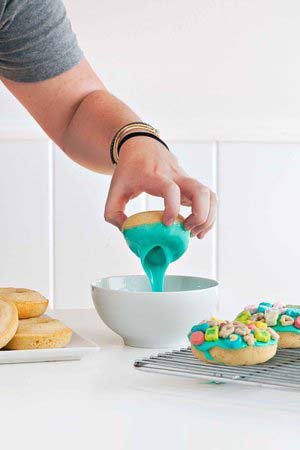 And what's the only thing better than a great bowl of cereal? Breakfast Cereal Doughnuts! Natasha and I had so much fun making and styling these. We did make a little bit of a mess…but it was worth it. If you guys don't know Natasha, her Instagram, @violettinder is amazing!
What do you need to make these Breakfast Cereal Doughnuts?
Doughnuts can be made in two ways – in the oven or in a fryer. The classic yeast doughnut (the big fluffy glazed one you used to drool over at the doughnut shop as a kid) is fired. This means they are cooked in a vat of super hot oil. The other option is to bake them – just like you would a cake or a cupcake. But you do need a doughnut pan. This gives you that perfect doughnut shape! They come in metal and silicone forms. I always prefer metal ones. This is the one I use and it's great.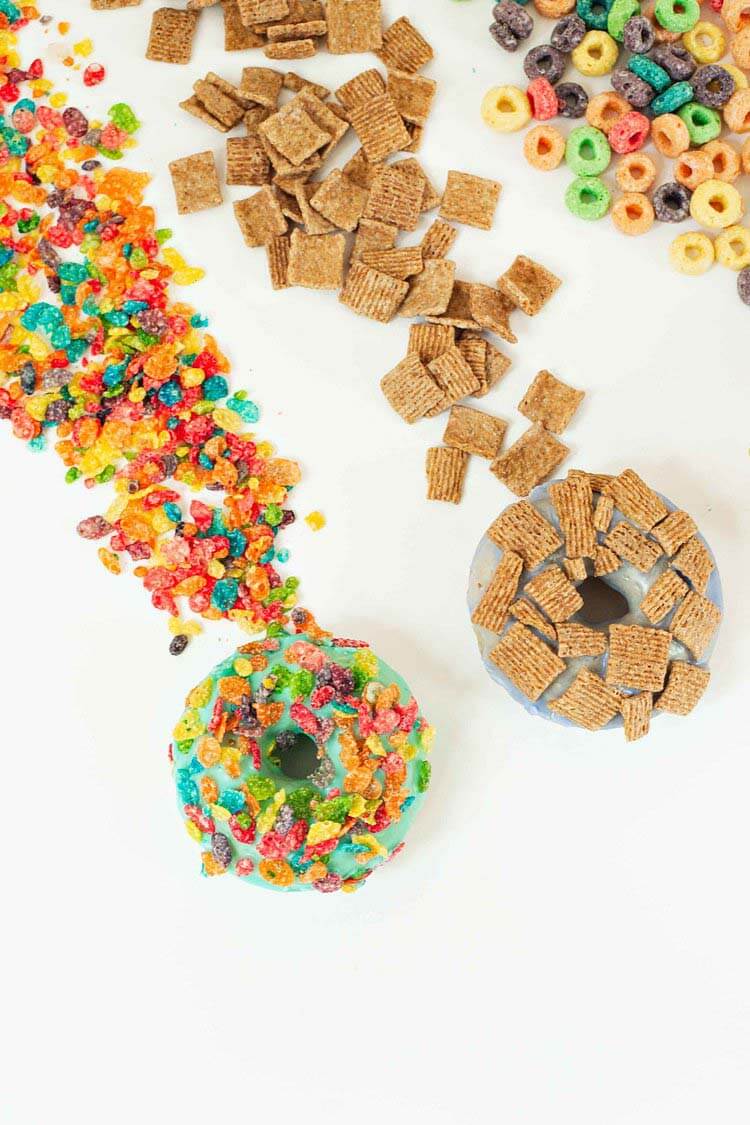 Love doughnuts as much as I do? Try some of my other doughnut recipes.
Other Doughnut Recipes You Might Like:
And if you are trying to be healthy, I do have a Healthy "doughnut" alternative you can check out here.
BREAKFAST CEREAL DOUGHNUTS
Ingredients
1 cup all purpose flour

3/4 cup tablespoons cake flour

1 1/2 teaspoon baking powder

1/4 teaspoon kosher salt

1/2 cup butter, melted

2/3 cup sugar

2 egg

1 teaspoon vanilla extract

3/4 cup milk

Doughnut Pan
ICING
ICING

3-4 tablespoons milk

1 1/2 teaspoons vanilla extract

Your favorite cereal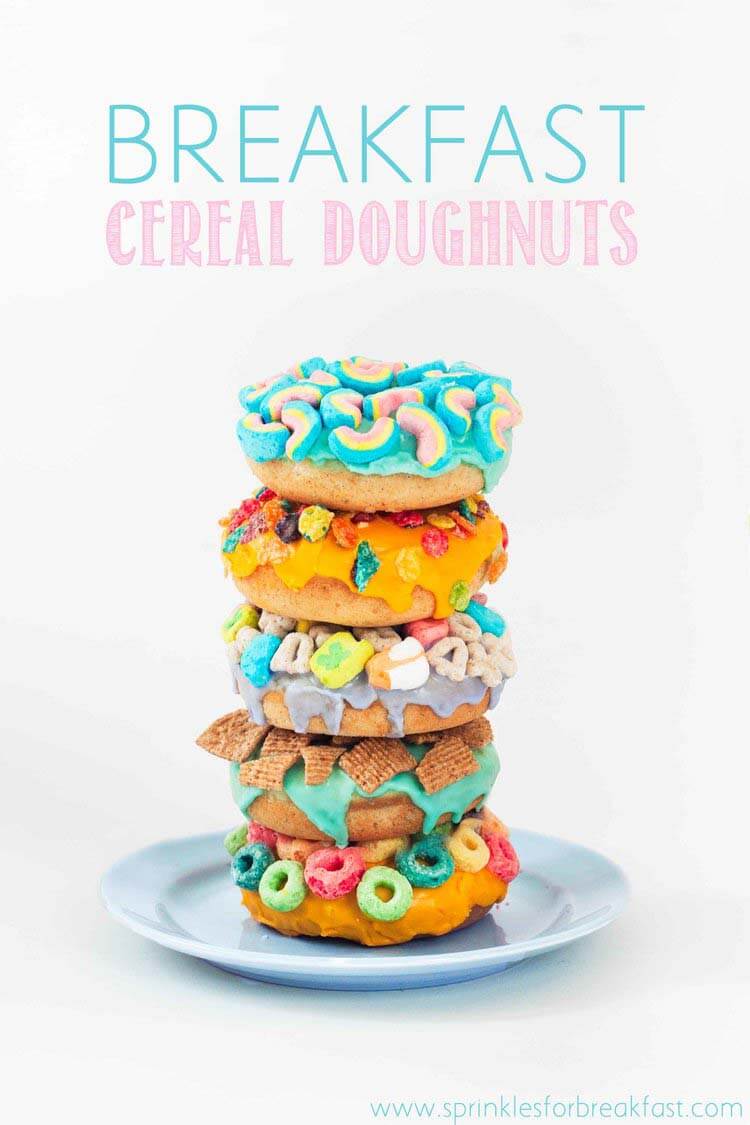 Instructions
For the doughnuts:
Preheat oven to 350 degrees. Prepare a Doughnut Pan with non-stick cooking spray.

In a medium bowl, combine flours, baking powder, and salt. Set aside.

In a stand mixer fitted with a paddle attachment, mix butter and sugar.

Add eggs and vanilla pasta.

On a low speed, add dry ingredients. Mix until combined.

Slowly stream in buttermilk. Mix until combined.

Place batter into a large piping bag.

Pipe batter so that each doughnut mold is 3/4 of the way full.

Place doughnuts on wire rack to cool.
For the icing:
Put powdered sugar in a bowl.

Whisk in milk and vanilla.

Dip doughnut into the icing.

Place iced doughnut on a wire rack (with parchment underneath) and immediately add cereal.
Notes
*Makes about 12 doughnuts