An easy no-bake rice krispy treat cake in the shape of a cactus!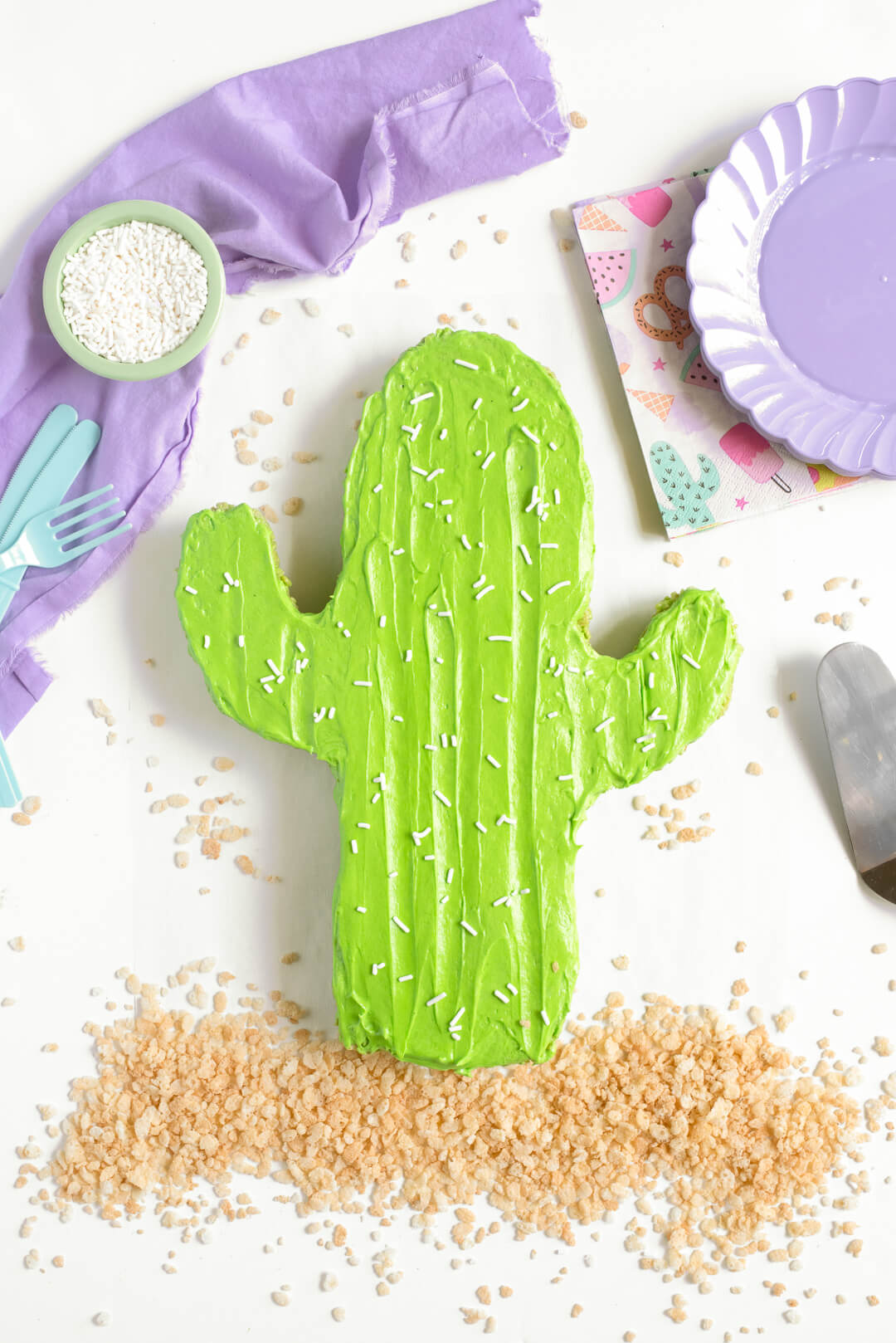 Like a cactus cake, but waayyy easier. I'm sure you have seen all those amazing cakes and cupcakes with elaborate buttercream cacti creations on them. They are gorgeous. But they are super time-consuming and difficult to make. Who has time or patience for that?! Not me. 
So I made a super easy one. This one requires no baking or expert decorating skills. Seriously, all you need is some food coloring, a knife, and some sprinkles! 
What Ingredients Do I Need to Make a Cactus Rice Krispy Cake?
Puffed Rice Cereal: Obviously, this is the base of any good rice krispy treat! 
Marshmallows: I like to use mini marshmallows because they melt faster. And I'm impatient like that. 
Melted Butter: Just like in a classic rice krispy treat recipe, the melted butter helps make your treats taste amazing and helps the marshmallows be less sticky. 
Food Coloring: Any green food coloring you can find works perfectly! 
Canned Frosting: You can use any canned frosting you like. Or, if you prefer homemade frosting, you can use my American Buttercream Recipe.
White Sprinkles: You need white Jimmy sprinkles to make the spikes in the cactus. 
What Tools Do I Need to Make a Cactus Rice Krispy Cake?
Large Pot: To make your rice krispy treat base in. 
Spatula: To get all that rice krispy base out of your pot. 
Parchment Paper: This is where you will form your cactus. Parchment paper makes sure your rice krispy treat base doesn't stick to any surface. And it allows you to easily move it to the fridge.
Water or Cooking Spray: When I go to form my cactus rice krispy treat, I like to coat my hands in water or cooking spray. This makes it so the rice krispy treat does not stick to your hands. 
Knife or Offset Spatula: To spread the frosting out and to create those grooves in our cactus. 
How to Store Your Cactus? 
While rice krispy treats are best eaten the day of, you can make this cake last longer in the fridge. I suggest placing it in the fridge for an hour (so the frosting hardens up) – and then you can wrap it tightly in plastic wrap.
You can keep this fresh in the fridge for 3 days. 
I have made this Cactus Rice Krispy Treat Cake so many times and it is always a big hit! If you want to dress it up, add a few fresh flowers or buttercream or fondant flowers.
Cactus Rice Krispy Treat Cake
An easy no bake Cactus Rice Krispy Treat cake
Ingredients
6

cups

puffed rice cereal

3

tablespoons

unsalted butter

12

oz

marshmallows

Green Food Coloring

1

can

Vanilla Frosting

White Jimmy Sprinkles
Instructions
Prepare a baking sheet with parchment paper. Set aside.

In a large pot, melt your butter and marshmallows on medium heat stirring every 20 seconds.

Once the mixture is smooth, turn off the heat.

Add a few drops of green food coloring and mix. Keep adding food coloring until you get the desired color.

Stir in rice cereal. Mix until fully coated.

Pour mixture onto prepared parchment paper.

Coat hands with water or cooking spray.

Form a cactus shape.

Set the rice krispy cake in the fridge for at least 30 minutes to cool.

While the rice krispy cake is in the fridge, use the green food coloring to dye your canned frosting.

Take the rice krispy cake out of the fridge. Carefully remove from the parchment paper and flip it over (so the smooth side is facing up).

Cover the rice krispy cake in frosting.

Starting at the top of the cactus, drag your knife down the length of the cactus to make a groove. Repeat all over the cactus.

Add your sprinkle spikes.
Video
Nutrition