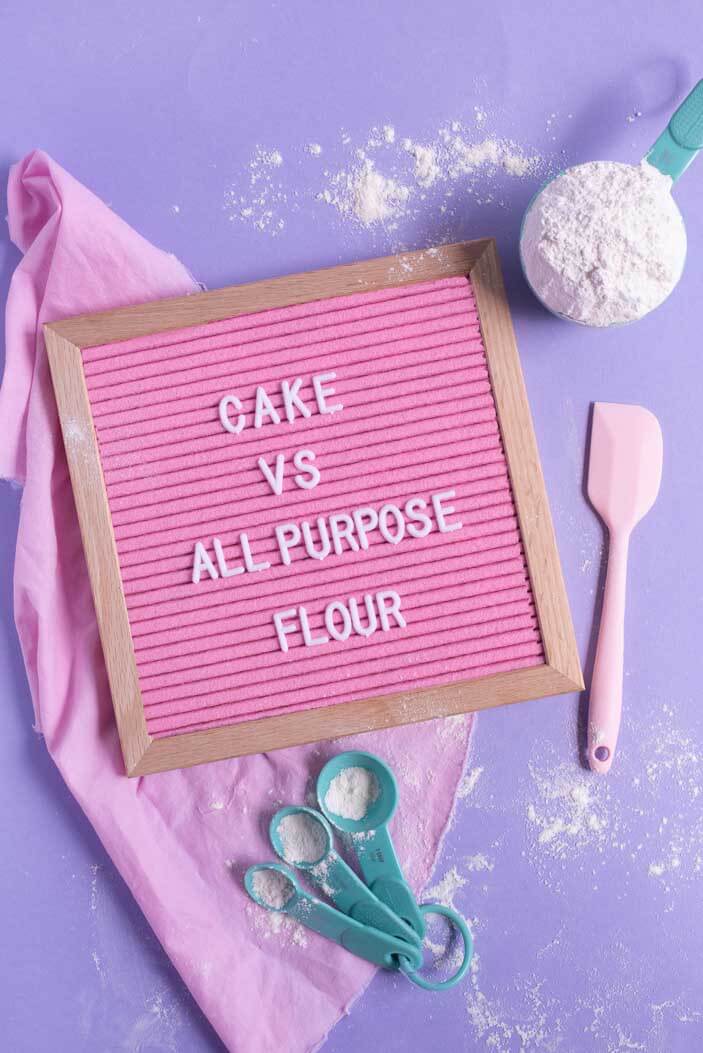 For the longest time I avoided recipes with cake flour in them. I didn't really know what it was, or where I could get it, or why I needed to use it. Regular all-purpose flour seemed fine to me.
It turns out…cake flour is very easy to get (it's at most grocery stores these days) and it makes a HUGE difference when it comes to baking cakes.
So today, I am going to tell you the difference between all-purpose flour and cake flour and when you should be using each.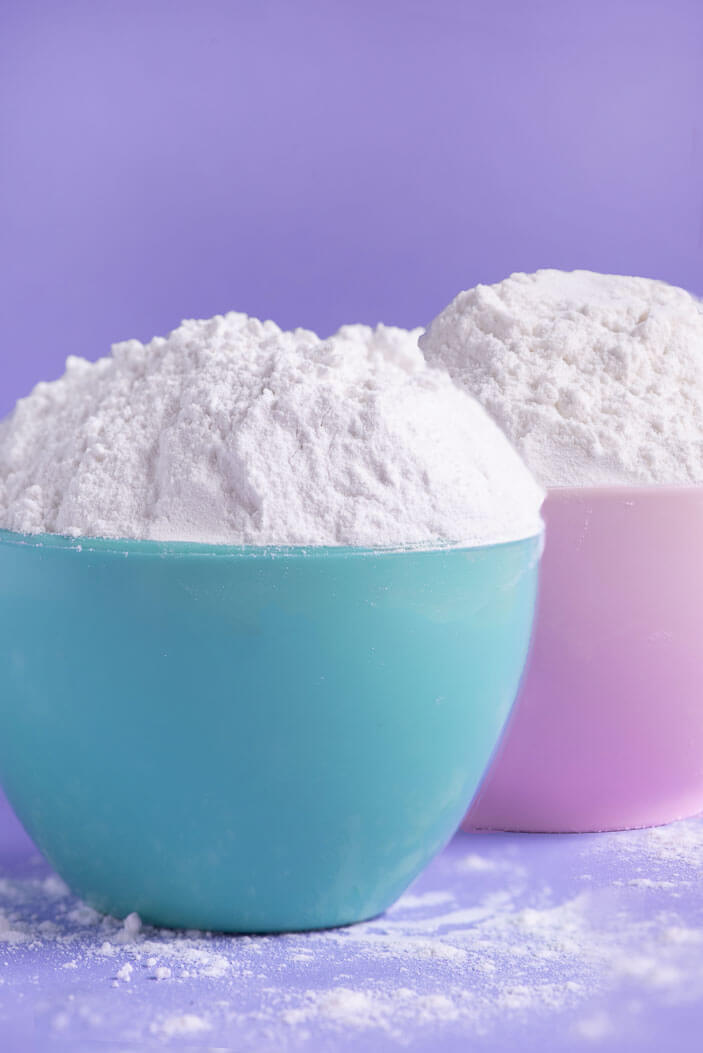 I won't bore you with the science behind it all, but basically, the difference is in the amount of protein each flour has.
All-purpose is a much sturdier flour with 10-12% protein. This means that all-purpose flour contains more gluten giving your final baked goods a specific hearty texture.
This is great for cookies and brownies and pie crust, but cakes that call exclusively for all purpose flour will have more of a dense and chewy texture.
On the other hand, cake flour only contains 6-8% protein. It has a lighter and more velvety texture, and also is a little bit lighter in color. The lower protein count creates a more tender and delicate final product.
This is ideal when you are making cakes and cupcakes to get that light and fluffy texture. It will also produce less pockets of air within the cake when it bakes. Cake flour is also great for things like muffins, pancakes, and biscuits!
Sometimes I use a combination of the two flours because the cake flour is not sturdy enough to stand up on it's own, but I still want to get some of that soft texture the cake flour brings. You can see I use both flours in this Piñata Cake recipe and in this Birthday Cake Cookie recipe.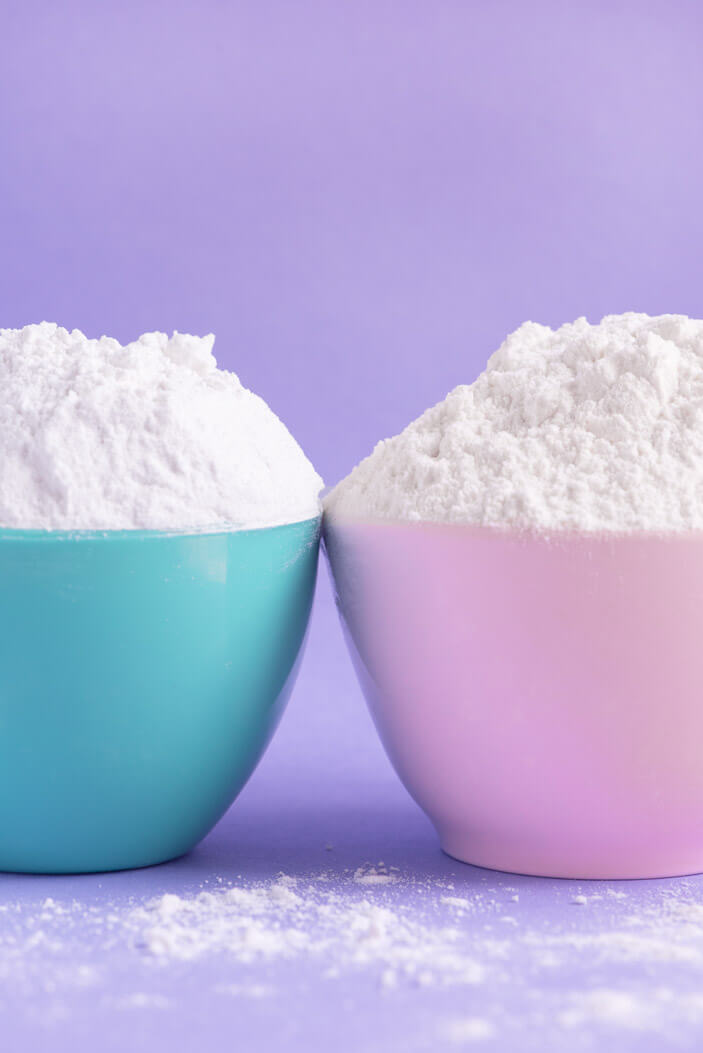 Like I said earlier, cake flour is readily available at most US grocery stores these days.
Some of my favorite brands are Swan's Down, King Arthur Flour, and Softasilk. They are all great products and will yield excellent results.
But, if you find yourself in a pinch (or in Europe where it is more difficult to find) – don't panic! You CAN use all purpose flour as a substitute with a little doctoring. It will not give you the exact same results as pure cake flour, but it will give you a much lighter textured final product than solely using all purpose flour would.
CAKE FLOUR VS. ALL PURPOSE FLOUR
Ingredients
CAKE FLOUR SUBSTITUTE
1 cup of all purpose flour minus two tablespoons

2 tablespoons of corn starch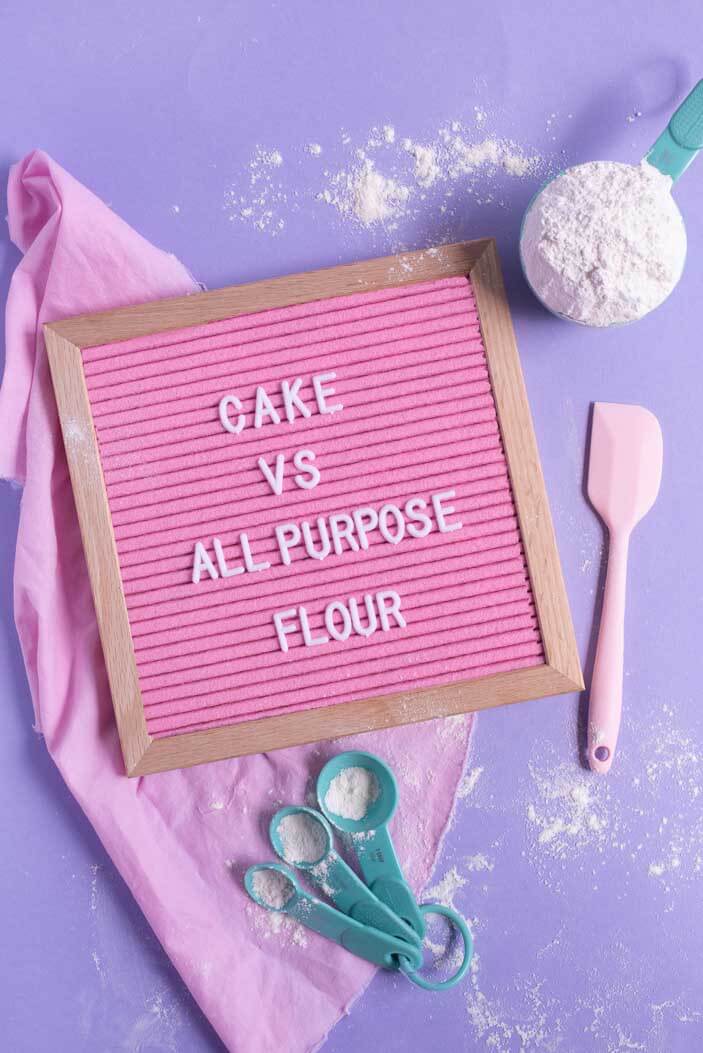 Instructions
Measure 1 cup of flour and then take out two tablespoons

Add two tablespoons of corn starch

Sift flour and corn starch together

Use as a substitute for 1 cup of cake flour
Notes
*1 cup Cake Flour Substitute