It is no secret that I love French Macarons. I have shared many recipes on here, including flavors like Birthday Cake and Margarita. But for some reason, this holiday season I was obsessed with the idea of making Candy Cane Macarons.
And not just Candy Cane flavor – I really really really wanted the shell to have a candy cane swirl effect. It was not easy, and it took me three or four major fails – but I finally figured it out.
This swirl effect can be created by drawing lines down the side of your piping bag with food coloring (see picture below). The trick is having a long enough lollipop stick or cocktail stirrer that enables you to reach all the way down to the bottom of the piping bag. Otherwise, things get pretty messy.
When you start piping, the first few macarons will have minimal red swirl, but as you keep going, the swirl will get better and better.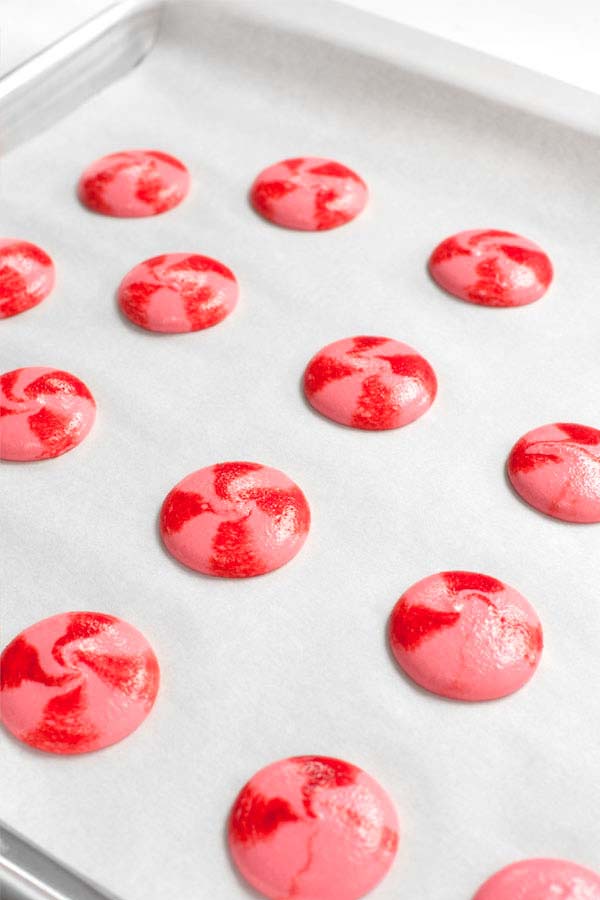 But the real flavor comes from the filling. I filled the swirled shells with a peppermint buttercream and added a little crushed candy cane to give it that extra crunch!
CANDY CANE MACARONS
Ingredients
MACARON SHELLS
1 1/2 cups powdered sugar

1 cup + 2 tbs almond flour

3 eggs whites

1/2 cup sugar

Red food coloring
PEPPERMINT BUTTERCREAM FILLING
1/2 cup salted butter

1 3/4 cup powdered sugar

1/2 teaspoon milk

1/4 teaspoon peppermint extract

1/4 cup crushed candy canes
Instructions
For the shells:
Preheat oven to 325 degrees and prepare a baking sheet lined with parchment paper.

In a medium bowl, sift almond flour and powdered sugar together. Set aside.

In a stand mixer with a whisk attachment, beat egg whites on high speed until they form soft peaks.

Lower the mixer's speed to medium and add sugar.

Put mixer back on the highest speed and beat until they form stiff peaks.

With the mixer still on high speed, add food coloring a few drops at a time until you get desired color.

Take bowl off of mixer and add almond flour/sugar mixture.

Using a rubber spatula, aggressively fold in dry ingredients until the batter starts to loosen and becomes a little runny. To test if the batter is ready, lift a small amount of batter from the bowl and drop it back into the batter. If it does nothing, keep mixing. If it slowly melts back into the batter after 20-30 seconds, it is ready.

Prepare a pipping bag with a round tip with about a 1/4" opening (wilton tips #9, #10 and #11 should work) and fold down the bag halfway. Pour a little bit of red food coloring in a small bowl and use a lollipop stick or cocktail stirrer to draw lines up the side of the bag. (Pictured above)

Put batter (about 1/3 of the mixture) into prepared pipping bag and cover the rest of the batter with saran wrap.

Pipe 1 1/2" circles on prepared baking sheet and firmly tap the bottom of the tray so the batter flattens out. Repeat with remaining batter.

Let them rest for 30-45 minutes or until they form a skin.

Bake for 10-12 minutes, or until they are set.

Let cool before peeling them off the parchment paper.

Match macarons according to size so they are each in a pair.
For the buttercream:
In a stand mixer with a whisk attachment, cream butter until it is soft and smooth.

Add powdered sugar, milk, and peppermint extract and mix until light and fluffy.

Put buttercream in a piping bag fit with a round tip. Pipe a small dollop of buttercream in the center of one side of each pair of macaron shells and sandwich them together.

Sprinkle crushed candy canes around the filled part of the macaron.