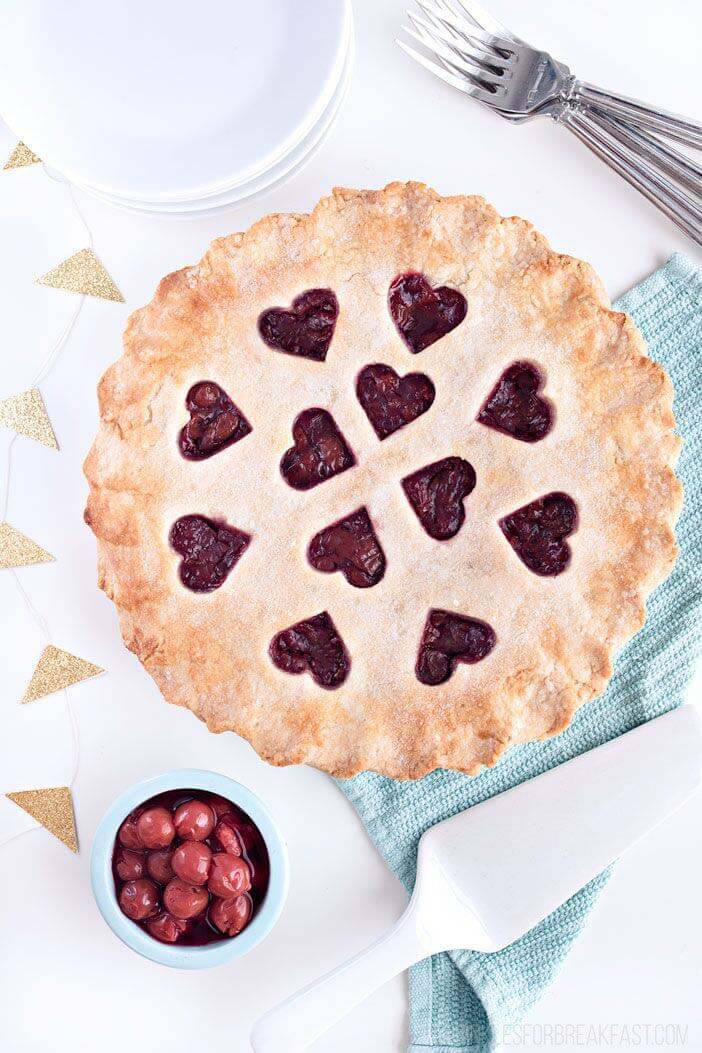 July is national ice cream month – and you know what goes great with ice cream? Pie. There is nothing better than a piece of pie with a large scoop of ice cream on a hot summer day.
Today's pie of choice, a double-crusted cherry pie!
Most of the pies I make only require a bottom crust. But with something like cherry, you need that top crust to hold everything together. And how cute are those little hearts on top?! But if you don't have a heart cookie cutter, make sure you pierce the top crust with a fork 4 or 5 times. This allows the filling to "breathe".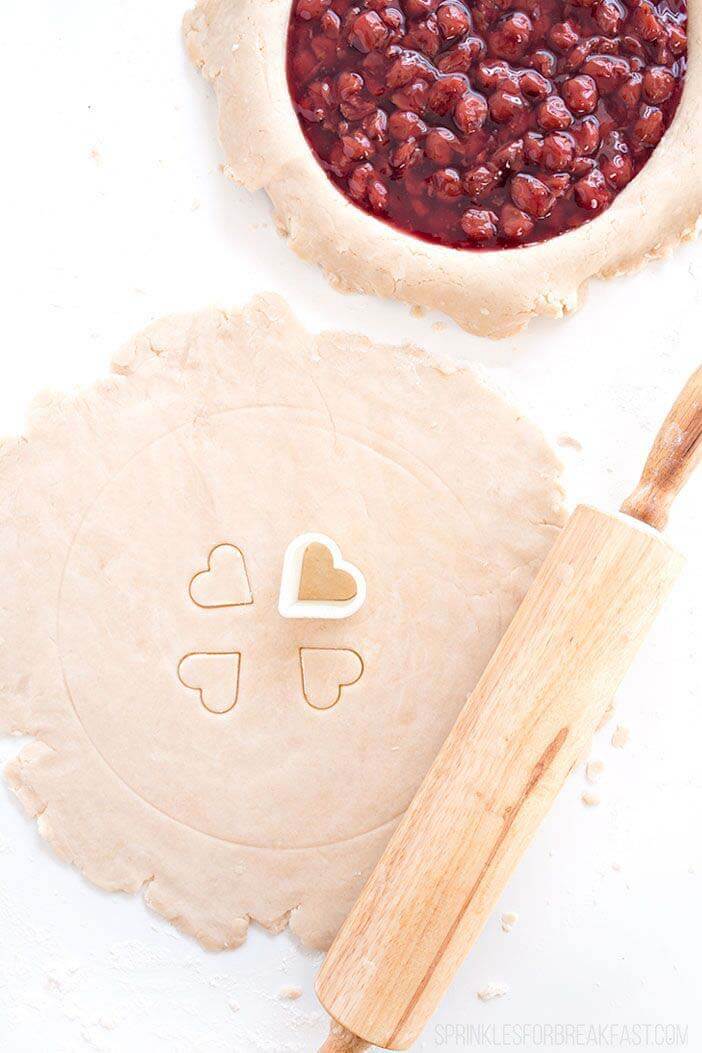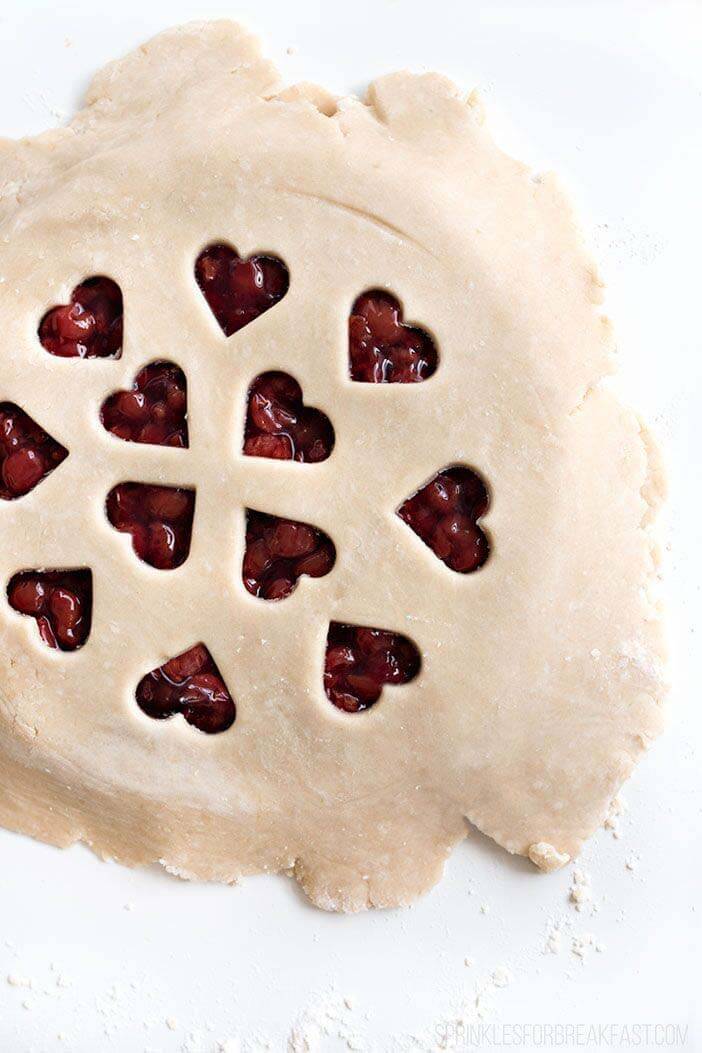 The only hard part about this pie is the fact that you have to wait 3 hours for it to cool. This ensures that all the gooey goodness inside comes together the way it is supposed to. But once it has cooled, I suggest slicing it up and adding a big scoop of vanilla ice cream!
DOUBLE CRUST CHERRY PIE
Ingredients
FILLING
3 cans (14.5 oz) tart cherries in water

4 tablespoons cornstarch

1 cup sugar

1/8 teaspoon salt

1/4 teaspoon vanilla extract
CRUST
4 cups flour

2 teaspoons salt

2 teaspoons sugar

1 1/2 cups shortening

1/4 cup + 2 tablespoons cold water

1/4 cup + 2 tablespoons cold milk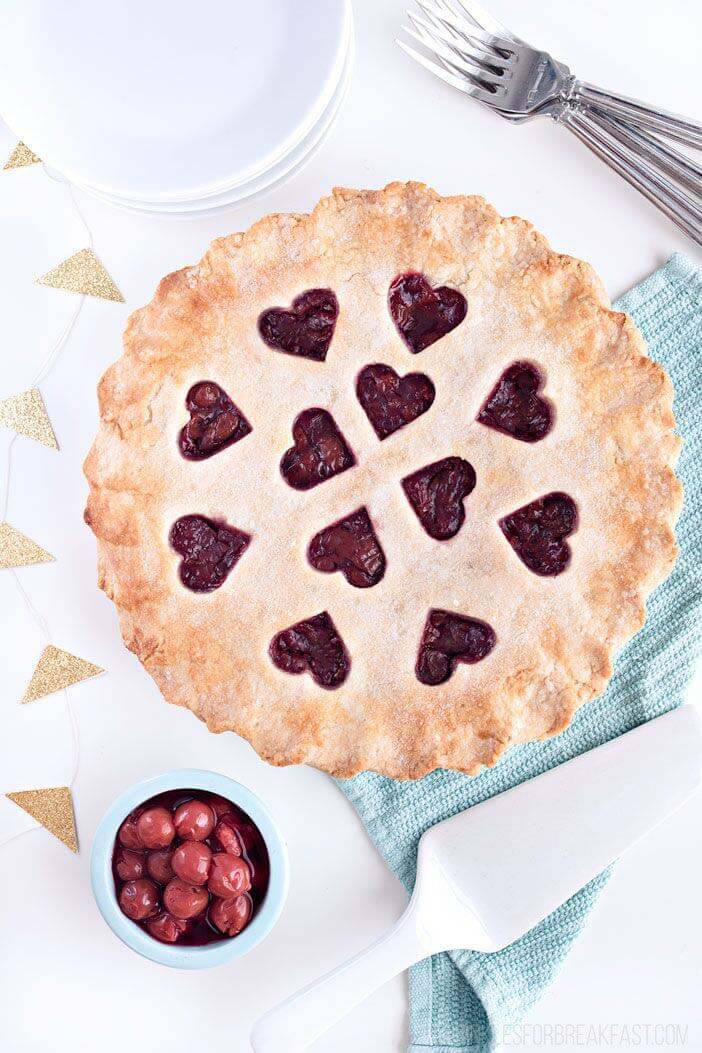 Instructions
FOR THE FILLING:
In a large saucepan, combine 3 cans of cherries and the juice of 1 1/2 of the cans.

Cook over medium/high heat. Bring the mixture to a simmer and lower the heat to medium/low.

Cook mixture for 10 minutes, stirring constantly. It should be thick and jelly-like.

Add sugar, cornstarch, and vanilla extract. Mix until everything is combined.
FOR THE CRUST:
In a stand mixer with a paddle attachment, combine flour, salt and sugar.

Add shortening and mix until just combined.

Add cold water and milk 1 tablespoon at a time. Mix until dough comes together.

Divide the dough in half.

Gather one half of the dough into a ball and shape it into a flattened round on a floured surface.

Roll pie crust into a circle 2 inches larger than the upside down pie plate.

Carefully transfer dough to pie plate and trim dough to a 1-inch overhang.
ASSEMBLY
Preheat the oven to 425 degrees.

Add cherry filling to the pie crust.

Roll out remaining dough 2 inches larger than the rim of the pie plate.

Use a heart cookie cutter to make a design in the middle of the crust (or use a fork to pierce holes in the center of the crust).

Drape the top crust over the pie. Trim the edges of the two crusts to 1/2 - 1 inch beyond. Fold the crust under and crimp the edges.

Bake the pie for 20 minutes and then lower the oven temperature to 375 degrees. Add tin foil around the edge of the crust to keep it from burning. Continue to bake for another 30-40 minutes until the juices start to bubble.

Remove from the oven and place on a wire rack to cool for at least 3 hours.