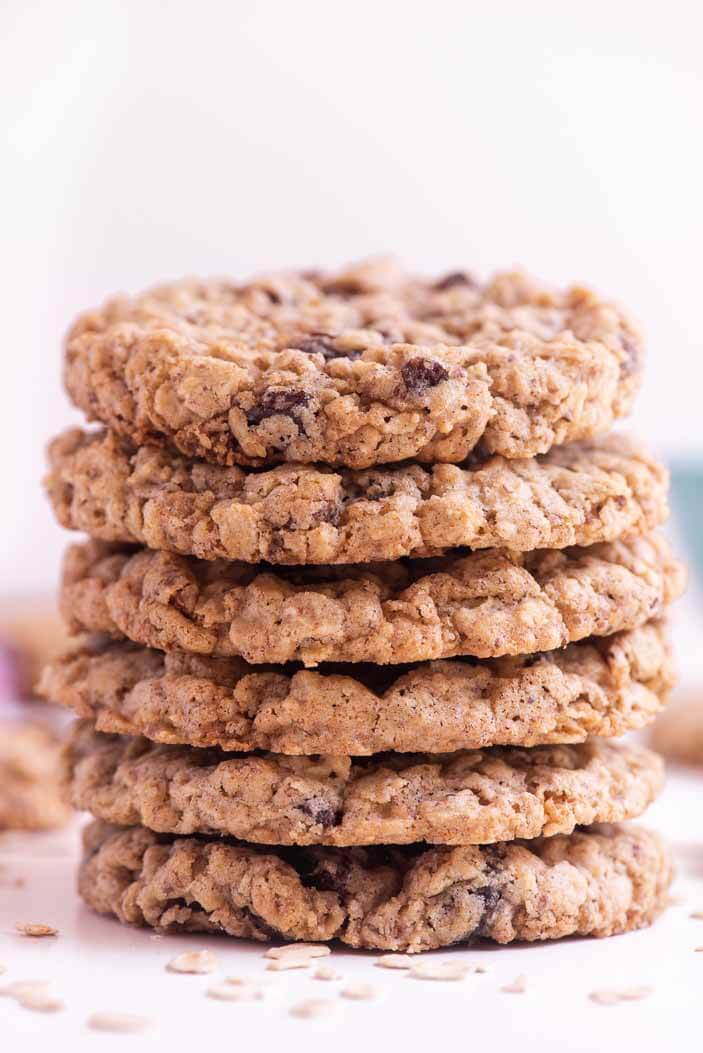 Sometimes, when I get my hands on a really soft and chewy and delicious oatmeal raisin cookie, I think…
"MAYBE, JUST MAYBE…I LIKE OATMEAL RAISIN COOKIES BETTER THAN CHOCOLATE CHIP COOKIES?!"
Most of the time, I would never dare to share that opinion out loud.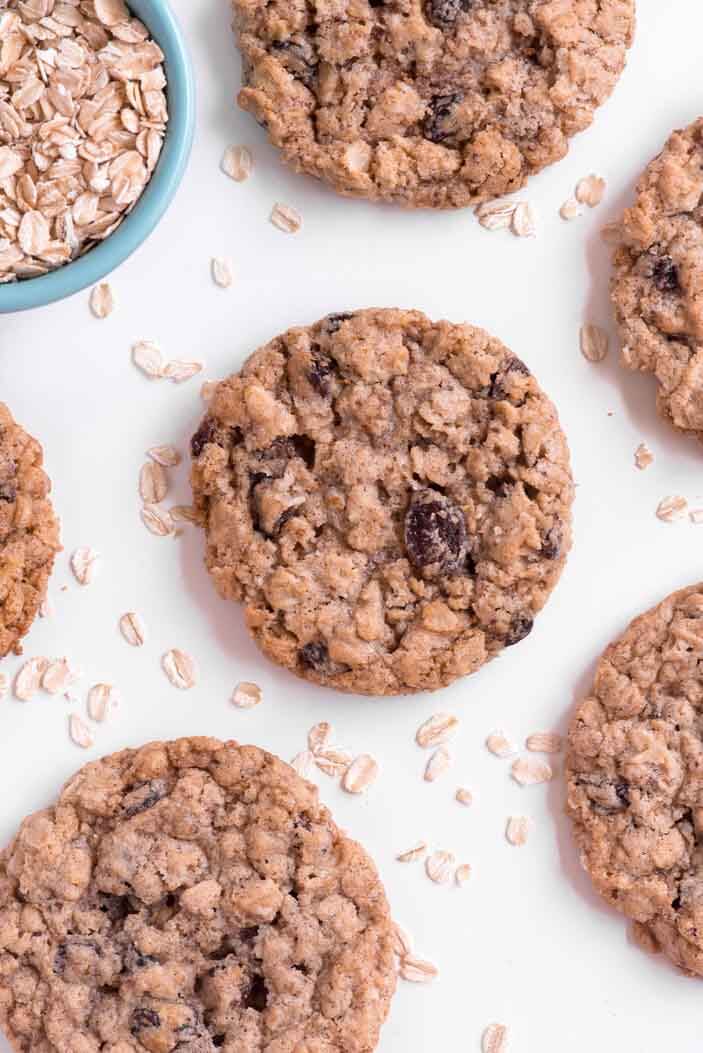 It is definitely not a very popular cookie opinion in the world we live in. But… I feel like this is a safe space where I can freely voice my opinion with you guys without getting shamed. So here it goes…
I LOVE OATMEAL RAISIN COOKIES.
There, I said it.
And these oatmeal raisin cookies definitely fit in that soft and chewy and delicious category. They do, however, have an unusual ingredient in them – wheat germ.
WHAT IS WHEAT GERM?
By definition, wheat germ is the reproductive part of the plant that germinates and forms wheat grass.
I'm not going to lie…I don't really know what that means, but I love what it does to these cookies. It gives them a little extra nuttiness that a lot of oatmeal cookies are missing. You know – a little extra umph.
I also believe that adding the wheat germ in there makes these cookies healthy – which is definitely not true. But that's what I tell myself when I am eating 4 of them in one sitting.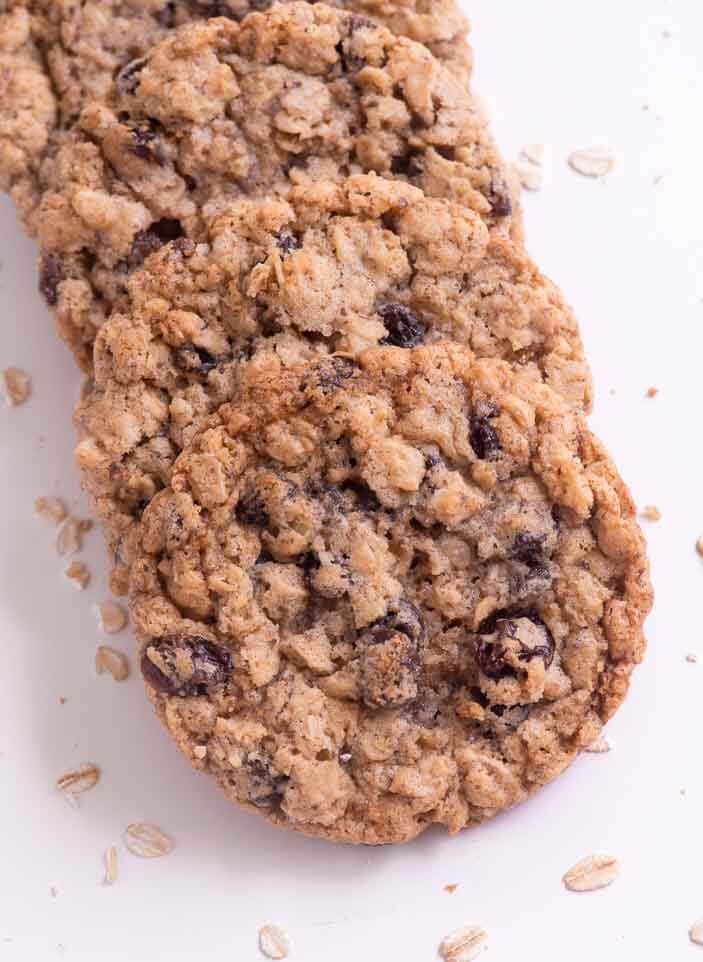 Wheat Germ can be a little difficult to find. But it is usually in the grocery store near the oatmeal in the cereal aisle. Any brand is fine. And if you can't find it at your local store, you can always order it here.
Wheat germ comes in two forms – raw or toasted. For this recipe, use toasted. But if you can't find toasted, don't panic. Raw is fine. You just have to spread about 1/2 -1 cup on a baking sheet and pop it in the oven for 5-10 minutes at 350 degrees. It may start to turn a little brown, but you know it is done when you open the oven and smell the nutty flavor.
Happy Baking!
CHEWY OATMEAL RAISIN COOKIES
Ingredients
3 cups old-fashioned rolled oats

1 cup plus 2 tablespoons all-purpose flour

1/2 cup toasted wheat germ

1 teaspoon baking soda

1 teaspoon baking powder

1/2 teaspoon ground cinnamon

1/2 teaspoon salt

1 cup unsalted butter, room temperature

2 eggs

1 cup granulated sugar

1 cup packed light-brown sugar

1 teaspoon pure vanilla extract

1 1/2 cups raisins

3/4 cup chopped walnuts (optional)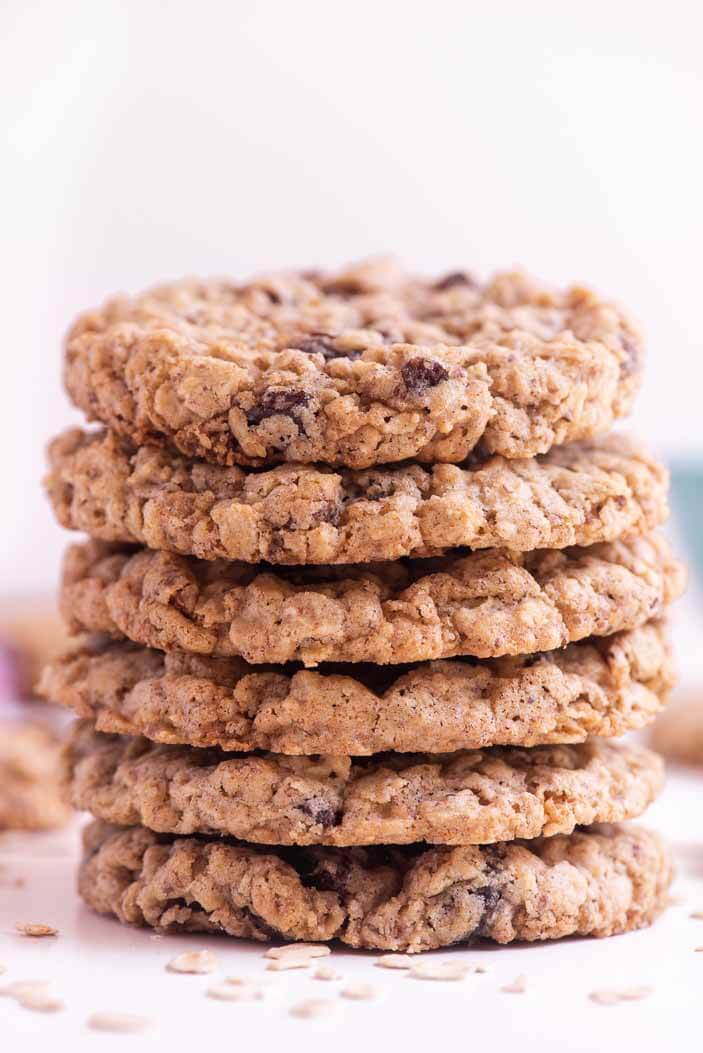 Instructions
Preheat oven to 350 degrees and prepare a baking sheet with parchment paper.

Stir together oats, flour, wheat germ, baking soda, baking powder, cinnamon, and salt in a large bowl and set aside.

Put butter and sugars in the bowl of an electric mixer fitted with the paddle attachment. Mix on medium speed until pale and fluffy, about 5 minutes.

Mix in eggs and vanilla until combined.

Add dry ingredients and mix until just combined.

Stir in raisins (and walnuts if you are using them).

Using a 2" Cookie Scoop, drop dough onto baking sheets about 2" apart.

Bake about 14 minutes, rotating the baking sheet halfway through.

Take cookies out of the oven. The cookies should be golden and look a little underdone in the center. Let cookies cool on baking sheets.
Notes