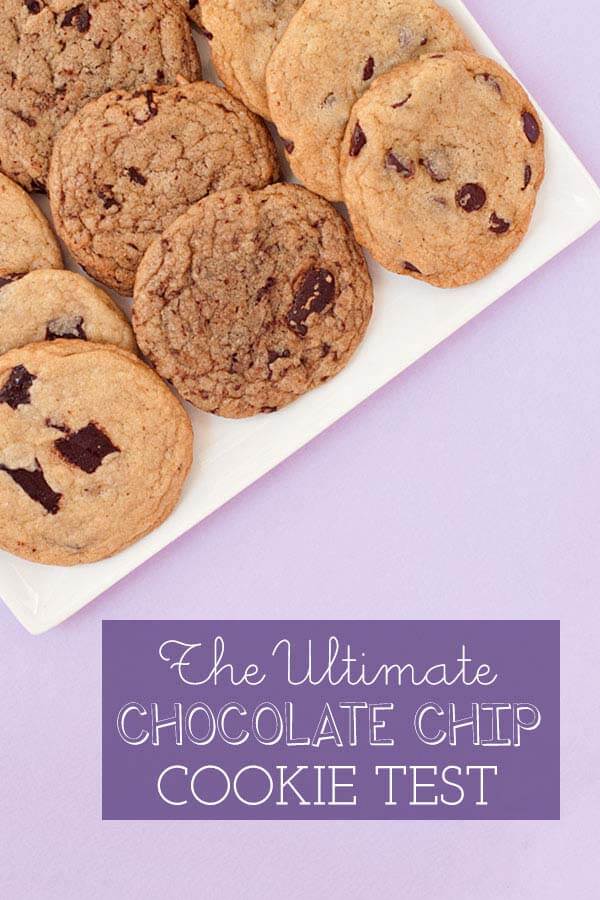 So here in the United States, the Chocolate Chip Cookie is kind of a big deal. It is definitely the country's favorite cookies, and by far the most common baked item made in people's homes. But not all chocolate chip cookies are the same, right? Some are chewy, some are crispy and some are just mediocre. So what makes the BEST Chocolate Chip Cookie?
I spent an entire summer trying out different recipes until I found what I believe is the Perfect Chocolate Chip Cookie. This cookie is thick, chewy and has the slightest crisp on the outside edge. For the last couple of years, this has been my go to recipe.
But, more recently I decided that this wasn't enough. In all my testing, I always focused on the cookie base – never the chips themselves. So I did a little experiment. I tested the difference between using Chocolate Chips, Chocolate Chunks, and Chocolate Shavings to see what ultimately made the Best Chocolate Chip Cookie EVER.
The experiment was simple – I used my Perfect Chocolate Chip Cookie Recipe with three different forms of chocolate – Chunks, Chips and Shavings. Here is what I found.
Chips – The chips were my least favorite – at least the small Nestle Tollhouse one's I used in this experiment. Even though these are the most commonly used chips in household baking, they just didn't provide enough chocolate for me. They were too small. So if you are doing to use chips, I would suggest using the larger Ghirardelli chips (or a combination of both like the original recipe calls for)
Chunks – The chunks had a better chocolate to cookie ratio, and I love the crunch the chunks bring, but I still felt I needed more chocolate in some places. I found that the chunks were not evenly distributed throughout the batter. Maybe the answer is using more chunks – but in this case, I was still left thinking it could be better.
Shavings – The shavings were the clear winner in this test. Which I have to say, I was somewhat surprised about. I had never tried using shavings in my cookies before. After all, it is called a Chocolate Chip Cookie, not a Chocolate Shaving Cookie. But the shavings not only provided an wonderful chocolate to cookie ratio evenly throughout all of the cookies, but it also maintained that nice crunch from some of the larger chunks. The shavings did make the cookie itself a little darker, but I think that is a small price to pay for amazing flavor!
THE ULTIMATE CHOCOLATE CHIP COOKIE TEST
Ingredients
2 cups flour + 2 tbs. flour

½ tsp. baking soda

½ tsp. salt

1 cup brown sugar

½ cup sugar

12 tablespoons unsalted butter - melted and cooled to just warm

1 egg + 1 egg yolk

1 ½ tsp. vanilla extract

2 cups chocolate chips/chunks, or 8oz. chocolate shavings.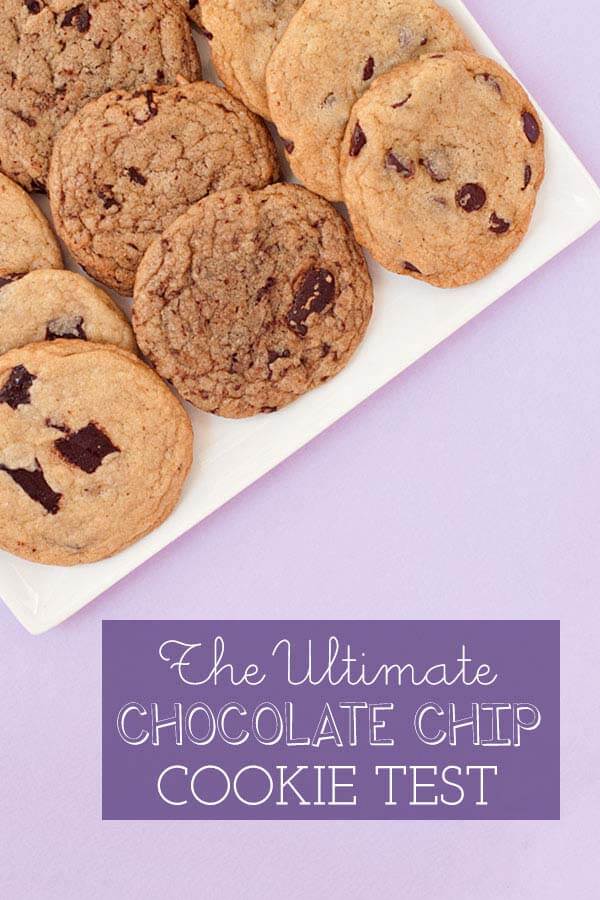 Instructions
Preheat the oven to 325 degrees and prepare a cookie sheet lined with parchment.

Combine flour, baking soda, and salt with a whisk and set aside.

In the bowl of an electric mixer fitted with the paddle attachment, on medium speed, beat melted butter and both sugars until well combined. the bowl of an electric mixer fitted with the paddle attachment, combine melted butter and both sugars (on medium speed) until well combined.

Reduce speed to low and add egg, egg yolk and vanilla. Beat until well mixed, about 1 minute.

Slowly add the dry ingredients and mix until just combined.

Roll ¼ cup of dough into a ball. Pull the ball in half and then rotate upwards 90-degrees so the craggy tops are facing upright. Join the halves together at the base to form back into a single ball (being very careful not to smooth the craggy top). See picture.

Place dough balls onto baking sheets 2 ½ inches apart.

Bake at 325 for 15-18 minutes, or until the edges are golden brown. The center of the cookies should look a little underdone.

Let cookies cool on the baking sheets.