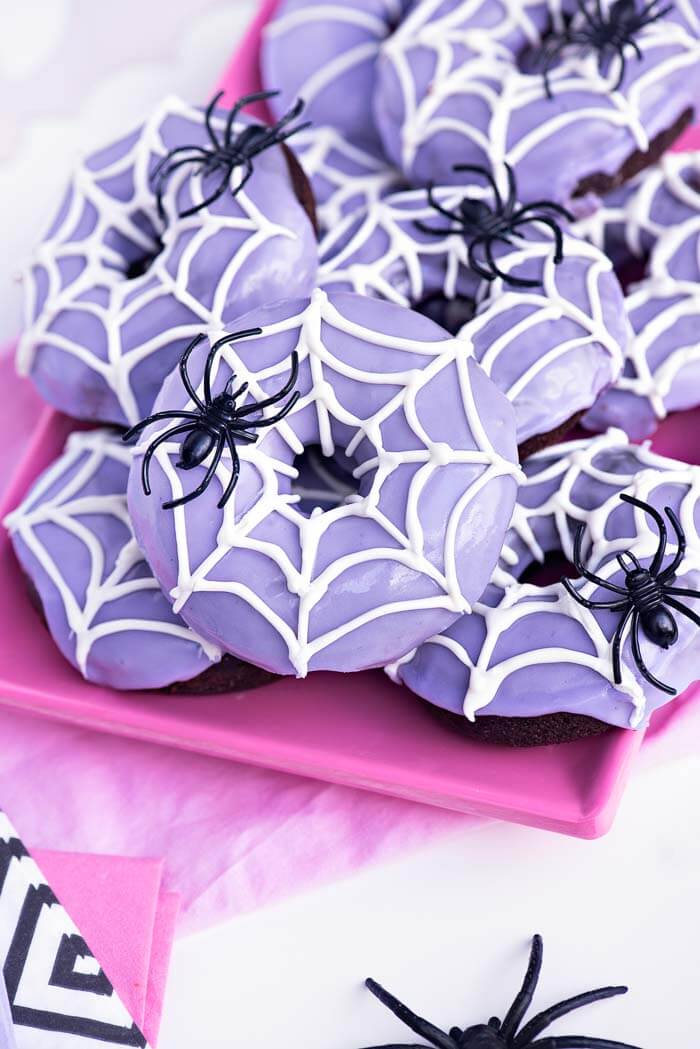 It's no secret that I am obsessed with Halloween – it is by FAR my favorite holiday. I don't know if it's the fact that Halloween gives me a legitimate excuse to dress up and pretend to be a totally different person – or that it gives me the opportunity to unapologetically require everyone else to show up in a costume too. Either way, I am all about it.
And what celebration is complete without some KILLER sweet treats to go along with it?! For past Halloween celebrations, I have made these adorable Ghost Cake Pops, this super delicious Spider Web Cheesecake, and some quick and easy Witch's Bark. All great options if I do say so myself.
But this year I made Spider Web Doughnuts…and I am kind of obsessed.
Typically, when you get a chocolate-based doughnut at your local doughnut shop, it is dry and flavorless. I'm not sure why this is the case…but I can tell you it's a great disappointment to chocolate lovers everywhere.
But these guys are different. The chocolate doughnuts in this recipe are DELIGHTFUL. I'm serious… they are moist and chocolatey (without being too rich) and baked to perfection (instead of fried). And did I mention they are adorable?!
These are a great go-to for your Halloween Festivities this year. And if you are not into the purple, you can switch the colors up any way you want. For a more traditional look, leave the icing white, and use a dark chocolate to make the web! Whatever color combo you choose, you really can't go wrong!
Happy Halloween Baking everyone!
CHOCOLATE SPIDER WEB DOUGHNUTS
Ingredients
FOR THE DOUGHNUTS
2 1/2 tablespoons unsalted butter, melted

1/4 cup brown sugar

1/4 cup sugar

1 egg

1 teaspoon vanilla extract

1/3 cup cocoa

3/4 cup flour

1/2 teaspoon baking soda

1/4 teaspoon salt

5 oz. milk

Large piping bag

Doughnut Pan
FOR THE ICING
3 cups powdered sugar

1/4 cup milk

1 1/2 teaspoons vanilla extract

Purple food coloring

6 oz white melting chocolate

Piping bag

Small round tip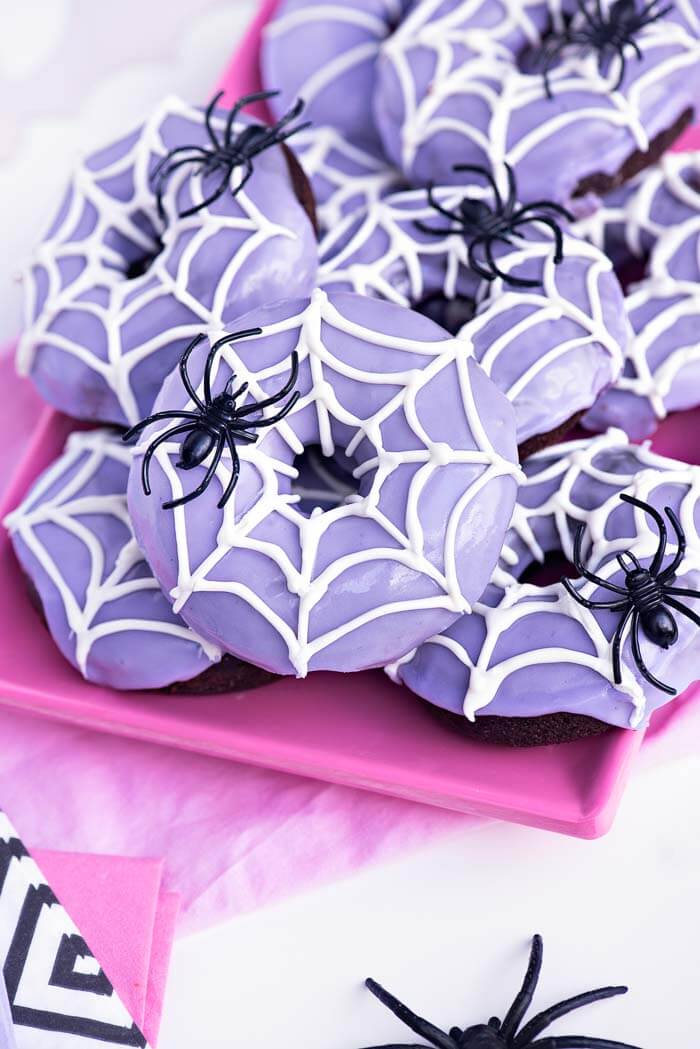 Instructions
FOR THE DOUGHNUTS
Preheat the oven to 350 degrees and spray a doughnut pan with non-stick spray. Set aside.

In a medium bowl, whisk together cocoa, flour, baking soda and salt. Set aside

In a stand mixer with a paddle attachment, mix butter and sugars together.

Add egg and vanilla extract. Mix until combined.

Add dry ingredients and mix until combined.

Slowly stream in milk and mix until combined.

Use piping bag to pipe batter into doughnut pan. Fill each doughnut 2/3 of the way full.

Bake for 8-10 minutes. Let doughnuts cool in the pan.
FOR THE ICING
Set up a wire rack with a parchment underneath.

In a medium bowl, whisk together powdered sugar, milk and imitation vanilla extract.

Mix in a few drops of desired food coloring.

Dip doughnut halfway into the icing and place on the wire rack.

In a microwave safe bowl, melt chocolate in 30 second increments.

Prepare a piping bag with a small round tip (I used a #2)

Place about 1/3 of the white chocolate into prepared piping bag.

Pipe 8 lines equally spread apart from the center of the doughnut to the outside of the doughnut.

Make a wide "U" shape connecting two of the lines near the center of the doughnut. Continue connecting the rest of the lines with that "U" shape all the way around the doughnut until you get back to the original "U" shape.

Repeat the process about halfway up the line.

Repeat the process about 3/4 of the way up the line.