Tomorrow is National Chocolate Cake Day – and in honor of this great holiday, I decided to prepare accordingly with this Chocolate Sprinkle Cake.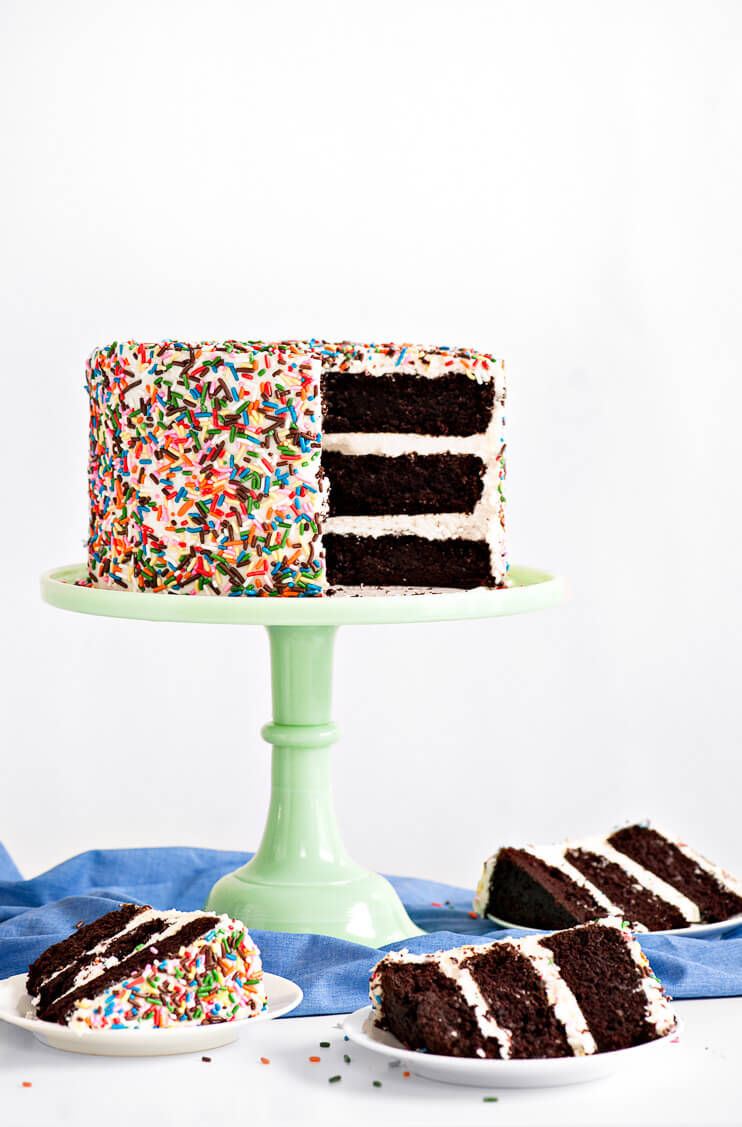 I know for most people this may not be a huge holiday, but for me, it's kind of a big deal. Cake has always been my favorite food. There is just something about the stacked layers and creamy frosting that make it impossible for me to resist. But it wasn't until last week that I realized how sick my obsession really is.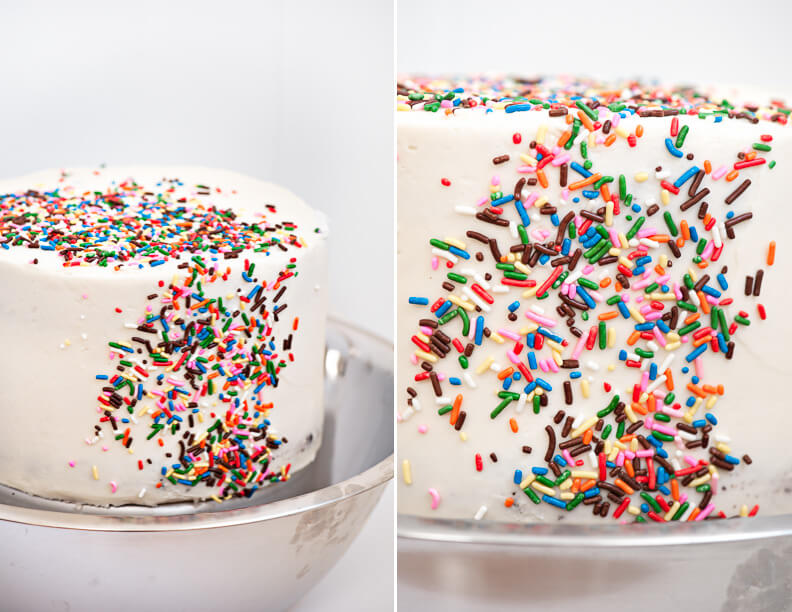 I spent the last week cleaning out my childhood home, and a good amount of that time was spent sitting on the floor of my mother's closet sorting through hundreds of family photos.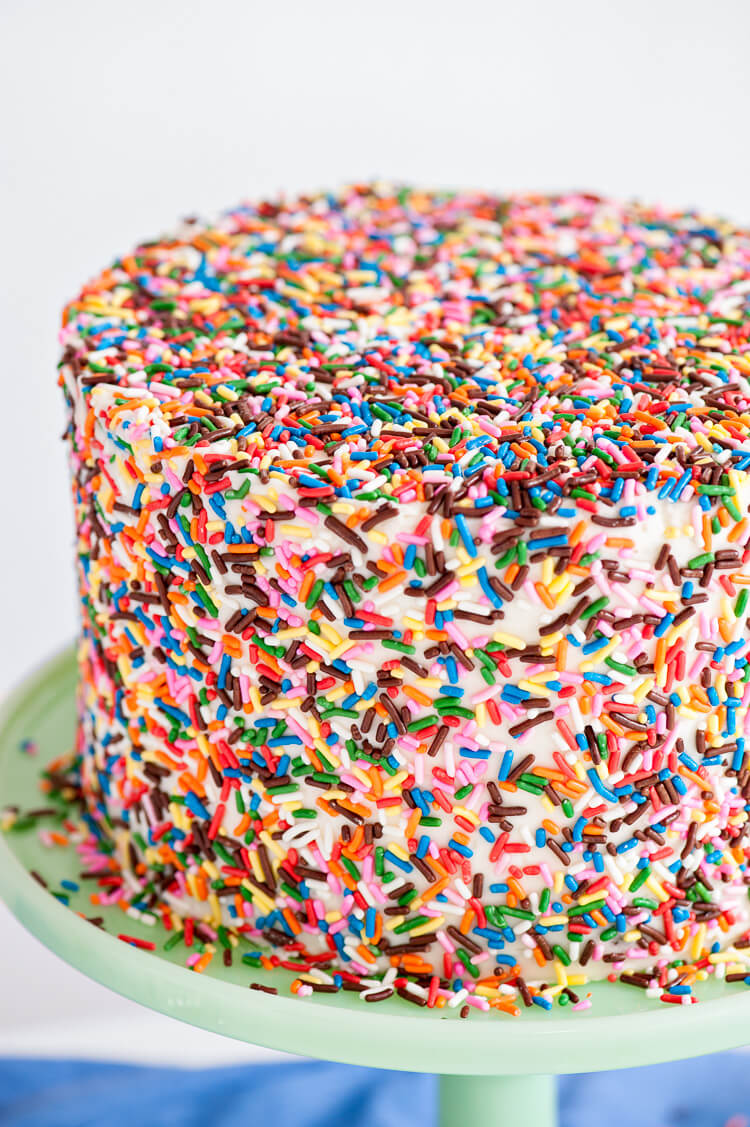 As I did this, I started to notice a recurring theme happening in my stack. Throughout my life, I am frequently photographed with cake. Sometimes I would be posing cutely with the cake like this…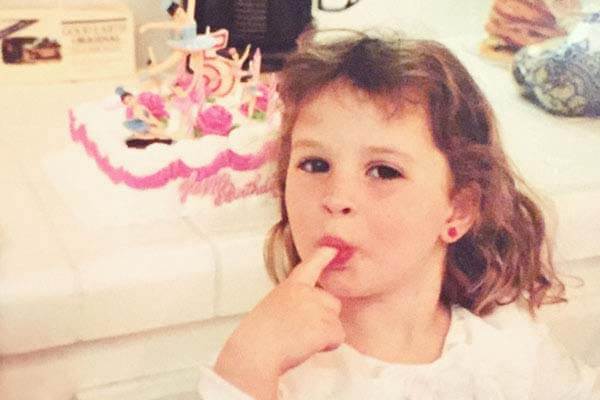 And other times I was trying to sneak a second helping of cake while no one was watching…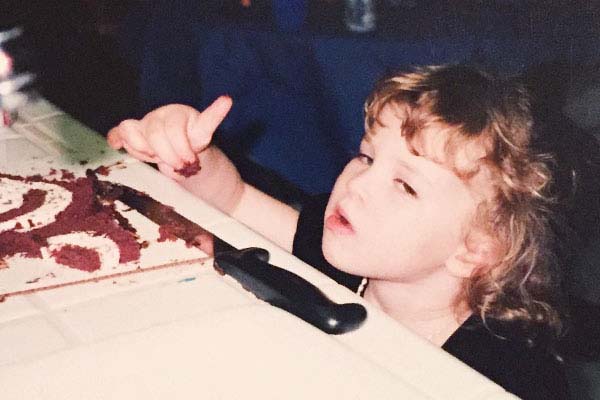 Obviously, stealthiness is not my strong suit because I was photographed doing this MULTIPLE times. So as you can imagine, National Chocolate Cake Day is a pretty exciting day in my house. Especially because this year it involves sprinkles!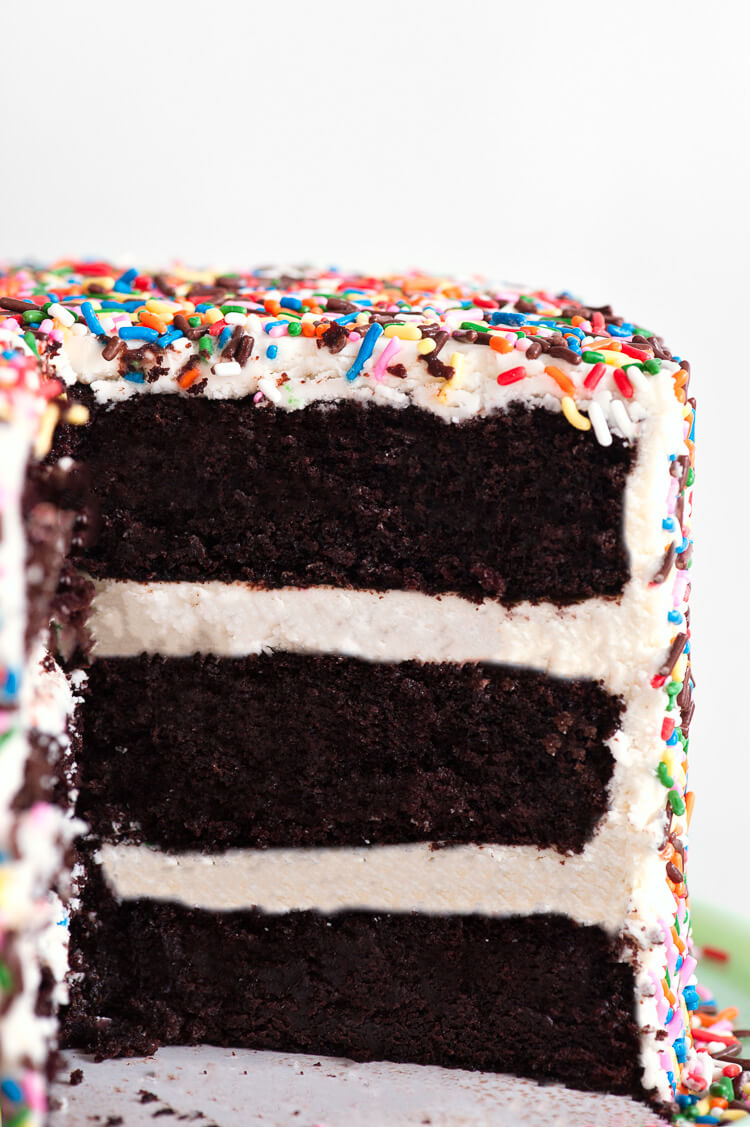 This Chocolate Sprinkle Cake is a super easy buttermilk based chocolate cake piled high with a fluffy vanilla buttercream and you guessed it…a whole lot of sprinkles! It is the perfect way to celebrate such a wonderful National Holiday!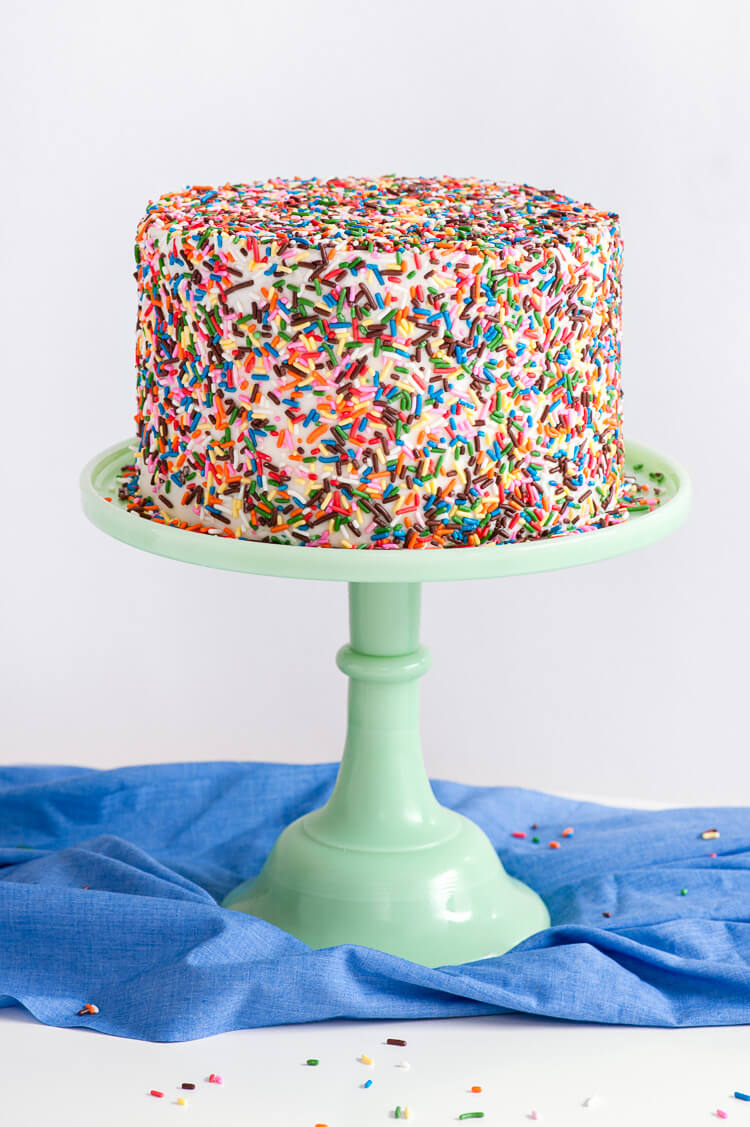 Cake recipe adapted from HERE.
CHOCOLATE SPRINKLE CAKE
Ingredients
CHOCOLATE CAKE
2 cups sugar (402g)

1 3/4 cups all-purpose flour (224g)

3/4 cup unsweetened cocoa powder (88g)

2 teaspoons baking soda

1 teaspoon baking powder

1 teaspoon salt

2 eggs

1 cup buttermilk (250ml)

1 cup strong black coffee (250ml)

1/2 cup vegetable oil (120ml)

2 teaspoons vanilla extract
FROSTING
1 lb. unsalted butter, room temperature (454g)

4 oz. cream cheese, softened

2 lbs. powdered sugar (907g)

1 Tablespoon vanilla extract

1 1/2 Tablespoons Milk

1 1/2 cups sprinkles (6 oz)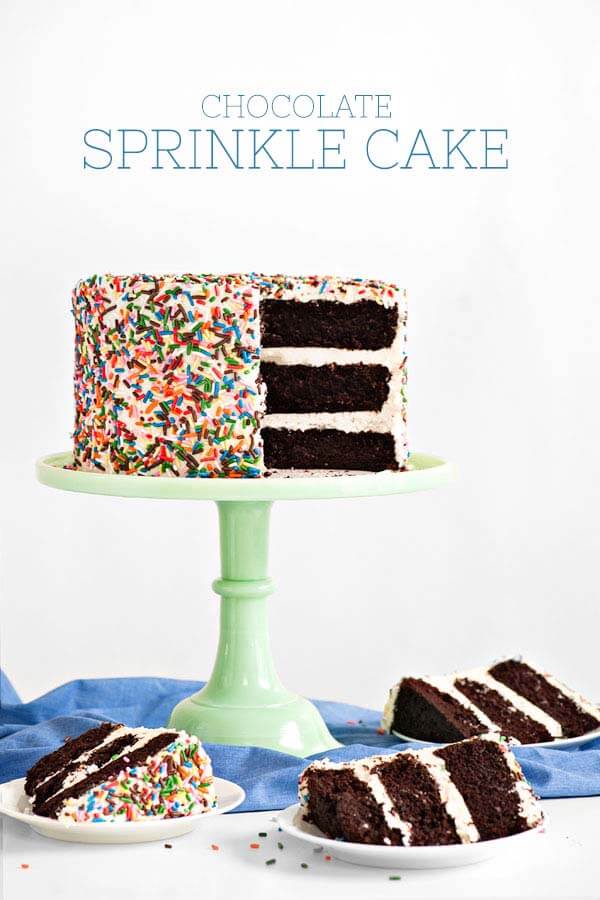 Instructions
For the cake:
Preheat the oven to 350°F, and line three 8" cake pans with parchment.

In the bowl of a stand mixer fitted with the paddle attachment, combine the sugar, flour, cocoa, baking soda, baking powder and salt. Mix on low until dry ingredients are thoroughly combined.

On low speed add eggs, buttermilk, coffee, oil and vanilla.

Once everything is combined beat on medium speed for 1 minute.

Divide batter evenly between the three pans.

Bake for 20-24 minutes, or until wooden toothpick comes out clean.

Place on a cooling rack to cool.
For the frosting:
In a stand mixer fitted with a paddle attachment, beat butter and cream cheese together until light and fluffy.

Slowly add powdered sugar. Mix until combined and fluffy.

Add vanilla and milk. Mix until combined.
Assembly
Once cakes are cool, remove them from the pans and place one layer onto a cake plate. Using an offset spatula, spread a generous amount of frosting to the edge of the cake.

Turn the second layer upside down (so the bottom is face up) and gently place it on top of the first layer. Repeat with the third layer.

Use the remaining frosting to frost the rest of the cake. Start with a generous amount on the top and work your way to the sides.

Once the outside is completely frosted, hold the cake over a large bowl (or place in on an upside down cake pan) and firmly press sprinkles into the sides and on the top of the cake. Repeat until the cake is completely covered.