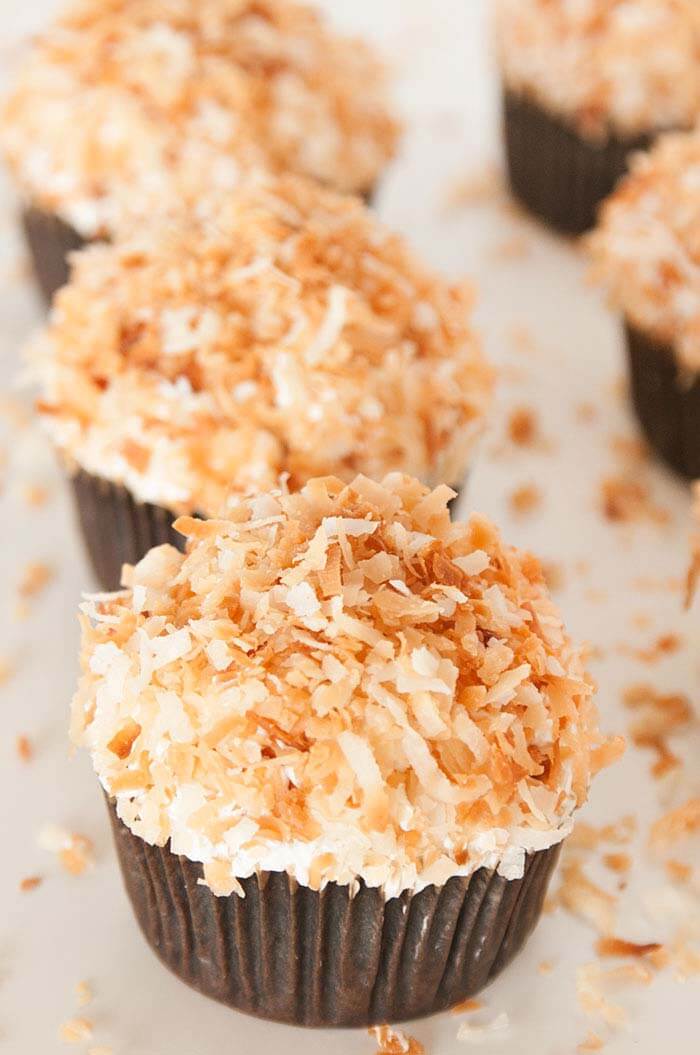 Chocolate + Coconut is one of my new favorite combinations. I have always liked them both separately, but for some reason, these days I want them both…all the time. So, to satisfy this craving, I decided to see what I could come up with in the kitchen. The result was this Chocolate Coconut Cupcake recipe – a one-bowl chocolate cupcake base topped with a decedent coconut buttercream and a generous amount of toasted coconut.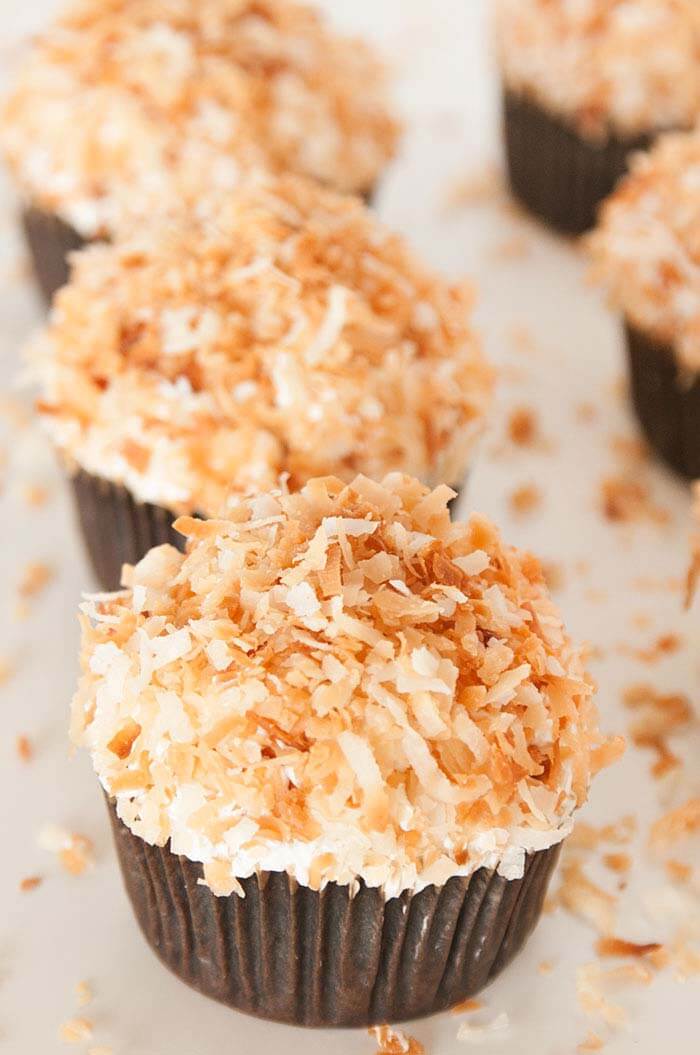 Chocolate cake recipe adapted from here.
CHOCOLATE COCONUT CUPCAKES
Ingredients
FOR THE CUPCAKES (MAKES 24)
2 cups sugar

1 3/4 cups flour

3/4 cup cocoa powder

2 tsp baking soda

1 tsp baking powder

1 tsp kosher salt

2 eggs

1 cup buttermilk

1 cup coffee

1/2 cup vegetable oil

2 tsp vanilla extract
COCONUT BUTTERCREAM
1 1/2 cups sugar

6 egg whites

1 1/2 cups unsalted butter

2 tsp vanilla extract

1/4 tsp salt

2/3 cups coconut milk
TOASTED COCONUT TOPPING
2 2/3 cups (7 oz. package) sweetened shredded coconut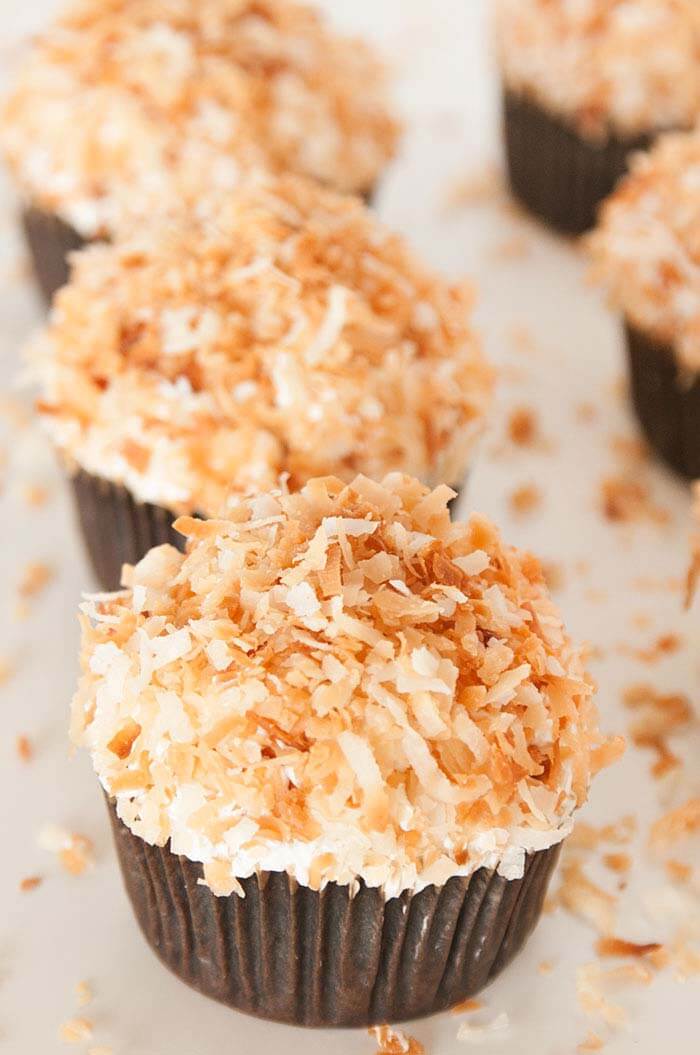 Instructions
For the cupcakes:
Preheat the oven to 350°F, grease the cupcake tins and place the cupcake liners.

In the bowl of a stand mixer fitted with the paddle attachment, combine the sugar, flour, cocoa, baking soda, baking powder and salt. Mix on low until dry ingredients are thoroughly combined.

On low speed add eggs, buttermilk, coffee, oil and vanilla.

Once everything is combined beat on medium speed for 1 minute.

Pour batter into cupcake liners 2/3 full.

Bake for 18-20 minutes, or until wooden toothpick inserted in center comes out clean..

Transfer pans to wire rack and let cool completely.
For the coconut buttercream:
Put sugar and egg whites in the top of a double boiler or a heatproof bowl over a pan of simmering water. Whisk every 15-30 seconds until it is warm to the touch in the center (about 5-8 minutes).

Using a stand mixer with a whisk attachment, pour heated mixture into mixing bowl. Turn the mixer on medium-high and mix for 5 minutes. The mixture will become thick, glossy and pure white.

Turn speed to high and mix until the sides of the bowl are cool. (about 3-5 minutes)

Once the sugar mixture is cool, put mixture on low speed and gradually add butter. Turn back to high speed. The mixture will look curdled at first, but it will eventually whip into a buttercream consistency.

Once it looks like buttercream, turn the speed back to medium and add extract, salt and coconut milk. Whip for about 2-4 minutes until everything is incorporated.
For the toasted coconut topping:
Preheat oven to 325 degrees and line a baking sheet with parchment paper.

Spread a thin layer of coconut flakes onto the baking sheet.

Bake for 3-5 minutes or until the coconut starts to turn brown on the edges.

Take baking sheet out and mix the coconut around with a fork to ensure even baking.

Put it back in the oven for another 3-5 minutes.

Let coconut cool on baking sheet.

Put coconut in a shallow bowl.

Turn frosted cupcake upside down and dunk into toasted coconut. Make sure all frosting is covered with coconut.