This is a sponsored conversation written by me on behalf of International Delight.  The opinions and text are all mine.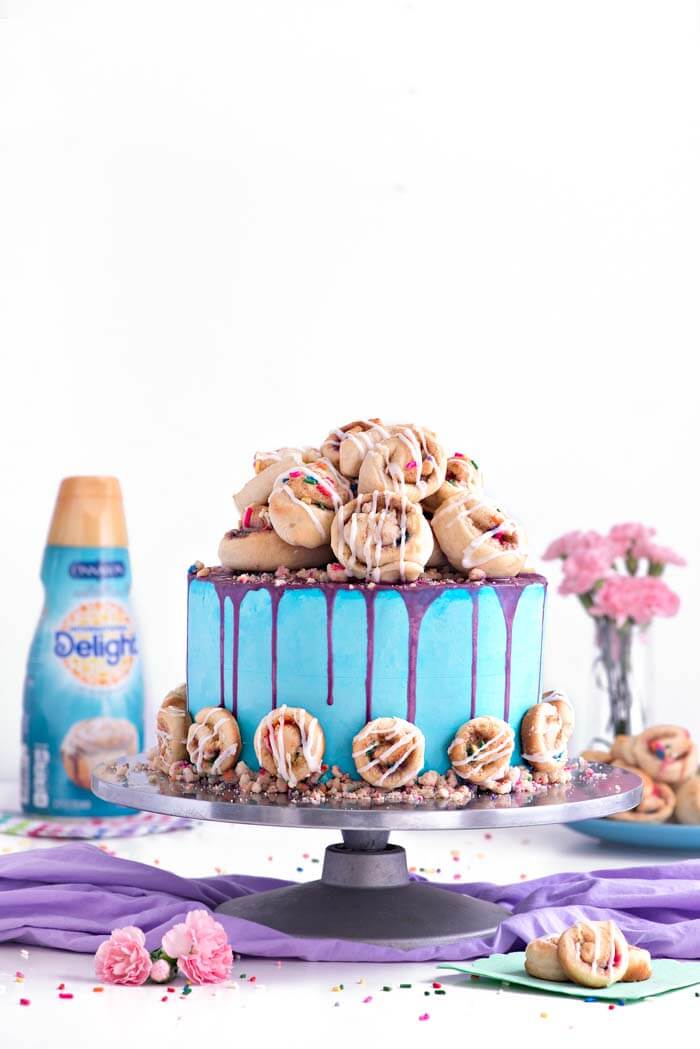 Everyone knows that cake is best enjoyed when you do not have to share it with anyone else. Just you, a fork and that buttercream goodness.
But every once in a while, you come across a cake that is SO amazing, you feel guilty keeping it all for yourself. A cake that not only looks good, but also tastes like a little slice of heaven.
I like to call those Show Stopper Cakes. And this Cinnamon Rolls Birthday Cake is definitely one of them.
Here is why….
It has Birthday Cake Crumble on it/in it. This stuff might possibly be my favorite cake filling OF ALL TIME.
Both the cake and the drizzle are flavored with International Delight's Cinnabon Creamer for MAXIMUM cinnamon roll goodness.
And, this bad boy allows you to eat cake AND cinnamon rolls at the SAME TIME.
Like I said…Show Stopper Cake.
I know this cake has a lot of steps because it requires you to make the cake, buttercream and drizzle along with the Birthday Cake Crumble and Cinnamon Rolls. To not get so overwhelmed, I suggest making the cake and crumble ahead of time and freezing them. Then make the buttercream, Cinny Rolls (some mini and some big) and ganache the day of! I promise you…it is SO worth it.
CINNAMON ROLL BIRTHDAY CAKE
Ingredients
CINNAMON ROLL BIRTHDAY CAKE
2 eggs + 1 egg white

1/2 cup whole milk

2 teaspoons pure vanilla extract

3 cups cake flour, sifted

1 3/4 cups sugar

1 tablespoon + 1 teaspoon baking powder

3/4 teaspoon salt

2 teaspoons cinnamon

12 tablespoons unsalted butter, room temperature
BUTTERCREAM
1 lb (2 cups) unsalted butter, room temperature

5 egg whites

1 cup sugar, divided

1 teaspoon clear imitation vanilla

1 teaspoon pure vanilla extract

Water

Blue food coloring

Candy thermometer
TOPPINGS
1/4 cup International Delight Cinnabon Coffee Creamer

5 oz purple melting chocolate

Birthday Cake Crumble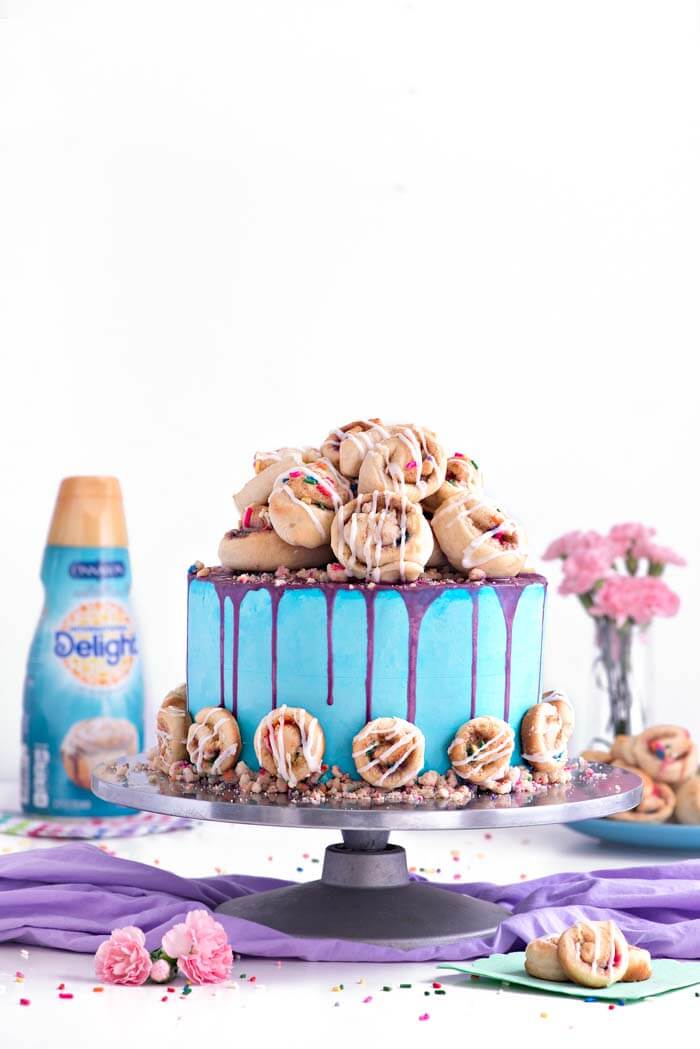 Instructions
CINNAMON ROLL BIRTHDAY CAKE
Preheat oven to 350 degrees. Prepare three 8" cake pans with pam and parchment.

In a medium bowl combine and stir the egg whites, milk, and the vanillas. Set aside.

In the bowl of an electric mixer fitted with the paddle attachment, combine the dry ingredients together on low speed for 30 seconds.

Add the butter and International Delight Cinnabon Creamer, and mix on a low speed until just combined. Increase to medium speed and mix for 1-2 minutes.

Scrape the sides of the bowl and begin to add the egg mixture. Beat on medium speed until it is just combined.

Divide the batter between the three cake pans.

Bake for 25-30 minutes or until a toothpick comes out clean.

Let cool on wire racks for 10 -15 minutes. Then remove cakes from the pan and place on wire racks to cool completely.
BUTTERCREAM
In a small sauce pan put 3/4 cup of sugar and cover the sugar with a little bit of water until the sugar looks like wet sand. Cook on a stove top over high heat until it reaches 248 degrees on your candy thermometer.

While the sugar is cooking, whip eggs whites in a bowl of an electric mixer fitted with the paddle attachment at a high speed until they reach soft peaks.

Once the egg whites reach soft peaks add the other 1/4 cup of sugar and mix on a high speed until the egg whites reach stiff peaks. You can keep mixing the egg whites at a high speed until the sugar is done cooking.

Once your candy thermometer reads 248 degrees, immediately add it to the egg white mixture. Mix on a high speed for 30 minutes.

After 30 minutes, add the room temperature butter and mix on a high speed for 5-10 minutes until the butter is fully combined and the mixture resembles buttercream.

Add vanillas and mix until just combined.

Add blue food coloring until you get desired color.
TOPPINGS
Make Birthday Cake Crumble. Set aside to cool.

Make Cinnamon Rolls. Set aside to cool.

Place melting chocolate and heavy cream in a microwaveable bowl.

Microwave in 30 second increments, stirring after each time, until the chocolate is melted.

Assemble the cake filling each layer with Birthday Cake Crumble.

Add a crumb layer and place in the fridge for at least 30 minutes.

Apply final layer of buttercream. Place in the fridge for at least 30 minutes.

Use a spoon to drizzle ganache down the side of the cake and cover the top.

Add Birthday Cake Crumble and Cinnamon Rolls.