When I was a little kid I was obsessed with the Frosted Circus Animal Cookies.
You know – the pink and white ones with the sprinkles? Yeah, they were my JAM when I was little. Actually, they are still kind of my jam but I don't allow myself to buy them anymore because I can eat the entire bag in one serving.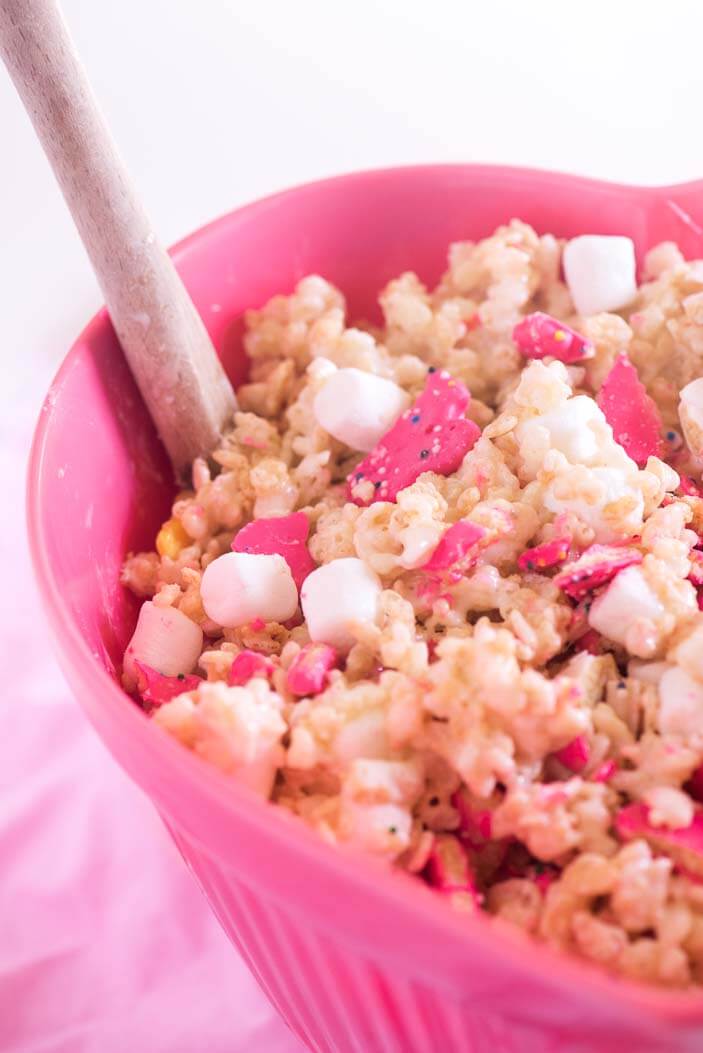 That's why I find every excuse I can to put them in a new recipe! In the past I have made everything from Circus Animal Cookies to Circus Animal Cake to Circus Animal Doughnuts. And today. I am continuing the trend with these Circus Animal Rice Krispy Treats!
Rice Krispy Treats are great by themselves…everyone knows that. But adding the circus animal cookies takes them to the next level. Because you chop the cookies up before you mix them in, they create this amazing bite sized crunchy goodness throughout the entire treat. SO MUCH CRUNCHY GOODNESS. It is fantastic.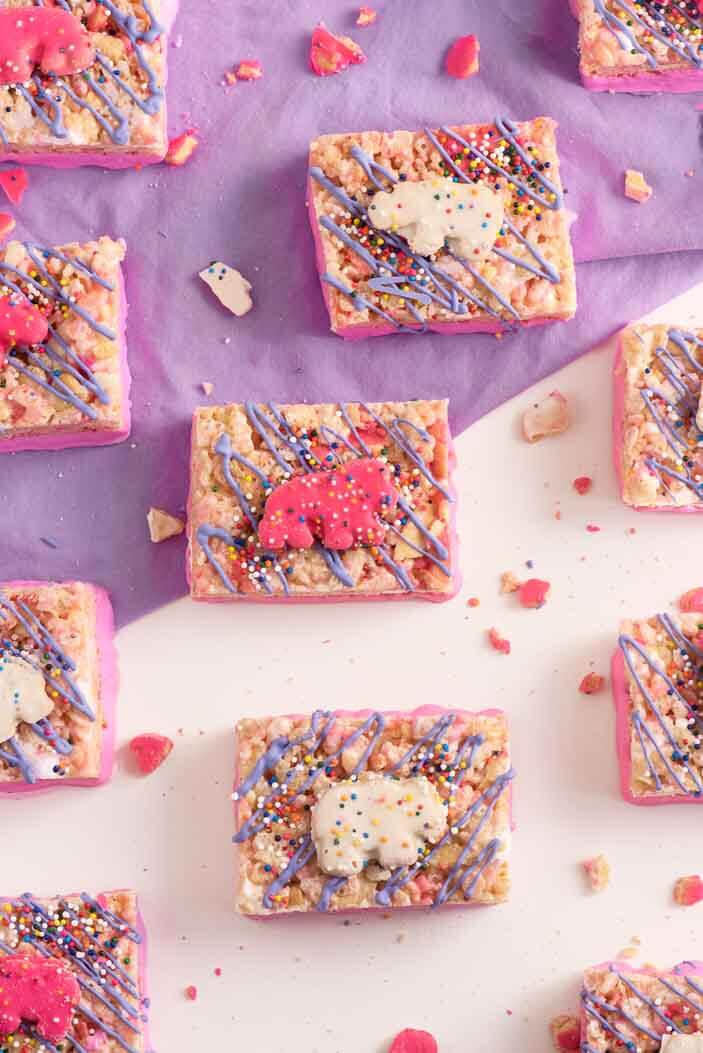 If you want to stick with these being super easy, you can skip the white chocolate dip and drizzle. I just thought something that tastes THIS amazing should look amazing too. If you do decide to go with the white chocolate decorations, here are a few tips for you.
DECORATING TIPS
Make sure you use a sharp knife to cut your rice krispy treats into individual servings. This will make it easier to create nice even edges (which are much better for dipping).
Make sure your rice krispy treats are super cold before you cut them into individual servings. Just like the sharp knife trick, this will help you get those even edges we are looking for.
Dip your krispies before you add the drizzle. It is much easier to drizzle a dipped krisy than to dip a drizzled krispy.
When you dip your krispy, make sure to shake off any excess chocolate and then scrape the bottom of the krispy on the edge of the bowl. This will ensure that you don't get a bottom heavy pool of chocolate at the bottom of your krispy.
If adding the extra Frosted Circus Animal Cookie on top, do so immediately after drizzling. This way the chocolate will act as glue to hold the cookie on your krispy. Then add your sprinkles.
Like I said, you don't HAVE to get fancy with the dipping and drizzling. They are still very good without the white chocolate! I just think the added white chocolate makes them look SO GOOD.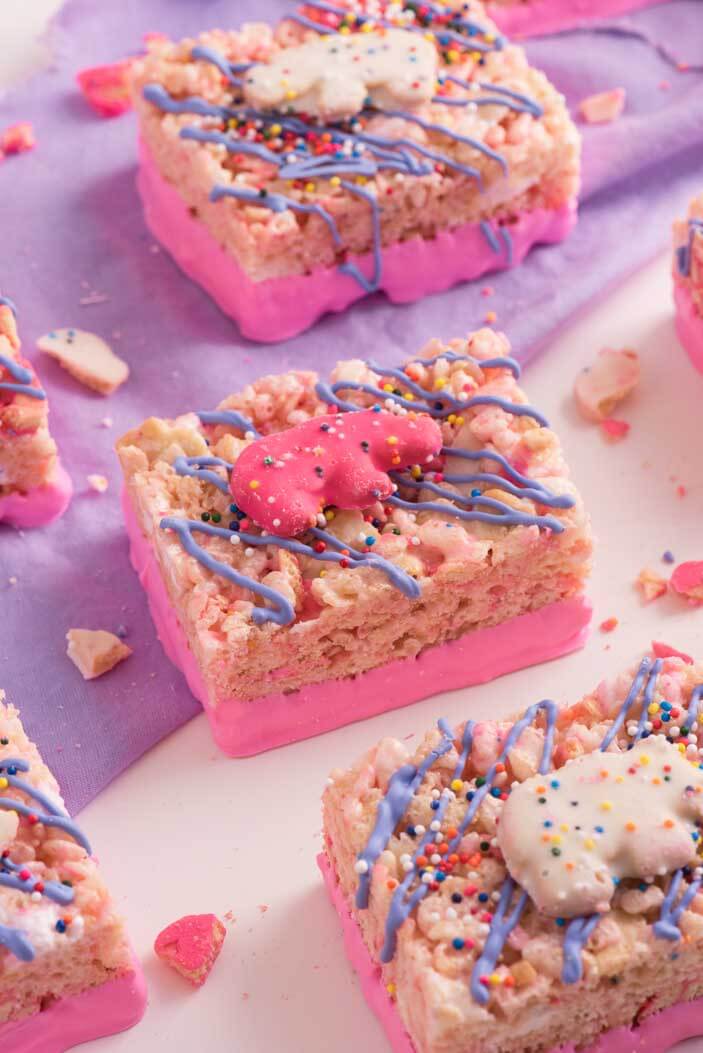 CIRCUS ANIMAL RICE KRISPY TREATS
Ingredients
6 cups Crisped rice cereal

16 oz mini marshmallows

4 tablespoons butter

1/2 teaspoon vanilla extract

8 oz. Purple melting chocolate

2 oz Pink melting chocolate

Sprinkles

12 oz Circus Animal Cookies, divided
Instructions
Roughly chop 9 oz of Circus Animal Cookies. Set aside.

In a large pot, melt butter and 7 cups of mini marshmallows on medium heat. Make sure you stir every 15-30 seconds until the two ingredients are combined.

Add in Rice Krispy cereal and mix until everything is coated in the marshmallow mixture.

Set aside to cool for 2 minutes.

Stir in remaining marshmallows.

Spray a 9 x 13" pan with non-stick spray and then pour krispy mixture into pan.

Spray non-stick cooking spray on your hands and press mixture down into the pan until it is one even layer

Place in the refrigerator for at least 30 minutes.

While the krispys are cooling, place melting chocolate in a microwave safe bowl. Melt using 30 second intervals.

Once the treats and cooled, cut them into individual servings and place them on a baking sheet lined with parchment paper.

Dip the bottom 1/3 of a krispy into the melted chocolate. On the side of the bowl, tap off excess chocolate and then scrape the bottom.

Place back on parchment paper to dry. Repeat with remaining krispys.

Once you are finished dipping, melt pink chocolate in a microwave safe bowl.

Place it in a piping bag. Drizzle pink chocolate over the top of each krispy.

Add an extra animal circus cookie on top and add extra sprinkles.
Notes
*Makes 12 Rice Krispy Treats