Lately, I have been a little overwhelmed with everything going on in my life. I feel like there is always so much to do and I don't ever have a second to sit down and just breathe. But luckily for me, when I get into the kitchen, all my stress seems to disappear.
So this week, I decided to get into the kitchen and create something bright and colorful (that always seems to make me feel better). I took a simple shortbread base and just added a little food coloring to mix things up. I know the checkerboard pattern makes these cookies look a little complicated, but don't be intimidated! All you need is a ruler and sharp knife (or bench scraper) and you are good to go!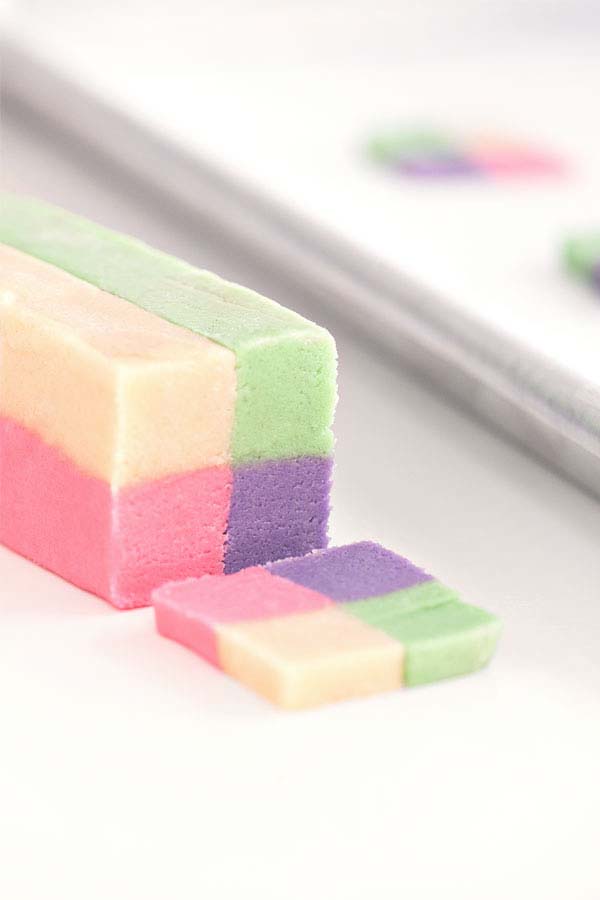 The best part about these cookies is that you can make the dough up to a week in advance – you just have to store it in the refrigerator until you are ready to bake them off! So next time you are feeling a little overwhelmed with life, these cookies are sure to brighten your day!
COLORFUL CHECKERBOARD COOKIES
Ingredients
2 cups flour

1/2 cup sugar

1/4 teaspoon salt

1 cup unsalted butter, cut into pieces

1/2 teaspoon vanilla extract

1 egg yolk

Pink, purple and green food coloring
Instructions
Preheat the oven to 350 degrees and prepare a baking sheet with parchment.

In a food processor, combine flour, sugar and salt.

Add butter pieces and pulse until dough resembles small crumbles.

Add the vanilla extract and egg yolk. Pulse until the dough comes together.

Transfer dough to a lightly floured service. Shape dough into a round and divide it into four even portions.

Put a small amount of food coloring in the center of one section. Knead the dough until the color is evenly distributed.

Using your hands, work each section of dough into a long rectangle. Place in the fridge for 20 minutes.

Using a knife and a ruler trim the edges to be 1" high, 1" wide, and 9" long.

Place the dough back in the fridge for another 20 minutes.

Press press the strips together to form one large block.

Using a knife, cut dough into 1/4" slices. Bake for 12 -15 minutes.

Remove baking sheet from oven. Let cookies sit for 2 minutes and then transfer to wire rack to cool.