*Make sure your flour is heat treated before eating raw cookie dough. You can see how to do that HERE.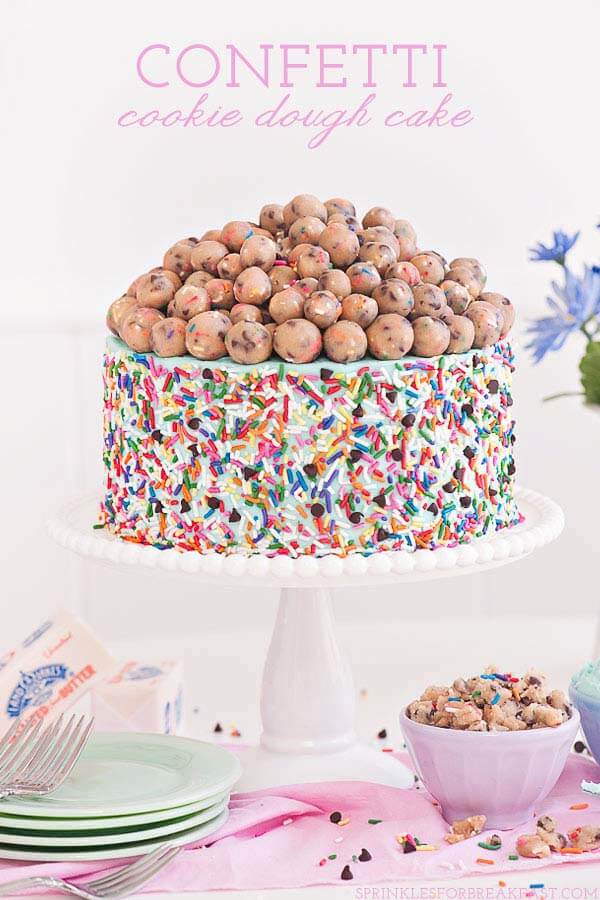 Moving can be hard. Not only do you have to figure out how to navigate a new city, but you also have to figure out how to make new friends – and that can be intimidating. So when a new family moved in down the street, I decided I was going to welcome them to the neighborhood the best way I know how – with a cake
.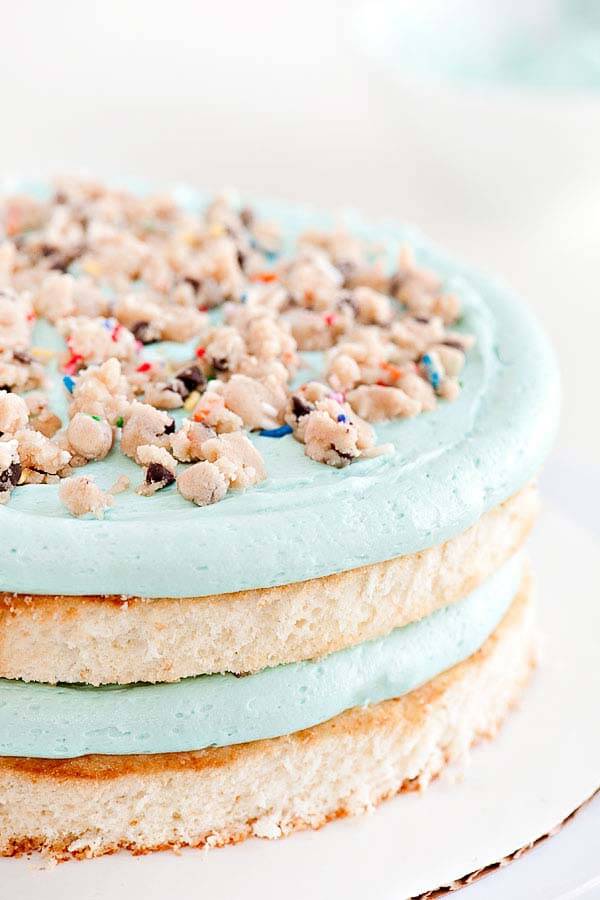 The family had two little kids, so I thought my favorite Cookie Dough Confetti Cake would be the perfect "Welcome To The Neighborhood" treat. This epic cake does require a good amount of butter because it is covered in delicious buttercream and piled high with chocolate chip cookie dough – so I teamed up with LAND O LAKES® to make this the best cake possible.
I'm not going to lie…I'm kind of a butter snob. But when you are a baker like me (and you use SO MUCH BUTTER), you kind of have to be – and LAND O LAKES® is by far my favorite brand. I don't know how they do it, but their butter makes a huge difference in the final product.
The cake was a huge hit! Not only were my new neighbors very excited about the cake, they were also so thankful that I took the time to come over and introduce myself. Sometimes it is the smallest gesture that is the most appreciated – and I guess showing up with a cake never hurts.
This post was sponsored by LAND O LAKES®
Good is easy if you just start small. A little can change it all. Learn more from Land O Lakes®
CONFETTI COOKIE DOUGH CAKE
Ingredients
CAKE
2 eggs + 1 egg white

1 cup whole milk

2 1/4 teaspoons pure vanilla extract

3 cups cake flour, sifted

1 3/4 cups sugar

1 tablespoon + 1 teaspoon baking powder

3/4 teaspoon salt

12 tablespoons LAND O LAKES Unsalted Butter, room temperature
BUTTERCREAM
2 cups LAND O LAKES Unsalted Butter, room temperature

4 oz. cream cheese, softened

2 lbs. powdered sugar

1 tablespoon vanilla extract

1 1/2 tablespoons milk

Blue food coloring
COOKIE DOUGH
2 cups flour

3/4 teaspoon salt

1 cup LAND O LAKES Unsalted Butter, room temperature

1 cup sugar

1/2 cup brown sugar

2 teaspoons vanilla extract

1 1/2 cups mini chocolate chips

1/2 cup sprinkles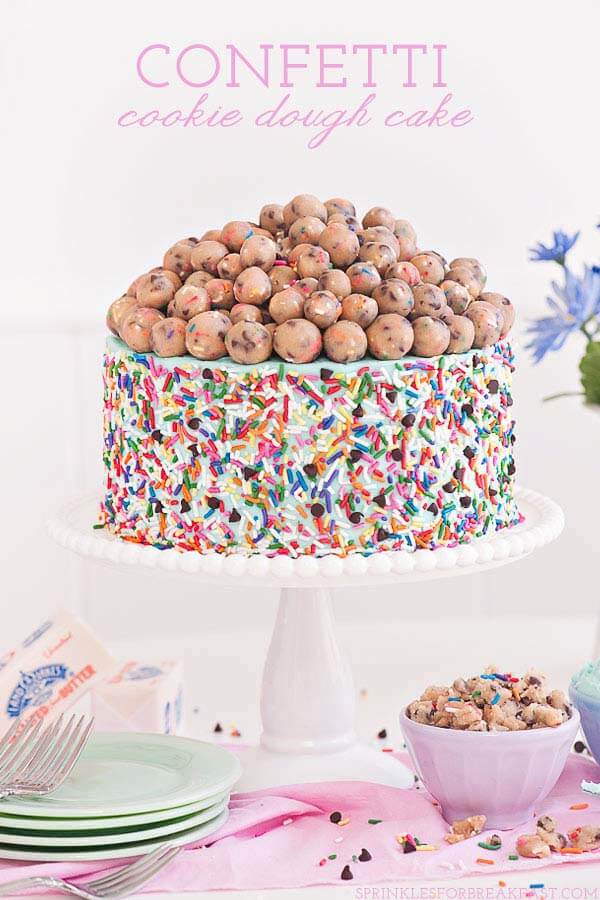 Instructions
For the cake:
Preheat oven to 350 degrees. Prepare three 8" cake pans with pam and parchment.

In a medium bowl combine eggs, egg white and the vanilla. Set aside.

In a bowl with an electric mixer fitted with a paddle attachment, combine dry ingredients and mix on a low speed for 30 seconds.

Add butter and milk. Mix on a low speed until just combined. Increase to medium speed and mix for 1-2 minutes.

Scrape down the sides of the bowl and add egg mixture in 2 separate batches. Beat on medium speed until it is just combined.

Divide batter into three cake pans. Bake for 20-25 minutes, or until a toothpick comes out clean.

Let cakes cool on wire racks until completely cool.
For the buttercream:
In a mixer fitted with a whisk attachment, combine butter and cream cheese. Mix until light and fluffy. About 3 minutes.

Slowly add powdered sugar on a low speed.

Add milk and vanilla extract.

Mix until light and fluffy.
For the cookie dough:
In a mixer fitted with a paddle attachment, combine butter and sugars until light and fluffy.

Add flour and salt. Mix until combined.

Stir in mini chocolate chips and sprinkles.

Set aside 1/3 of the dough for the cake filling. Use remaining 2/3 to roll into small balls for the topping.
ASSEMBLY
Once cakes are cool, take them out of the pans, and place one layer onto a cake plate. Using an offset spatula, spread 3/4 cup of frosting on the cake. Crumble cookie dough, and mini chocolate chips in the middle of the cake.

Add the second layer and repeat.

Turn the third layer upside down (so the bottom is face up) and gently place it on top of the first layer.

Use the remaining frosting to frost the rest of the cake. Start with a generous amount on the top and work your way to the sides.

Place an upside down cake pan in the middle of a baking sheet. Place the cake on top of the cake pan.

Cover the sides of the cake in sprinkles and mini chocolate chips.

Add cookie dough balls to the top of the cake.