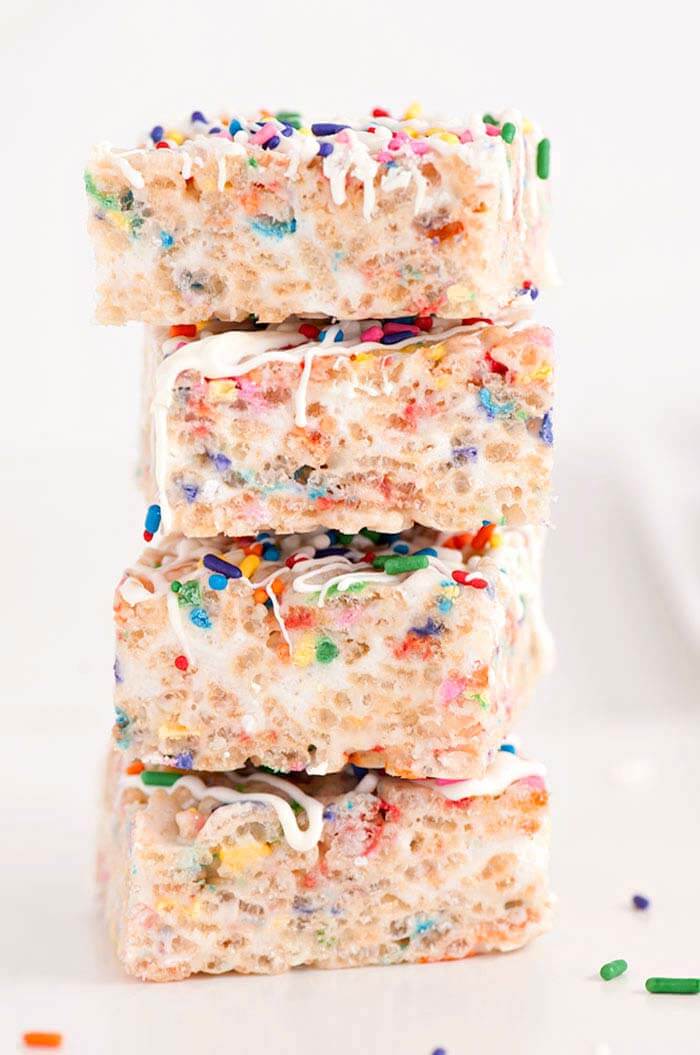 Last week Be Spoke Bride put up a post called "75 Colorful Instagram Accounts That You Need In Your Life", and we were so excited to make the list! Here at Sprinkles for Breakfast, we LOVE color. It basically dictates what we do on a daily basis, because we believe baking is just more fun when its colorful! We also happen to be obsessed with instagram – we spend A LOT of time on there. It is by far our favorite social media platform because we love to see how creative and talented people are. And we also like pictures of dogs – and instagram provides a lot of pictures of dogs. So it was super cool to be recognized on this list! And we loved looking at all the other amazingly talented people on there. You should definitely check it out here. And in honor of this awesome list, we were inspired to make this week's recipe extra colorful for you guys – Confetti Rice Krispy Treats!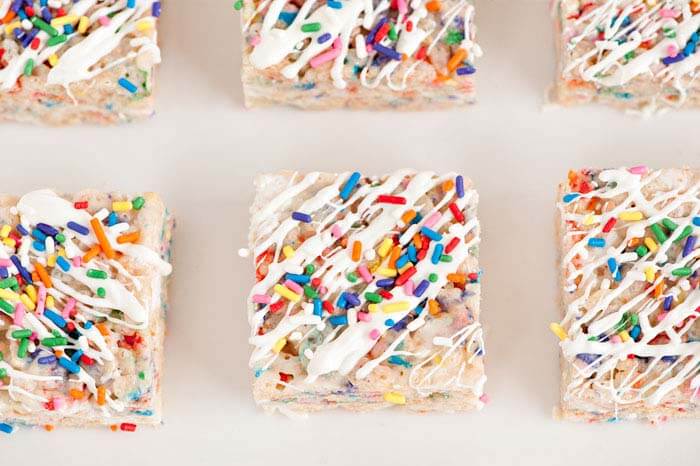 I love Rice Krispy Treats for two reasons. 1. I think they are gooey and delicious and amazing – and 2. In middle school, I did my "How To" Project on them. You know that project where you teach your class "how to" do something? Yeah, well my best friend and I taught our class how to make Rice Krispy Treats. We made a tutorial video and everything (I was a total overachiever if you haven't figured that out already).
So I consider myself kind of an expert when it comes to Krispy Treats. I mean I have been teaching people how to make them for over a decade! That has to count for something. They are easy to make and they require minimal ingredients! And the best part – you don't even have to bake them! And now I have found a way to make them even more awesome by adding color.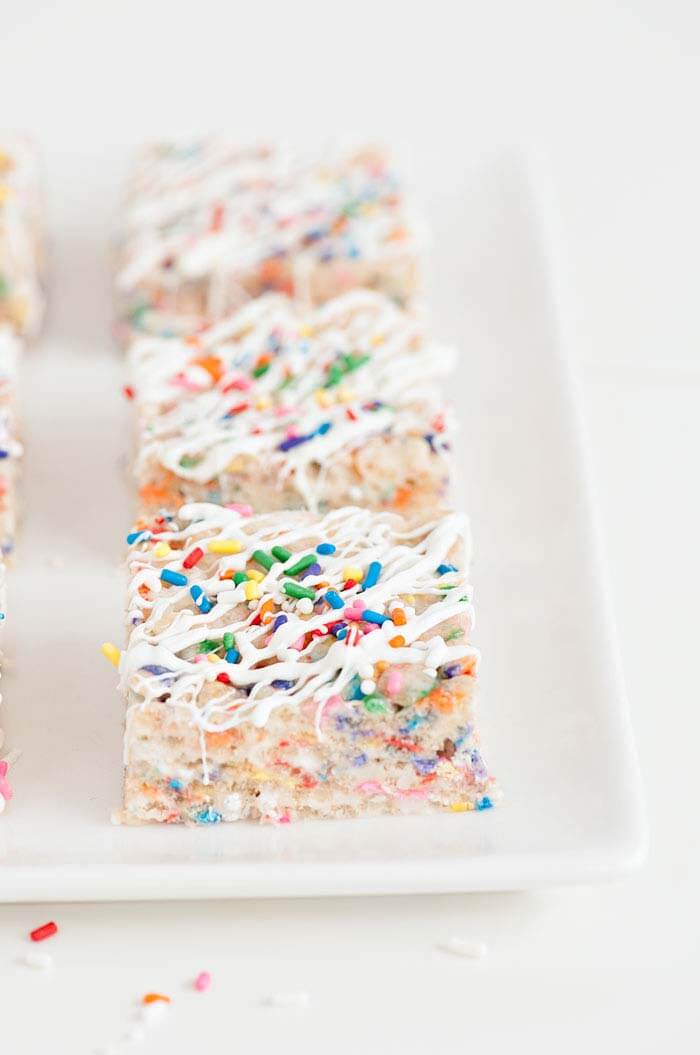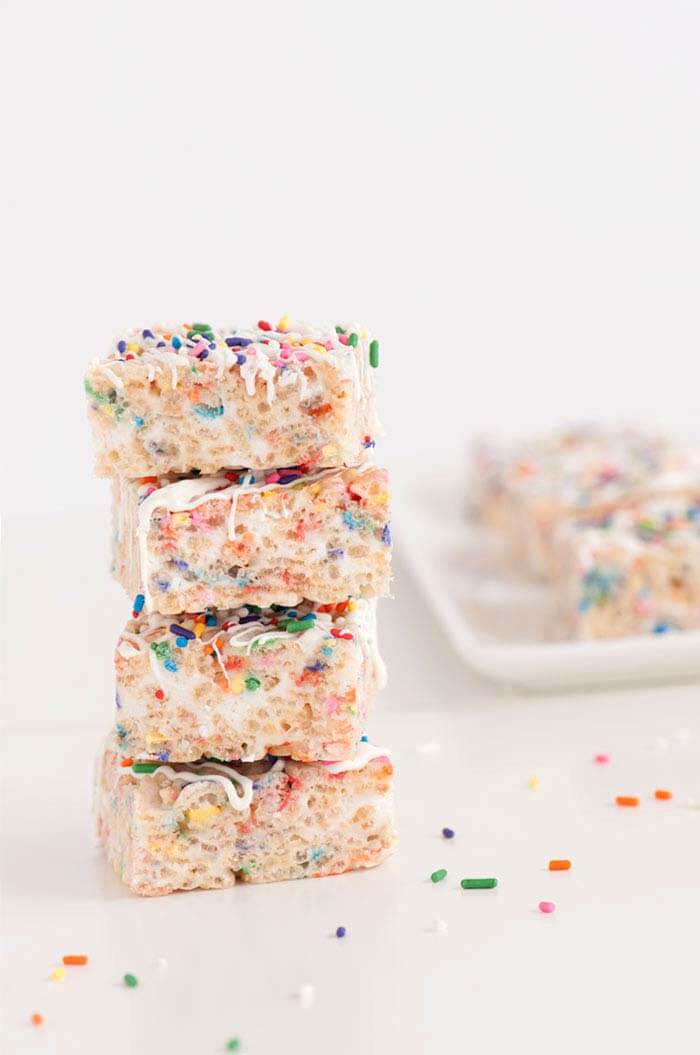 CONFETTI RICE KRISPY TREATS
Ingredients
6 cups Rice Krispy Cereal

16 oz. bag or 9 cups mini marshmallows

4 tablespoons butter

1/2 teaspoon vanilla extract

Sprinkles

6 oz. White Melting Chocolate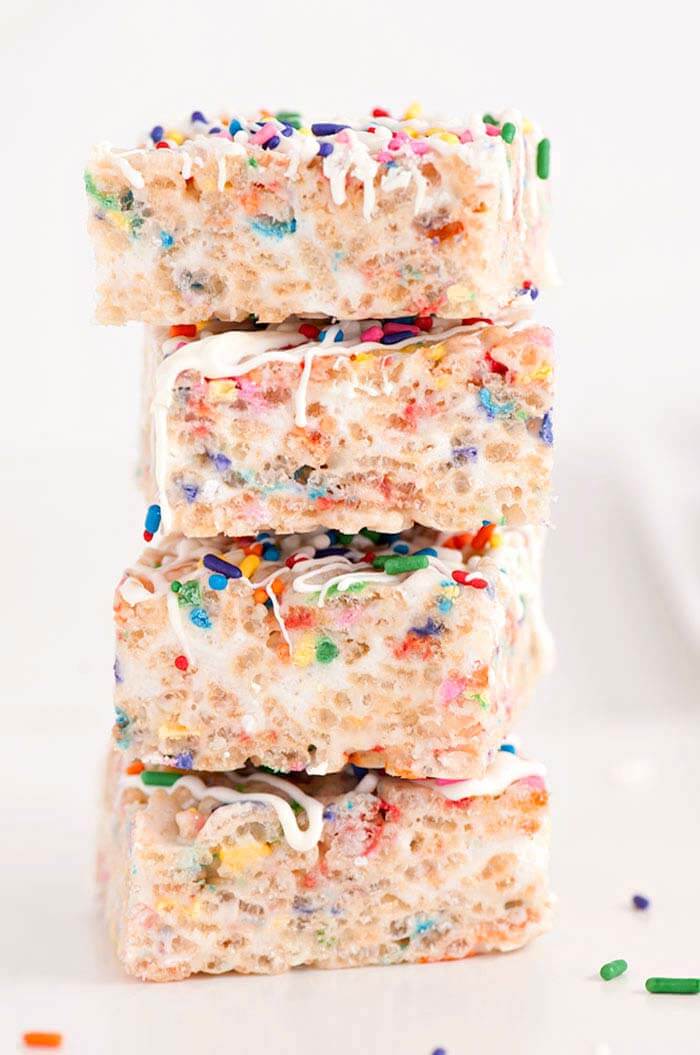 Instructions
In a large pot, melt butter and 7 cups of mini marshmallows on medium heat. Make sure you stir every 15-30 seconds until the two ingredients are combined.

Add in Rice Krispy cereal and mix until everything is coated in the marshmallow mixture.

Let sit for 1 minute to cool.

Add remaining marshmallows 1 cups at a time. Stir after each addition.

Let Krispy mixture sit for 1 minute.

Add 4-5 tbs. sprinkles and lightly mix.

Spray a 9x13" pan with PAM and then pour Krispy mixture into pan.

Spray PAM on your hands and press mixture down into the pan until it is one even layer.

Place in the refrigerator for at least 30 minutes.

Once the treats and cooled, cut them into individual servings and place them on a baking sheet lined with parchment paper.

In a microwave safe bowl, melt a handful of chocolate disks in 30 second increments, stirring between each heating.

Using a fork, drizzle white chocolate over treats and add sprinkles.

Let them sit until the chocolate has hardened, and then serve.