This is a sponsored conversation written by me on behalf of International Delight. The opinions and text are all mine.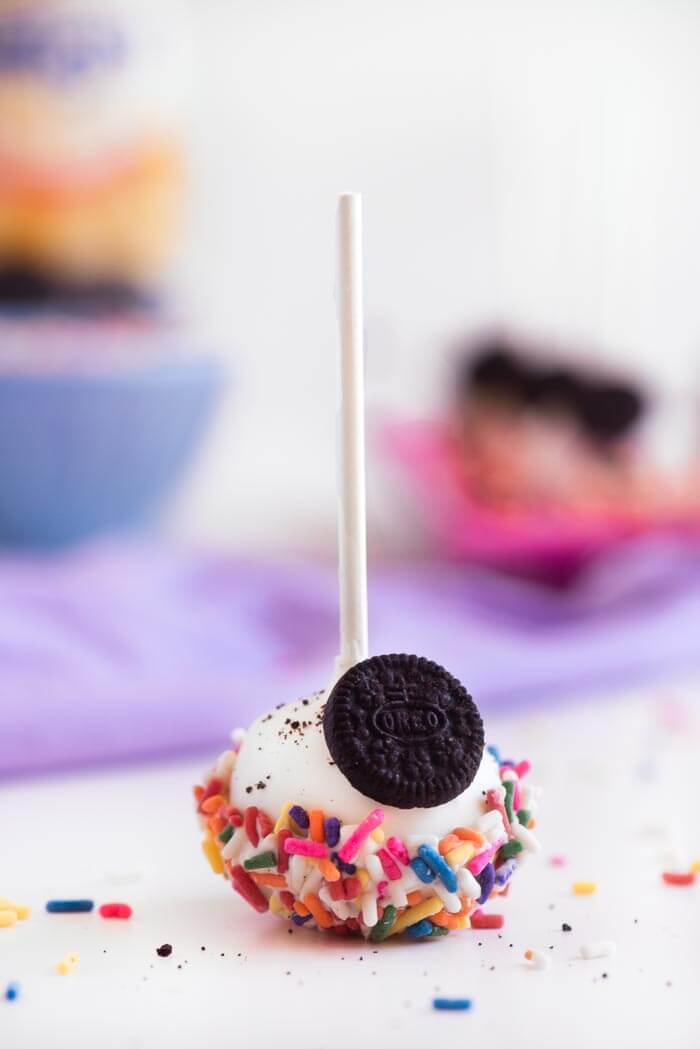 Have you ever been in one of those situations where everything is going really well and you step back and think, "Wow…I'm actually kind of killing it right now!!". And then, all of the sudden, out of nowhere, life decides to laugh in your face and turn everything completely upside down until you are so overwhelmed you end up ugly crying on the bathroom floor?
Yeah, we have all been there. And it's times like these that remind us that no matter how hard we try to control it, life is always going to be a real big unpredictable jerk.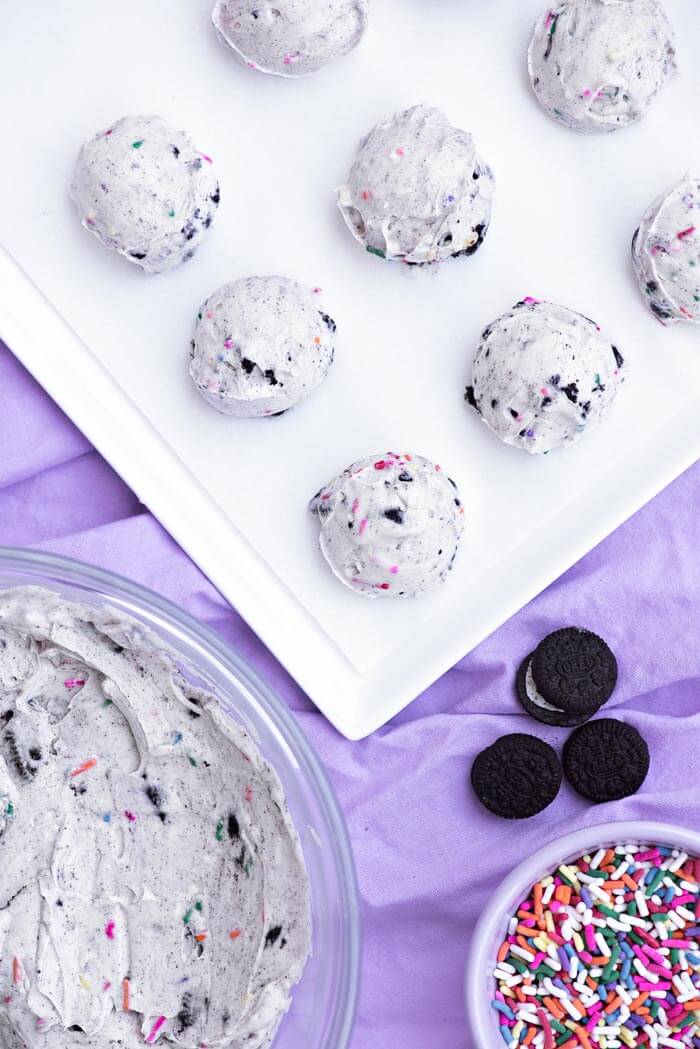 But the good news is, these kind of situations allow us to appreciate the few things in life that we KNOW are not going to let us down. For me, I know that no matter how hard life gets, baking is always going to make me feel better. I also know that adding OREO Cookies to pretty much anything is always considered a major upgrade. I mean, it is America's favorite cookie for a reason, right?
So when International Delight came out with it's new OREO cookie flavored Creamer, I knew good things were going to happen. And I was right…these Confetti Oreo Cheesecake Pops are EPIC. Not only do they have the added OREO goodness in the creamer, but they also have crushed OREO cookie pieces on the inside and outside of them. Basically…SO MUCH OREO GOODNESS.
But before you go running off and making these, I need you to listen to me for a second. In order to have these turn out well, you have to have one very important thing…patience. The center of these pops are a no-bake cheesecake batter. It's smooth and creamy and very very soft. Unlike a standard cake pop, the batter will not hold it's shape very well unless you freeze it. If you do not let them freeze properly they will fall off the stick, get all goopy in the melted chocolate and make a huge freaking mess. Basically, you will be ugly crying on the bathroom floor and I do NOT want to be responsible for any ugly crying. Sprinkles are supposed to make things better, not worse!
So just make sure you let these bad boys get nice and cold before you start dipping! Also, there is a full video on my instagram to show you exactly how I did the sprinkles on the outside! Happy Baking!
CONFETTI OREO CHEESECAKE POPS
Ingredients
8 oz cream cheese, softened

1/2 cup (60g) powdered sugar

1/4 cup (58g) sour cream

6 tablespoons (90ml) International Delight OREO cookie creamer

1/2 cup OREO cookies, crushed

3 tablespoons Sprinkles, plus more for topping

18 mini OREO cookies

12 oz white melting chocolate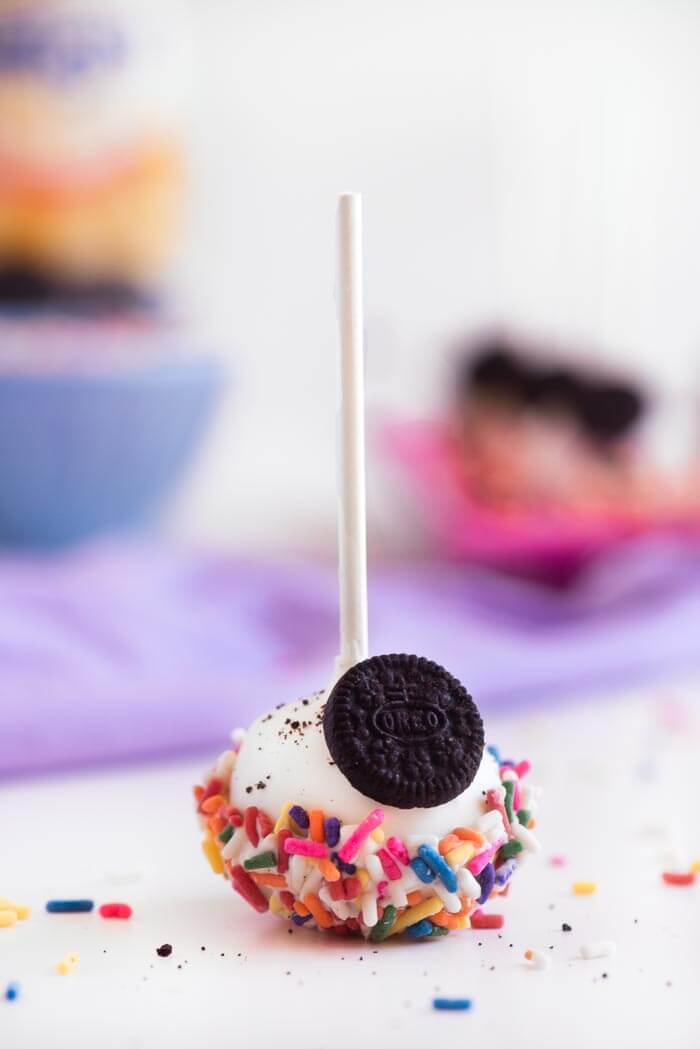 Instructions
In a mixer fitted with a paddle attachment, combine cream cheese, powdered sugar, sour cream and International Delight OREO cookie flavored creamer. Mix until smooth and creamy.

Stir in crushed OREO cookies and sprinkles.

Using a small cookie scoop, scoop out 18 balls onto a tray with parchment paper. Place in the freezer for at least 2 hours, or until balls are firm.

Melt white chocolate in a small dish.

Once the balls have thoroughly frozen, using the palm of your hands, form each scoop into a ball shape.

Dip the end of a lollipop stick into the chocolate and then into the ball. Place back in the freezer for another hour, or until the stick is secure and the balls are completely firm.

Divide the 18 mini OREO cookies in half. Set aside the halves with cream and crush the remaining halves into crumble.

Remelt the chocolate as needed. Dip the balls into the melted chocolate tapping off any excess chocolate.

Place on a tray lined with parchment paper. Immediately add crushed mini Oreo crumbles to the top half of the ball. Repeat with the remaining balls.

Prepare a small bowl with sprinkles.

Once the balls are all coated and covered with OREO cookie crumbs, dip the bottom half of the ball back into the melted chocolate. Tap off any excess and then transfer pop to the sprinkle bowl.

Cover the bottom of the pop in sprinkles. Set back on tray with parchment.

Divide the mini OREO cookies in half and attach it to the ball with a little bit of melted chocolate.

Pops should be places in the fridge until right before you are ready to serve them.