QUICK AND EASY CONFETTI COOKIES YOU CAN MAKE WITH A WAFFLE IRON.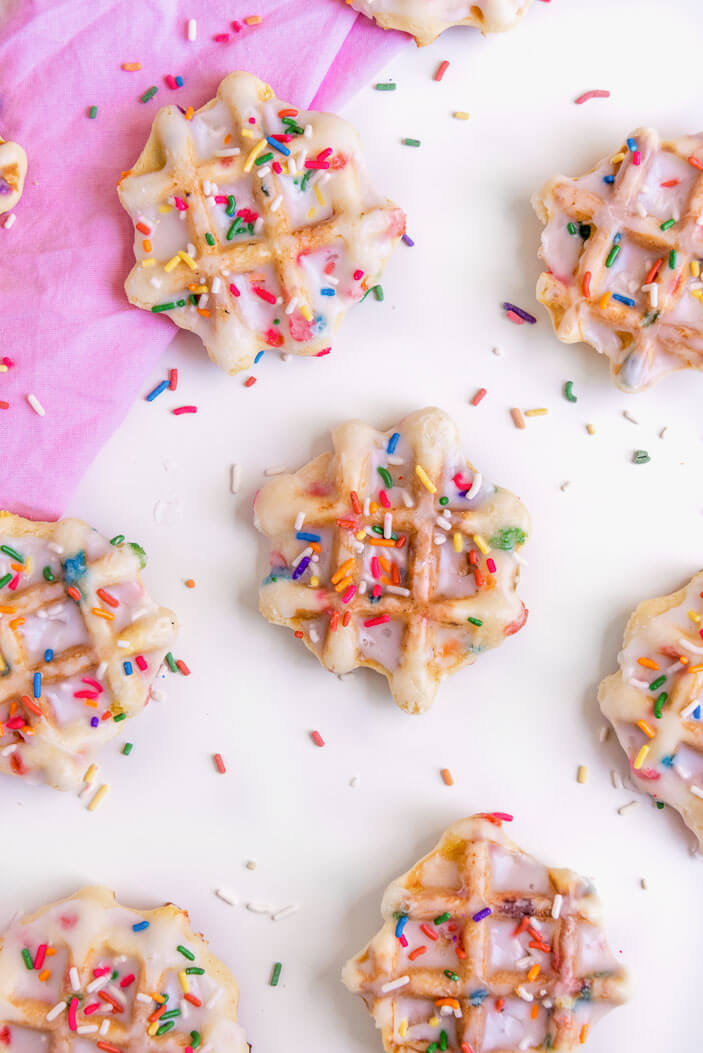 I originally bought a waffle maker to make these Birthday Cake Waffles – which, in case you were wondering, I thoroughly enjoyed. But it turns out waffle makers are not JUST for waffles. They can also be used to make cookies! And the best part is, it bakes these cookies up in just 2 to 3 minutes! That's the kind of immediate gratification I like to see.
These Confetti Waffle Cookies were actually the inspiration for my Chocolate Chip Waffle Cookies. But for some reason, I never posted the original Confetti version. So here we are.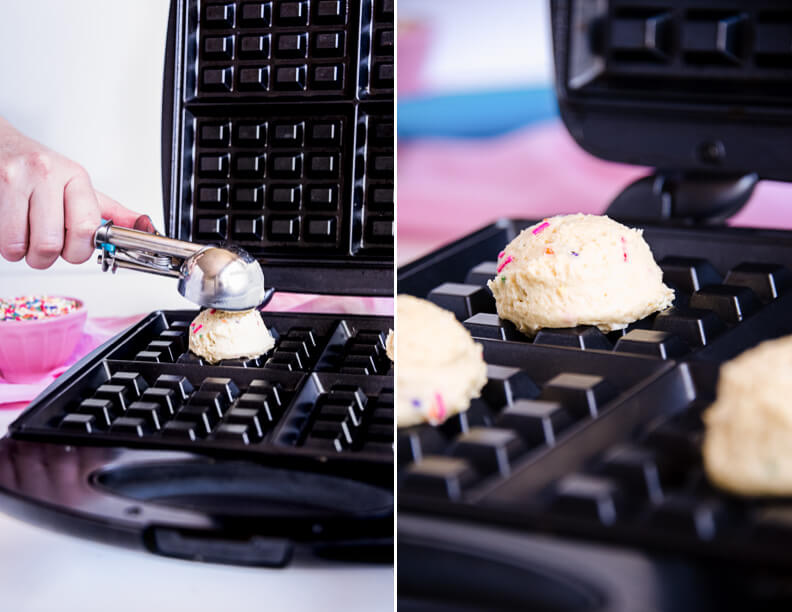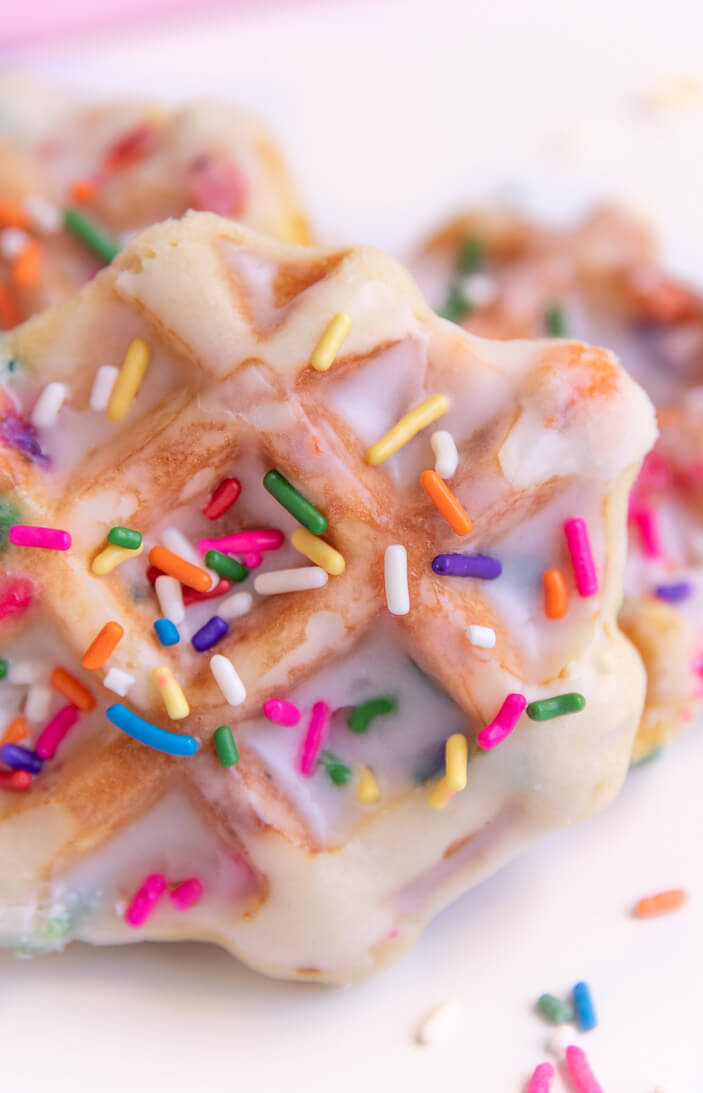 So are these just mini waffles? No. A regular waffle recipe is meant to be light and airy. This recipe creates a denser final product that is more in line with a thick sugar cookie than a waffle. But the waffle maker acts as a super fast oven – baking your cookies in no time -and it gives these cookies those awesome waffle ridges that trap all that delicious icing.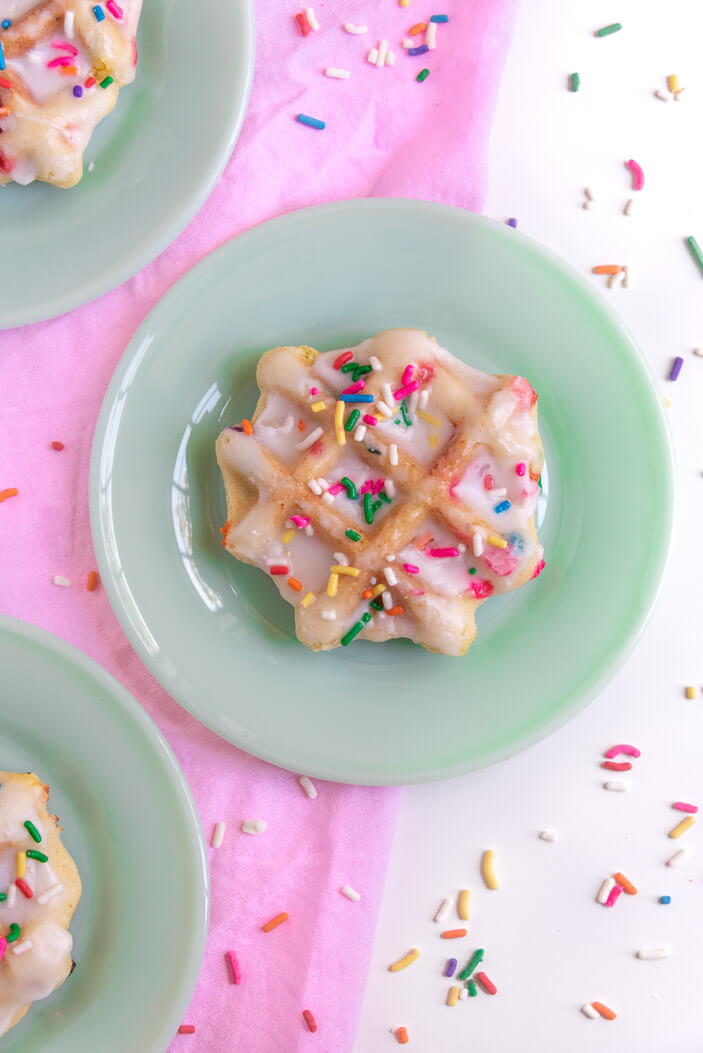 HOW TO USE THE WAFFLE MAKER
My waffle maker is non-stick – so I don't use any sort of cooking spray or butter before putting the dough on. I just turn it on high and let it heat up. Once it is ready to go, I use a cookie scoop to drop balls of dough onto the bottom iron. They don't have to be a perfect ball and they don't have to be perfectly centered. Once you close your iron, it will even out the dough for you. Then you just let them sit for 2 minutes. Open your waffle iron to see how they are doing. If they have started to turn golden brown, they are ready to go! If they are still pretty pale, close the iron and let them sit for another minute before checking again.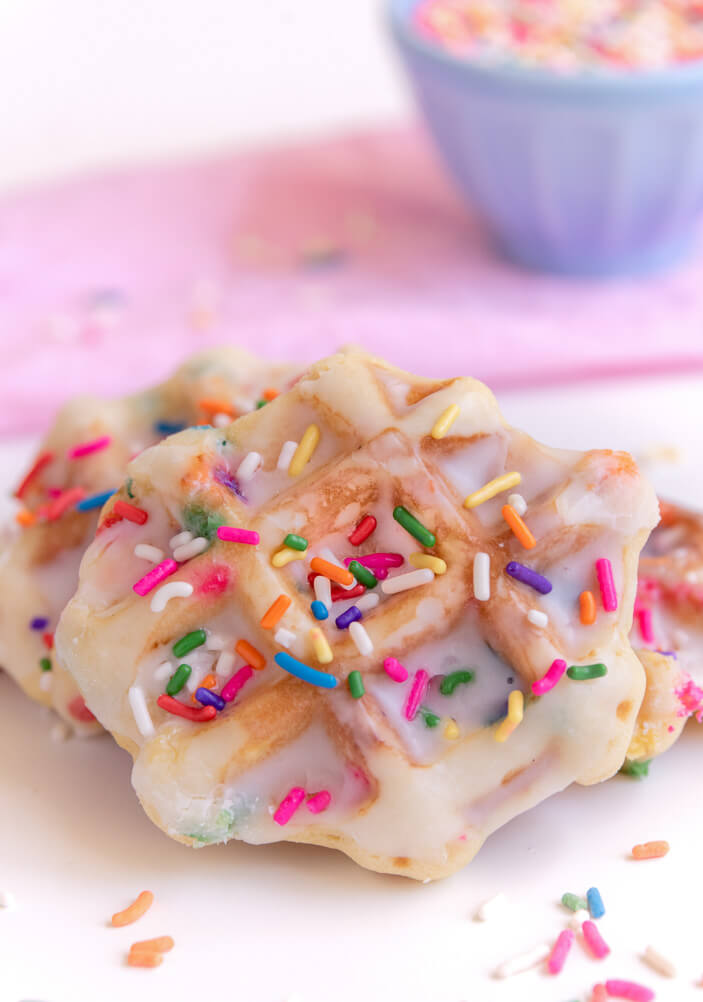 For these cookies, I suggest icing them while they are still a little warm. The glaze seems to be able to adhere to the cookies better this way. And then make sure you let the cookies dry on a cooling rack (with a piece of parchment underneath). This lets all the extra icing drip off. And then of course, sprinkle away!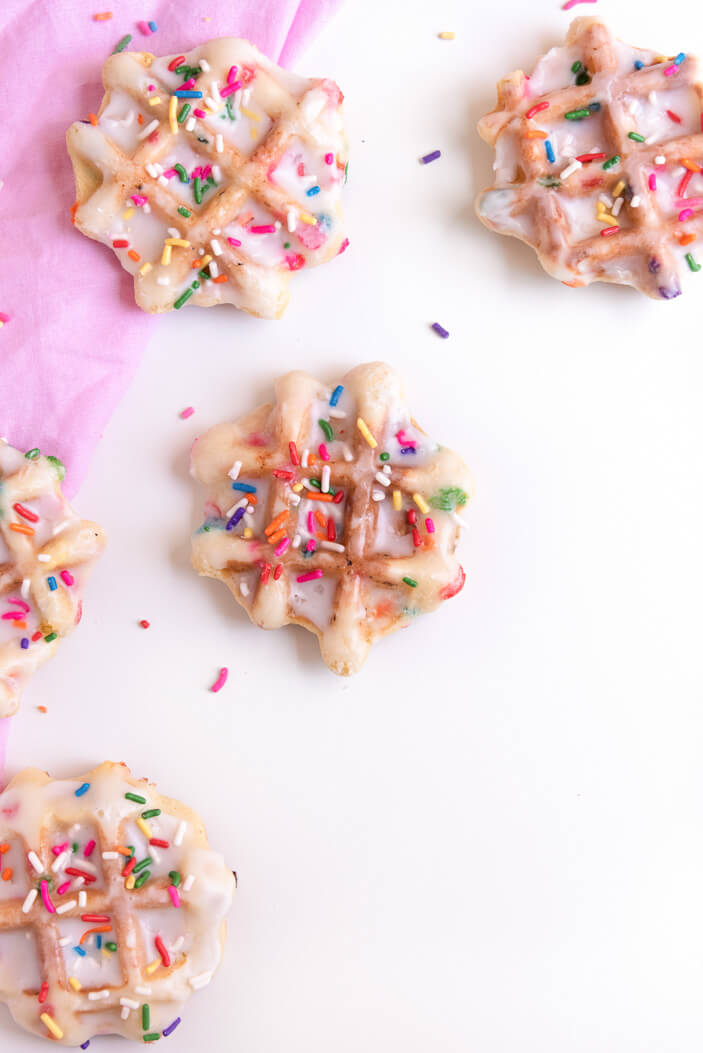 CONFETTI WAFFLE COOKIES
Ingredients
FOR THE COOKIES
2 sticks unsalted butter, room temperature

3/4 cup sugar

1/4 cup brown sugar

2 cups all purpose flour

3 eggs

1/2 teaspoon vanilla extract

1 teaspoon imitation vanilla extract

1/4 teaspoon salt

1/4 teaspoon baking powder

1/2 cup sprinkles
FOR THE GLAZE
1 1/2 cups powdered sugar

1 1/2 teaspoons imitation vanilla

3-4 tablespoons milk

Sprinkles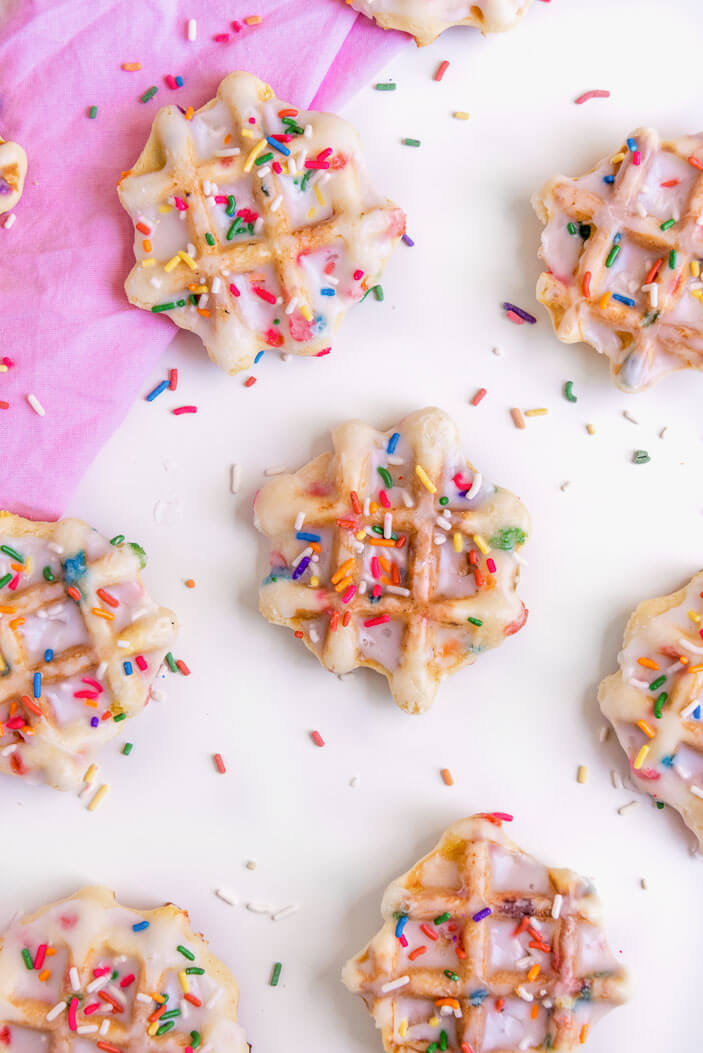 Instructions
FOR THE GLAZE
In a medium bowl, combine powdered sugar, imitation vanilla and milk.

Whisk until smooth. Set aside.
FOR THE WAFFLES
In a stand mixer fitted with a paddle attachment, combine butter and sugars on high speed until light and fluffy.

Turn the mixer down to medium and add eggs and vanilla.

On the mixer's lowest speed, add flour, salt, and baking powder. Mix until just combined.

Preheat waffle iron to high.

Using a small ice cream scoop or spoon, put about 1 1/2 tablespoons of dough onto the waffle iron. Close the iron and let the dough cook for 2-4 minutes or until golden brown.

Take the cookies off the iron and dip them into the glaze while still warm.

Set on a wire rack and add sprinkles.