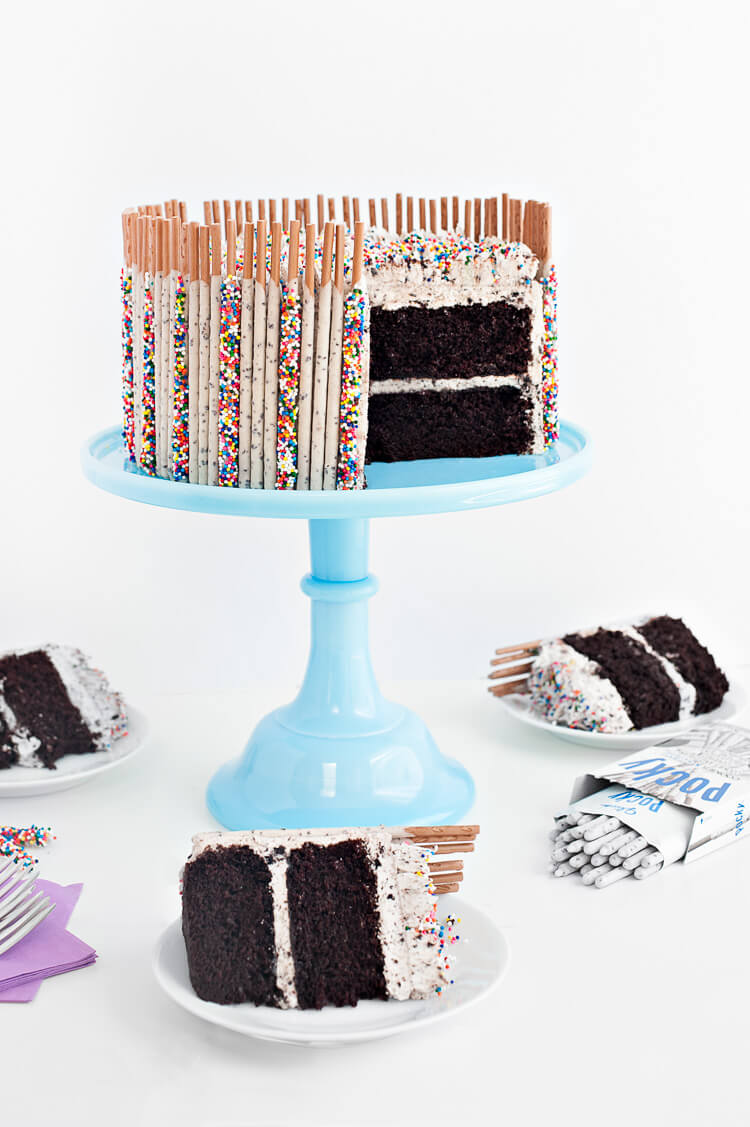 When I was little, my favorite ice cream flavor was Cookies & Cream. I got it every single time we went out for ice cream and we always had some in the house. I absolutely loved it. But as I grew older, I came to discover that my obsession was not exclusive to ice cream – it was anything Cookies & Cream flavored.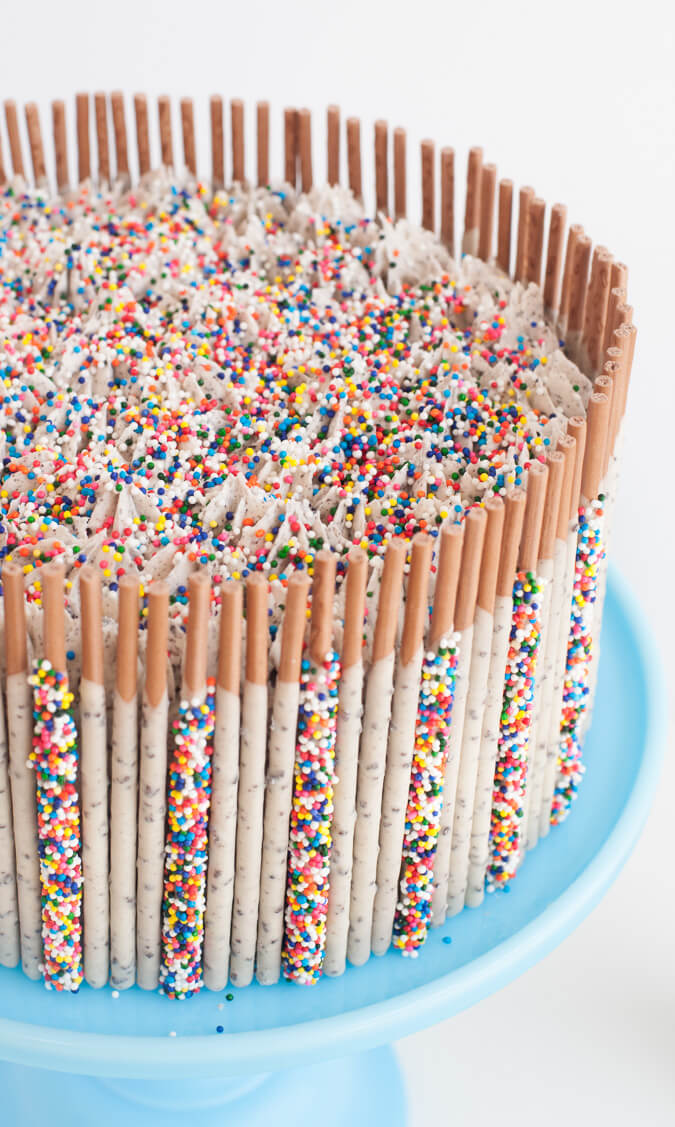 There is just something about it that I can't resist. So when I discovered Pocky had a Cookies & Cream flavor, I was pretty excited. So excited…that I decided to use it as inspiration for an epic DIY cake. This cake is a true show stopper!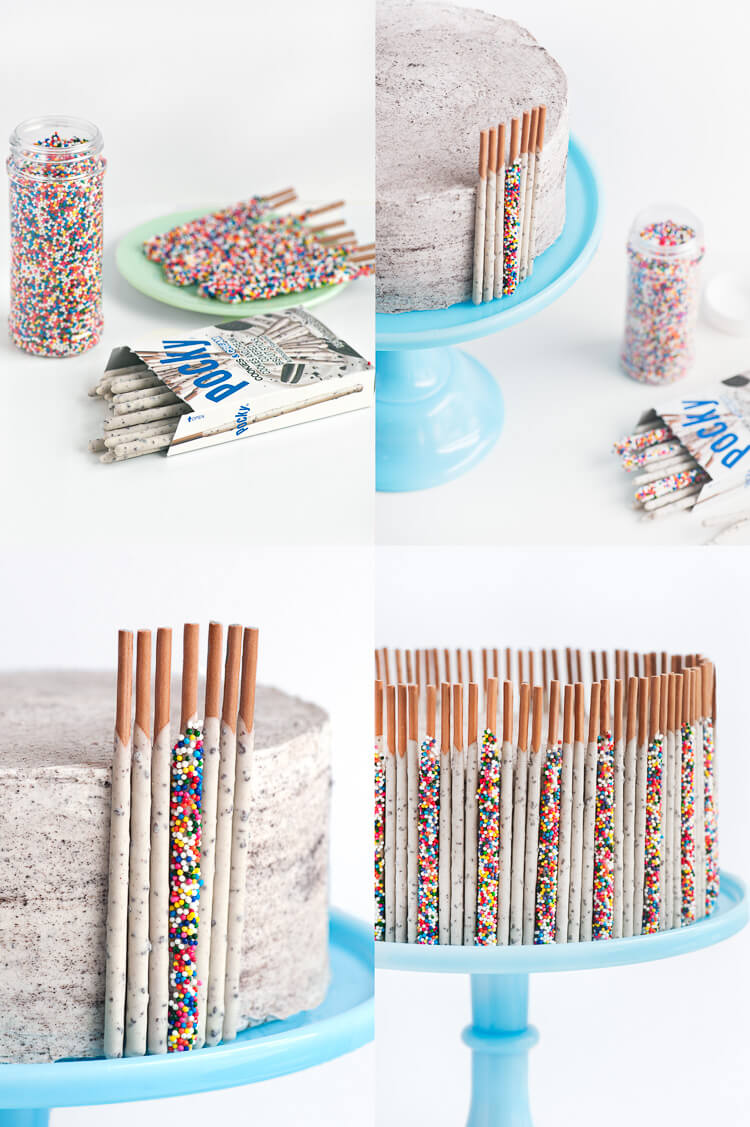 And it's full of so much Cookies & Cream goodness, your friends and family won't know what to do with themselves!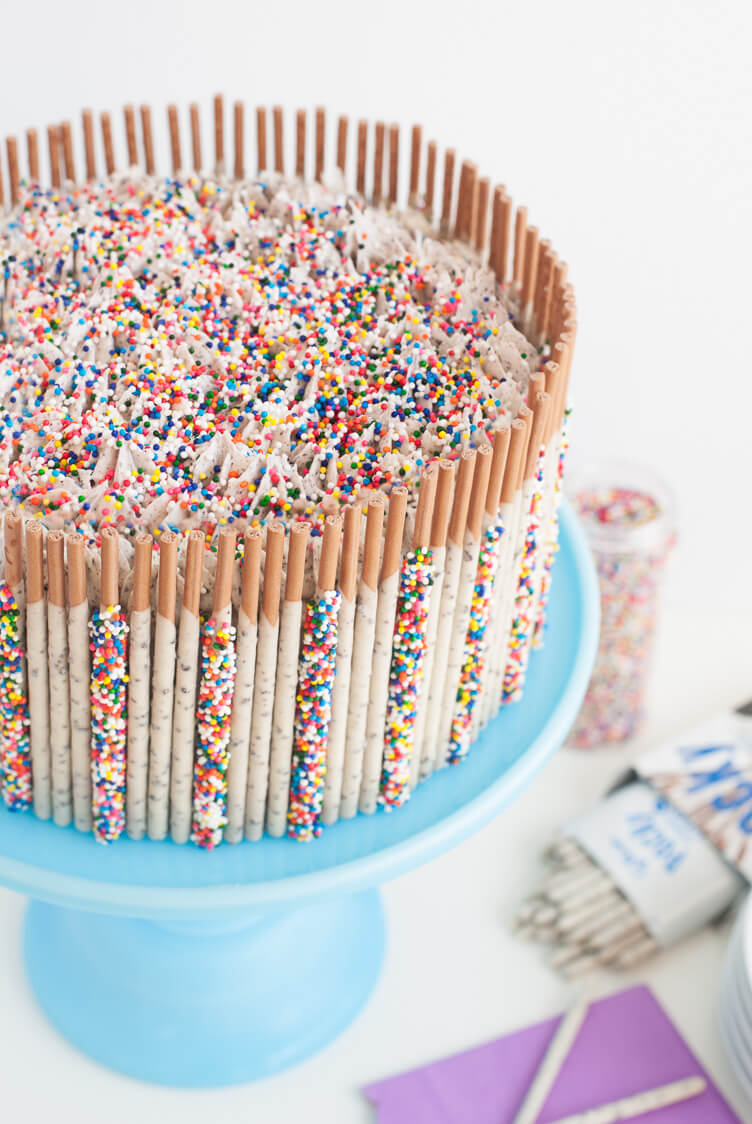 Post Sponsored By Pocky
DIY COOKIES & CREAM CONFETTI POCKY CAKE
Ingredients
2 cups sugar

1 3/4 cups all-purpose flour

3/4 cup unsweetened cocoa powder

2 teaspoons baking soda

1 teaspoon baking powder

1 teaspoon salt

2 eggs

1 cup buttermilk

1 cup strong black coffee

1/2 cup vegetable oil

2 teaspoons vanilla extract

Cookies & Cream Frosting

1 lb. unsalted butter, room temperature

4 oz. cream cheese, softened

2 lbs. powdered sugar

1 Tablespoon vanilla extract

1 1/2 Tablespoons Milk

1 cup crushed Oreos
SPRINKLE POCKY
Cookies & Cream Pocky Sticks

7.5 oz container of sprinkles

Piping Gel
Instructions
For the cake:
Preheat the oven to 350°F, and line two 8" cake pans with parchment.

In the bowl of a stand mixer fitted with the paddle attachment, combine the sugar, flour, cocoa, baking soda, baking powder and salt. Mix on low until dry ingredients are thoroughly combined.

On low speed add eggs, buttermilk, coffee, oil and vanilla.

Once everything is combined beat on medium speed for 1 minute.

Divide batter evenly between the two pans.

Bake for 20-24 minutes, or until wooden toothpick comes out clean.

Place on a cooling rack to cool.
For the frosting:
In a stand mixer fitted with a paddle attachment, beat butter and cream cheese together until light and fluffy.

Slowly add powdered sugar. Mix until combined and fluffy.

Add vanilla and milk. Mix until combined.
For the sprinkle pocky:
Dump 3/4 of the sprinkles into a small bowl and set aside.

Use a small paint brush to cover chocolate covered part of the pocky stick with piping gel.

Place the stick into the 7.5 oz container of sprinkles. Put the top on and lightly shake the bottle until the stick is covered in sprinkles.

Take the stick out and set aside to dry.

Repeat with 20 - 25 sticks.
Assembly
Once cakes are cool, remove them from the pans and place one layer onto a cake plate. Using an offset spatula, spread a generous amount of frosting to the edge of the cake.

Turn the second layer upside down (so the bottom is face up) and gently place it on top of the first layer.

Take 1/2 cup of frosting and set it aside. Use the remaining frosting to frost the rest of the cake. Start with a generous amount on the top and work your way to the sides.

Place Pocky sticks around the cake.

Place remaining 1/2 cup of frosting into a piping bag fitted with a large star tip. Pipe large stars all over the top of the cake. Finish it off with a generous amount of sprinkles.