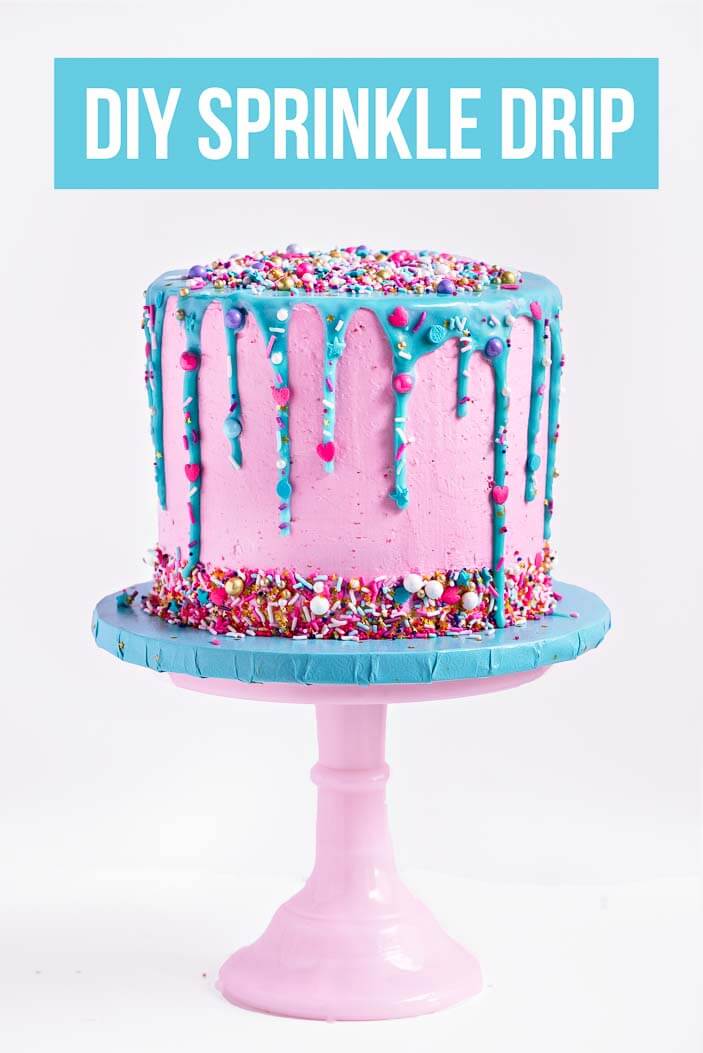 Drip Cakes have kind of taken the cake world by storm. The first person I ever saw using the Drip technique was Katherine Sabbath about 4 years ago. Now, it has over 1 MILLION posts in the #dripcake hashtag on Instagram. That's a LOT of drip cakes.
But you know what makes Drip Cakes even better? Sprinkles. Recently, Brittany May decided to up the drip cake game up by adding sprinkles to her perfect colorful drips. The results have been fantastic. Just look at some of her beauties on Instagram. Rachel Fuji has also taken on this trend and created some real masterpieces.
So I decided to share a little tutorial with you guys to show you how you too could make one of these works of art at home…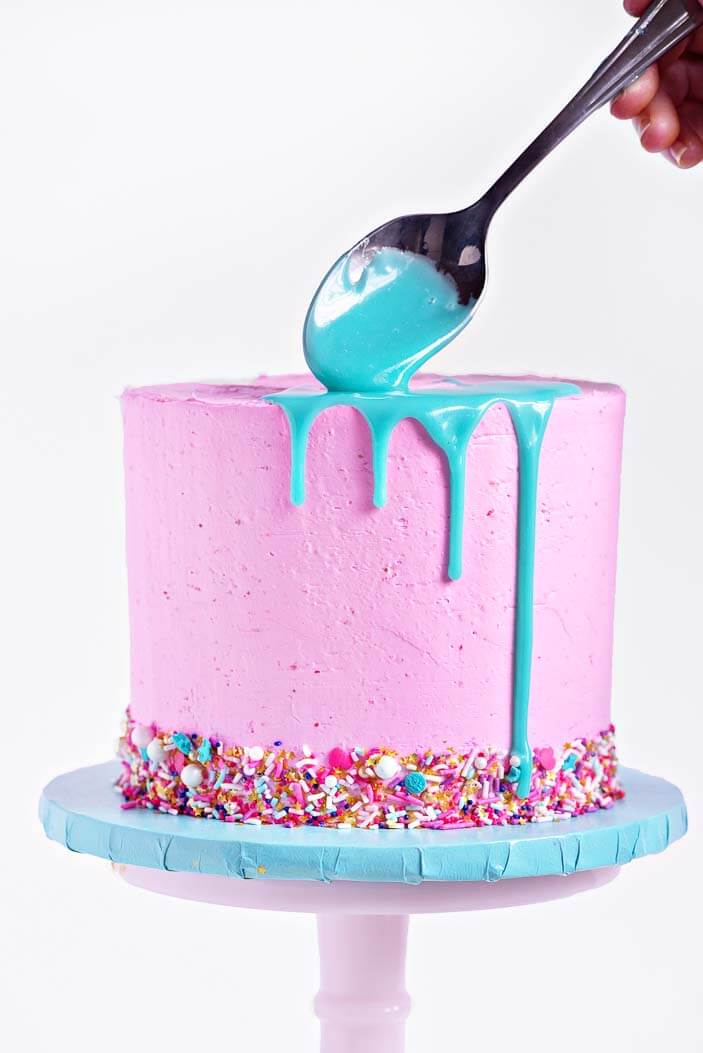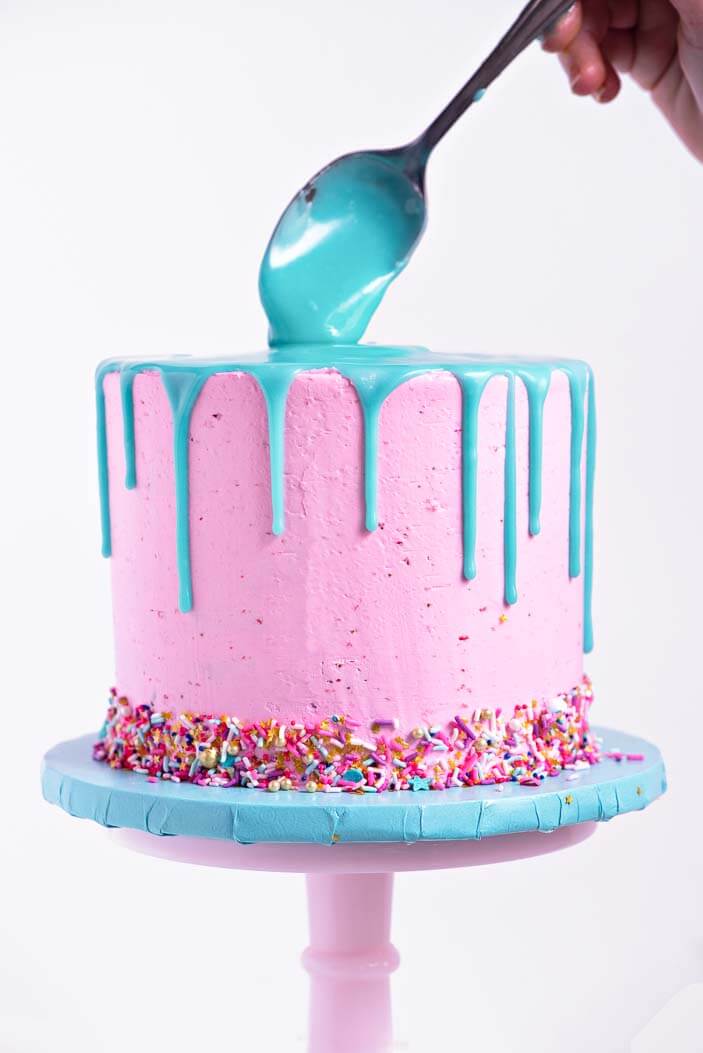 The first thing you need is a good ganache recipe. It needs to be thick enough that it keeps its shape when it runs down the side of the cake. If the ganache is too thin, it will all pool at the bottom (and that's not cute). Below, I have provided you guys with the ganache recipe I use. But it's VERY important that you guys do two things in order to get the perfect drip.
1. Let the ganache cool down a little before you start dripping. If it is too hot, it will just run down the side of the cake.
2. Make sure your cake is COLD before you start dripping. The cake needs to be in the fridge for at least 40 minutes. The frosting needs to be cold/hard in order to hold your drips in place.
And then comes the sprinkle part. Once your drip is done, you have to individually place each sprinkle on the drip. That's right…INDIVIDUALLY place EACH one. It can take a good 30 minutes to completely cover your drip in sprinkles. It takes a little patience…but I promise you the results are SO worth it! Get yourself a sprinkle blend that has a lot of different colors and shapes, like this one, to make your sprinkle drip more interesting. You can use your fingers to place the sprinkles, but I like to use angled tweezers so I don't risk stabbing my fingers into the cake. And then, I add some sprinkles on top for extra sprinkle fun!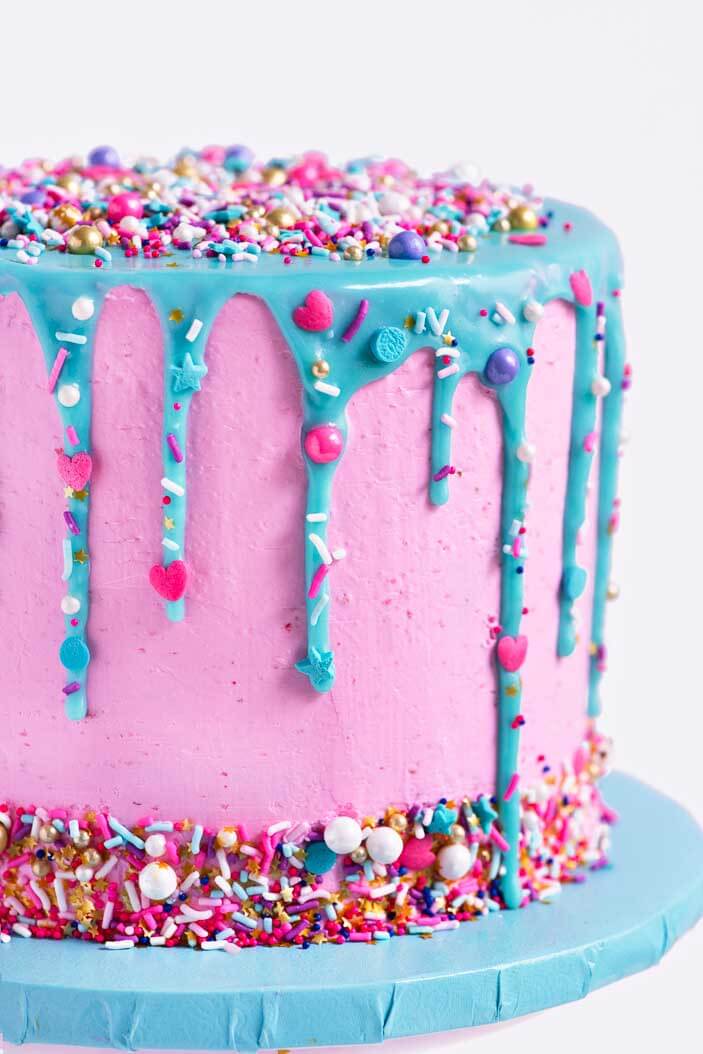 And remember, if you guys make your own sprinkle cake, tag me on instagram! I want to see your creations!
Happy Baking!
DIY SPRINKLE DRIP CAKE
Ingredients
WHITE CHOCOLATE GANACHE
1 cup white chocolate, chopped (190g)

1/3 cup heavy cream (80ml)

1/4 teaspoon vanilla extract (or other flavored extract)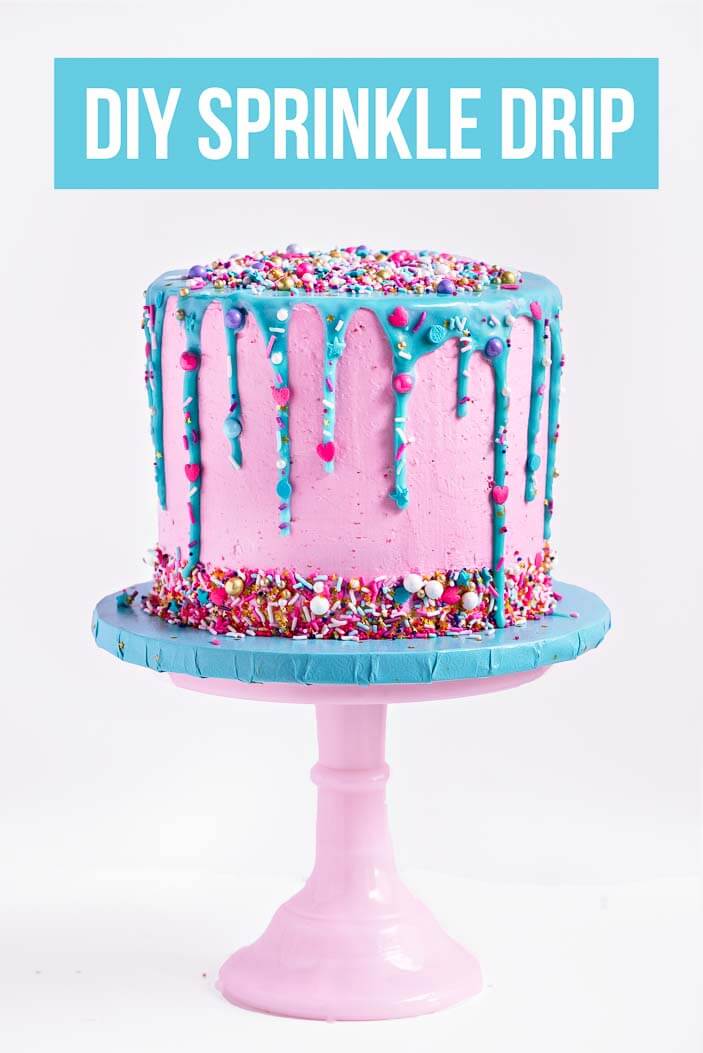 Instructions
WHITE CHOCOLATE GANACHE
Place white chocolate in a medium glass bowl. Set aside.

In a small saucepan, cook heavy cream over medium heat. Allow it to sit until the cream begins to boil.

Once it begins to boil, pour the heavy cream over the white chocolate.

Use a whisk to combine the cream and the chocolate. It will take a minute or two, but it will eventually come together and form a nice smooth ganache.

Stir in flavored extract.

Optional: Once ganache is formed, you can add a few drops of food coloring.