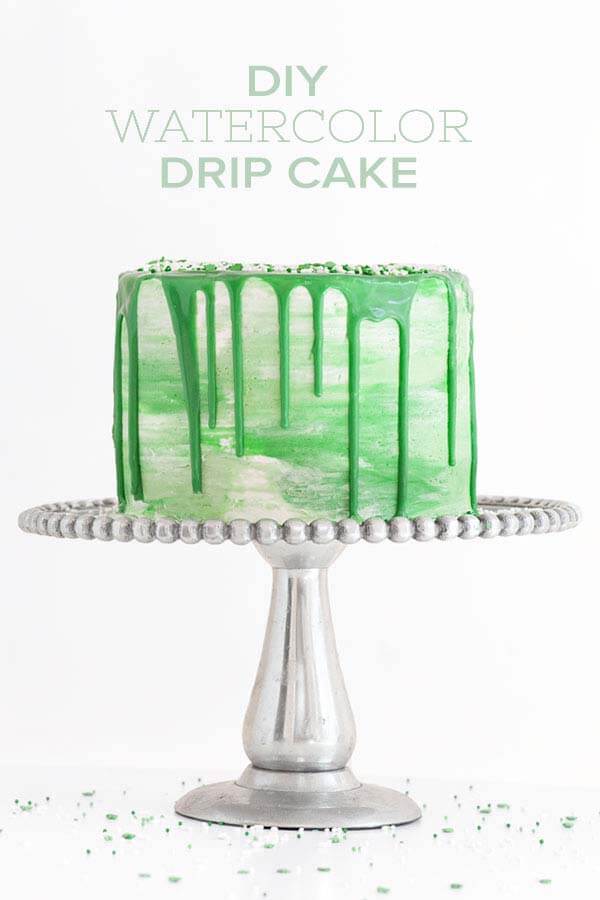 If you are at all into cake decorating, or even just like looking at pretty cakes, and you have not heard of Katherine Sabbath, do yourself a favor and check out her Instagram. The girl makes some pretty amazing cakes.
She plays around with a lot of different techniques, but her signature is definitely the ganache drip. These colorful drips have taken the world by storm and become one of the top trends in today's cake world. I cannot scroll through my instagram (which is largely made up of bakers) without seeing at least a dozen drip cakes. People are obsessed with them.
Another popular cake trend this year is the buttercream watercolor technique. It is an easy way to take a simple cake to the next level. I made my first Watercolor Cake a couple of months ago – and for a first attempt it wasn't too bad. But since then, I have made quite a few watercolor cakes and really gotten the hang of it.
So today, I am going to teach you how to do both – the ganache drip and the watercolor technique! That's right – a two for one DIY deal! And on top of that, I made it into a St. Patrick's Day Cake in honor of the upcoming holiday. I just couldn't help myself! You know I love a good themed caked.
So here are some step by step pictures for those of you who don't like reading – and the more detailed written instructions are below! Have fun!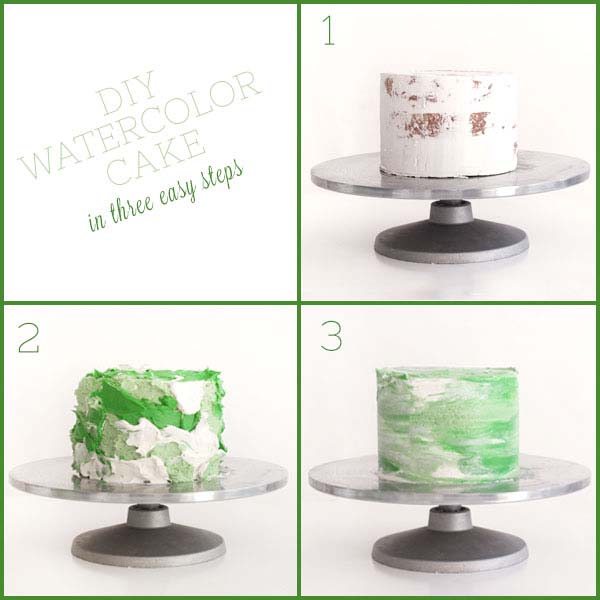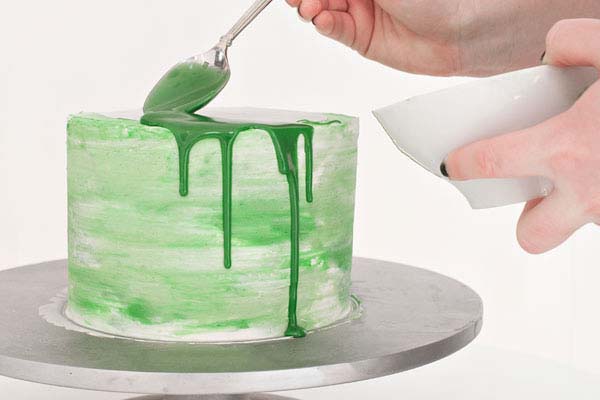 DIY ST. PATRICK'S DAY WATERCOLOR DRIP CAKE
Ingredients
6" Vanilla Vanilla Cake with Vanilla Buttercream

Light and Dark Green Food Coloring

Bench Scraper

Offset Spatula

3 oz. Heavy Cream

4 oz. Green Melting Chocolate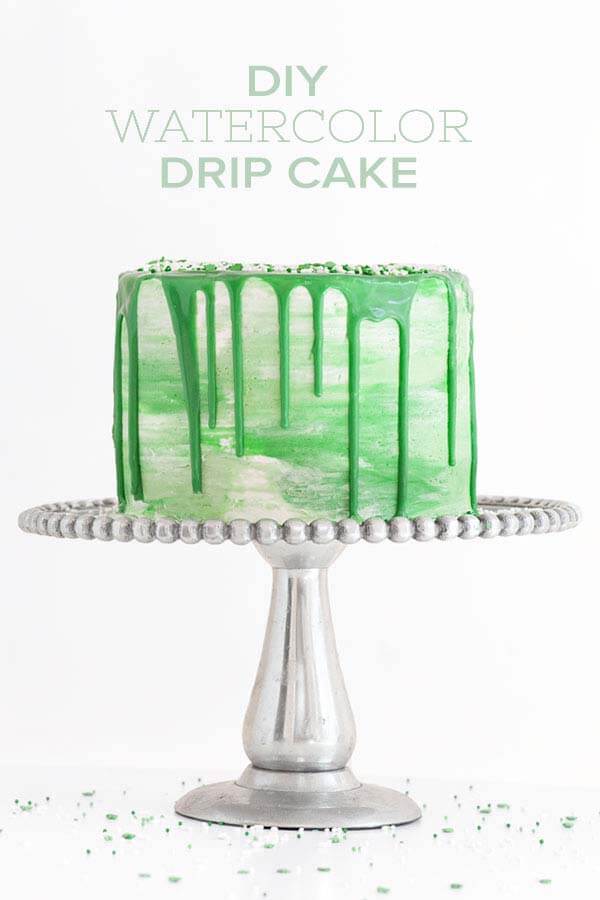 Instructions
Stack and frost cake like normal with a nice crumb coat. Put in the refrigerator for 30 minutes.

Divide remaining buttercream into thirds. Using the food coloring, color 1/3 light green and 1/3 dark green.

Take the cake out of the fridge. Use offset spatula to place random patches of buttercream all over the cake.

Using the bench scraper or back of your offset spatula, lightly smooth out the cake sides. Don't over do it or you will loose the watercolor look!

Put the cake back in the fridge.

In a saucepan over medium to high heat, cook heavy cream until it starts to boil.

Take the pan off the flame and whisk in melting chocolate until it becomes smooth. Set aside to cool.

Once the ganache has cooled and the cake is cold, you can start the drip. Using a spoon, carefully add a little bit of ganache along the edges of the cake letting the overflow drip down. Once you have gone around the whole cake, fill the rest of the top with ganache. Put in the fridge to set.