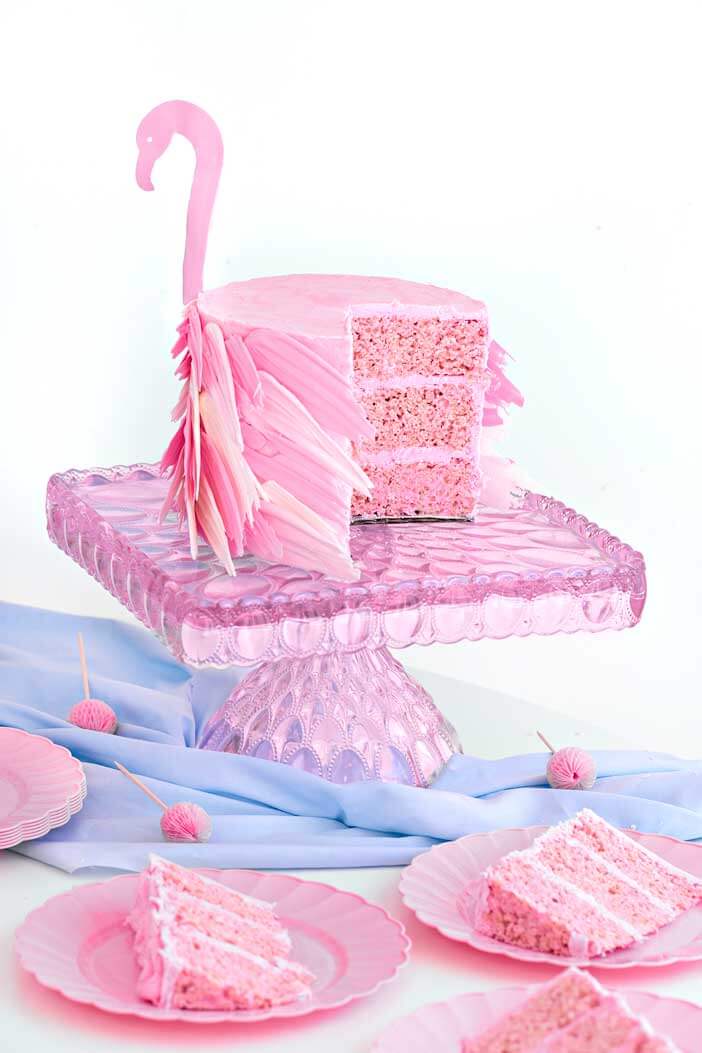 Halloween is almost here and I have spent the entire week frantically working on my costumes. Yes…there are multiple. So, in the spirit of the best holiday ever, I decided to dress my cake up as well. This year, my Rice Krispy Treat Cake is going as a Flamingo!
If you follow any sort of food account on Instagram, I am sure you have seen this chocolate brush stroke technique making the rounds. It's SO hot right now. And for good reason. Adding a little brush stroke chocolate makes anything look super fancy! But I am here to tell you, it is actually quite easy to do.
All you have to do is drop a dollop of melted chocolate on some parchment and use a brush (an offset spatula will work as well) to make the dollop into a line. Let it harden and then attach it to whatever baked item you made. That's it! I even made my roommate do it for some videos. So if she can do it, anyone can do it.
But the real star of this cake is the Rice Krispy Treat base. Not only is it pretty and pink, but it also makes this cake an entirely NO BAKE CAKE. That's right, no oven required to make this beauty! And with the temperatures we have been experiencing the last week (it has been over 100 degrees in LATE OCTOBER) a no bake cake is the perfect solution. And it also makes all your gluten free friends happy!
Anyway, I hope everyone has a wonderful Halloween! Be safe out there and eat LOTS AND LOTS of candy!
FLAMINGO RICE KRISPY TREAT CAKE
Ingredients
FOR THE RICE KRISPY TREAT CAKE
12 cups Rice Krispy Cereal

3 (10 oz.) bags mini marshmallows

1/2 cup butter

1 teaspoon vanilla extract

Pink food coloring
FOR THE ICING
1 cup unsalted butter, room temperature

1 lb. powdered sugar

1/2 teaspoon vanilla extract

2 teaspoons milk

Pink food coloring
FOR THE DECOR
6 oz pink melting chocolate

6 oz white melting chocolate

Pink candy coloring

Paint brush

Toothpick

Flamingo cutout on cardstock

Glue or tape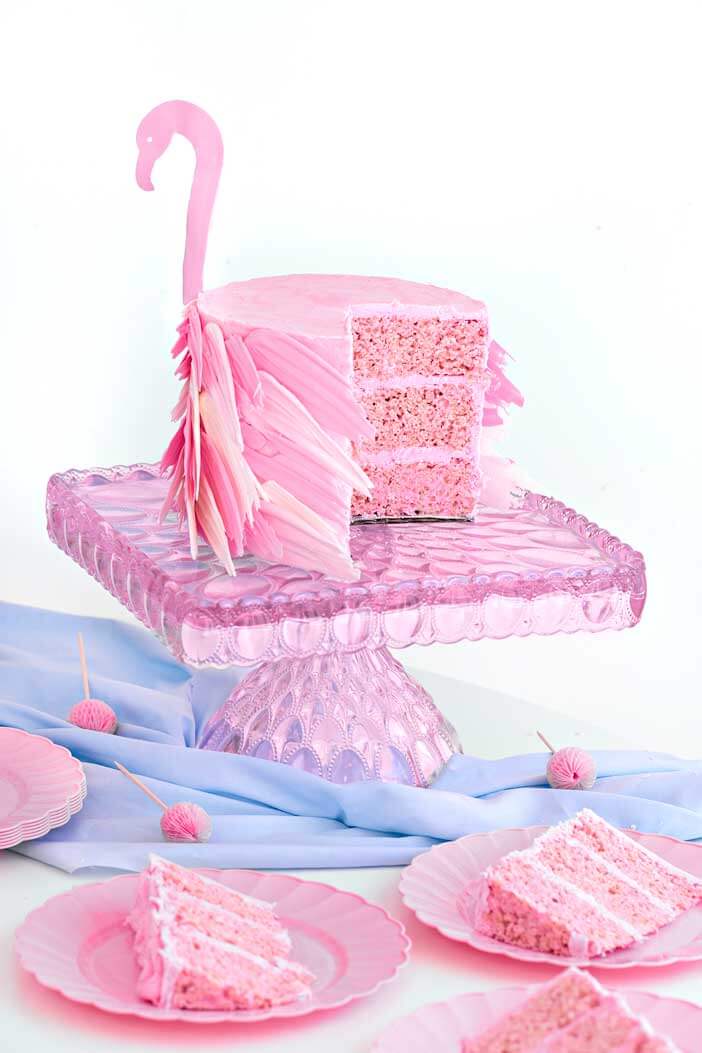 Instructions
FOR THE RICE KRISPY TREAT CAKE
Prepare three 8" pans with non-stick cooking spray and set aside.

Put Rice Krispy Cereal in a large bowl and set aside

In a large pot, melt butter and mini marshmallows on medium heat. Make sure you stir every 15-30 seconds until everything is melted.

Add a few drops of pink food coloring and mix until color is even. If you want more color, repeat this step until you get desired color.

Add marshmallow mixture to Krispy cereal and mix until everything is coated evenly.

Divide the mix evenly between the three cake pans. Spray your hands with non-stick cooking spray and press down until the layers are tightly packed and have an even top.

Place in the refrigerator for at least 30 minutes. Once cooled, use an offset spatula to remove the layers from the pans and decorate.
FOR THE ICING
In a mixer fitted with a whisk attachment, beat butter until smooth.

slowly add powdered sugar, milk, vanilla and pink food coloring. Mix until light and fluffy.
FOR THE DECOR
Melt pink and white melting chocolate according to the instructions.

Divide the white in half. Add a little bit of pink candy coloring to one of the halves in order to make a light pink.

Drop a dollop of melting chocolate on parchment paper. Place the brush in the middle of the dollop and then pull outwards to make a line. Repeat with small and big dollops.

Repeat with other two chocolates and then place in the fridge for 30 minutes.

Carefully remove the chocolate brush strokes from parchment. Place onto iced cake starting from the back and moving forward.

Find a side profile picture of a flamingo on the internet. (I used photoshop to mirror the image as well) Print it on card stock cardstock.

Cut out the flamingo head and attach a toothpick at the base. (Use tape or glue to attach the two sides if you are using mirrored images). Stick the toothpick into the middle of the cake.