It turns out when you loose your mom, Mother's Day is a pretty terrible holiday. To be honest, it wasn't really a day I gave much thought to until last year when I had to celebrate my first Mother's Day without her. Right after Easter wraps up, every business goes into full on Mother's Day mode. Promotional emails start rolling in on the daily – "Find the BEST way to thank Mom this year" or "Remind Mom how much you love her with chocolate" and store windows start filling up with "perfect Mother's Day gifts".
Everywhere I looked there was a reminder that this terrible, horrible, no good very bad day was coming. I was angry for about a month straight. And then when that day finally did come, we decided to go to the cemetery. A word of advice, DO NOT go to the cemetery on Mother's day. Everyone and their mother is there (LITERALLY) and everyone is crying.
But this year I plant to do things a little differently. Instead of crying my face off, I will use the day to celebrate having the most amazing mom ever. I will remember the 25 years I did have with her and think back to all of my favorite memories. I will look at old pictures and use it as an excuse to eat lots and lots of sweets. Instead of a no good very bad day, this year I will make Mother's Day a happy day…with maybe just a little bit of crying.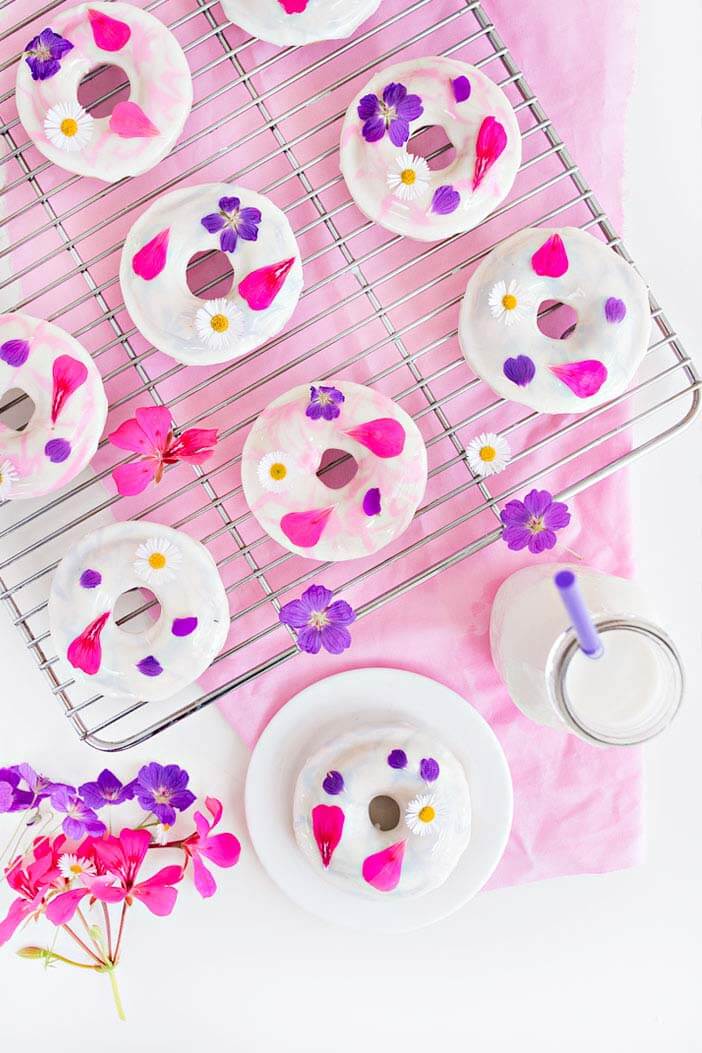 But if you are lucky enough to get to celebrate Mother's Day with your mom this year, you should try surprising her with these Floral Doughnuts. They are the perfect combination of flowers and sweets (which we all know is what every Mom really wants) and make for a great brunch dish. The doughnuts are lightly flavored with a lavender extract and topped with edible flowers to make them super special. And maybe you can also add in a nice card – everyone always likes a nice handwritten card. So to all the mom's out there, I just wanted to say THANK YOU. Thank you for being so amazing and putting up with the good, the bad and the ugly. We kids appreciate it more than you know.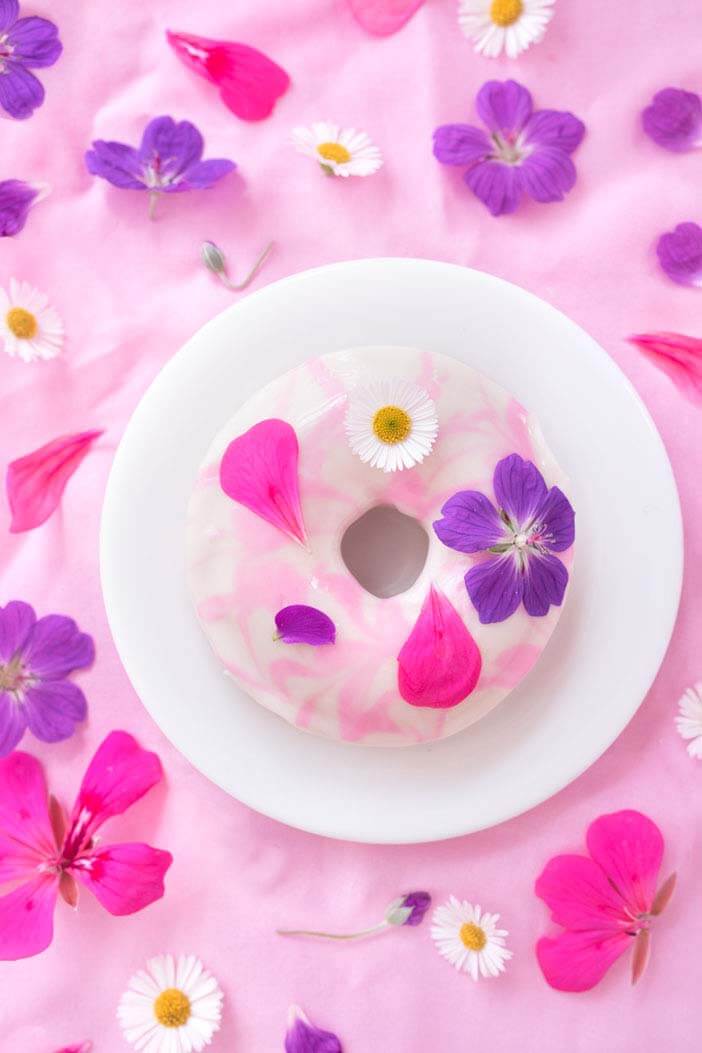 FLORAL DOUGHNUTS
Ingredients
FLORAL DOUGHNUTS
1 cup all purpose flour

3/4 cup cake flour

1 1/2 teaspoons baking powder

1/4 teaspoon kosher salt

1/2 cup butter, melted

2/3 cup sugar

2 eggs

1 teaspoon vanilla extract

1/4 - 1/2 teaspoon lavender extract (depending on how floral you want it to taste)

3/4 cup milk

Doughnut Pan
ICING
3 cups powdered sugar

3-4 tablespoons milk

1 1/2 teaspoons vanilla extract

Food coloring of your choice (I used pink and purple)

Toothpicks

Edible flowers (I got mine at a Natural Foods Market)
Instructions
FOR THE DOUGHNUTS:
Preheat oven to 350 degrees. Prepare a Doughnut Pan with non-stick cooking spray.

In a medium bowl, combine flours, baking powder, and salt. Set aside.

In a stand mixer fitted with a paddle attachment, mix butter and sugar.

Add eggs, vanilla extract and lavender extract.

On a low speed, add dry ingredients. Mix until combined.

Slowly stream in milk. Mix until combined.

Place batter into a large piping bag.

Pipe batter so that each doughnut mold is 3/4 of the way full.

Place doughnuts on wire rack to cool.
FOR THE ICING:
Put powdered sugar in a bowl.

Whisk in milk and vanilla.

Place icing in a small bowl.

Place 1/4 cup of icing in a small bowl and use food coloring to dye it.
FOR THE DECORATION:
Prepare a wire rack with a piece of parchment or wax paper underneath.

Dip half of the doughnut into the white icing.

Dip a toothpick into the colored icing. Drag the toothpick along the white icing. Re-dip the toothpick and repeat randomly around the doughnut.
Notes
*Makes about 12 doughnuts