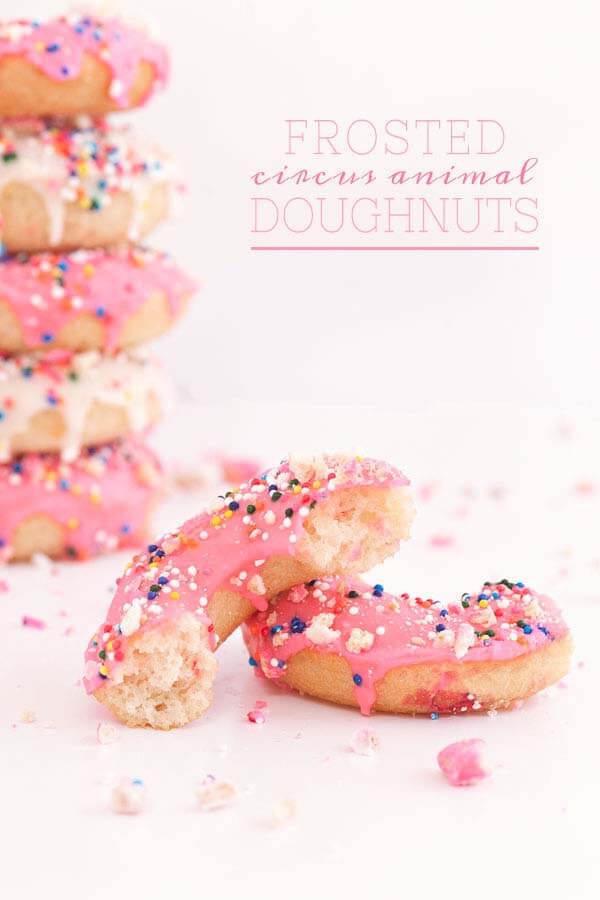 Over the last two years, I have formed an odd attachment to doughnuts. I feel somewhat protective of them – especially the good ones. I literally got in a fight with my Uncle last week about the best doughnuts in Los Angeles.
Like, I actually got upset about it. And then afterwards, I felt totally insane thinking about much it bothered me that someone talking smack about a fried piece of dough. But I guess when you trek across the country eating an unfathomable amount of doughnuts, you form some kind of bond with them.
I also just realized I have been in a relationship with doughnuts longer than any man in my entire life. Awesome.
Anyway, enough about my pathetic love life, and back to doughnuts. These Frosted Circus Animal Doughnuts are pretty great. And now that we have established that I am a horrible doughnut snob, I think it's pretty safe to take my word on this one.
FROSTED CIRCUS ANIMAL DOUGHNUTS
Ingredients
DOUGHNUTS
2 2/3 cups flour

1 tablespoon + 1 teaspoon baking powder

1/2 teaspoon salt

2 eggs

1 cup sugar

1 1/2 cups whole milk

1/4 cup + 2 tablespoons canola oil

2 teaspoons vanilla extract

2 teaspoons clear vanilla extract

1 cup Frosted Animal Cookies, crushed
GLAZE
3 cups powdered sugar

2-3 tablespoons milk

1 1/2 teaspoons clear vanilla extract

Pink food coloring

Nonpareil Sprinkles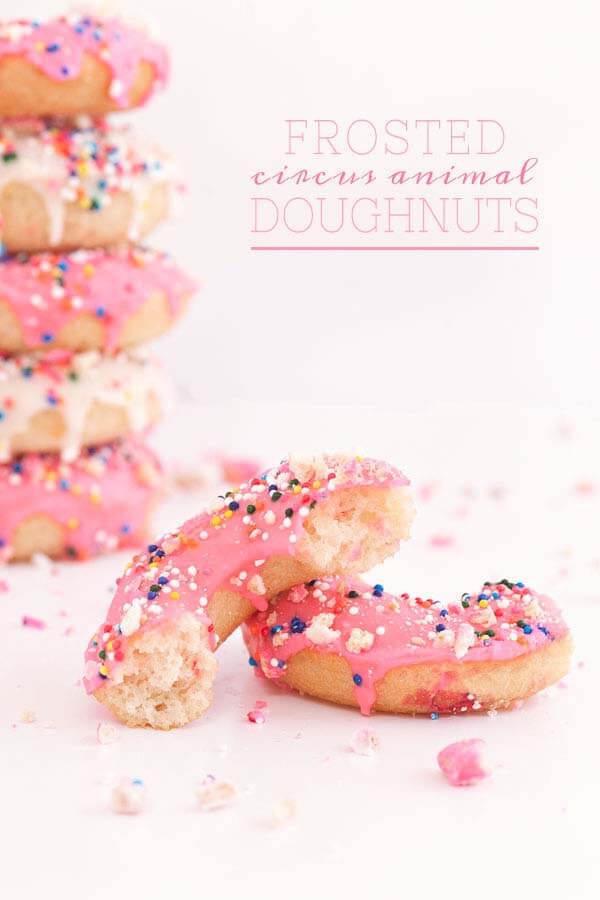 Instructions
For the doughnuts:
Preheat oven to 350°F and grease Doughnut Pan.

In a small bowl, sift together flour, baking powder and salt. Set aside.

In a stand mixer with a paddle attachment, mix together eggs and sugar on medium speed.

Add milk, oil and vanilla extracts.

On low speed, add flour mixture. Mix until just combined.

Using a rubber spatula, stir in crushed Frosted Animal Cookies.

Using a pipping bag with a round tip, fill each doughnut cup 2/3 the way full.

Bake for 9-11 minutes or until the doughnut edges start to turn golden.

Set doughnuts on a wire rack to cool.
For the glaze:
In a medium bowl, whisk milk and vanilla extract. Add powdered sugar and whisk until smooth.

Divide the glaze in half. Use a few drops of food coloring to color half of the icing pink.

Place wax paper under a wire rack.

Dip the top half of the doughnut into the icing and place on wire rack.

Immediately add sprinkles and crushed Frosted Animal Cookies.

Let doughnuts sit for 5-10 minutes until the glaze is set.
Notes
*Makes about 12 doughnuts