This is a sponsored conversation written by me on behalf of International Delight. The opinions and text are all mine.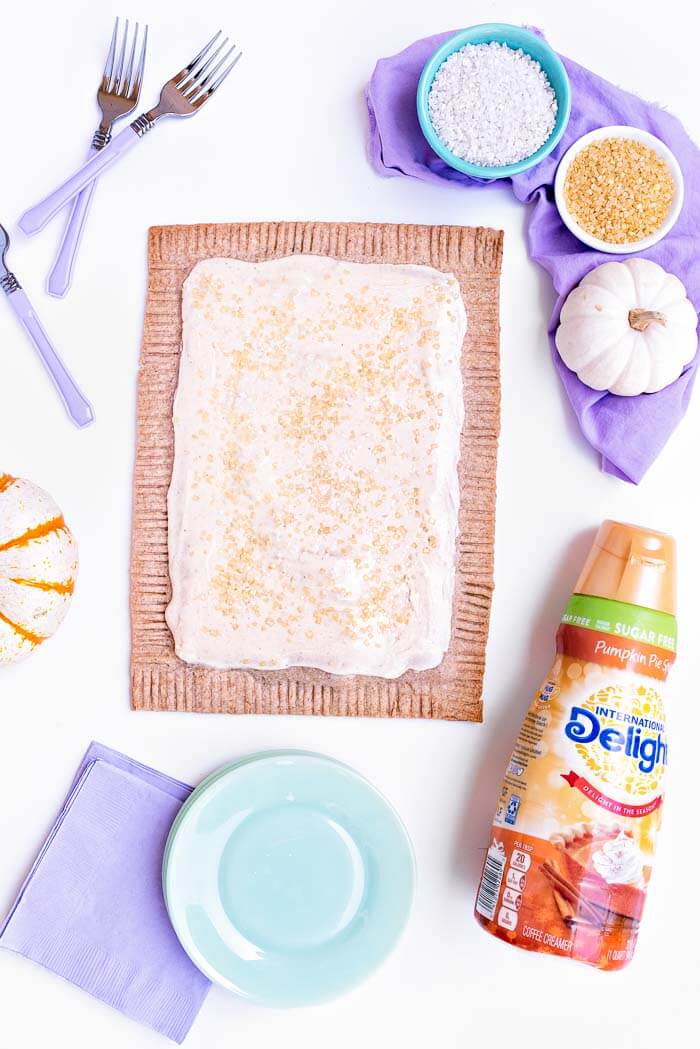 In the last couple of years, pumpkin spice has earned a bad rep. For some reason, people now consider pumpkin spice to be "basic" or "boring". But in my experience, that is VERY far from the truth.
I mean, does the food world go a little crazy with the pumpkin spice once September hits? Absolutely. It starts showing up in places that it probably shouldn't be. I have seen things like pumpkin pie gum, pumpkin spice tortilla chips, pumpkin spice protein powder and even pumpkin spice spaghetti! Some things are NOT meant to take on a fall flavor. Accept it and move on.
But when used correctly, pumpkin spice can be pretty great.
And when you take this a step further and combine Pumpkin Spice with browned butter…the result is kind of magical. That's why I am so excited about this Giant Maple Pumpkin Toaster Pastry. This thing is insane. It has a brown butter crust with a little added flavor from International Delight's Pumpkin Spice Creamer, a silky smooth pumpkin center, and a maple pumpkin spice glaze. And then of course, it's topped off with some glamorous looking glimmer sprinkles. I find the sprinkles add a nice crunch to it.
This is one of those desserts where you say…yeah that sounds good. But then once you try it you're all like OH MY GOD. This is SOOO GOOD. Basically…it's a winner. Especially if you are someone who hasn't given up on Pumpkin Spice yet. And for those of you who still think it's basic…I dare you to try this and not like it.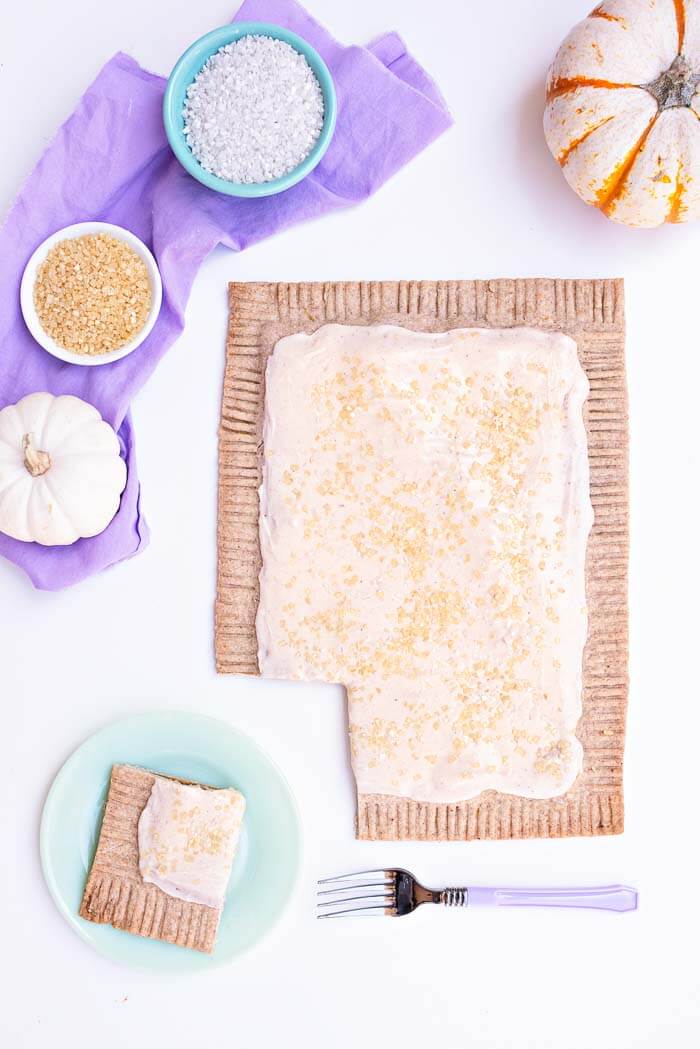 GIANT MAPLE PUMPKIN TOASTER PASTRY
Ingredients
FOR THE CRUST
12 tablespoons unsalted butter (170g)

2 cups of flour (256g)

1 teaspoon sugar

1/2 teaspoon salt

1/2 teaspoon cinnamon

1/4 teaspoon pumpkin spice

4 tablespoons cold water

2 tablespoons International Delight Pumpkin Spice creamer
FOR THE FILLING
3/4 cup pumpkin pureé (170g)

1 egg

1 teaspoon pumpkin pie spice

2 tablespoons brown sugar

1 tablespoon maple syrup
FOR THE TOPPING
1 1/4 cups powdered sugar

2 tablespoons International Delight Pumpkin Spice creamer

2 tablespoons maple syrup

1/4 teaspoon pumpkin spice

Sprinkles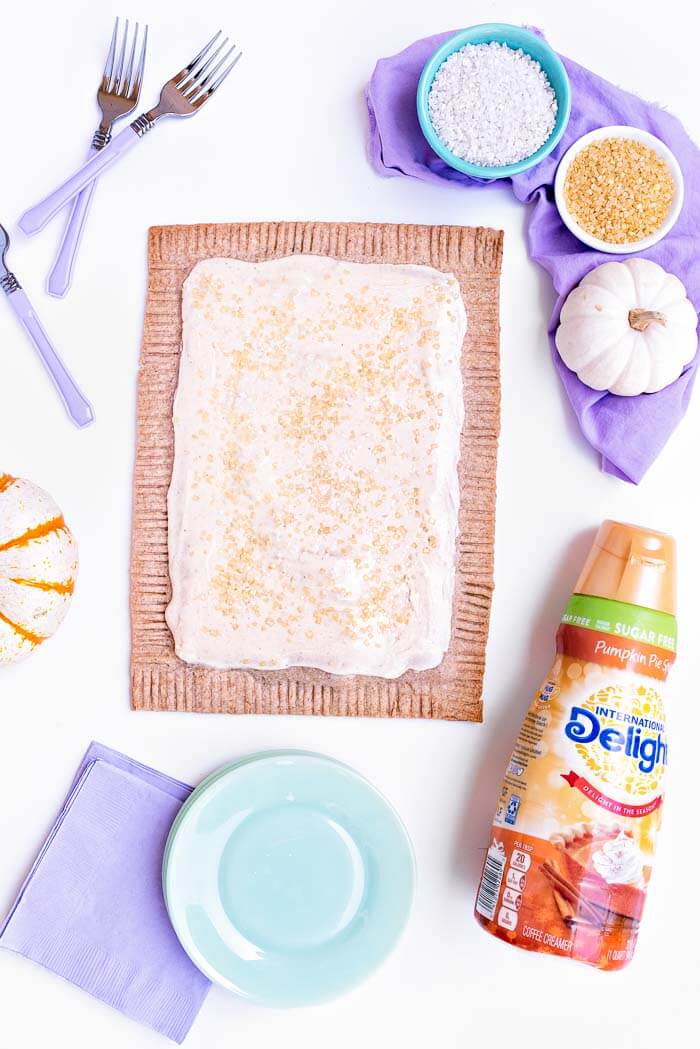 Instructions
In a medium saucepan, cook butter over medium heat while whisking constantly. The butter will begin to foam, and eventually start to turn brown at the bottom of the pan

Once the butter begins to brown, transfer immediately to a stand mixer fitted with a paddle attachment. Place butter in a glass Tupperware (or anything that will not melt) and let it sit in the freezer for 45 minutes.

Once the butter has hardened, cut it into ½"l pieces.

In a stand mixer fitted with a paddle attachment, combine flour, sugar, salt, cinnamon and pumpkin spice until combined.

Add the cold pieces of brown butter and mix until it comes together in pea-size pieces.

Add cold water and creamer 1 tablespoon at a time. Mix a little after each addition. Once all the liquid is in the bowl, mix the dough on a slow speed until it comes together.

Gather the dough into a ball and place in the fridge for 30 minutes.

Preheat the oven to 375 degrees and prepare a baking sheet with parchment.

In a medium bowl, combine all the ingredients needed for the pumpkin filling. Set aside.

After you have made the pie filling, divide the dough in half. On a generally floured surface, roll 1/2 of the dough out to 10" x 13" inches.

Evenly spread the filling until it is about 1" from the edge of the dough.

Roll out other half of dough to 10" x 13". Carefully line it up with the first half of the dough and place it on top of the filling.

Cut any excess dough off the edges and create a straight line on all four sides.

Use a fork and crimp all the way around the edges.

Use a fork to poke holes throughout the top of the pastry.

Place in the oven for 25 minutes of until the edges of the crust starts to brown.

Allow toaster pastry to cool on the pan.

While the pastry is cooling, combine powdered sugar and pumpkin spice with a whisk.

Add maple syrup and International Delight Pumpkin Spice Creamer. Mix until combined. Spread over pasty top and add sprinkles.

Spread icing over pasty top and add sprinkles.