S'mores might be one of my favorite flavor combinations of all time. The delicious graham and gooey marshmallow combined with a little chocolate seems to be good in practically every form. S'mores ice cream, s'mores cupcakes, s'mores cookies…they are ALL good. That brings me to today's recipe – the classic S'mores Bar.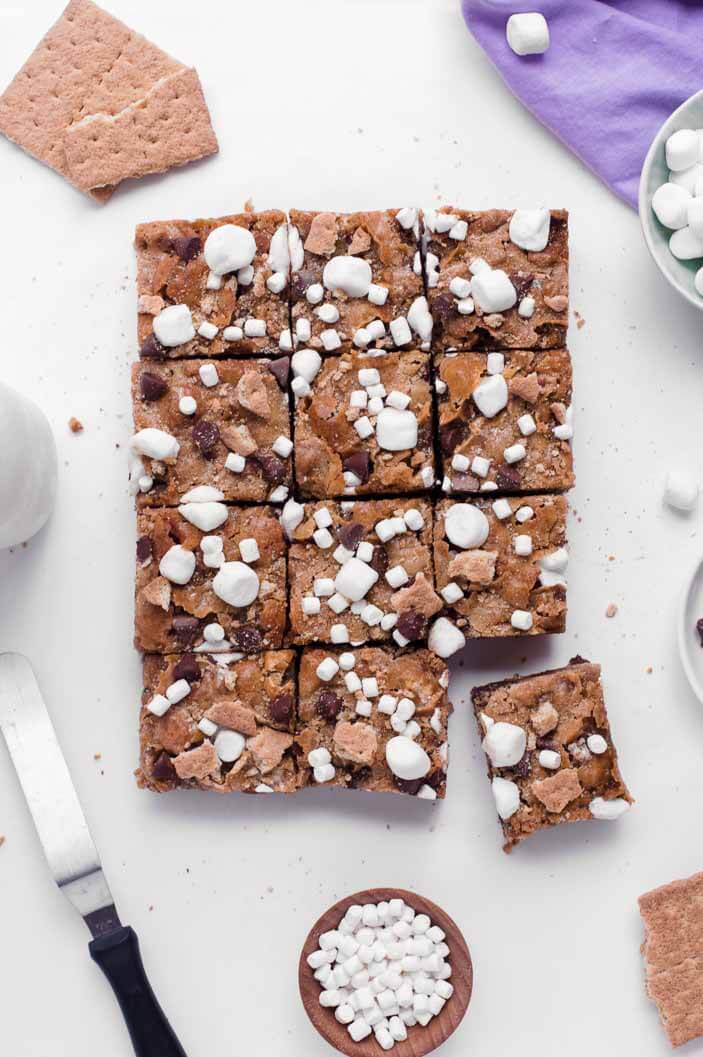 For me, this recipe is special. Not only is it DELIGHTFULLY delicious, it is also one of the easiest recipes ever. Anyone…and I'm talking ANYONE can make these. You basically just throw all the ingredients in a bowl and then put it in the oven. I have a friend who is particularly challenged when it comes to baking…and she nails this recipe every.single.time.
So these are great if you need to bake something at the last minute, or you just don't have a lot of extra time. And, if you want these bars to look fancy or professional AF, I have a little tip for you. Put a few marshmallows, chocolate chips and graham crackers to the side while your bars are baking. Once your bars come out of the oven, sprinkle the marshmallows and chips evenly on the top of the bars. Then, crumble the graham all over for the final touch!
I like to bake these in an 8×8 pan to make sure the bars are nice and thick. But you can totally bake them in a 9×13 pan if you would like. You will get more bars out of a bigger pan, they will just be a little thinner. It's totally up to you! Either way, they are delicious!
GOOEY S'MORES BARS
Ingredients
S'MORES BARS
1 cup unsalted butter, melted

2 large eggs

2 cups light brown sugar

2 teaspoons vanilla extract

1 1/2 cups all-purpose flour

10 full-size graham crackers, roughly chopped (plus more for topping)

2 heaping cups of mini marshmallows (plus more for topping)

1 1/2 cups semi-sweet chocolate chips (plus more for topping)
Instructions
S'MORES BARS
Preheat oven to 350 degrees and spray a 9 x 13 inch baking pan with non stick spray and line the bottom with parchment paper.

In a mixer fitted with a paddle attachment, combine melted butter and brown sugar. Mix until combined.

Add eggs and vanilla extract. Mix until the batter is smooth.

Add flour and stir until just combined. Do not over mix.

Stir in chopped graham crackers, marshmallows and chocolate chips.

Spread batter into the prepared pan and bake for 25-30 minutes, or until the edges have turned a golden brown.

Allow the bars to cool before cutting.