Creating "Inspired Cakes" has become one of my favorite aspects of running Sprinkles for Breakfast. I absolutely love taking inspiration from an outside source and making it come to life in the form of my favorite food…cake. And as much as I love the Taylor Swift Inspired Cakes, this Gray Malin Inspired Triple Chocolate Dirt Cake is by far my new favorite.
It could be due to the fact that I have a slight obsession with Gray Malin's work, or that Lake Tahoe is one of my favorite places on earth – or it could just be the fact that I am really into this dirt cake. But more likely, it is a combination of all three.
First, let's talk about Gray Malin. If you don't know him by name, you probably know his work. He does these amazing, brilliantly colorful, ariel shots around the world – and they are stunning.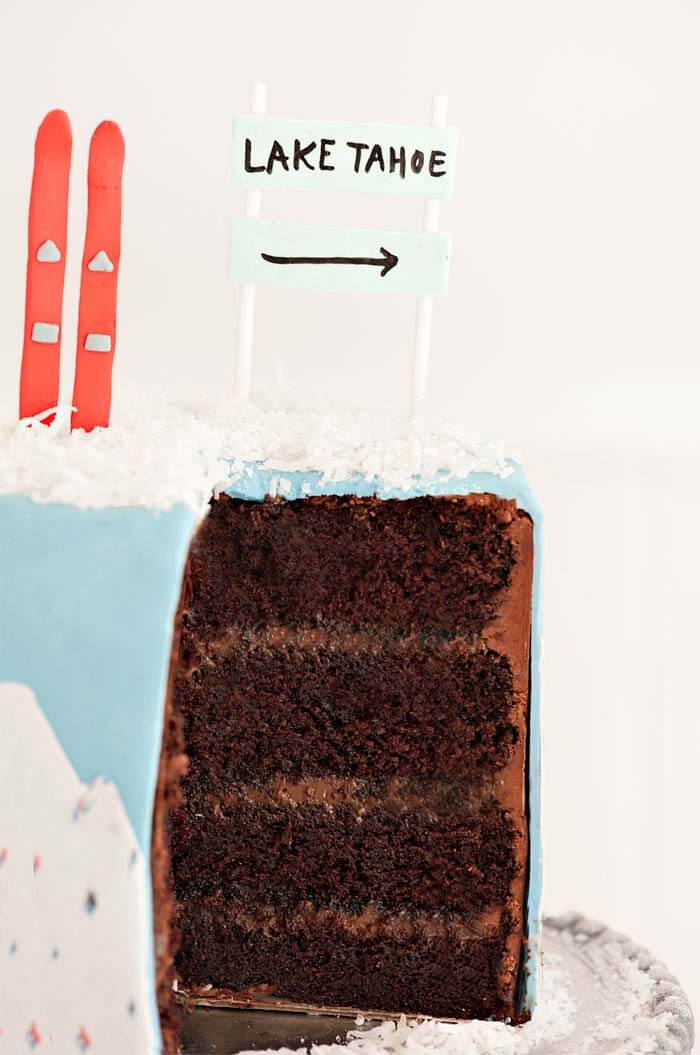 He is most known for his beach shots, but because we are closing in on December, I decided to make a cake inspired by something with a little more of a wintery feel – his Lake Tahoe Skiers.
But the most exciting part about this collaboration is that tomorrow is the beginning of Gray's Site Wide 30% off sale! So if you are looking for an awesome holiday gift, this might be your answer.
Now that we have talked design, let's talk cake. This Triple Chocolate Dirt Cake was inspired by Gray's favorite cake- dirt cake (which is just layers of chocolate pudding and crushed Oreos).
It is a delicious chocolate cake with dark chocolate buttercream and a "dirt cake" filling. Basically it is one large slice of chocolatey heaven. So you should have three things on your to do list for this week – 1. Buy a Gray Malin print. 2. Make a Triple Chocolate Dirt Cake 3. Eat the Dirt Cake.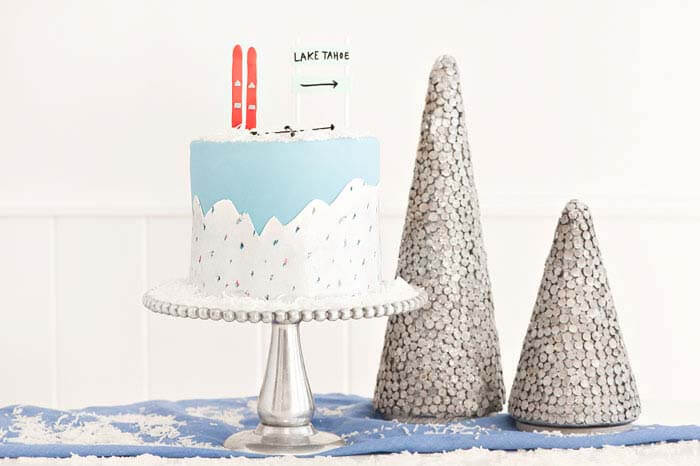 Cake recipe adapted from Here.
GRAY MALIN INSPIRED TRIPLE CHOCOLATE DIRT CAKE
Ingredients
CHOCOLATE CAKE
2 cups sugar

1 3/4 cups flour

3/4 cup cocoa powder

2 teaspoons baking soda

1 teaspoon baking powder

1 teaspoon kosher salt

2 eggs

1 cup buttermilk

1 cup coffee

1/2 cup vegetable oil

2 teaspoons vanilla extract
DIRT FILLING
1/2 (5.1 oz) package Chocolate Fudge Jell-O Instant Pudding

1 1/2 cups milk, cold

1/2 cup crushed Oreos
CHOCOLATE FROSTING
8 oz. dark chocolate

1 7/8 sticks (15 tablespoons) unsalted butter

1 3/4 cup + 2 tablespoons confectioners' sugar

1 cup cocoa powder

1 1/2 teaspoons vanilla extract

5 tablespoons hot water
Instructions
For the cake:
Preheat the oven to 350°F, grease three 8" cake pans (or four 6" pans) with non-stick spray and line with parchment.

In the bowl of a stand mixer fitted with the paddle attachment, combine the sugar, flour, cocoa, baking soda, baking powder and salt. Mix on low until dry ingredients are thoroughly combined.

On low speed add eggs, buttermilk, coffee, oil and vanilla.

Once everything is combined beat on medium speed for 1 minute.

Divide batter evenly between the three cake pans.

Bake for 30-35 minutes, or until wooden toothpick inserted in center comes out clean.

Transfer pans to wire rack and let cool completely.
For the filling:
In a medium bowl whisk together instant pudding and milk.

Whisk for 2 minutes and then set aside for 5 minutes to set up.
For the frosting:
In a double boiler or microwave, melt chocolate. Set aside to cool.

In a stand mixer with a paddle attachment, beat butter until light and fluffy.

Add confectioners' sugar and cocoa powder and beat until smooth.

Add melted chocolate and vanilla and beat until smooth.

Add hot water 1 tablespoon at a time, and beat for a couple of minutes until the frosting is smooth and shiny.
Assembly
Once the cakes are cool, take them out of the pans, and place one layer onto a cake plate.

Fill a large pipping bag with frosting and make a ring around the edge of the cake.

Fill the inside of the ring with pudding and sprinkle 1/4 cup of crumbs on top.

Turn the second layer upside down (so the bottom is face up) and gently place it on top of the first layer. Make another buttercream ring, and spread pudding and Oreo crumbs.

Add the third layer (so the bottom is face up) on top.

Use the remaining frosting to cover the rest of the cake.
Notes
*Note: To make this cake look like a mountain covered with skiers, I covered the whole thing in a sky blue fondant and used Gray's image (printed on edible wafer paper) to make the snow covered mountains.
*One 8" Cake