A few weeks ago, I made my first attempt at Chocolate Bark – the result was this Sprinkle and Swirl White Chocolate Bark.
I honestly didn't think I was going to like it, but it turns out chocolate bark is actually kind of amazing. I love the fact that it is so easily customizable.
So this week, as we approach my favorite holiday, I decided to make some Halloween Themed Bark. Unlike the Sprinkle and Swirl Bark (which is all white chocolate) this bark is a combination of milk chocolate and white chocolate with the addition of some festive sprinkles.
I also tried this new swirling technique which I think turned out pretty cool. But basically, the moral of the story is – Chocolate Bark is great, and you should make it as often as you can.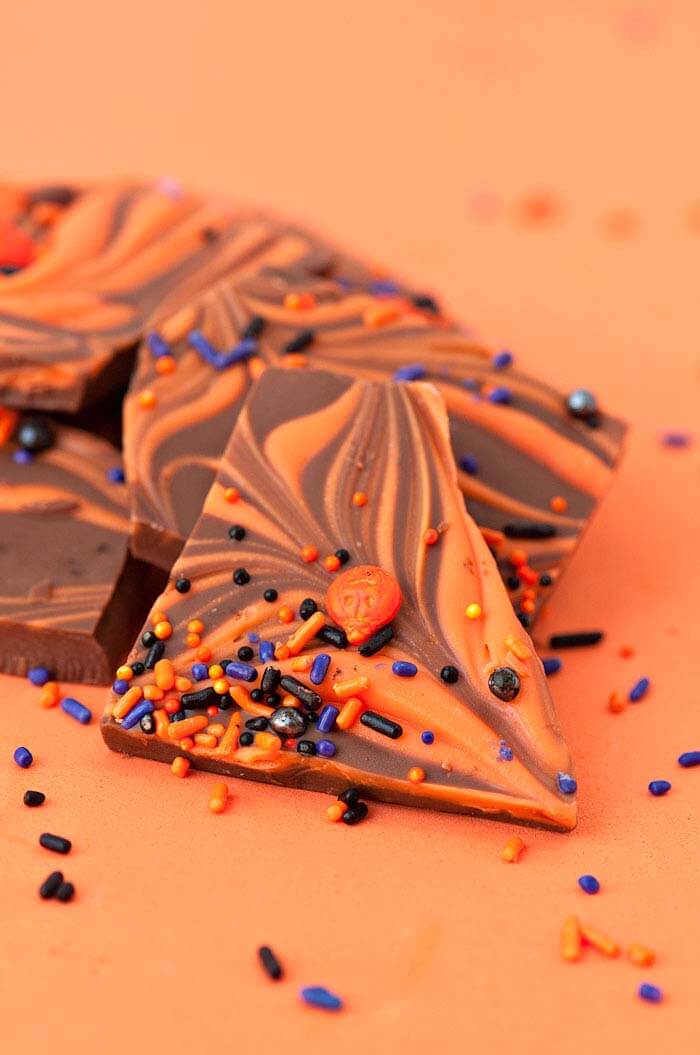 HALLOWEEN BARK
Ingredients
1 1/2 pound chocolate

1/2 pound orange melting chocolate

Sprinkles for decorating
Instructions
Prepare a baking sheet with parchment paper.

Melt chocolates in microwave in 20 second intervals until completely melted.

Spread milk chocolate evenly in the pan.

Place orange chocolate in a pipping bag with the end cut off and drizzle horizontal lines across the milk chocolate.

Using a knife, make horizontal and vertical lines in the chocolates to make a swirl effect.

Add decorative sprinkles.

Place chocolate in fridge for at least one hour. Once it is set up, break into pieces and serve.