<
Last week was the first week in October, which for me usually means everything I do starts to center around Halloween festivities. I am making costumes, planning parties and of course, baking as many Halloween desserts as possible. I REALLY REALLY love Halloween.
But last week was different. I couldn't bring myself to get excited about any of it.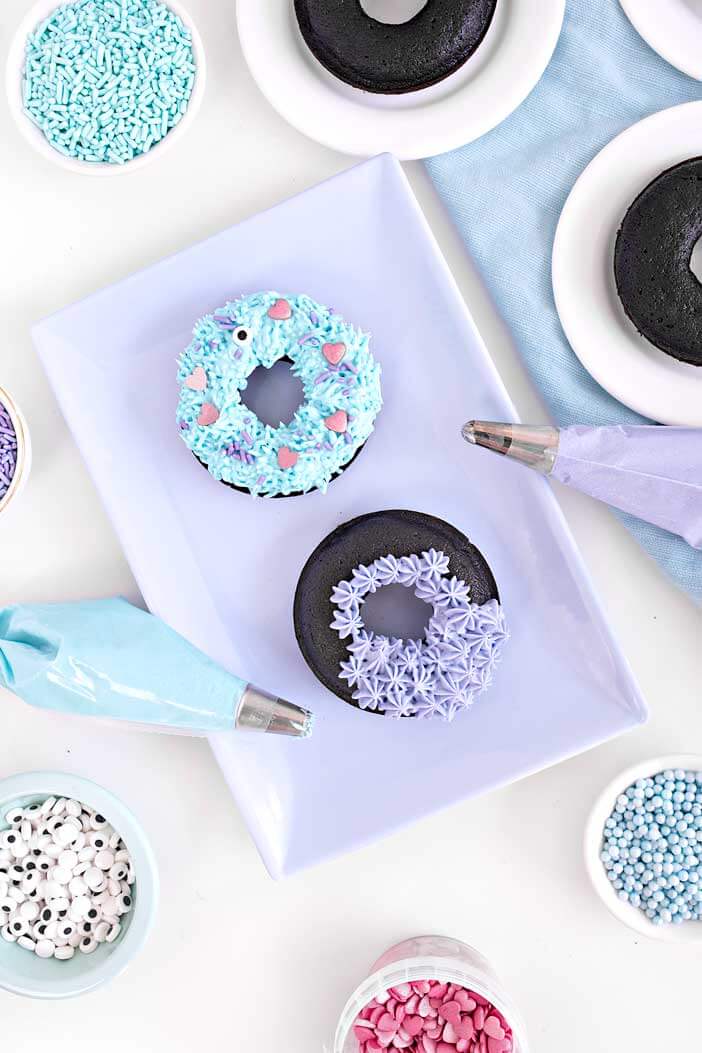 This blog is supposed to make people happy. It is about sprinkles, cookies and cupcakes and is filled with so many bright colors. But how could I write about anything remotely happy when so many terrible things were happening in the world?
Hurricanes and fires are destroying people's lives, my best friend's father passed away unexpectedly, and Vegas.

Last week I spent a lot of time just staring at my computer trying to write this post. I couldn't come up with anything. And then I spent even more time under the covers trying to process what was happening. Long story short, it wasn't a great week.
But this week I decided that no matter how much shit was going on in the world, no good can come from staying in bed. So I got up and made some doughnuts – really really cute monster doughnuts. These are super fun to make, and if you are making them with kids, it is the perfect way for them to get creative. My favorite decorating tool for these guys is this Grass Tip. It makes for the perfect "hairy" monster!
HALLOWEEN MONSTER DOUGHNUTS
Ingredients
CHOCOLATE DOUGHNUTS
2 1/2 tablespoons unsalted butter, melted

1/4 cup brown sugar

1/4 cup sugar

1 egg

1 teaspoon vanilla extract

1/3 cup cocoa

3/4 cup flour

1/2 teaspoon baking soda

1/4 teaspoon salt

5 oz. milk

Large piping bag
ICING
1 cup salted butter

1 lb powdered sugar

1 teaspoon milk

1 teaspoon vanilla extract

Food coloring, decorative eyes, and sprinkles
Instructions
CHOCOLATE DOUGHNUTS
Preheat the oven to 350 degrees and spray a doughnut pan with non-stick spray. Set aside.

In a medium bowl, whisk together cocoa, flour, baking soda and salt. Set aside.

In a stand mixer with a paddle attachment, mix butter and sugars together.

Add egg and vanilla extract. Mix until combined.

Add dry ingredients and mix until combined. Slowly stream in milk and mix until combined.

Use piping bag to pipe batter into doughnut pan. Fill each doughnut 2/3 of the way full.

Bake for 8-10 minutes. Let doughnuts cool in the pan.
ICING
In a stand mixer with a whisk attachment, cream butter until it is soft and smooth.

Add powdered sugar, milk, and vanilla and mix until light and fluffy.

Divide icing into three parts. Color each one a different color.

Use decorative tips to decorate each doughnut and add eyes.