Last week I made the desserts for a Cat Themed 2nd Birthday Party. I made an adorable Cat Cake, some Sprinkle & Swirl Bark, Yarn Ball Cake Pops, and these Kitten Macarons. The Kitten Macarons were such a big hit, I decided to share the recipe with you guys.
I, myself am not a huge cat fan. Every time I come across one I feel like it is contemplating whether or not it should attack me or ignore me (which in my opinion, are both rude).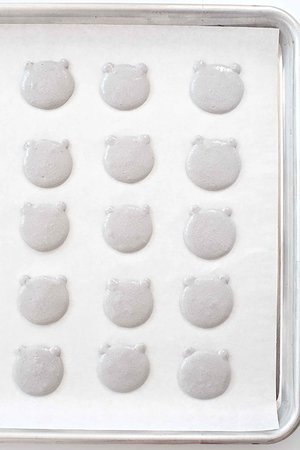 But even I have to admit…these Kitten Macarons are pretty cute. Plus, they are delicious…so it's kind of a double bonus.
I used my classic Vanilla Macaron Recipe with a few adjustments to turn them into these adorable little kitty cats. I just added ears when I was piping (pictured at the top of this post), and used edible pens to make the faces. Pretty simple, right?
Basically, they are easy to make and fun to decorate. So if you love cats, or are just trying to impress your cat loving friend for their birthday, these macarons are the perfect solution! Enjoy!
HOW TO MAKE KITTEN MACARONS
Ingredients
MACARON SHELLS
1 1/2 cups powdered sugar

1 cup + 2 tbs almond flour

3 eggs whites

1/2 cup sugar

Gray food coloring

Edible Pens

Round Piping Tips
VANILLA BUTTERCREAM FILLING
1/2 cup salted butter

1 3/4 cup powdered sugar

1/2 tsp milk

1/2 tsp vanilla extract

Pink food coloring
Instructions
For the shells:
Preheat oven to 325 degrees.

Prepare one pipping bag (I like to use the bigger 16" piping bags like these) with an Ateco 804 tip, and one bag with a Ateco 803 tip. Also prepare baking sheets lined with parchment paper.

In a medium bowl, sift almond flour and powdered sugar together. Set aside.

In a stand mixer with a whisk attachment, beat egg whites on high speed until they form soft peaks.

Lower the mixer's speed to medium and add sugar.

Put mixer back on the highest speed and beat until they form stiff peaks.

With the mixer still on high speed, add food coloring a few drops at a time until you get desired color.

Take bowl off of mixer and add almond flour/sugar mixture.

Using a rubber spatula, aggressively fold in dry ingredients until the batter starts to loosen and becomes a little runny. To test if the batter is ready, lift a small amount of batter from the bowl and drop it back into the batter. If it does nothing, keep mixing. If it slowly melts back into the batter after 20-30 seconds, it is ready.

Put batter (about 1/3 of the mixture) into prepared pipping bag and cover the rest of the batter with saran wrap.

Pipe 1 1/2" circles (with Ateco 804 tip) on prepared baking sheets. Then add two smaller circles (with Ateco 801 tip) for "ears" on each larger circle.

Firmly tap the bottom of the tray so the batter flattens out.

Let them rest for 30-45 minutes until they form a skin.

Bake for 10-12 minutes, or until they are set.

Let cool before peeling them off parchment paper.
For the buttercream:
In a stand mixer with a whisk attachment, cream butter until it is soft and smooth.

Add powdered sugar, milk, and vanilla and mix until light and fluffy.
Notes
*If you do not have enough baking sheets to pipe all the batter, cover the remaining batter with plastic wrap until you are ready to pipe a new batch.