Soft and chewy Lucky Charms cookies that are easy to make and perfect for any St.Patrick's Day parties or celebrations!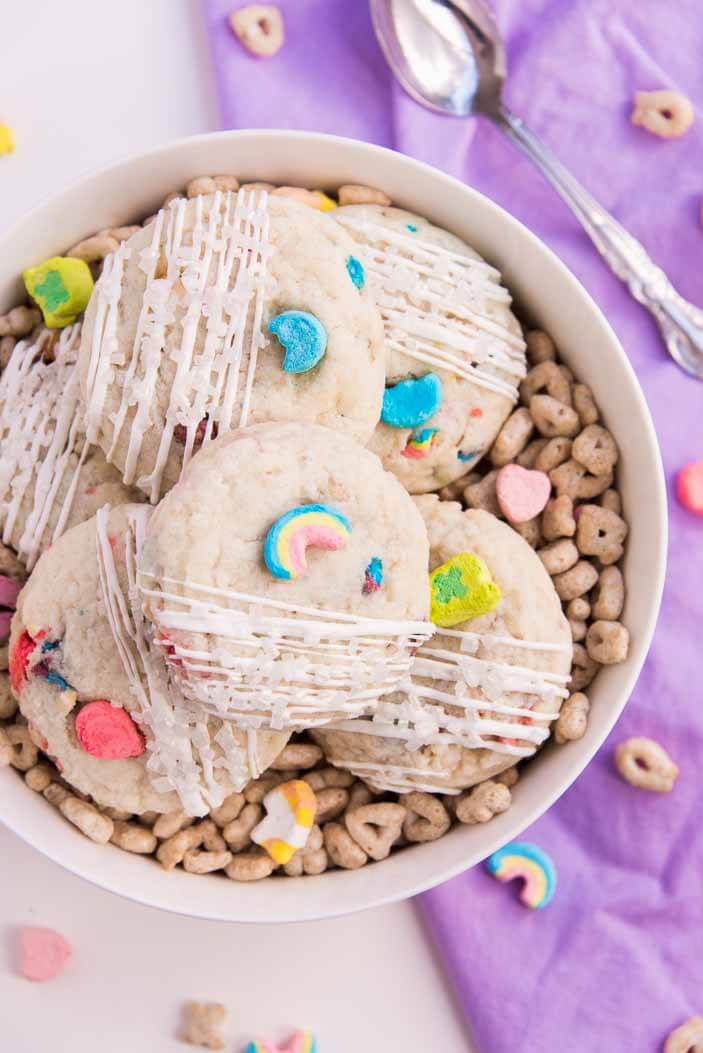 As a kid, Lucky Charms was my favorite cereal. And yes, I was totally the kid that picked out all the marshmallows while nobody else was looking.
As an adult, I try really hard not to be the jerk who picks out the marshmallows – because nobody likes that person. Instead, I decided to create recipes where you were required to pick out the marshmallows in order to get the ideal flavor.
Things like these Magical Rainbow Bars where I add extra marshmallows on top for decoration. Or these Mini Lucky Charm Bundt Cakes where you have to add a layer of marshmallows at the bottom of the bundt pan before you put in the rest of cereal mixture. See, it's all for the good of the recipe!
These Lucky Charm cookies are no different. This recipe requires 2 Cups of Lucky Charms and I like to make sure a majority of those 2 cups are marshmallows! Plus, I add a marshmallow to the top of every cookie for decoration (and maximum marshmallow consumption).
This is a fun and easy recipe that gives you delicious results.
WHY IS TEXTURE IMPORTANT?
Do you have to add the white chocolate drizzle and extra sprinkles? No. But I highly recommend it because it brings the cookie two extra elements of texture. People are always talking about flavor being the most important factor in food. And yes, flavor IS important. But I think texture is an element that is too often overlooked. Think crunchy, smooth, crispy. These are common words we use to describe some of our favorite foods. And guess what? They have nothing to do with flavor. They are all about TEXTURE. People are so hyper-focused on the flavor, they don't even recognize how big a role texture plays in food. When I am coming up with a recipe, I am always trying to add at least two different elements of texture. It makes the food interesting and more enjoyable to eat.
So like I said, in this recipe the white chocolate drizzle and the sprinkle topping is optional. But I think it really adds something special. And if you are really looking to knock it out of the park, these Sugar Crystals are the best sprinkles on the market. They are so thick and crunchy and I am obsessed with them. There is really nothing else like them!
LUCKY CHARM COOKIES
Ingredients
2 1/2 cups cake flour (287g)

1 cup all purpose flour (120g)

2 teaspoons corn starch

2 teaspoons baking powder

1 teaspoon salt

1 1/3 cup unsalted butter, room temperature (305g)

1 1/2 cups sugar (300g)

2 eggs

2 teaspoons vanilla extract

2 cups Lucky Charms

4 oz white melting chocolate

Sprinkles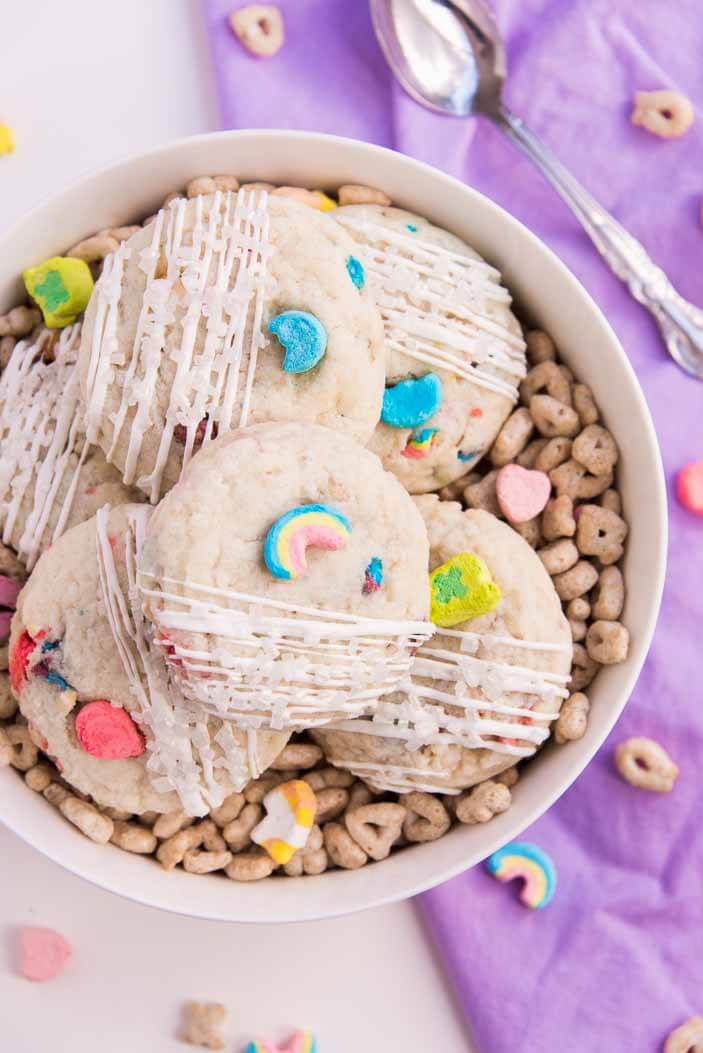 Instructions
In a medium bowl, whisk together all dry ingredients and sprinkles. Set aside.

Preheat oven to 350 degrees and prepare a baking sheet with parchment.

In a stand mixer fitted with a paddle attachment, combine butter and sugar. Mix on high until light and fluffy.

Add eggs and vanilla extract. Mix until combined.

Add dry ingredients and mix until just combined.

Stir in lucky charms cereal.

Using a a medium ice cream scoop, scoop dough balls onto baking sheet 3 to 4 inches apart.

With the palm of your hand or the back of a large wooden spoon, flatten cookies slightly.

Allow cookies to cool on baking sheet.

Once cookies are cooled, move them onto a sheet of parchment paper.

Melt 4oz of white chocolate and place in a small piping bag. Cut the tip.

Drizzle white chocolate over cookies.

Use a little bit of white chocolate to attach a lucky charms marshmallow to cookie if desired.