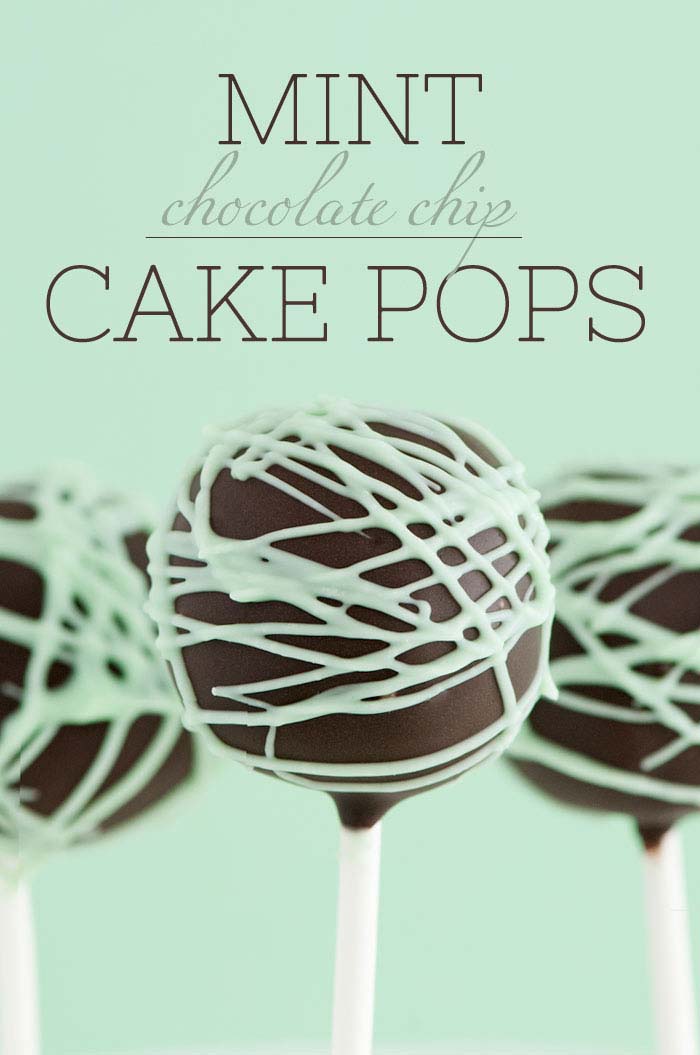 Happy Belated Mother's Day. I hope all the moms out there had a great day, because they deserve to be celebrated. Being a mom is hard. I know I get anxious thinking about whether or not I am a good enough mom to my dog – so I can only imagine how much pressure it is being a mom to an actual human being. It's definitely not easy. I was lucky enough to spend the day with my own mom. Even though she had just had her fourth round of chemo a few days before, she was a champion – like she always is. She was a little tired, but managed to hang out with us all day, watch the Clippers slaughter the Rockets in game 4, have dinner with us, and open presents. I also made her wear a "Mom in a Million" crown for a solid two hours. She was a trooper. And I love her for that.
Anyway, back to today's recipe – Mint Chocolate Chip Cake Pops. I have always loved Mint Chocolate Chip Ice Cream, so I thought it would be kind of cool to make it into a cake pop. I tried to make the pops with a green inside (to mimic the traditional mint chocolate chip look), but it ended up looking pretty gross. So I went with a more chocolate approach, and they turned out much better. The inside is a minty chocolate cake with lots of mini chocolate chips mixed in, and the outside is a dark chocolate coating with some green white chocolate for a minty fresh look.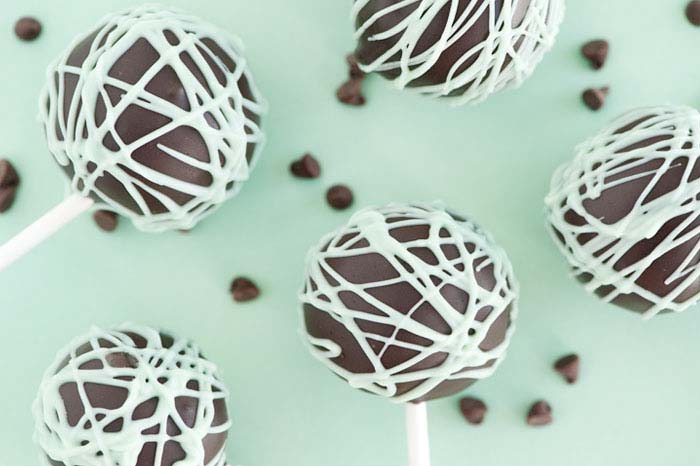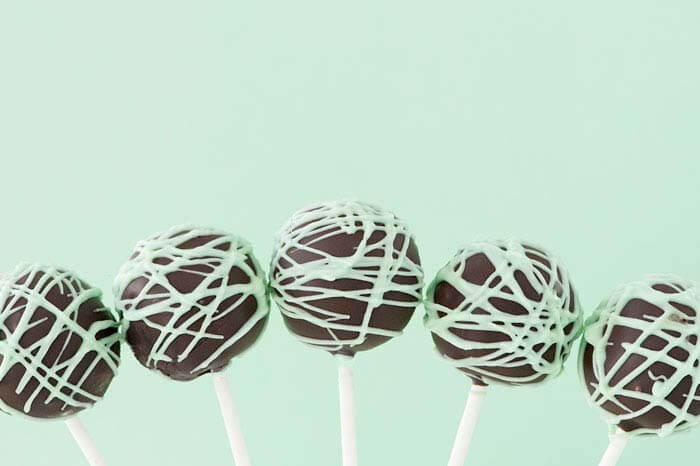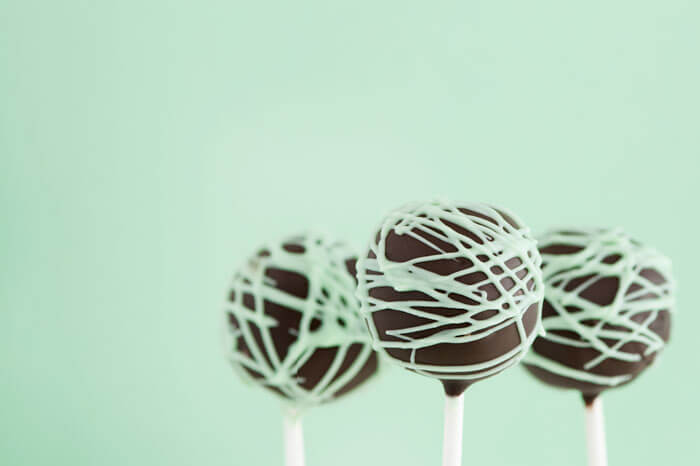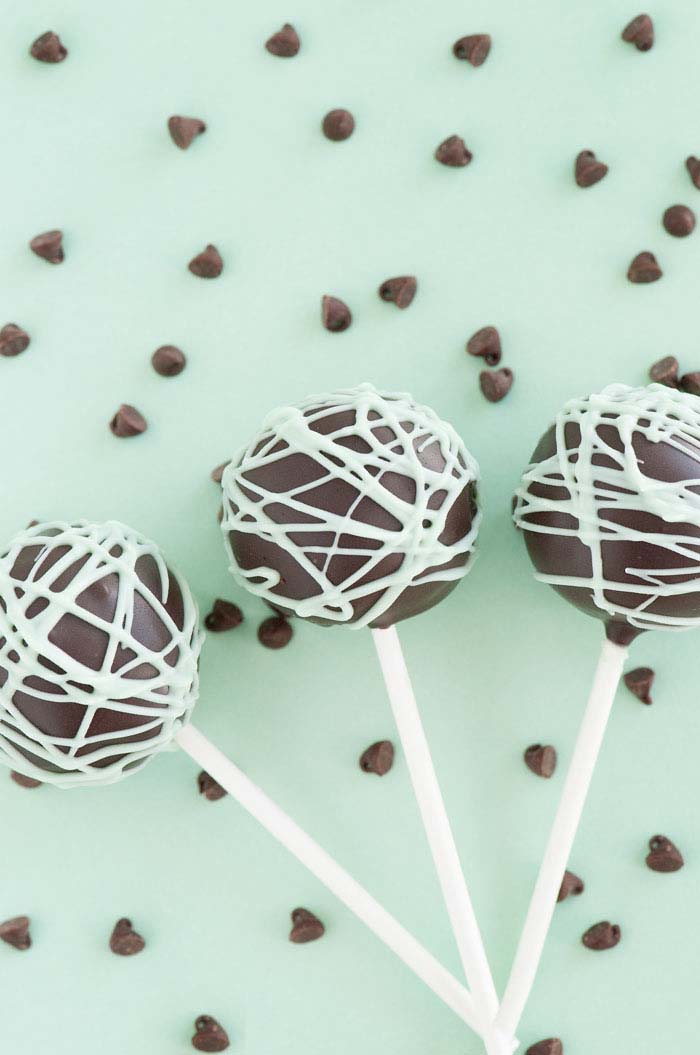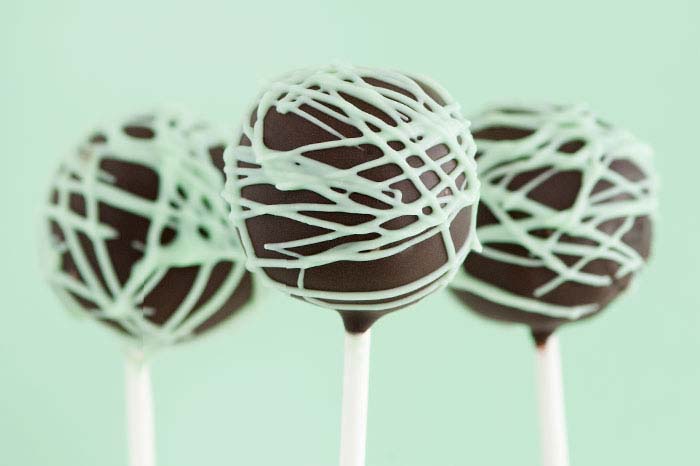 Cake recipe adapted from here.
MINT CHOCOLATE CHIP CAKE POPS
Ingredients
CHOCOLATE CAKE
2 cups sugar

1 3/4 cups all-purpose flour

3/4 cup unsweetened cocoa powder

2 teaspoons baking soda

1 teaspoon baking powder

1 teaspoon salt

2 eggs

1 cup buttermilk

1 cup strong black coffee

1/2 cup vegetable oil

2 teaspoons vanilla extract
BUTTERCREAM
1/2 stick butter, room temperature

1 cup powdered sugar

2 teaspoons milk

1/2 teaspoon vanilla

1 lb. Dark Coating Chocolate

1/4 lb. White Chocolate Coating (Light Green)

1/4 cup mini chocolate chips

1/4 teaspoon mint extract
MATERIALS NEEDED
Lollipop sticks

Styrofoam Cake Block

Pipping Bag

Small round pipping tip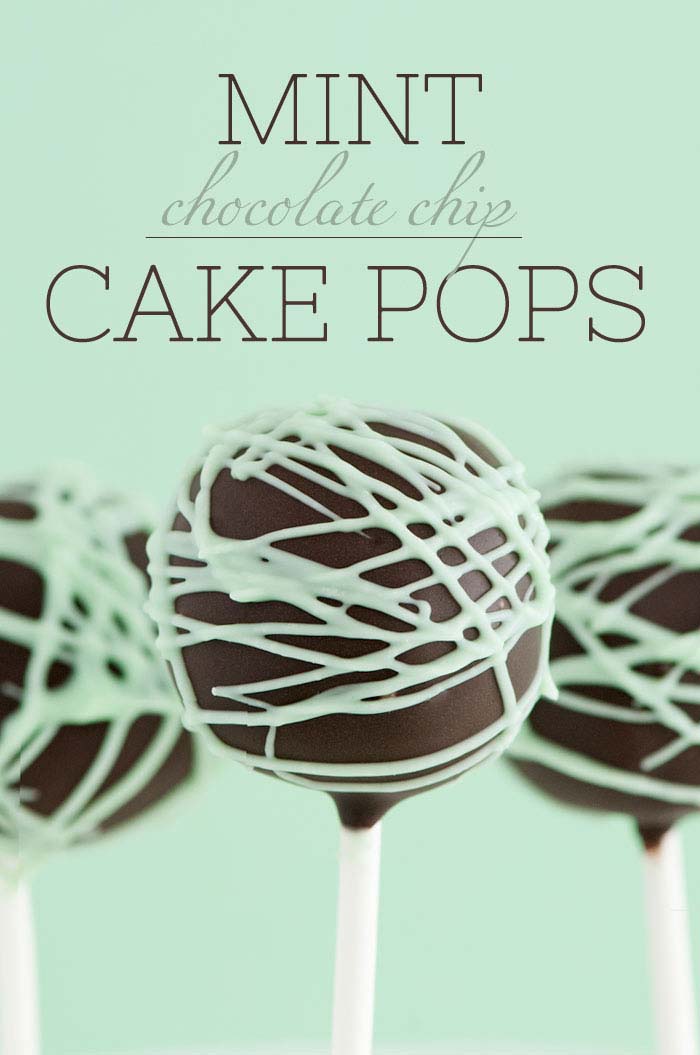 Instructions
For the cake:
Preheat the oven to 350°F and grease a 9 x 13" pan and line with parchment.

In the bowl of a stand mixer fitted with a paddle attachment or in a large bowl with an electric mixer, combine the sugar, flour, cocoa, baking soda, baking powder. Mix on low until dry ingredients are thoroughly combined.

Add eggs, buttermilk, coffee, oil and vanilla.

Beat on medium speed for about two minutes; the batter will be thin. Pour batter evenly into prepared pan.

Bake in preheated oven for 30 to 35 minutes for round pans, or until wooden toothpick inserted in center comes out clean.

Let cake cool completely on a wire cooling rack.
For the buttercream:
In a mixer fitted with a wire attachment, beat butter on high speed until light and creamy.

Put mixer on low speed and slowly add powdered sugar. Mix until combined.

Add vanilla and milk and put the mixer back on high speed. Beat until light and fluffy.
Assembly
Once the cake is cooled, use your hands or two forks and to crumble the cake into fine crumbs.

In a large bowl, mix crumbs with 1/4 cup + 1 tablespoon buttercream, 1/4 teaspoon of mint extract and 1/4 cup mini chocolate chips.

Mix with hands or a fork until buttercream is fully incorporated. You want the mixture to be just moist enough to roll into balls.

Using a small ice cream scoop, scoop out a small amount of cake mixture and roll between cupped hands until you reach the desired round shape.

Put balls on a plate and cover with plastic wrap. Place in refrigerator for at least 2 hours.

Place dark chocolate melting chocolate in a microwave safe bowl. (Make sure it is deep enough to submerge the entire ball in the chocolate). Microwave the chocolate in 30 second increments, stirring after each heating, until it is melted.

Dip lollipop stick into chocolate and then into the middle of a cake ball.

Dip cake ball into the chocolate until it is completely covered. Hold it sideways over the bowl and rotate it and tap it so the excess chocolate comes off.

When the excess chocolate has dripped off, push the lollipop stick into styrofoam block to dry.

Once chocolate is dry, melt green chocolate in microwave safe bowl.

Place melted chocolate in pipping bag, with a small round tip.

Over the bowl of green chocolate, drizzle lines covering all sides of the ball. Place back in the styrofoam block to dry.