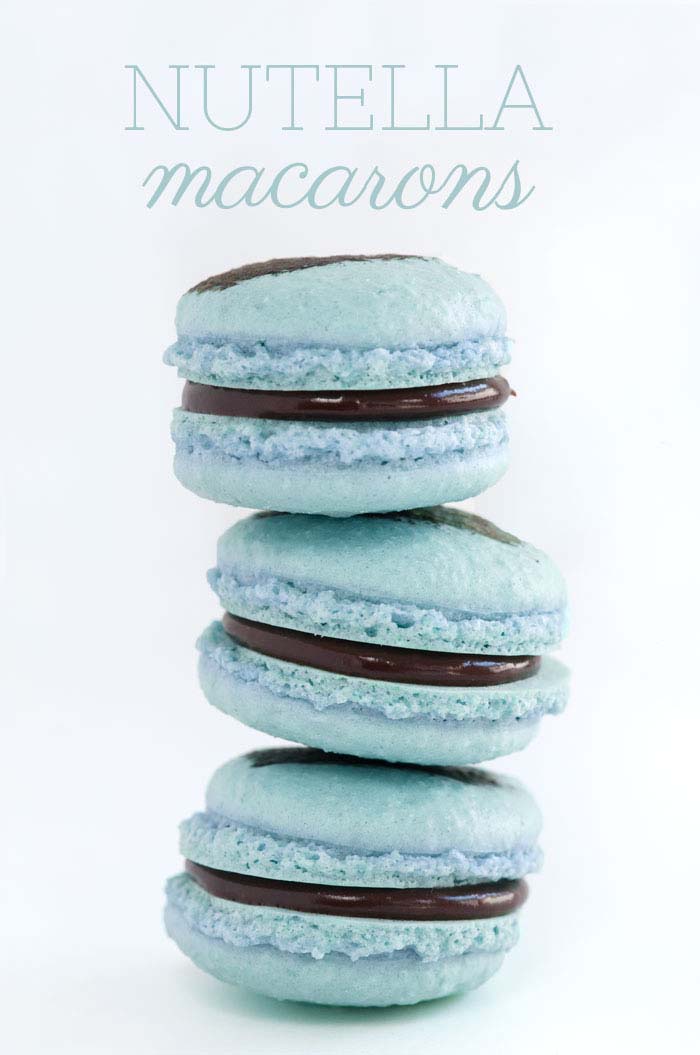 Sunday is National Macaron Day, which is one of my favorite days of the year. I LOVE macarons. Last NMD (National Macaron Day) I was in NYC, where they take this holiday very seriously. A number of bakeries around the city get into the holiday spirit and offer free macarons to customers. I just happened to work at one of those bakeries, so in the few days leading up to NMD, we spent hours in the kitchen preparing mini versions of our most popular cookies.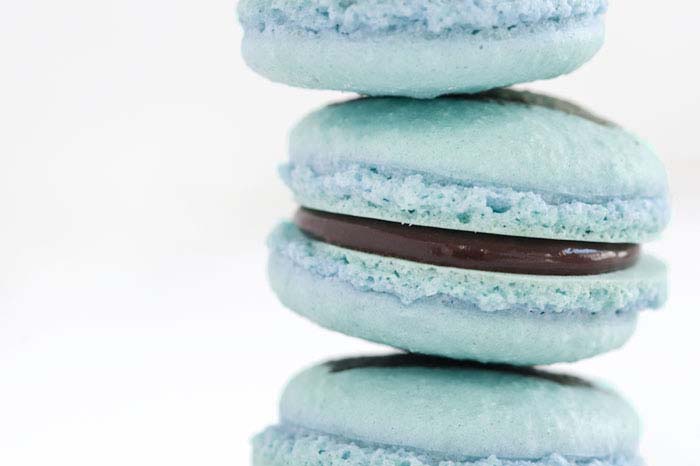 When the day finally came, there was a line out the door ALL DAY LONG. It was INSANE. I guess people are pretty passionate about free food – especially when it is delicious free food. But this year, I will be doing things a little differently. This year, I will be spending the holiday stuffing my face with as many macarons as possible. It is going to be a great day.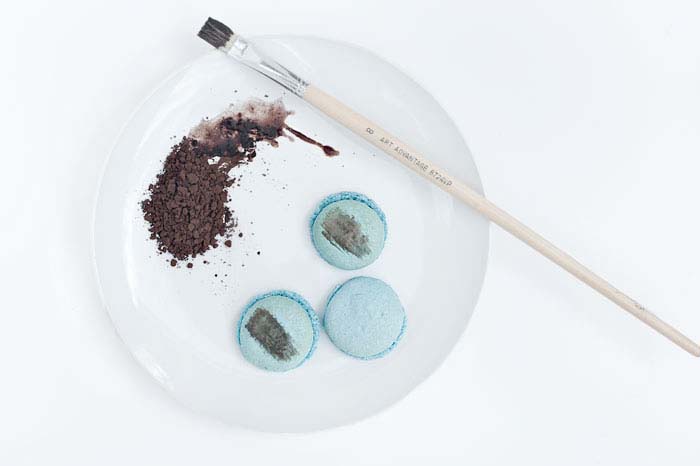 In preparation, I made these Nutella Macarons. I'll admit it is pretty hard to make something with nutella that is not good, but I think these are exceptionally good. So you should definitely give them a try. I took a simple macaron shell, brushed it with cocoa powder, and filled it with a decedent nutella ganaches. A – MAZ- ING.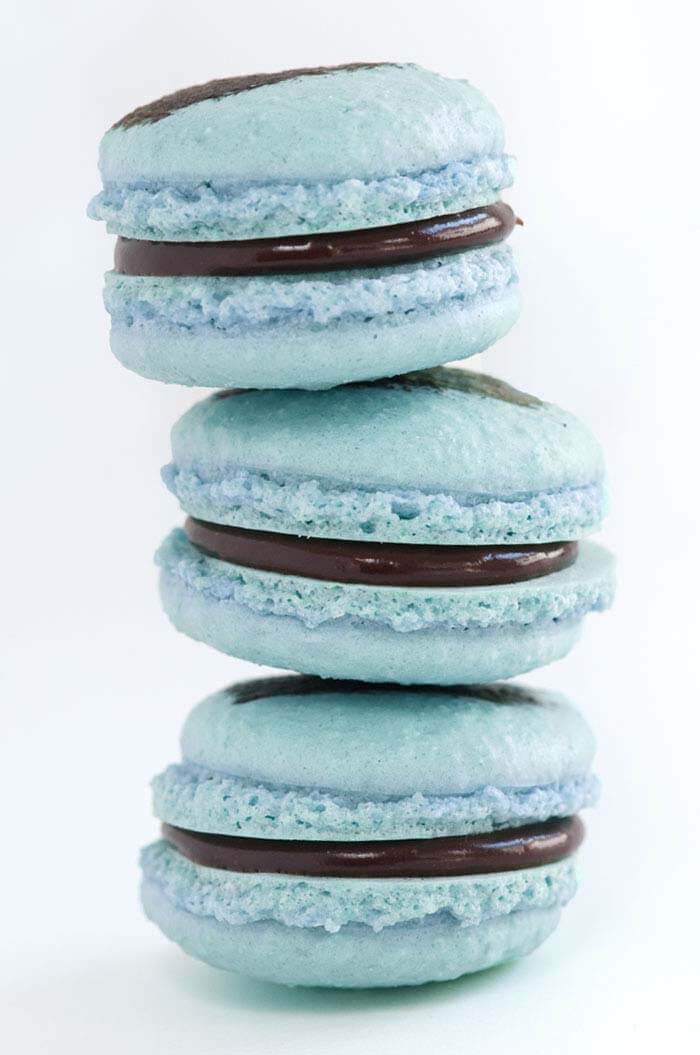 NUTELLA MACARONS
Ingredients
MACARON SHELLS
1 1/2 cups powdered sugar

1 cup + 2 tbs almond flour

3 eggs whites

1/2 cup sugar

Food coloring

Cocoa powder for decorating
NUTELLA GANACHE FILLING
3/4 cup Nutella Hazelnut Spread

1/2 cup heavy cream

1/2 teaspoon salt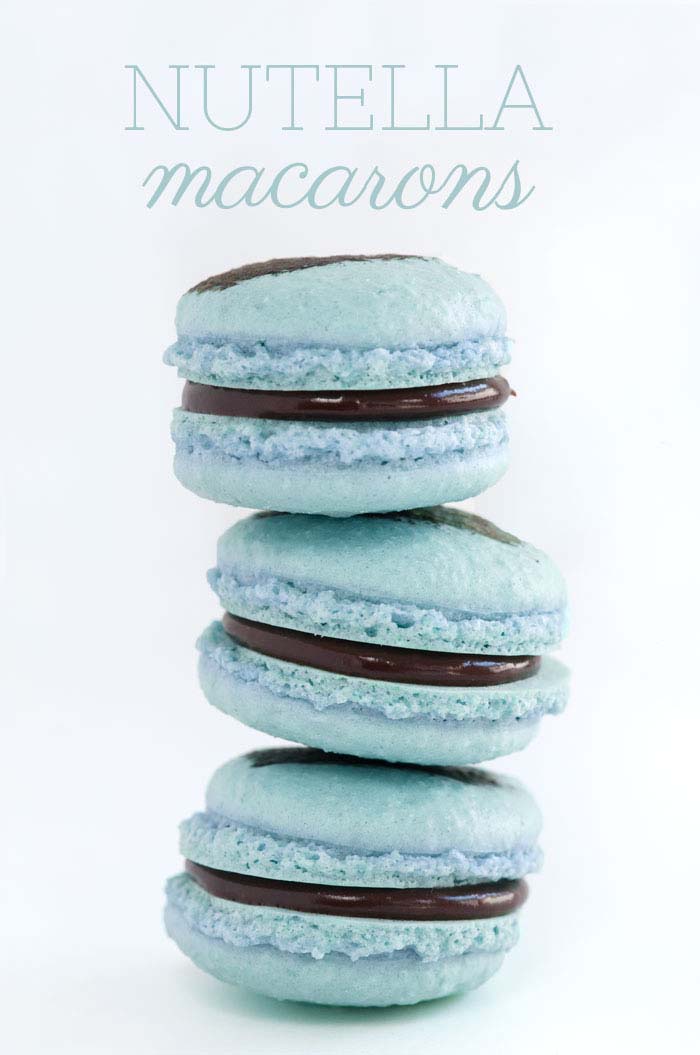 Instructions
For the shells:
Preheat oven to 325 degrees.

Prepare a pipping bag with a round tip with about a 1/4" opening (wilton tips #9, #10 and #11 should work) and a baking sheet lined with parchment paper.

In a medium bowl, sift almond flour and powdered sugar together. Set aside..

In a stand mixer with a whisk attachment, beat egg whites on high speed until they form soft peaks

Lower the mixer's speed to medium and add sugar.

Put mixer back on the highest speed and beat until they form stiff peaks.

With the mixer still on high speed, add food coloring a few drops at a time until you get desired color.

Take bowl off of mixer and add almond flour/sugar mixture.

Using a rubber spatula, aggressively fold in dry ingredients until the batter starts to loosen and becomes a little runny. To test if the batter is ready, lift a small amount of batter from the bowl and drop it back into the batter. If it does nothing, keep mixing. If it slowly melts back into the batter after 20-30 seconds, it is ready.

Put batter (about 1/3 of the mixture) into prepared pipping bag and cover the rest of the batter with saran wrap.

Pipe 1 1/2" circles on prepared baking sheet and firmly tap the bottom of the tray so the batter flattens out. Repeat with remaining batter.

Let them rest for 30-45 minutes until they form a skin.

Bake for 10-12 minutes, or until they are set.

Let cool before peeling them off parchment paper.
For the ganache:
Put Nutella in a medium bowl and set aside.

Put heavy cream in a small sauce pan and put on medium heat. Bring it to just a boil and then pour it over the Nutella.

Add coarse salt and whisk ingredients together until they form a ganache.
Assembly
Peel macaron shells off parchment paper and match according to size.

Fill a piping bag with a round tip (wilton tip #6 or #7 should work) with ganache and pipe a small dollop on one half of a pair of cookies.

Sandwich the cookie pair together.

Put a small scoop of cocoa powder on a plate. Add a little water at a time (swirling it around with a small paint brush) until it forms a paste.

With the paint brush, paint a small stroke of cocoa paste across the top of a macaron.

Set aside to dry before serving.