Oatmeal raisin cookies are great, but have you tried oatmeal M&M cookies?! I meannnn they are kind of the best. Plus, these cookies are extra chewy. No crispy edges at all. Just the perfect chewy centers all the way through. These Oatmeal Chocolate Chip M&M Cookies are going to be your new favorite!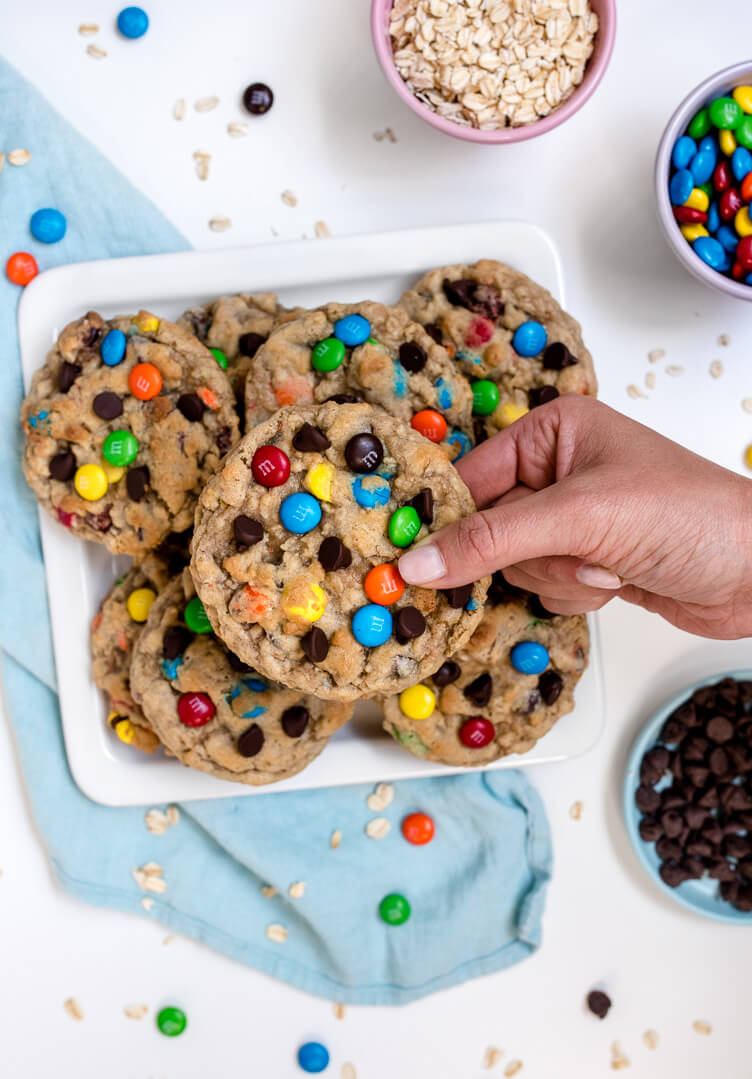 What ingredients do I need to make these cookies?
Unsalted Butter.

Always use unsalted butter as it gives you complete control over the salt content/flavor of a recipe. And make sure it is COLD for this recipe. No room temperature butter!

All-Purpose Flour

. This is the most common type of flour used in the US and can be found at any grocery store. Make sure you "fluff" your flour with a fork or the measuring cup before measuring it.
Cake Flour

: This type of flour has been super finely milled. It has a lower amount of protein which ensures our baked goods are soft and tender.

Oats

: A type of grain. They change the texture of baked goods (often making them heartier), while also adding an additional flavor.

Light Brown Sugar.

The molasses in brown sugar gives your baked goods a more robust flavor and allows it to hold more moisture. This usually results in a chewy texture.
White Sugar

: There to add sweetness and flavor to your baked goods!

Baking Soda:

This is a leavening agent. Baking soda reacts with acids in your recipe (think brown sugar or lemon juice) which causes your baked goods to rise.

Eggs

: I always suggest using "large eggs" when baking. The eggs add structure and flavor to our baked goods when also combined with other ingredients and act as a leavening agent.

Cornstarch

: Most often used to thicken sauces and puddings. But when used in cakes or cookies, it works to counterbalance harsh proteins in flour, resulting in a more tender texture.

Salt

: Enhances the flavors in our baked goods – especially the butter! I prefer using Kosher salt, but you can use any kind of salt you have on hand!

Vanilla Extrac

t: It works to enhance all the flavors in our recipe. While skipping it will not change the structure of your baked goods, it can leave your baked goods tasting bland and boring.

Chocolate Chips: Dark, milk, semi-sweet. The choice is up to you!
M&M's

: Because they are delicious!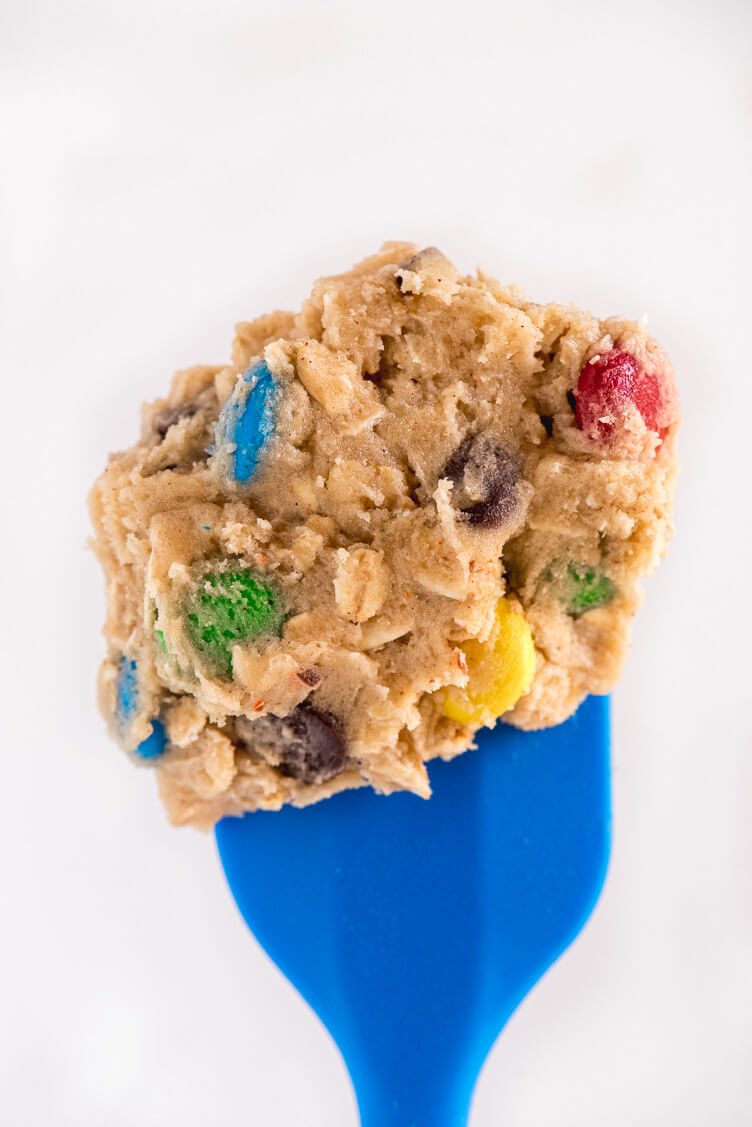 Do I have to use cake flour?
YES! This is what makes these cookies so amazingly chewy and tender.
If you want to know the difference between cake flour and regular all-purpose flour, you can check it out here. But Basically, it comes down to the difference in proteins. If you don't have cake four on hand, you can find out how to make your own here.

Things you MUST do for these Oatmeal Chocolate Chip M&M Cookies:
Use COLD butter cut into cubes. Before you throw your stick of butter into the mixer, you need to make sure they are cut into small cubes, so they can be incorporated with the sugar easily.

Use a combo of cake flour and all-purpose flour. I already told you the importance of using cake flour. So this is just a reminder not to skip this step. If you have to use the substitute – that's ok. But do NOT just use all regular flour.

Bake at a high temperature: a higher temperature means less spread. We want these cookies to stay nice and thick!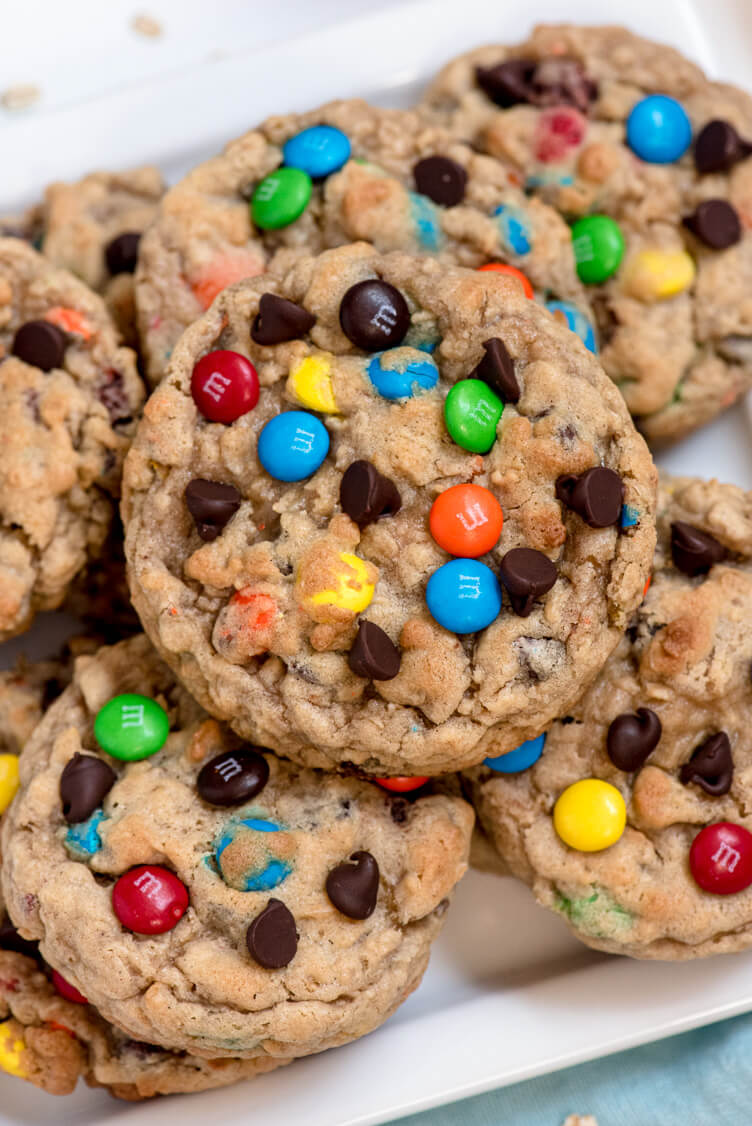 How to avoid Flat Cookies:
Do NOT overmix your dough. This causes too much air to be added to your cookies, which causes them to rise and then fall in the oven. The result is flat pancake cookies.
How to get extra SOFT cookies:
You definitely want these Oatmeal Chocolate Chip M&M Cookies to be soft, so Do NOT overbake them! Ideally, you want to take the cookies out when they are still a little bit underbaked. Then let the cookies continue to cook on your hot baking sheet. This will allow the centers to finish baking without the cookie continuing to spread in the oven.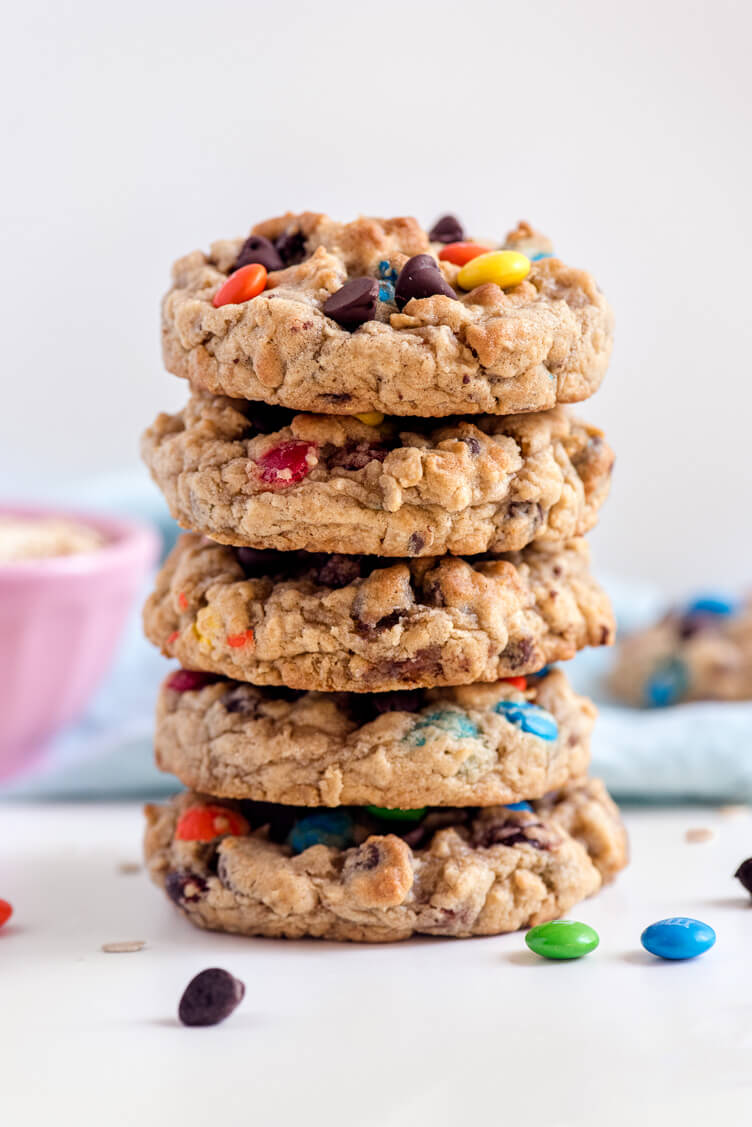 What if you want SUPER thick cookies?
You can absolutely do that. Instead of using the dough to make 12 cookies, use the dough to create only 8 cookies. I know the dough will be massive, but the end result is soooo worth it. You can see exactly how I do it in the TikTok video below:
This is how thick they come out when you do it this way:
How to freeze your cookie dough:
If you don't want to make the whole batch of cookies, you can always freeze your cookie dough. Here is how you do it:
Divide your dough into individual balls onto parchment paper. You can put the parchment on a plate or baking sheet.

Chill your dough balls in the fridge until they harden (about 45 minutes).

Transfer dough balls to an airtight plastic bag and freeze them.

Whenever you want to bake these dough balls, just take them out of the freezer and place them on a baking sheet to thaw. Put them in the oven when they reach room temperature and place them on a baking sheet until they are just slightly cold.
Cookie dough balls last in the freezer for up to 3 months.
Ok, now it's time to start baking! If you want to substitute the M&M's and chocolate chips with raisins, you are more than welcome to do so!
Oatmeal Chocolate Chip M&M Cookies
Soft and chewy oatmeal chocolate chip cookies packed with candy M&M's!
Ingredients
1

cup

cold unsalted butter, cut into cubes

227 grams

1

cup

brown sugar

200 grams

1/2

cup

sugar

50g

2

eggs

1

teaspoon

vanilla extract

1 1/2

cups

flour

180 grams

1

cup

cake flour

130 grams

1 1/2

cups

rolled oats

120 grams

1

teaspoon

cornstarch

3/4

teaspoon

baking soda

1/2

teaspoon

salt

1 1/2

cups

M&M's

10 oz

1/2

cup

chocolate chips

85 grams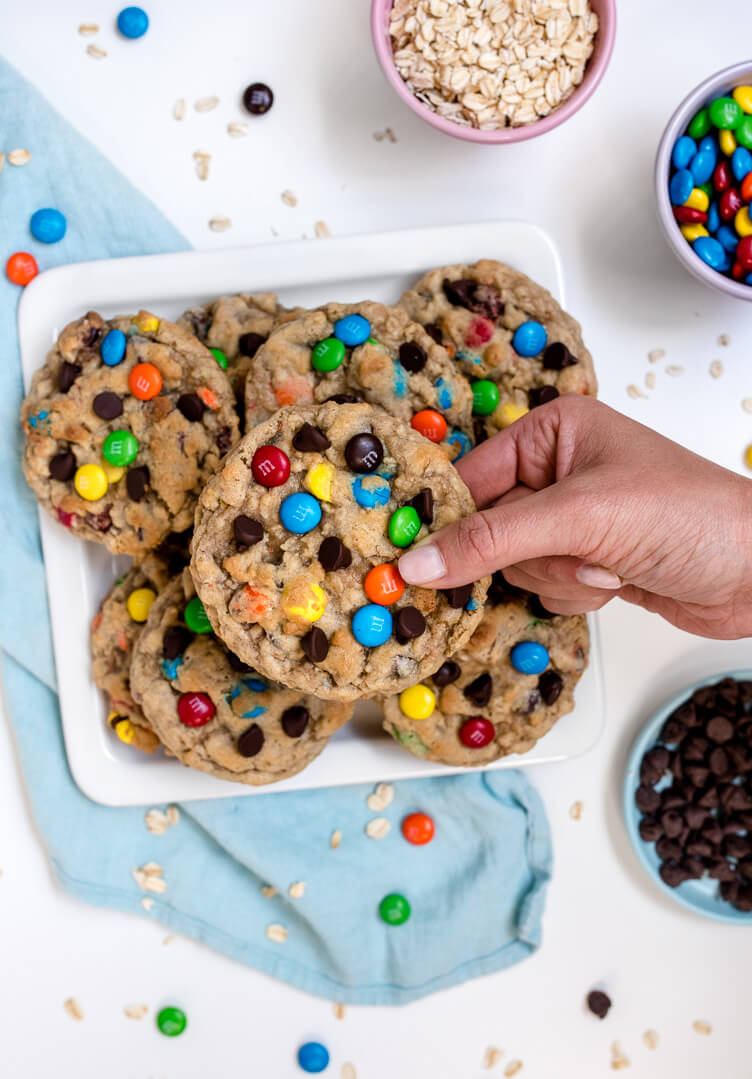 Instructions
Preheat oven to 410 degrees and line a baking sheet with parchment paper.

In a bowl, combine all dry ingredients (except the oats) and set aside.

In a bowl with an electric mixer, use the paddle attachment to cream together butter and sugars. Mix until light and fluffy (about 5 minutes).

Add eggs and vanilla. Mix until combined. 

Add dry ingredients. Mix on slow speed until just combined.

Stir in oats.

Stir in M&M's and chocolate chips.

Divide dough into 12 equal balls.

Place 6 balls on a baking sheet.

Bake for 9-11 minutes.

Allow cookies to cool on baking sheet for 10-15 minutes.
Notes
If you want to make these cookies super thick, you can divide the dough into 8 cookies instead of 12. Bake for 11-14 minutes. They will look underdone when you take them out. But allow them to sit at least 15 minutes on the warm cookie sheet to set up.