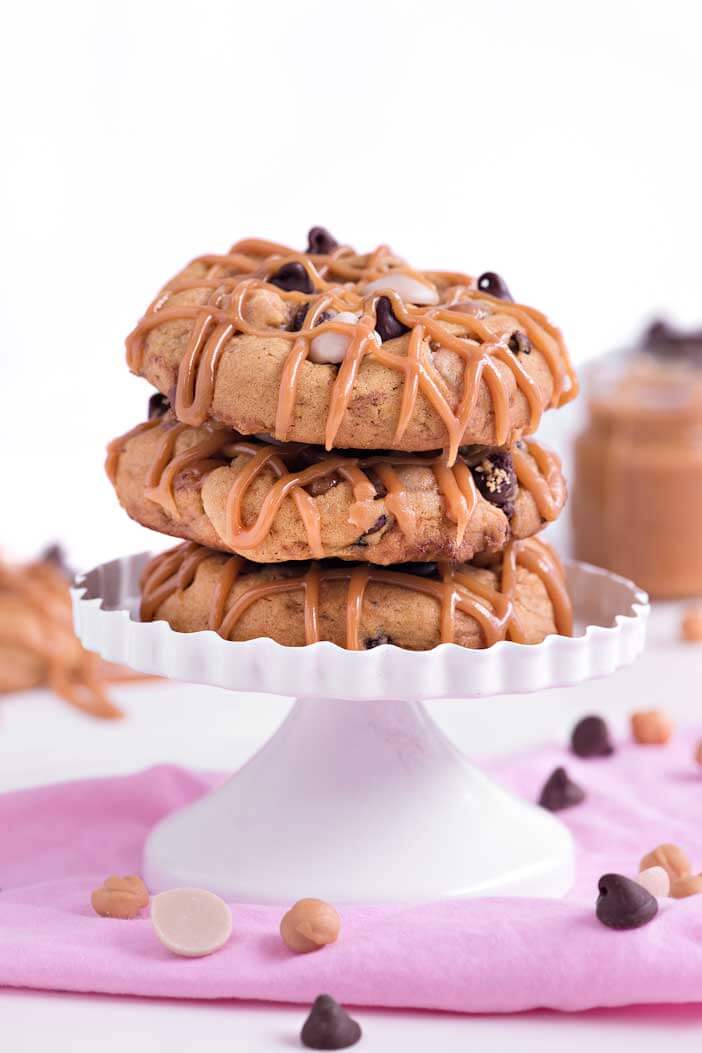 A few weeks ago my family and I went to see this little play called Hamilton. I don't know if you have heard of it or not, but it is pretty much the most amazing thing OF ALL TIMES. The singing, the acting, the stage – the whole thing was absolutely mind-blowingly incredible. If you don't believe me, get this…
This is Zach.
He is my brother, my best friend, and he is ALWAYS late.
While Zach is good at a lot of things, I can confidently say that he is REALLY BAD at talking about his feelings. Like, a catastrophic category 5 hurricane hitting a small village bad. No joke. He sucks at it.
But Hamilton was so unbelievably moving, it actually inspired my brother to go home that night and WRITE A POEM/RAP about his feelings surrounding our Mom's passing.
If you don't know…our mom passed away from Lung Cancer just over 2 years ago. She played a pretty big role in our lives, so the loss was life-changing in the worst way possible. But my brother has never really been able to talk about it…until Hamilton.
Anyway, I thought it was so amazing that I talked him into letting me share it here.
Meet Zach. Chest puffed, chin high spring 2014
Nothing could come between my overconfidence and my dreams
Hanging with my friends enjoying the spring break scene
Living the high life….one more semester and this boy is free!
Then a text from my dad brought the unforeseen
"Call me when you can. It's important."
Brunch with the homies..mimosa morning with friends
Thinking the good life might never come to an end
"Hey dad what's up? I'm loving life and I'm ready for more"
"Zach, don't panic but mom has lung cancer. And it's stage four."
Pause. Breathe. Think. How do I deal? 
She never had one cigarette. How can this be real?
It will all be fine…..diagnosis is probably wrong
Because of all things I know you can't touch my mom
But that cancer was real. And angry as all hell
That monster was aggressive from the start but I couldn't tell
Blinded by my fear and running from my pain
I locked myself at my desk with a ball and chain
Grinding away. Working sunrise to sunset
Wearing suits telling myself I was fresh to death
Fresh to death indeed
I was most definitely
In need of a shrink or some therapy
But I visited often and my mom put on show
Smiled and stood up straight because her son was home
How rude? I just realized something I forgot to do
Let me take a beat to introduce Jodi to you
A Kentucky thoroughbred yeah that twang was true
Heart of gold, intelligent, elegant and classy too
Really the only person that could tame this stubborn jew
Selfless. 
Loving.
Smart.
Caring.
Warm. 
Every redeeming characteristic
Not without her flaws but damn this woman was fearless…..
Back to the story of the boy oh so unaware
Of the severity of his mother's frequent visits to the urgent care
Pushing down emotions he wasn't willing to share
He buried his head in his work because the boy was scared
But then it got worse…..and the impending doom was undeniable
Even with world renowned doctors and a miracle drug trial 
Fast forward. Fall 2015….just picture me
Sunday night pops telling me mom is going to d.i.e.
The words hit hard and although a little delayed
Reality speared my heart and it woke my brain
Monday I walked into work and I had something to say
I was home at her side by the end of the day
Clutching her hand holding on to hope it wouldn't end this way
Her reaching back and reassuring that everything would be ok
Six weeks at home hearing her cough through the night
Even with the odds against, no one could question her might
An incredible woman that decided to fight with love not spite
She was superwoman….gloves off ready to fight!
Cut to: hospital room. The whole family was there
Showing support but our Jodi was fighting for air
Defibrillator strapped tight….lungs in total despair
Everyone watched helplessly. Life just is not fair. 
Unfortunately you know how this tragedy ends so I'll save you the detail
I'm no religious man but heaven got one hell of angel
Your love is my strength was her adage until the final check in
But my greatest strength was her love. She was my secret weapon
No doubt hard days followed…struggling to find light in the dark
Life lost it's luster and was not the same without Jodi's spark
Two years since and whoa, time sure goes fast
Life has partially regained its form but the void is still vast
As I look down at my heart now I hope these scars always last
Because my mother is my everything note that tense is present not past
Thank you for listening. Excuse my lengthy story and my dramatic prose
But I am a proud mama's boy, and if you don't know now you know
Love you mom. 
I'm not crying! YOU'RE crying!
And if you didn't believe so before, I think this is sufficient proof that Lin Manuel is a God and should be worshiped for the rest of time.
On that note…here is a recipe for some Pumpkin Cookies that have absolutely nothing to do with Hamilton, Zach or Lin Manuel. They are just soft, chewy and loaded with chocolate chips and caramel.
PUMPKIN CARAMEL CHOCOLATE CHIP COOKIES
Ingredients
COOKIES
2 and 1/2 cups flour

1 teaspoon baking soda

2 teaspoons cornstarch

1/2 teaspoon cream of tartar

1/4 teaspoon salt

2 teaspoons cinnamon

1/2 teaspoon nutmeg

1/4 teaspoons pumpkin pie spice

1/2 cup pumpkin puree

3/4 cup unsalted butter, room temperature

3/4 cup brown sugar

1/2 cup sugar

1 egg

2 teaspoons vanilla extract

1 cup caramel chips

2 cup caramel bits, divided

1 cup chocolate chips

1 teaspoon water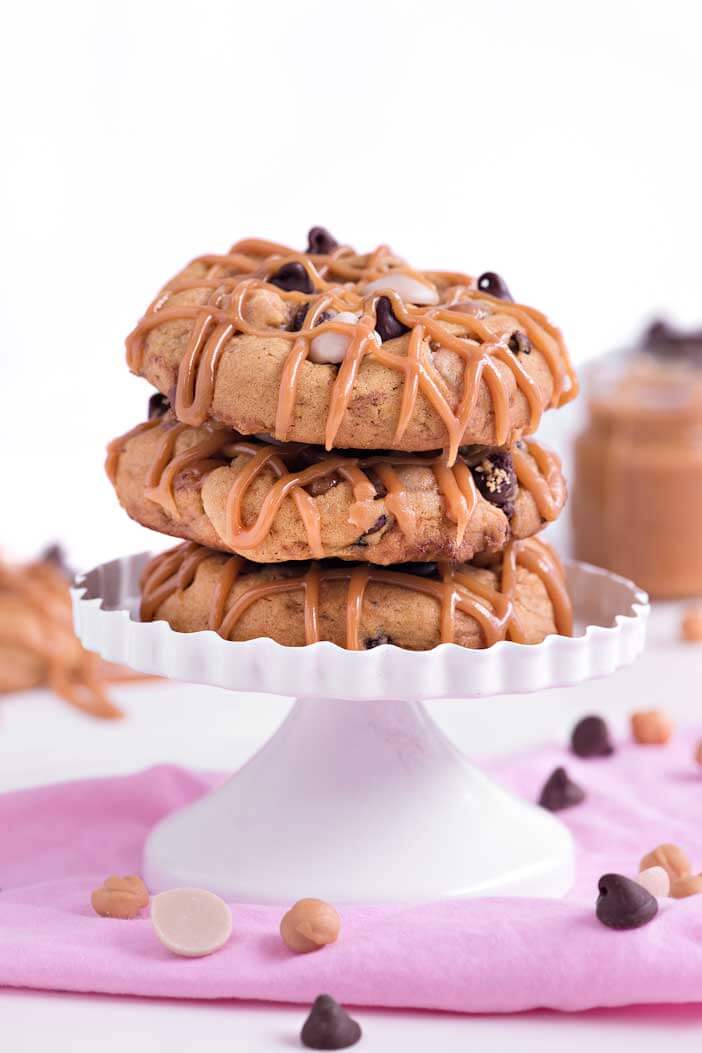 Instructions
COOKIES
In a mixer with a paddle attachment, combine butter and sugars. Mix until light and fluffy.

Add pumpkin, egg, and vanilla. Mix until combined.

In a large bowl, whisk together dry ingredients. Add them to wet ingredients and mix on a slow speed until just combined.

Stir in 1 cups or caramel chips, 1 cup of caramel bits and 1 cup of chocolate chips.

Place the dough in the fridge for at least 2 hours.

Preheat the oven to 350 degrees and prepare a baking sheet with parchment paper.

Use a large cookie scoop to scoop out balls of dough - about 6 to a sheet.

Allow cookies to cool on baking sheet.

While the cookies are cooling, combine 1 cup of caramel bits and 1 teaspoon of water. Microwave in 30 second intervals, stirring between each, until caramel is melted.

Place caramel in piping bag and drizzle it over the cookies.