A DELICIOUS FUNFETTI SHEET CAKE WITH VANILLA BUTTERCREAM AND AN ADORABLE RAINBOW DESIGN.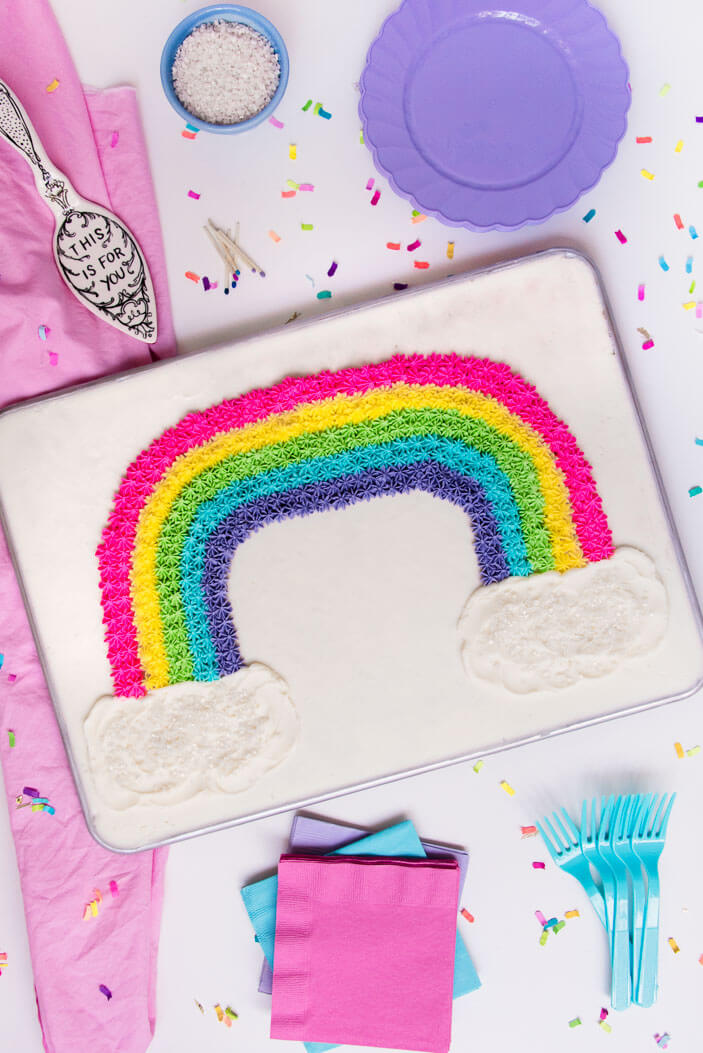 Before I talk about the redemption of sheet cakes, I want to talk about the significance of this Rainbow Cake. The coronavirus pandemic created a lot of fear and uncertainty for people all over the world. And during this time, a lot of people stepped up to help those in need – but no group has done more than the health care workers. No matter how bad things got, they continued to show up. Continued to do all they could for those who were sick. And as someone who has friends in this field, I know how scary and exhausting it has been for so many of them.
As rainbows have become the unofficial sign of hope during the pandemic, this cake felt like the perfect way to honor all of those who have worked their butts off during this time.
So this cake is dedicated to my friends Emily and Ruchi and all the health care professionals who have risked their lives on the frontline of this fight. I am in awe of your bravery and determination and I just wanted to say thank you for everything you have done. We appreciate it more than you know.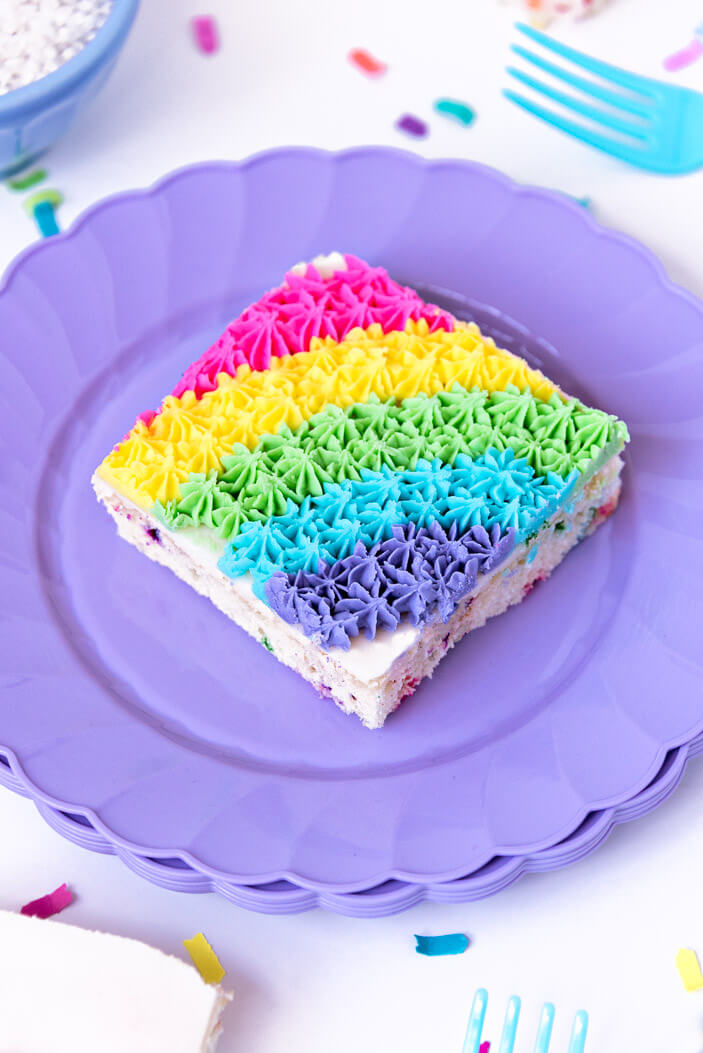 Now, let's talk about sheet cake.
I will be the first to admit that I was once a layered cake SNOB. I thought they were FAR superior to their boring and lame sheet cake cousins. That there was no way a sheet cake could ever be as visually impressive as a layered cake. And it turns out, I was wrong.
Sheet cakes are kind of the bomb.
First of all, I loathe washing cake pans. You have to hand wash them all and then you have to make sure all the little cake remnants are out of every little bit of that baby. It sucks. So the fact that I can create a stunning sheet cake without having to stack my sink full of dirty cake pans is a WIN. You actually don't need any fancy equipment at all for a sheet cake. You literally just need a sheet pan. (These are my favorite sheet pans). And if you put parchment paper down properly (meaning it covers the inside edges of the sheet pan) the cleanup is So easy.
If the avoidance of cake pan washing wasn't enough, sheet cakes are also easy to transport (as someone who has endured many stressful cake deliveries this is a BIG plus), and they are great for serving a crowd. This one sheet cake can easily serve 25-30 people. To do that with a stacked cake, it would need to be at LEAST 12 inches. Do you have 12 inch cake pans? Because I definitely don't. That size is for wedding cakes – not home bakers.
I know right now group gatherings are a big N-O. But when the world gets back to normal I want you to keep this sheet cake in mind. Or even better, make one for your friend's birthday and drop it off at her front door! And if you want to make it for just your family (or just yourself), you can easily freeze the extra cake pieces and save them for later!
RAINBOW SHEET CAKE
Ingredients
SHEET CAKE
2 eggs + 1 egg white, room temperature

1 cup whole milk, room temperature

2 1/4 teaspoons pure vanilla extract

3 cups cake flour, sifted

1 3/4 cups sugar

1 tablespoon + 1 teaspoon baking powder

3/4 teaspoon salt

12 tablespoons unsalted butter, room temperature

1/2 cup rainbow sprinkles
FROSTING
2 cups unsalted butter, room temperature

2 lbs powdered sugar

2 tablespoons milk

1 tablespoon vanilla extract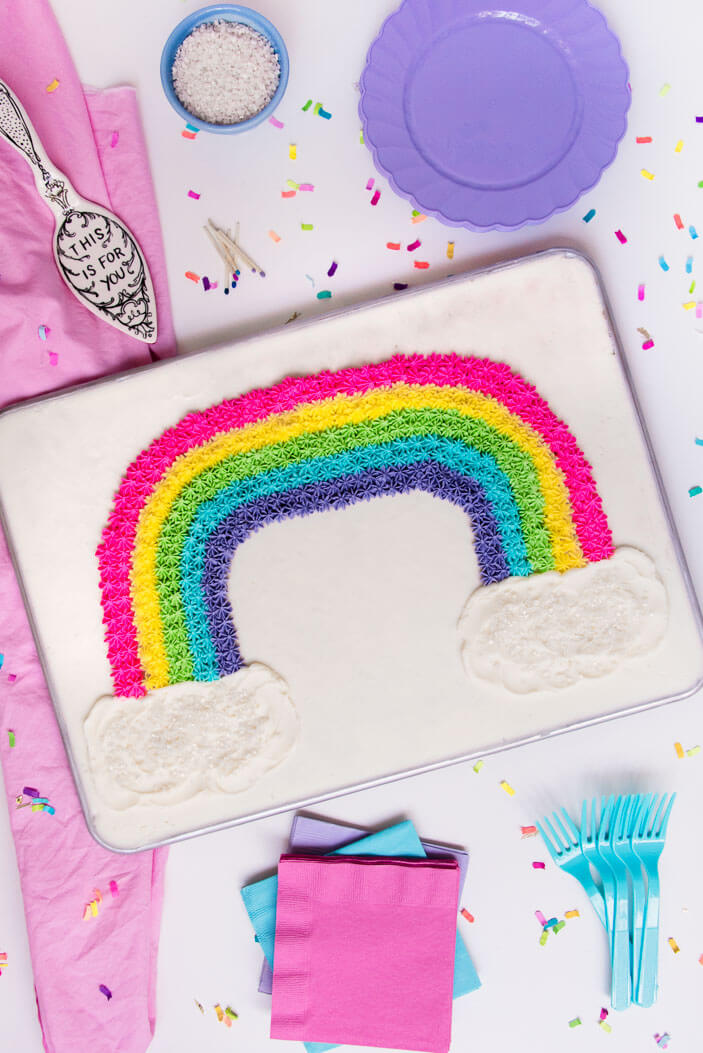 Instructions
SHEET CAKE
Preheat oven to 350 degrees. Prepare a 18x13" sheet pans with parchment.

In a medium bowl combine eggs, egg white and the vanilla. Set aside.

In a bowl with an electric mixer fitted with a paddle attachment, combine dry ingredients and mix on a low speed for 30 seconds.

Add butter and milk. Mix on a low speed until just combined.

Increase to medium speed and mix for 1-2 minutes.

Scrape down the sides of the bowl and add egg mixture in 2 separate batches. Beat on medium speed until it is just combined.

Spread the cake batter evenly into the sheet pan.

Bake for 30-35 minutes, or until a toothpick comes out clean.
FROSTING
In a stand mixer with a whisk attachment, cream butter until it is soft and smooth.

Add half of the powdered sugar and mix until combined.

Add the other half of the powdered sugar, milk and vanilla extract and mix until light and fluffy.

Divide the frosting in half.

Use one half of the frosting to frost the entire surface of the cooled sheet cake.

Divide the other half of the frosting into 6 different bowls.

Color each bowl the desired color - leaving one white for the clouds.

Prepare piping bags fit with a small star tip.

Transfer colored frosting to piping bag.

Use a toothpick or knife to sketch out the shape of your rainbow.

Carefully pipe your rainbow with your desired colors.

Use an offset spatular to create the clouds at the bottom of the rainbow.

Add sprinkles if desired.
Notes
*Makes 36 servings of cake