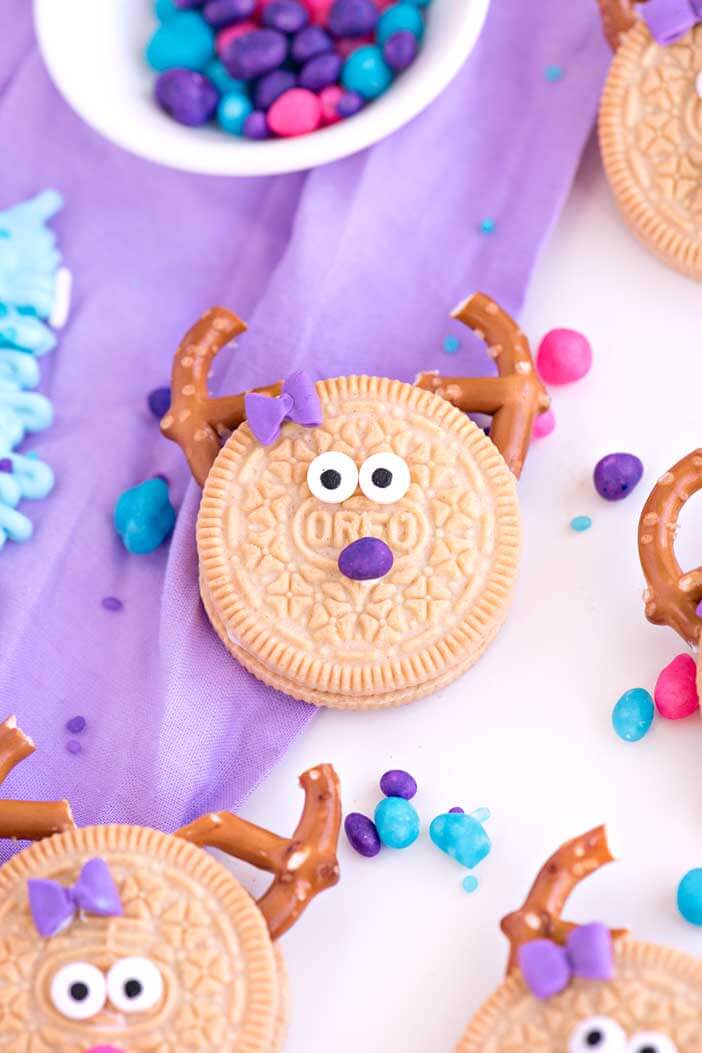 I just had friends from Germany come visit, and their time here reminded me how INSANE Americans are. In Europe they take time to sit down and enjoy what they are eating and who they are eating with. They make a point to soak up every second of their experiences while Americans are over here like I am going to need that sandwich to go. Then I am going to eat it in the car on the way to the next things I have to do while also answering emails and making phone calls. Americans never sit down and just enjoy. It's GO GO GO all the time.
Our American insaneness seems to go into overdrive during the Holiday Season. With presents to wrap, parties to attend, people to cook for, this time of year leaves you little time to do the things you want to do. Like for example, baking adorable cookies. But you still need to being something to the cookie swap/holiday party/office gathering! So what are you going to do?!
Well I have a solution for you…Reindeer Oreos.
Quick and easy no bake cookies that are super cute! It will allow you to get those creative juices flowing without taking up TOO MUCH of your time. And even better – everyone is going to be super impressed with how cute they are! It's a win/win!
Oh, and I know everyone says Santa's Reindeer are a bunch of boys…but I like to think that the girl reindeers are bad ass's as well. So I made them all girls. But obviously you can skip the bow and save yourself even more time.
REINDEER OREOS
Ingredients
REINDEER OREOS
1 package Golden Oreos

4 oz. White Melting Chocolate

Pretzels

Colorful Candyfetti or Sprinkles

Candy eyes

2 oz. colorful fondant

Toothpick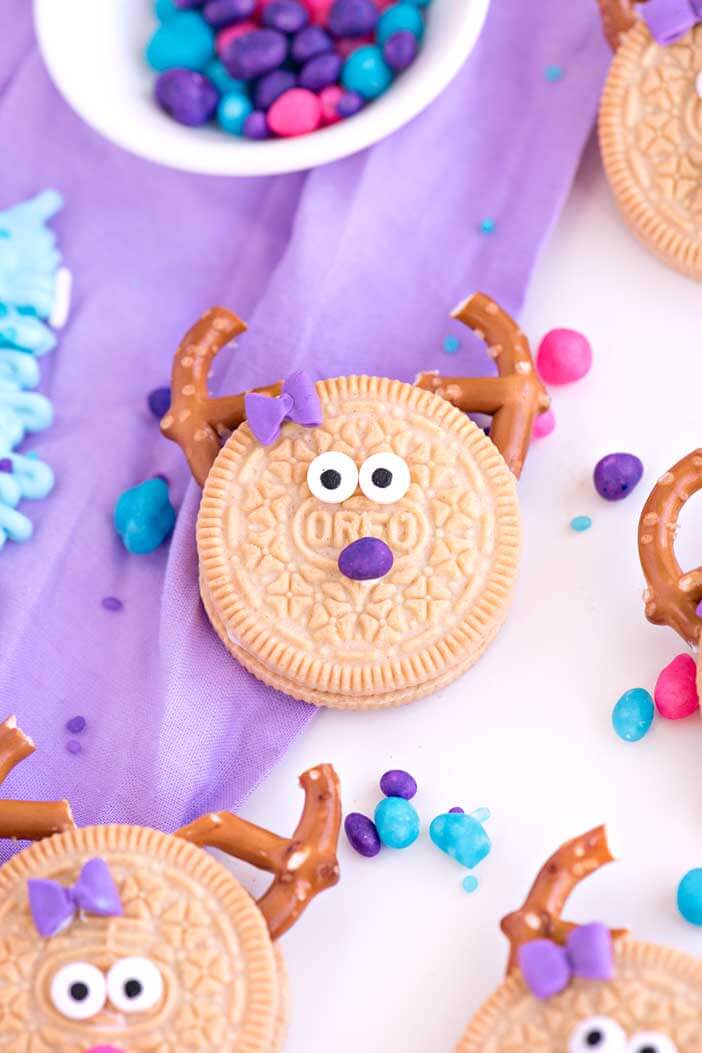 Instructions
REINDEER OREOS
To make the fondant bow, roll a small piece of fondant into a pea sized ball.

Then roll it into a thin log and flatten it.

Use the toothpick to fold the edge of one side into the middle creating a small loop. Repeat with the other side.

Use two toothpicks to pinch together the bow in the middle. Set aside to dry.

Cut (or break) the pretzels down the middle.

In a microwave safe bowl, melt white melting chocolate in 30 second increments.

Dip bottom part of the pretzel into the chocolate and attach it to the top part of the cookie (so it is coming off the cookie like an antler). Repeat with other half of pretzel.

Reattach the top of the Oreo.

Use a toothpick to add a little bit of chocolate to the Candyfetti or sprinkle. Attach to the Oreo.

Repeat with the eyes and the bow.