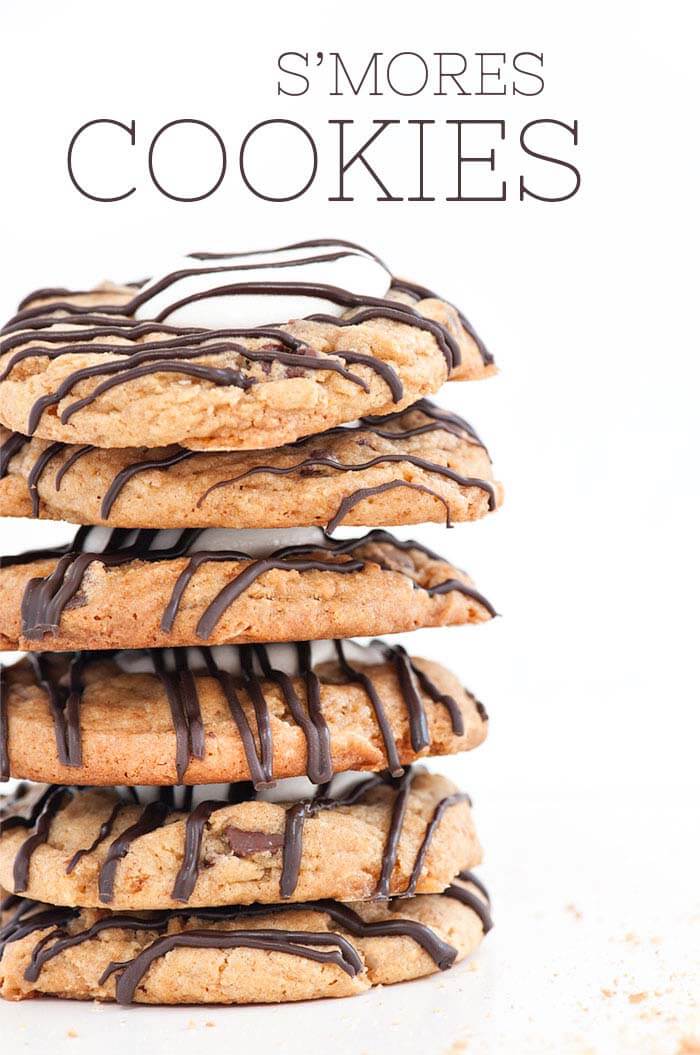 This weekend the US Women's National Soccer Team did two things – 1.They reminded me that it is time for me to get back into the gym, and 2. They made history by beating Japan in the Fifa World Cup finals. Basically, while I was sitting there eating leftover 4th of July cobbler, these 23 women became legends as over 20 million (a new US record) tuned in to watch them win the United States a third World Cup Championship. It was pretty impressive. So before I get started talking about these cookies, I just wanted to say Congratulations to this amazing team! You guys have made your country very proud and even managed to get people to watch a female sporting event! (Insert a lot of clapping hands emoji's here)
Now for the cookies, or more specifically, S'mores Cookies. S'mores is by far my favorite flavor in life. I know that is not a typical thing to say, since most people don't really consider s'mores an actual flavor. But, with things like S'mores Ice Cream, S'mores Pie, or S'mores bars – I would argue otherwise. S'mores-inspired treats are everywhere – and people love them.
These cookies are no exception. They are inspired by the popular campfire treat, but do not require that you actually go camping. Eating these cookies are more of an indoor activity – which I am totally down with. My S'mores Cookies have a soft and chewy graham cracker cookie base, loaded with chocolate chips and mini marshmallows and then topped off with a jumbo mallow and some dark chocolate drizzle. They are SO good.
S'MORES COOKIES
Ingredients
1 cup unsalted butter, room temperature

1 cup sugar

1/2 cup brown sugar

1 tablespoon vanilla extract

2 eggs

2 1/2 cups cake flour

1 box vanilla instant pudding (5.1 oz or 144g)

1 cup graham cracker crumbs

1 teaspoon baking soda

1/2 teaspoon salt

2 cups semi-sweet chocolate chips divided (1 1/2 cups for recipe, 1/2 cup for drizzle)

1 cup mini marshmallows

About 15 large marshmallows, cut in half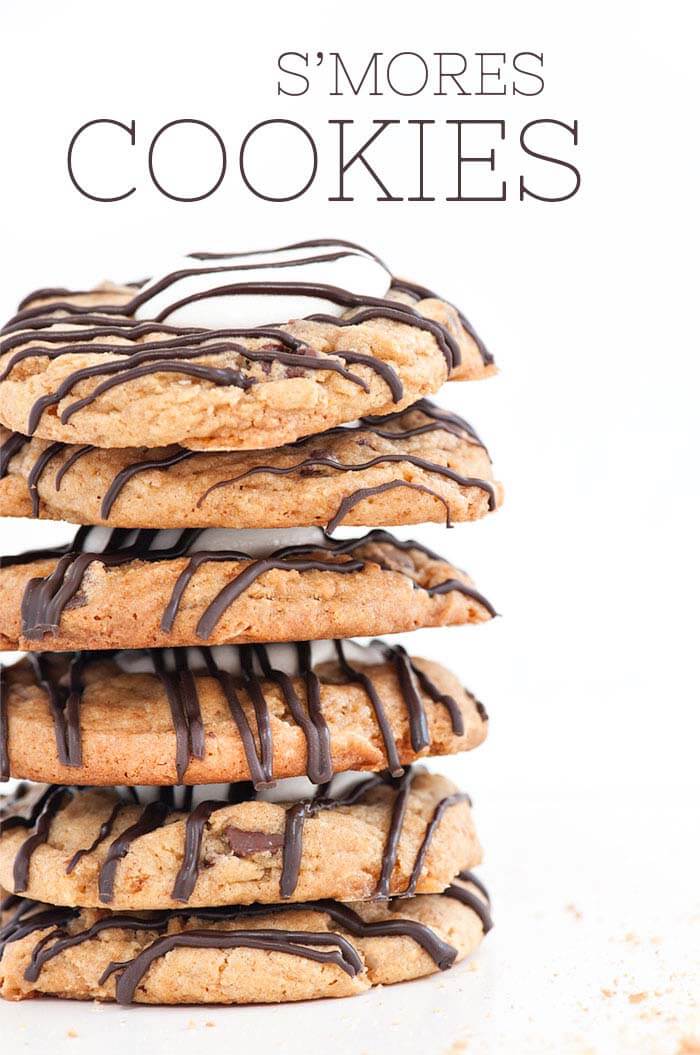 Instructions
Preheat the oven to 350 degrees and prepare a baking sheet with parchment paper.

Using kitchen shears, cut large marshmallows in half and set aside.

In a medium bowl, mix together flour, instant pudding, graham cracker crumbs, baking soda and salt. Set aside.

In a mixer fitted with a paddle attachment, combine butter and sugars until light and fluffy.

Add eggs and vanilla and mix until combined.

Add dry ingredients and mix until just combined.

Stir in marshmallows and 1 1/2 cups chocolate chips.

Using a large cookie scoop, scoop out dough balls onto baking sheet.

With the palm of your hand or the back or a large wooden spoon, lightly press the dough down so it is flat.

Bake for 10-12 minutes, or until the edges turn golden.

Remove the cookies and place cut marshmallow, cut side down, in the center of the cookie and press down lightly.

Put back in the oven for 1- 2 minutes, or until the marshmallows begin to get gooey.

Remove cookies from the oven and transfer to a wire rack to cool.

Using a microwave safe bowl, melt remaining 1/2 cup of chocolate chips.

Transfer melted chocolate to pipping bag and cut a small hole at the end.

Place cooled cookies on a sheet of parchment paper, and pipe chocolate drizzle.