Soft and chewy almond cookies topped with slivered almonds. Cake flour is the secret ingredient to this simple and amazing drop cookie recipe!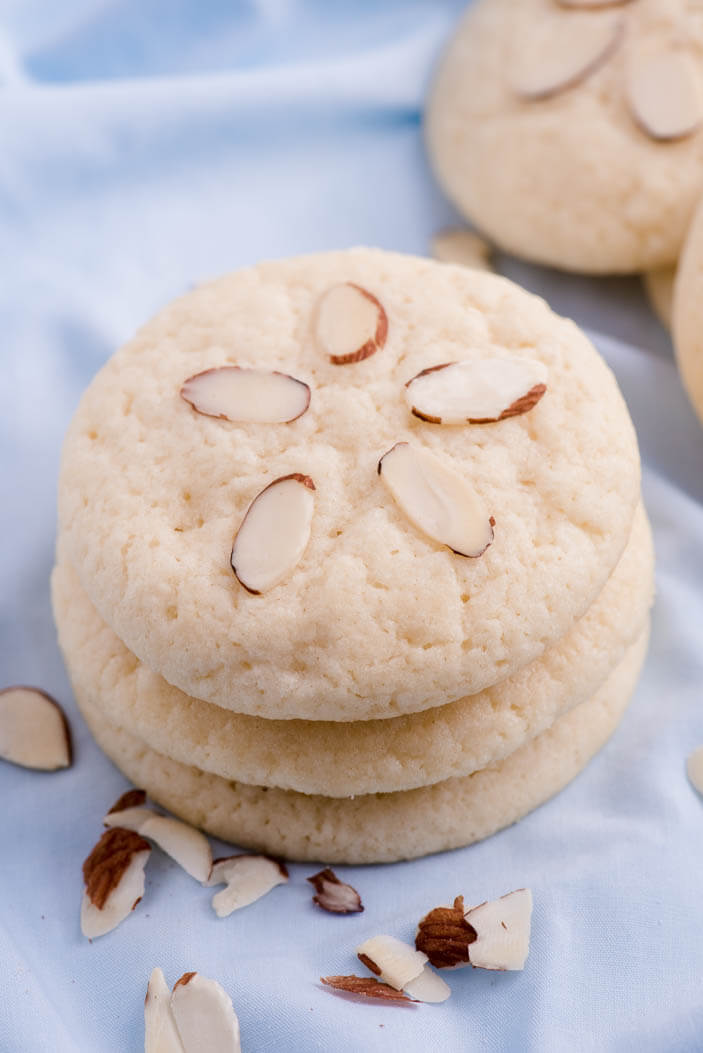 In my opinion, there are two major kinds of cookies – soft and crunchy. Everyone has their own opinion on which is better, and I will admit some types of cookies are just meant to be one way or another. Can you imagine a lace cookie as soft and chewy? No. Because it doesn't work.
And while most of the time people associate almond flavor with crunchy cookies like a biscotti, these cookies definitely fall under the soft and chewy category. And it is in the best way possible.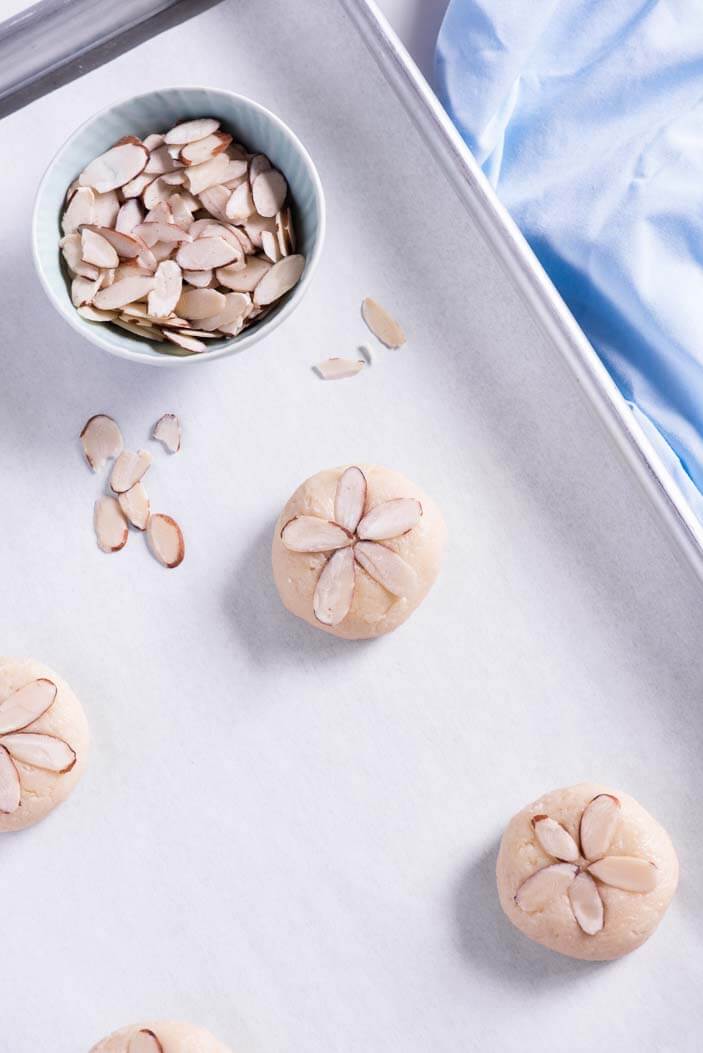 What makes these cookies SO soft and chewy is the addition of cake flour. Cake flour only contains 6-8% protein (compared to the 10-12% regular all purpose flour has). It has a lighter and more velvety texture, and also is a little bit lighter in color. The lower protein count creates a more tender and delicate final product.
If you want to learn more about the difference between All Purpose Flour and Cake Flour, you can check out this post. But, if you don't that is fine too. Just know that it is CRUCIAL in making these cookies as amazing as they are.
ALMOND EXTRACT
The slivered almonds on top of these cookies are more for decoration. The real almond flavor comes from the almond extract. Now, you want to use pure almond extract as opposed to artificial almond extract. The pure extract will give you a much smoother overall flavor.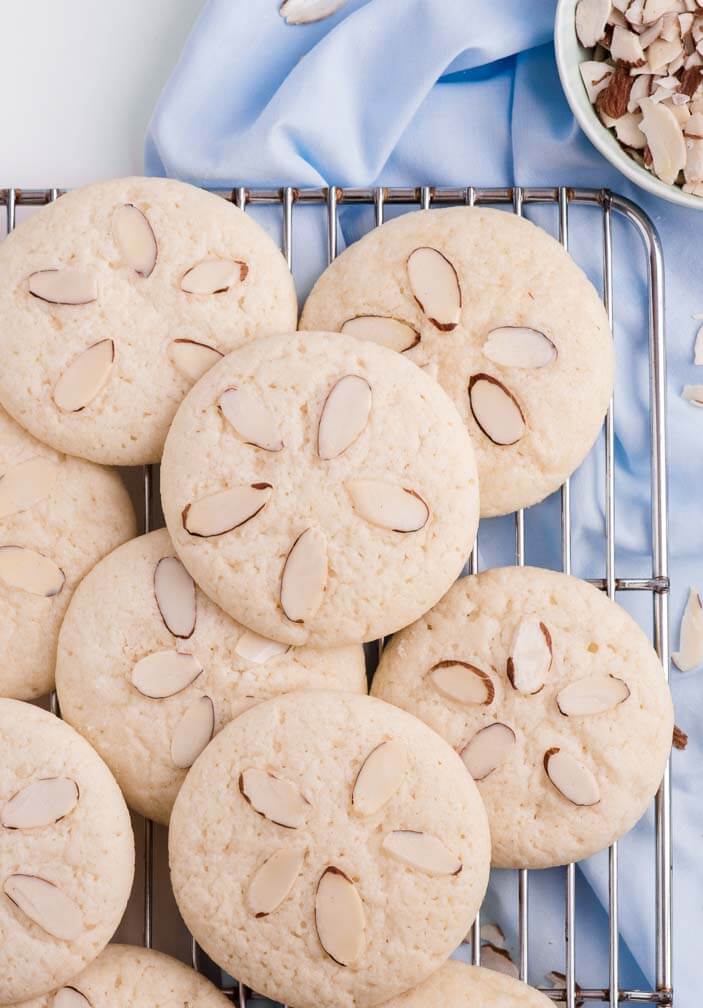 In these cookies, I use a combination of almond and vanilla extract. This is so the almond flavor does not become too overpowering. If you know you really LOVE a strong almond flavor, you can double the amount of almond extract in here. But I would keep the vanilla extract in there regardless.
I have gotten SO many "OMG THESE ARE SO GOOD" reactions to these cookies. And I know you will too.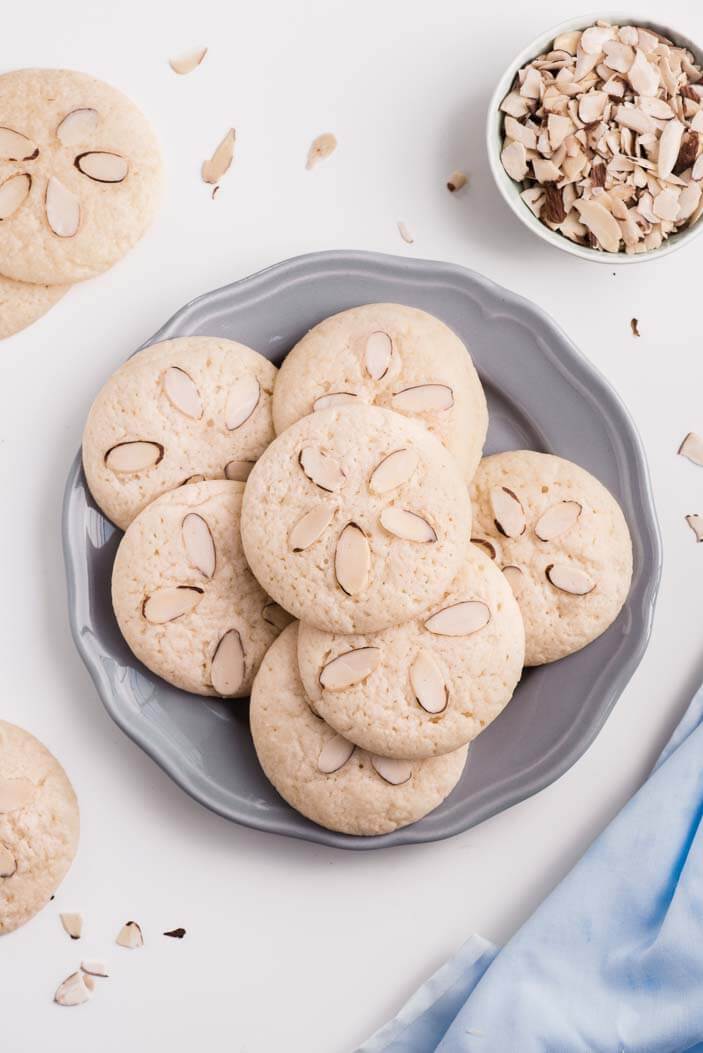 Happy baking!
SOFT AND CHEWY ALMOND COOKIES
Ingredients
2 1/2 cups cake flour (287g)

1 cup all purpose flour (120g)

2 teaspoons corn starch

2 teaspoons baking powder

1 teaspoon salt

1 1/3 cup unsalted butter, room temperature (305g)

1 1/2 cups sugar (300g)

2 eggs

1 teaspoon vanilla extract

2 teaspoons almond extract

Slivered almonds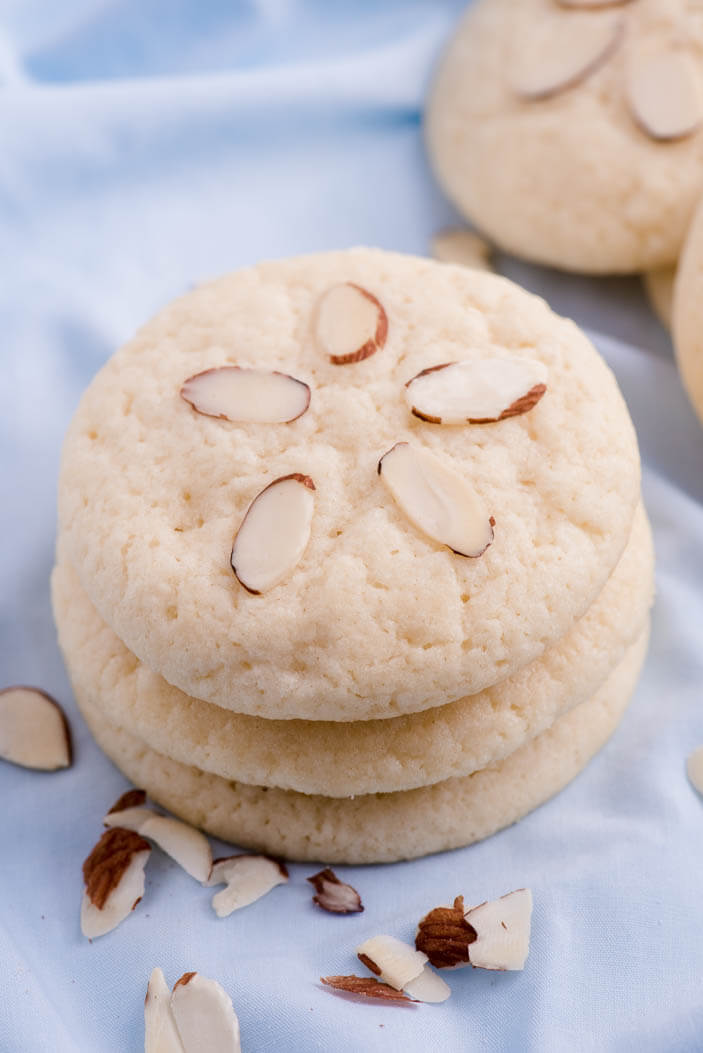 Instructions
Preheat oven to 350 degrees and prepare a baking sheet with parchment.

In a medium bowl, whisk together all dry ingredients and sprinkles. Set aside.

In a stand mixer fitted with a paddle attachment, combine butter and sugar. Mix on high until light and fluffy.

Add dry ingredients and mix until just combined.

Using a a medium ice cream scoop, scoop dough balls onto baking sheet 3 to 4 inches apart.

With the palm of your hand or the back of a large wooden spoon, flatten cookies slightly.

Lightly press about 5 slivered almonds in a flower shape on top of each cookie

Transfer to a wire rack to cool.