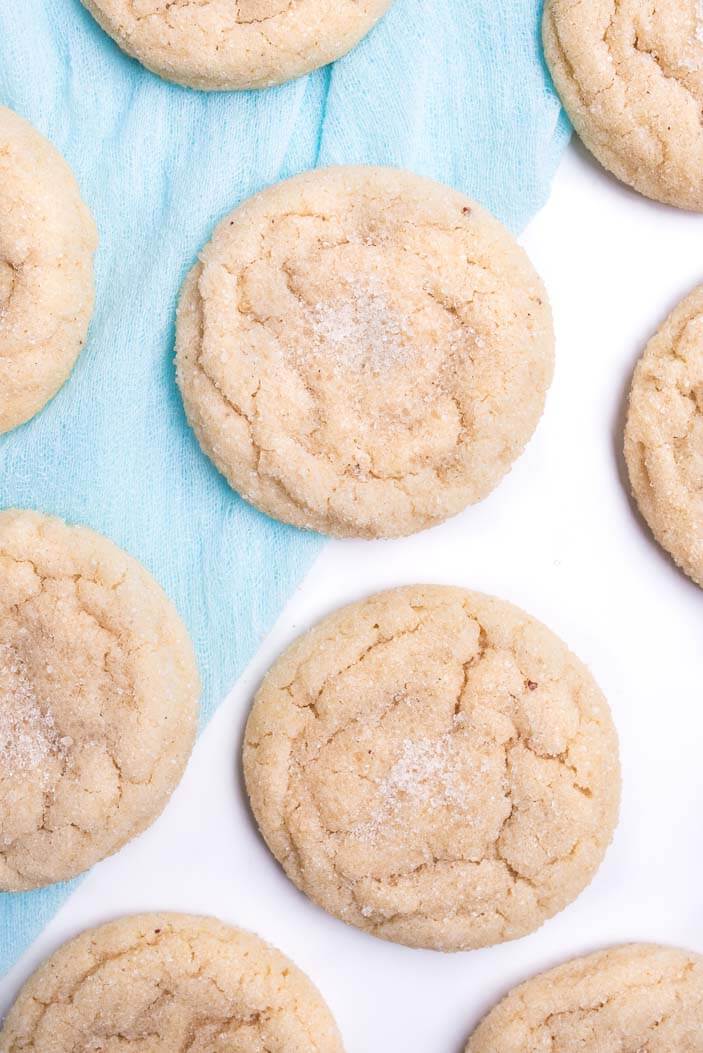 So here's the situation. When you go searching for a good sugar cookie recipe, 9 times out of 10 your search engine or cookbook is going to provide you with a nice rolled sugar cookie recipe. You know, the kind you can cut out into shapes and then decorate all pretty?
Don't get me wrong – there is a time and a place for these. For example, the F*ck Boy Cookies. But sometimes, this is just not the kind of sugar cookie I am looking for.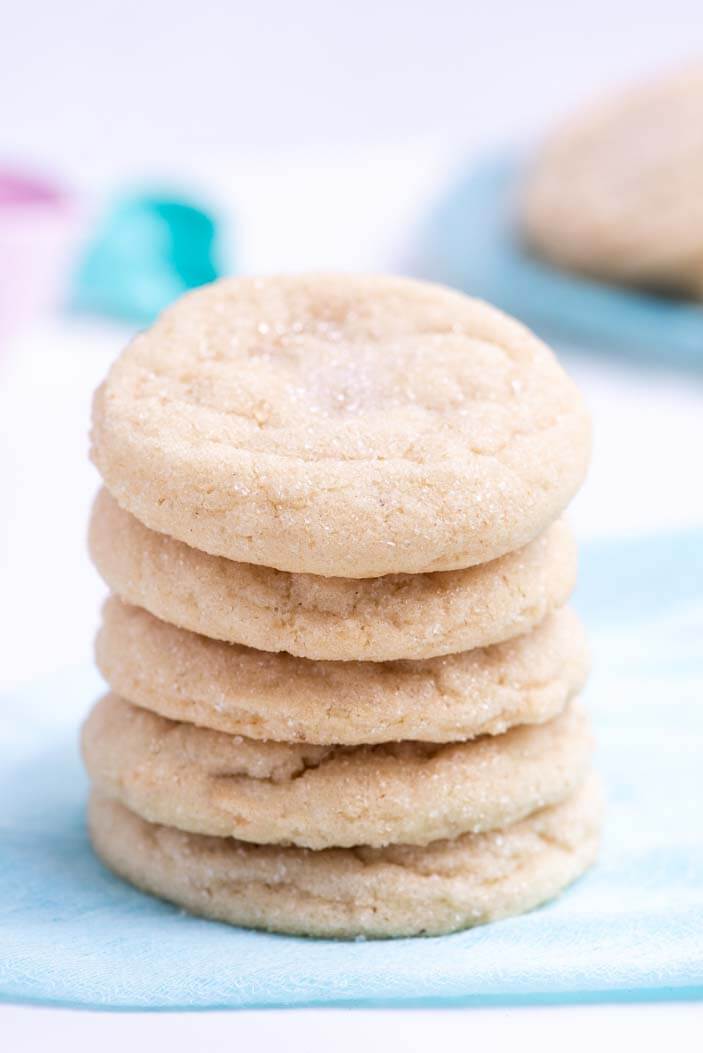 Sometimes I just want a soft and thick and chewy sugar cookie with a nice coating of coarse sugar on the outside. A sugar cookie where I don't have to wait for the dough to chill just so I have to roll the dough back out and cut it into shapes. Is this too much to ask?!
Apparently not – because I figured out a way to make that happen. And they taste a whole LOT better than any cut out sugar cookie ever did.
Want to know the secret?
Great. I'll tell you.
The addition of shortening creates the perfect texture for ultimate pillowy cookie goodness. And an extra sprinkle of coarse sugar granules as the cookies come out of the oven give them a nice crunchy top coating usually lost when initial sugar coating bakes.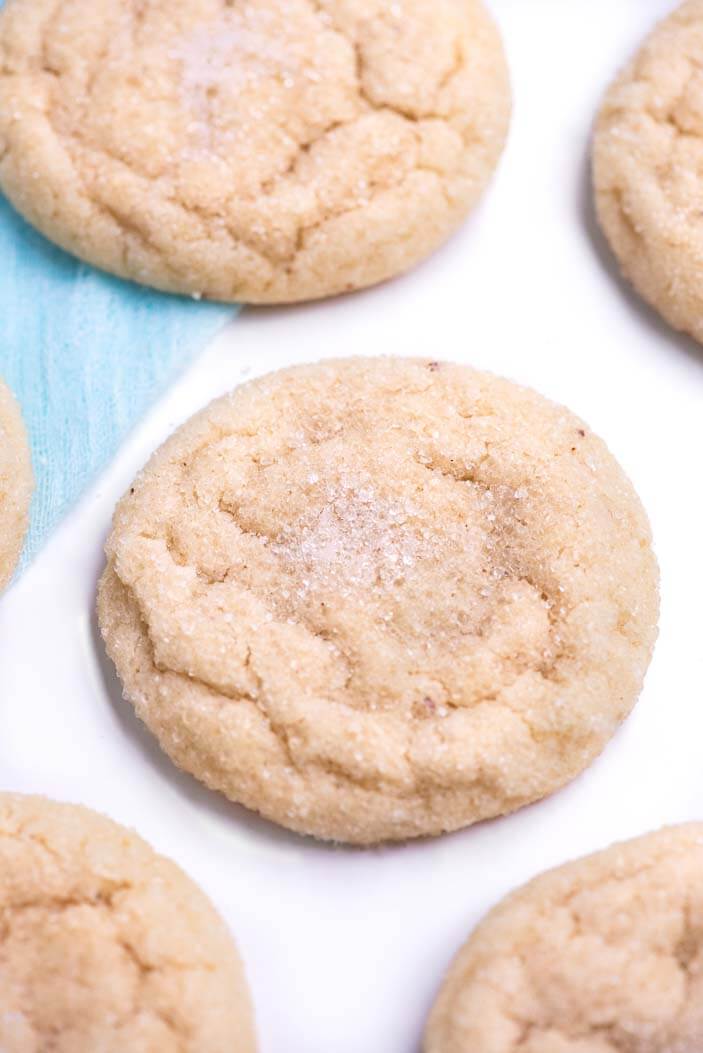 BUT, the real secret to these bad boys is in the butter – browned butter.
This step is not necessarily needed – you will still get amazing cookies with good old fashioned room temperature butter. But the browning of the butter takes these cookies to the next level. They go from great cookies to…you do a HAPPY DANCE every time you take a bite because they are THAT FREAKING GOOD.
And who doesn't want to do a happy dance every time they eat cookies?! I know I do.
Happy Baking!
SOFT AND CHEWY SUGAR COOKIES WITH A SECRET INGREDIENT
Ingredients
1/2 cup vegetable shortening

1/2 cup unsalted butter

1 1/2 cups sugar

2 eggs

1 teaspoons vanilla extract

2 3/4 cups flour

2 teaspoons cream of tartar

1 teaspoon baking soda

1/4 teaspoon of salt

1/2 cup large granule sugar for rolling and topping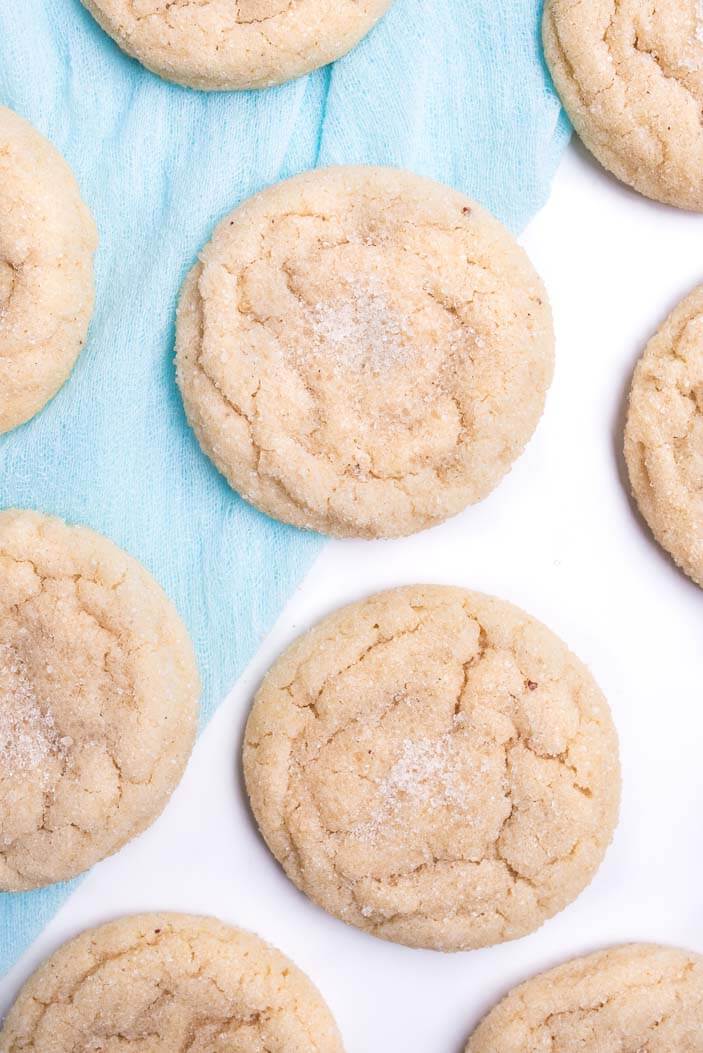 Instructions
Place butter in a small sauce pan. Place on medium heat. Allow butter to melt, swirling pan occasionally.

Once the butter gives off a nutty aroma, or you can see brown bits at the bottom of the pan, remove the pan from the heat.

Transfer butter to a heat proof bowl scrapping all the brown bits off the bottom.

Set aside to cool for 10 minutes.

Preheat oven to 350 degrees and prepare a baking sheet with parchment paper.

In a stand mixer with a paddle attachment, mix shortening, butter and sugar together.

Add vanilla extract and eggs. Mix until combined.

Add flour, cream or tartar, baking soda and salt. Mix on slow speed until just combined.

Place 1/2 cup of large granule sugar in a small bowl.

Using a medium (5cm) cookie scoop, scoop out a dough ball. Roll dough ball in large granule sugar and place on prepared baking sheet.

Bake for 12-14 minutes, or until the cookies begin to crack on top.

Remove from oven and add another sprinkle of the large granule sugar on top of each cookie.

Allow cookies to cool on baking sheet.